HARTFORD, Conn. — In her first holiday season as Hartford Stage's new artistic director, Melia Bensussen is replacing one beloved holiday icon with another. She's taking a break from the theater's annual production of its homegrown adaptation of Charles Dickens' "A Christmas Carol" and replacing it with playwright Joe Landry's inventive stage adaptation of Frank Capra's much beloved film classic, "It's a Wonderful Life," presented as a live radio broadcast.
The production is a homecoming of sorts. Landry is a Connecticut native, from Farfield. To boot, his play, "It's a Wonderful Life: A Live Radio Play" had its premiere in 1996 at Stamford Center for the Arts.
The setting is the studio — evocatively designed by Stephanie Osin Cohen — of radio station WBFR during its live Christmas Eve 1946 "Playhouse of the Air" broadcast — complete with commercials — of "It's a Wonderful Life," performed by an adept, versatile company of five actors, each of whom plays multiple roles, with the exception of Gerardo Rodriguez who plays only the show's central character, George Bailey. In addition, there is one sound effects artist (Leer Leary), who has a busy time creating sound effects with a variety of implements from his spacious corner of the studio.
The choreographic impulses that shaped Bensussen's staging in her recent production of "Ah, Wilderness!" surfaces again here as her actors — singly, in pairs, larger groups — move from one microphone stand to another; often retreating to the rear of the studio when they are not immediately involved.
Radio is the form but Landry's adaptation of "It's a Wonderful Life," particularly in this production, is pure theater involving voice, imagination, role-playing in the fullest sense. It's about actors playing actors who each play multiple characters using voice to distinguish one character from the next. It's all about the voice, Landry once commented in an interview. But his play is not about the voice only. "It's a Wonderful Life" is very much about firing up the imagination of audience members.
Indeed, in this production, as the narrative gets darker, intense, almost Dickensian in the second half —as George faced with losing everything, chief among them the family business, is brought to the brink of suicide — the microphone stands, the scripts the actors have had in their hands throughout are dropped and the production shifts into an eerie, sober, almost expressionist theatricality. That's until George, guided by his guardian angel, Clarence (Harry "Jazzbo" Heywood), is made to realize just how much he has meant to his family and to his community when Clarence shows him what life in Bedford Falls would have been like had George never been born.
As radio actress Sally Applewhite, Shirine Babb brings inviting wit and grace to the role of George's wife, Mary Hatch. She may well be a Bedford Falls girl but there is an appealing savvy about her. Babb's Sally also brings understanding, compassion and gentle authority to the role of Joseph, a supervising angel who is guiding the wingless angel Clarence to his job of bringing George back from the precipice and, in so doing, earning his wings.
Michael Preston, a former member of The Flying Karamazov Brothers, uses his very best playful impulses as the broadcast's announcer, Freddie Filmore. His multiple roles include the fearsome, avaricious Henry Potter, who holds Bedford Falls in his tight-fisted grip, and also as George's well-intentioned hapless uncle, Billy, who inadvertently brings George, and Bailey Building and Loan to the edge of ruin. Among the show's inspired antic moments is a scene between Potter and Billy which requires Preston's Filmore to do some neat hat tricks.
Jennifer Bareilles shows engaging versatility as radio actor Lana Sherwood whose various roles include Mary's watchful, protective mother and a sassy town cab driver.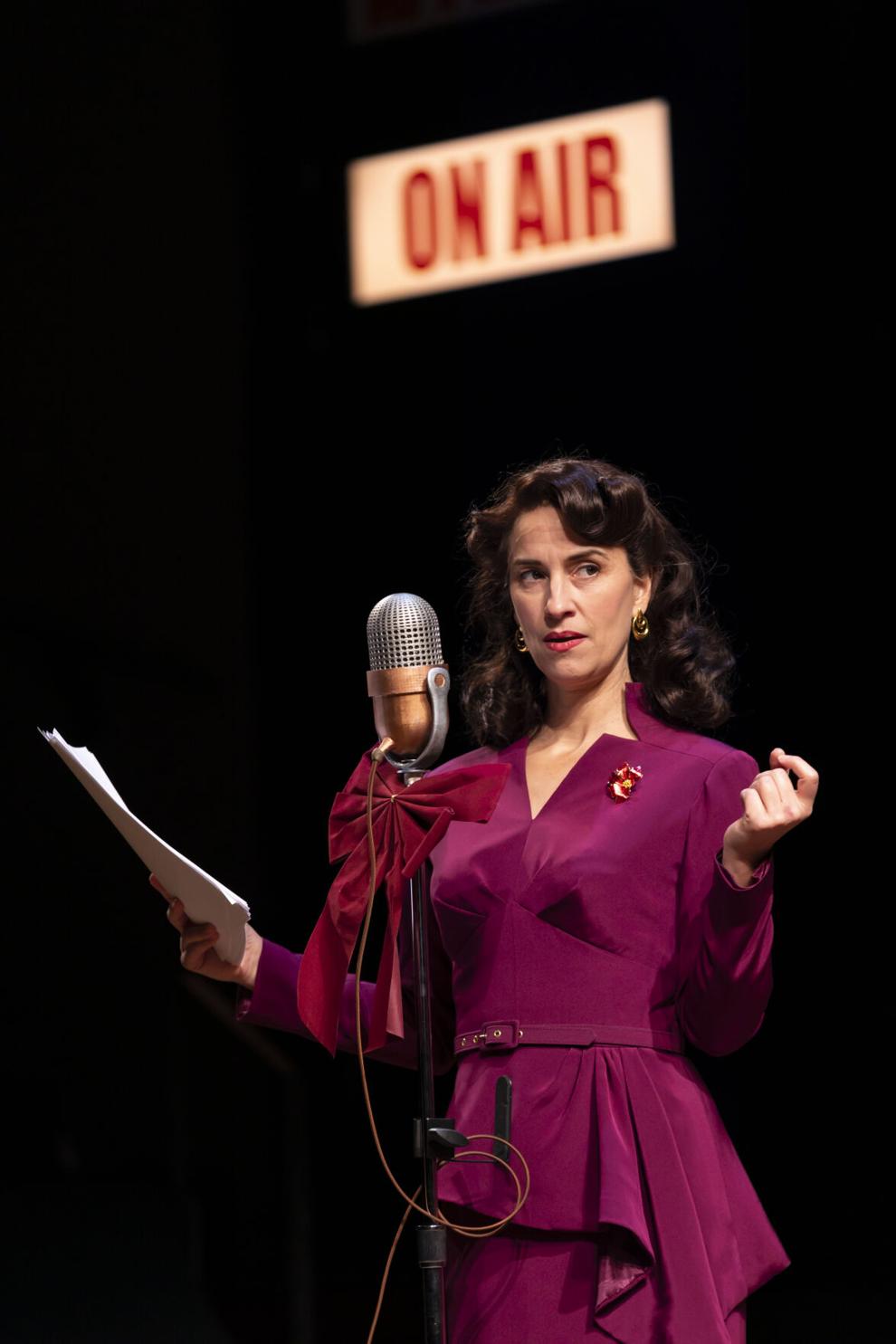 If there is a wrinkle anywhere, it is in Rodriguez's radio actor Jake Laurents — who plays George Bailey — with a driving propulsive energy that too often rides roughshod over emotional values and nuance. The result is a George Bailey who is not as emphatic as one would wish.
Still, this is a reasonably diverting, entertaining production of material that speaks, I think, to where we are these days; what we need as individuals and in community, writ both large and small. I guess you could reasonably say that, in its way, this "It's a Wonderful Life: A Live Radio Play" earns its wings.