CHATHAM, N.Y. — In a summer theater season that's been overly burdened by talk — some of it stimulating; some of it anything but — the Mac-Haydn Theatre's production of "She Loves Me" comes as blessed relief. Indeed, director John Saunders' production of this much beloved musical would be welcome anytime.
It's not for nothing that "She Loves Me" — with music by Jerry Bock and lyrics by Sheldon Harnick, the team that gave us "Fiddler on the Roof" — has developed a loyal and devoted following since its Broadway bow in April 1963. It's an absolute sweetheart of a musical — smart, witty, tuneful, breezy, insightful; an object lesson in just how to spin a love story without being cloying.
Joe Masteroff's book for "She Loves Me" is based on Hungarian playwright Miklós László's 1937 comedy, "Parfumerie," which also is the source of two Hollywood rom-coms — the 1940 "The Shop Around the Corner" with James Stewart and Margaret Sullavan, and 1998's "You've Got Mail" with Tom Hanks and Meg Ryan.
Set in an unnamed European city redolent of Budapest, "She Loves Me" unfolds chiefly in a parfumerie, Maraczek's, and focuses on the combative relationship between the shop's earnest manager, Georg Nowack (Xander James), and a newly hired sales clerk, Amalia Balash (Kelly Gabrielle Murphy). Without knowing it, the two have been writing letters to each other anonymously through a lonely hearts club (writing letters — what a concept!). In this unapologetic love story, it is not giving away any surprise to say that true love wins out in the end.
Saunders has shaped this production with finely tuned sense and sensibility. Ashley DeLane Burger's choreography is smooth, stylish, at times whimsical, and executed with supple grace. Despite severe, disruptive sound system problems in the early goings the night I was at the Mac-Haydn, under David Maglione's musical direction, this is an extraordinarily well sung production, not only in terms of vocal quality but also in terms of phrasing and timing. Harnick's facility with lyrics stands out in ways I haven't heard since Williamstown Theatre Festival's splendid production in its 2008 season.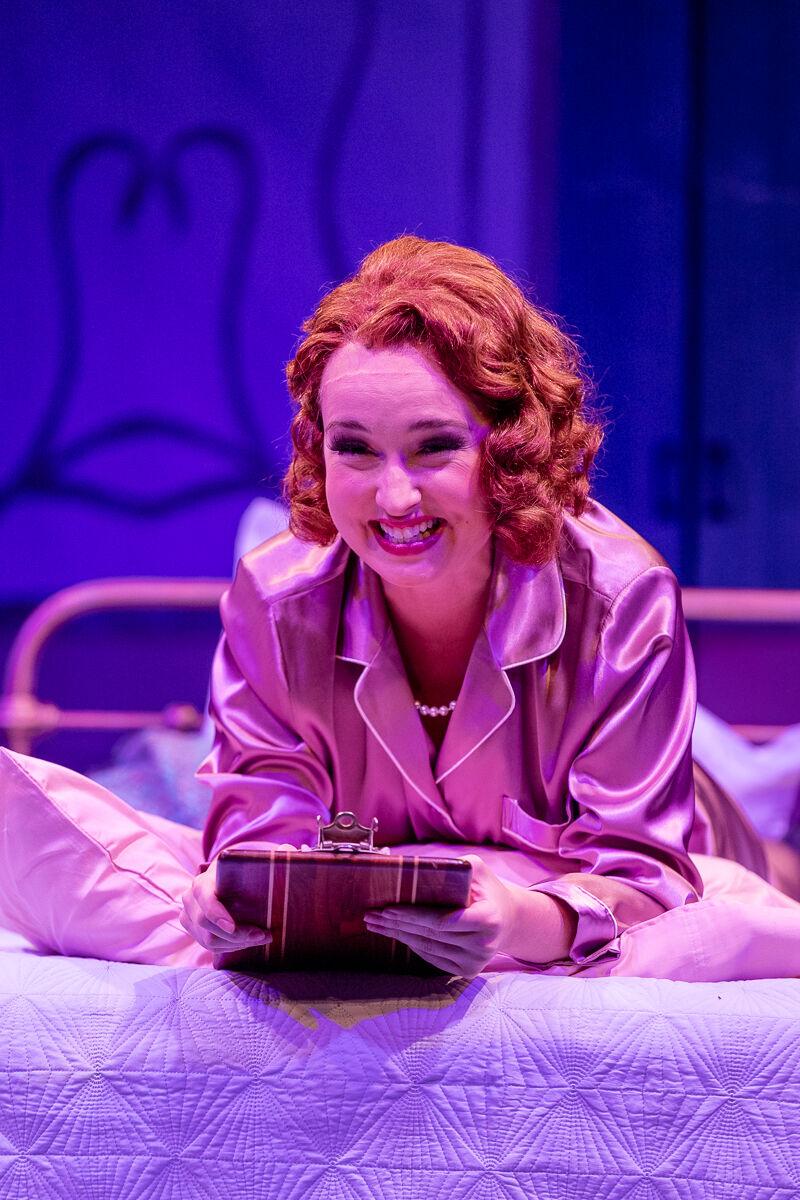 Theater stages this summer have belonged to female actors. It is no less the case here beginning with the utterly captivating Kelly Gabrielle Murphy as Amalia — feisty, resourceful, vulnerable, accomplished, funny, compassionate. She has those moments, particularly in her first-act closer, "Dear Friend," in which, paternally, you just want to put your arms around her and assure her that everything is going to be just fine.
In terms of her singing, the beguiling Murphy has an at-once enchanting and commanding crystalline voice that catches the full melodic and interpretive ranges of the songs Bock and Harnick have given Amalia. She could have sung all night.
And then there is Erin Spears Ledford's sassy, savvy Ilona Ritter, the perfumerie's cashier who, as the musical begins, is having a fling with a coworker — the slick, womanizing Steven Kodaly (well played by Andrew Burton Kelley). Ledford is a terrific comedic actress with sharp instincts, which she applies, and then some, in her musical numbers, especially in the delightful "A Trip to the Library" in which the experienced Ilona, on the rebound after her break-up with Kodaly, finds love where and when she least expects it and moves on to the next, most important, adventure in her life.
The men around Murphy and Ledford hold their own with varying degrees of success. James' Georg is a serious, earnest young man who leads a much quieter social life than his boss, Mr. Maraczek, imagines and privately envies. That Georg is capable of breaking into unrestrained childlike joy with the realization in the show's title-song number that Amalia loves him, even though she doesn't know it yet, is a revelation and an embracing one at that.
Gabe Belyeu is affecting as Mr. Maraczek who, even though he never says so, sees Georg as the son he never had. He is too quick to mistakenly suspect Georg of bad behavior when an anonymous letter claims that Maraczek's wife is having an affair with one of his employees. He is gracious and principled enough to make things right with Georg when the real bounder is exposed. Belyeu's treatment of Maraczek's "Days Gone By" is a warm and affecting reflection on the passage of time, the onset of age, the narrowing of opportunity, the recognition that life moves on.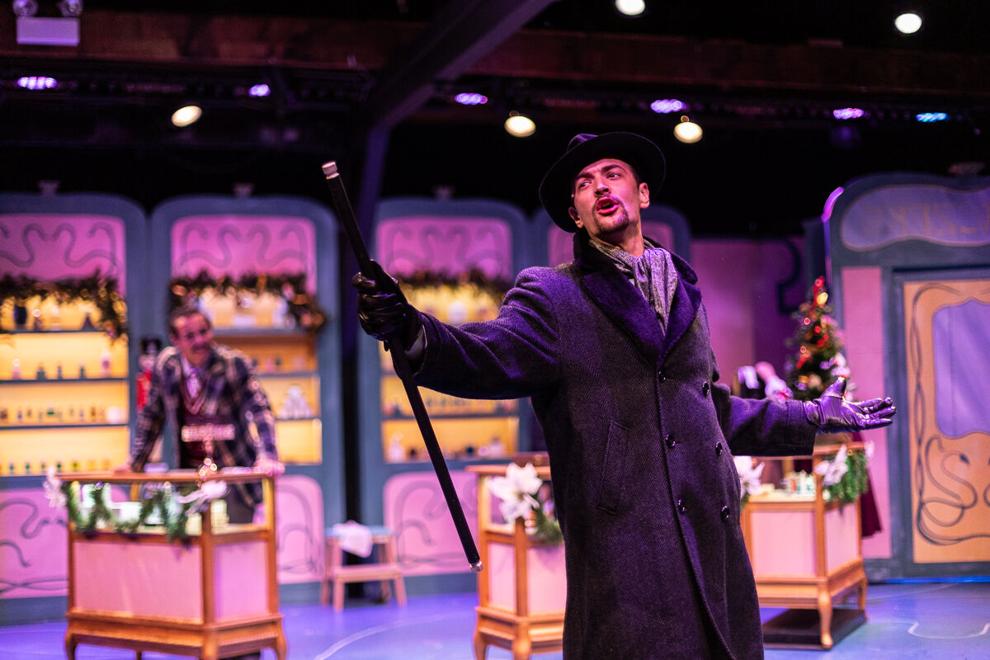 Anthony Velez is a delight as Arpad, the parfumerie's delivery boy who has ambitions of becoming a clerk.
William Taitel goes to extremes in an overwrought portrayal of another sales clerk, Sipos, who, with a family at home to support, has developed the philosophy that to survive in life it is safest to "never disagree … bowing, scraping, nodding, beaming/Always humble/Not an ounce of self-respect … "
"I'm an idiot," he says, "but I'm an idiot with a job." I suspect Taitel is out to demonstrate an overly eager quality in Sipos. He winds up instead with an in-your-face, hyperactive, hypersensitive tone that puts Sipos at a polar opposite to obsequious servility.
The physically nimble Kylan Ross wears out his welcome early in an initially inviting, elaborate, but eventually excess-of-excess performance as the demanding, fussy head waiter at an exclusive cafe-restaurant known for maintaining a discreet, romantic atmosphere.
Small warts and all, anyway you look at it "She Loves Me" is a charmer of a show that is being given a charmer of a production at the Mac-Haydn Theatre. And couldn't we all use a bit of charm — make that a lot of charm — these days?