WILLIAMSTOWN — Bowhead whales are endemic to Arctic and subarctic waters and, when left undisturbed, can live up to 200 years. Any bowhead near that age today has survived deleterious industrial whaling and decades of failed international schemes to bridge or tunnel the Bering Strait.
One Cold War-era plan to bridge the 55 miles between Siberia and Alaska was intended to melt the ice and warm the surrounding waters. Today, some 70 years since that Soviet plan was abandoned, human activity has the ice in retreat and countries are racing to claim this section of the Northwest Passage for cargo and tourism.
Standing in the Williams College Museum of Art to view their Mary Ann Unger retrospective "To Shape a Moon from Bone" has me wondering about the future of bowhead whales.
Unger's installation, "Across the Bering Strait," isn't specifically about whales, or the more than 500 species of animals that live in and around it. But her work is about bodies and is presented during a critical time when many bodies are endangered.
Unger's original presentation of the sculpture was theatrically lit and arranged in groupings, hinting at the geographic separation she references in the title. The current installation is evenly lit with all the individual components grouped rhythmically and evenly; the effect is that of migration. Each of the dozens of parts that make up the sculpture are formed from steel then wrapped in gauze dipped in hydrocal, a sculptural cement made from the same types of minerals mined by Specialty Minerals in Adams. Unger used charcoal and pigment to give the organic shapes a dark luster which, combined with the scarred-flesh effect of the wrapped gauze, reminds me of bog mummies — or whale skin healed from boat strikes.
Unger made this captivating sculptural grouping in the early '90s, another time of radical cultural and geopolitical shifts, and she, too, was thinking about global interconnectedness.
"'Across the Bering Strait' is about the past, but it is also about the present. Populations are shifting all over the world today, refugees from battle or oppression," Unger wrote in her statement of work. "We may have our hopes for an information superhighway and our dreams of an interconnected world in the technological 21st century, yet … migration is arguably the strongest force towards the creation of a global village. Just as it made the world larger thirty thousand years ago, it is still people moving, migrating … that is making the world smaller today."
She is referencing the Bering Land Bridge and other related theories about how people may have migrated between Asia and North America.
However, "To Shape a Moon from Bone" is not an exhibition that only considers global interconnectedness. Unger's daughter, Eve Biddle, is also an artist and her works are included in the retrospective. Biddle is the co-founder and co-director of the Wassaic Project, a vibrant, community-oriented artist residency in southeastern New York.
Like her mother, Biddle works in a variety of media but the inclusion of her ceramic sculptures alongside the plywood, aluminum screen and watercolor works by Unger creates a seamless intergenerational conversation and acknowledges the lineage of influence artists have on each other. The museum also takes steps toward this acknowledgment. Centered in the gallery is a cabinet of artists who influenced Unger, from Louise Bourgeois and Louise Nevelson to works from unknown/unnamed art- and object-makers in sub-Saharan Africa, the Pacific Islands, Central and South America.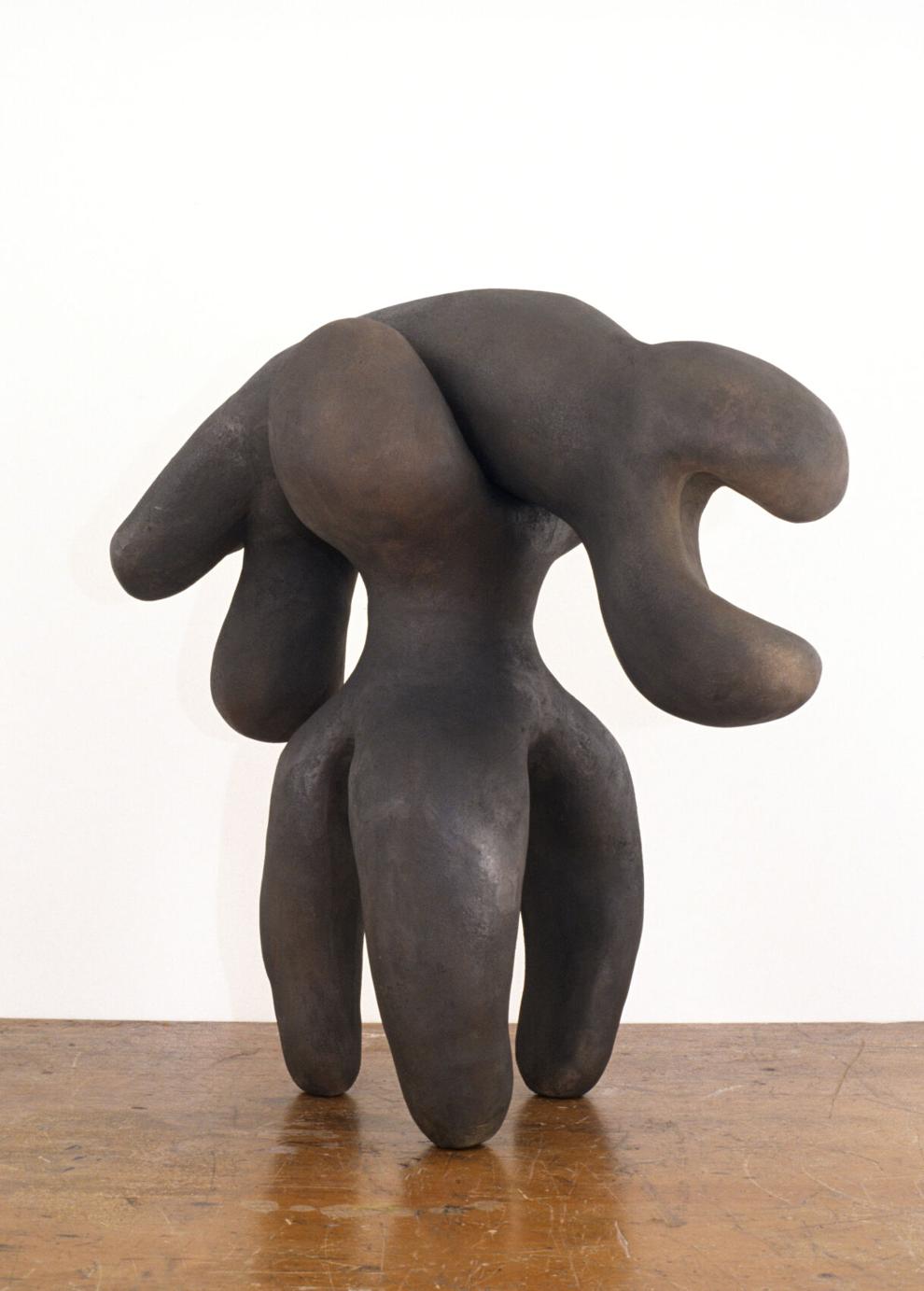 Acknowledging interconnectedness is an overarching theme of "To Shape a Moon from Bone," specifically the connection of the physical body on Unger's artwork. The artist struggled with cancer, but even viewers without this information can find clues in the sculptures and drawings. There are the scarred surfaces of her gauze wrappings, forms that recall bones and figurative distortions that hint at existential and physical pain. But there is also a celebratory nature to her repetitive biological shapes, a gathering of those bone-like forms that feels familial, and a stacking of shapes like vertebrae. There is much folding, twisting, and overlapping in the manner of skin or knuckles.
Unger, who was a graduate of Mount Holyoke College, died from breast cancer in 1998 at 53 years old, an age when many artists are entering their most productive years. Her accolades and contributions to biomorphic and neo-expressionist abstract sculpture were significant despite her early passing. In addition to her studio work, she was also a member of the Guerrilla Girls, an anonymous group of feminist artists who, in 1985, began disruption campaigns to bring attention to gender and race-based discrimination in the arts.
"To Shape a Moon from Bone" is a remarkably current exhibition for works that were made more than 25 years ago. That's quite an accomplishment for Unger, to channel her own personal experience, synthesize it with larger human patterns and anxieties, and create sculpture that still feels vibrant and alive with interpretive meanings decades later.
ON VIEW
What: "Mary Ann Unger: To Shape a Moon from Bone"
When: Through Dec. 22
Where: Williams College Museum of Art, 15 Lawrence Hall Drive, Williamstown
Information: 413-597-2429, artmuseum.williams.edu