BENNINGTON, Vt. — Canadian playwright Vern Thiessen has found in William Shakespeare's wife, Anne Hathaway, a 16th/17th-century woman who stands as a worthy figure for our time.
She is front and center in Thiessen's slyly titled "Shakespeare's Will," a one-actor multi-character play that opened over the weekend at Bennington Center for the Arts in a thoroughly accomplished production from Oldcastle Theatre Company that, with Katrina Ferguson in a truly remarkable performance, reminds us why we go to the theater.
Very little is known for certain about Hathaway's life.
What is pretty much agreed upon by scholars and historians is that Hathaway, the daughter of a Stratford-Upon-Avon landowner, and Shakespeare married in 1582. She was 26 and two months pregnant; he was 18.
The couple lived the bulk of their married life apart — he in London acting in and writing plays, she in Stratford-Upon-Avon raising their three children: their first born Susanna and twins, Hamnet, who died at the age of 11, and Judith. Shakespeare visited Stratford only on occasion until 1610, when he came home to stay. They lived together until his death six years later at the age of 52. Anne died seven years later in 1623.
From these building blocks, Theissen has crafted a play about loyalty, strength, motherhood, marriage, commitment; about a woman determined to chart her own course, assert her identity and personality in an unaccommodating environment. "Shakespeare's Will" is about the bonds of love, about our responsibilities to one another in a loving relationship and how we balance our own needs against those of a partner. This is a play about hope, and about commitment — to the other and to ourselves. It's about how character, identity is formed in the crucible of adversity.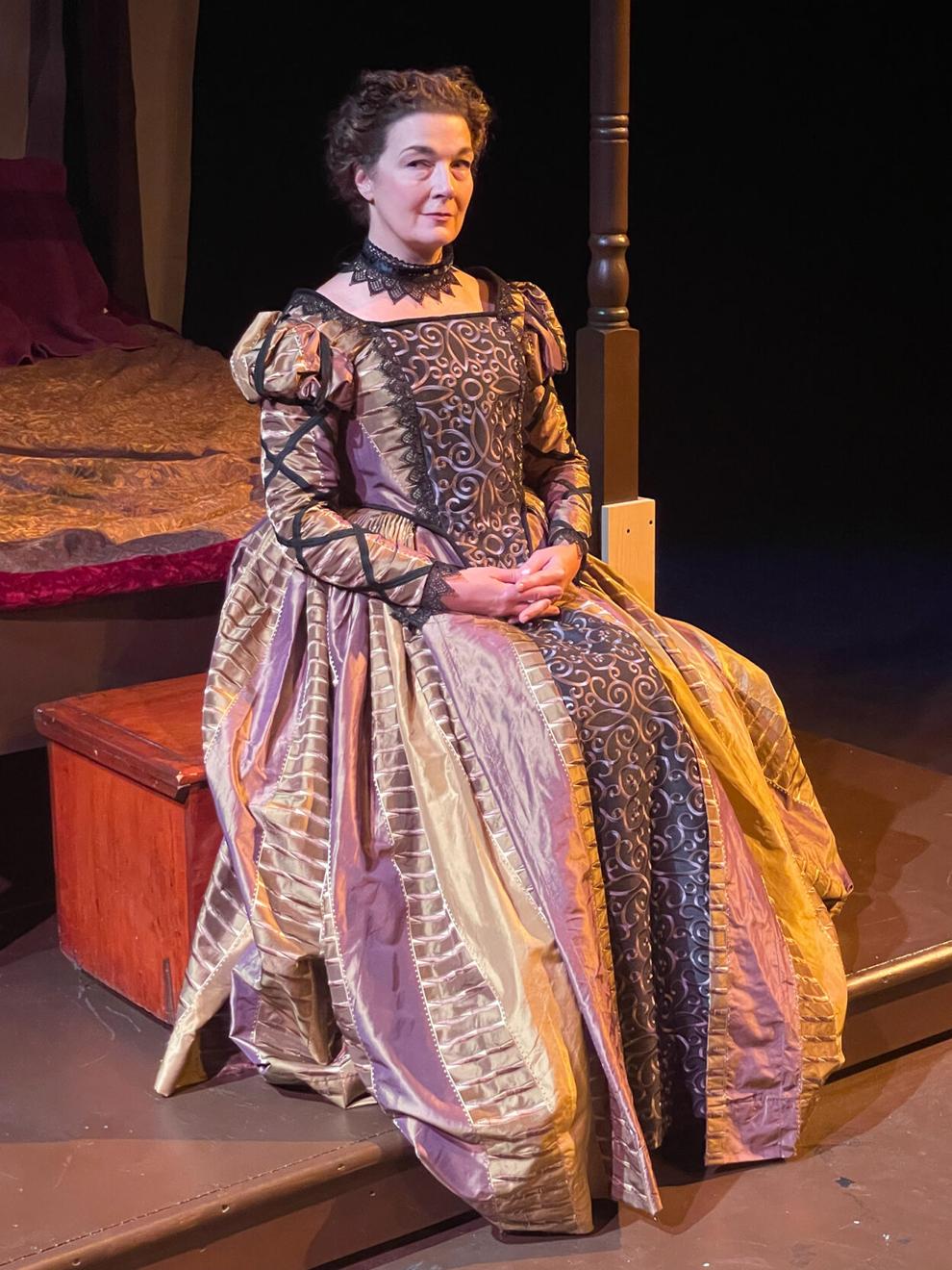 "Shakespeare's Will" is set in the early evening following Shakespeare's funeral earlier in the day. Anne is awaiting the arrival of her snarly sister-in-law, Joan, who has handed Anne her husband's will at the funeral, slyly and wickedly suggesting that Anne read the document, as Joan already has, before she shows up for a visit that evening. And so, in the time before Joan's arrival Anne talks to her husband, reflecting on their life together; memories — meeting "cute" at the yearly summer fair; tumbling around in the hay in her father's barn — she is Will's first, at least insofar as women are concerned. It is a lusty, joyful coupling.
Anne is content not to marry anyone. "I'm happy, I say, to live with my father and brothers, well-fed, well cared-for, with much to do with mother gone; never wanted more," she says. He, too, has no interest in marriage. In addition, he is Catholic and, she suspects, he likes boys. "It's fine, I say, doesn't matter … not to me," Anne says. "... I like boys, too; men that is. I like the company of lots and lots of men. Why do you think I go to the fair?"
Her pregnancy changes all that. She is forced into marriage, much to her father's objections. Not only is his daughter "with child," the youth — "Shake-speare," as her father disdainfully refers to him — is Catholic; the son of a papist glove maker who cannot pay his bills, and was the worst mayor the town has ever had, Anne's father says.
Anne willingly marries Will but not without the two first vowing "To live our own lives," Anne says. "To treat each other well but allow for our separate desires. To have our secrets but protect what we hold most dear. It will be our own kind of marriage." That vow will be sorely tested over the course of that marriage.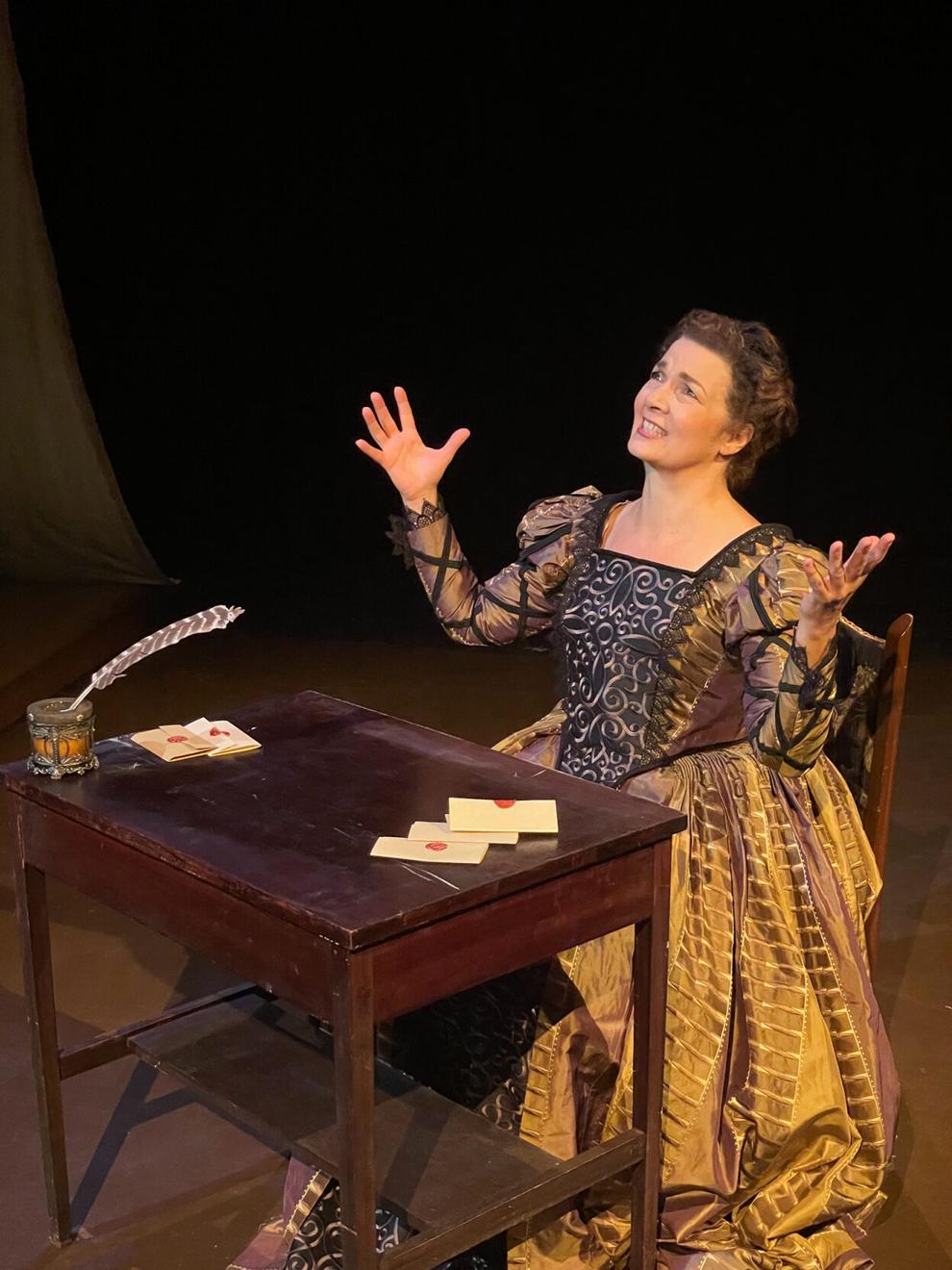 Anne is a devoted mother and caretaker of the household, land and family. She embraces her sexuality with frequent flings in the hay. As her husband's fortunes rise in London, so do hers. He is careful to send money home even if his visits are infrequent. When Anne suggests that perhaps she and the children could move to London to be with him, William dissuades her for reasons that make some sense on the surface — but which Anne suspects may have more to do with protecting a rumored secret relationship with a man.
When plague strikes, Anne flees with the kids to a cottage by the sea until it is safe to return to Stratford. The sea, as it turns out, is no refuge from death. In a harrowing sequence near the end of the play, Anne recalls Hamnet's tragic drowning while she watches helplessly from shore — an incident that will resonate for Anne in ways in which she cannot anticipate until she reads her husband's will.
"Shakespeare's Will" is a thoroughly engaging theatrical exercise — funny, touching, affecting, poignant. Working with director Nathan Stith, Ferguson doesn't miss a turn in a performance that requires her to depict, in addition to Anne, various people in her life.
Ferguson's instincts are unerring in a performance that is notable for its elegance, depth, grace, richness and consummate skill (think the late Marian Seldes). Ferguson has an extraordinary instrument in her voice and she plays it like a virtuoso.
Together with its designers — Richard Howe, sets; Ken Mooney, costume; David V. Groupe, lighting; and Cory Wheat, sound and original music — Stith's production is meaningful and memorable.