STOCKBRIDGE — It's been said, many times over, that timing is everything. In so many ways the timing couldn't be better for Willy Russell's life-affirming one-actor play, "Shirley Valentine," which opened over the weekend in an ably mounted, credibly performed production at Berkshire Theatre Group's Unicorn Theatre.
Front and center in Russell's insightful rite-of-passage tale is Mrs. Shirley Bradshaw, nee Valentine (Corinna May in a generally appealing and involving performance), a Liverpool housewife, mother and part-time domestic worker who, at the age of 42, has settled into what she calls at one point "a little life." Jaded since 25, she says somewhat sarcastically, she has settled into a life that is routine, ordinary, uneventful, unfulfilling. She describes her husband, Joe, as a good man. They have two adult children — Brian, a self-described poet, musician and street performer, and a daughter, Millandra, who is sharing a flat with a roommate but who, in a sudden gesture, moves back in with her parents in what turns out to be a short-lived return.
The fact is that Shirley Bradshaw has come a far distance from Shirley Valentine, a girl who had no fear of, say, jumping off a rooftop; who harbored dreams of traveling, of becoming an air hostess; a girl who "got lost in all this unused life" — dreams, hopes, feelings that are never used. Shirley Bradshaw is bewildered, confused, frustrated. Shirley Valentine has disappeared. "Somewhere along the way the boy called Joe turned into 'him' and Shirley Valentine turned into this and what I can't remember is the day or the week or the month … when it happened. When it stopped bein' good. When Shirley Valentine disappeared, became just another name on the missin' persons list."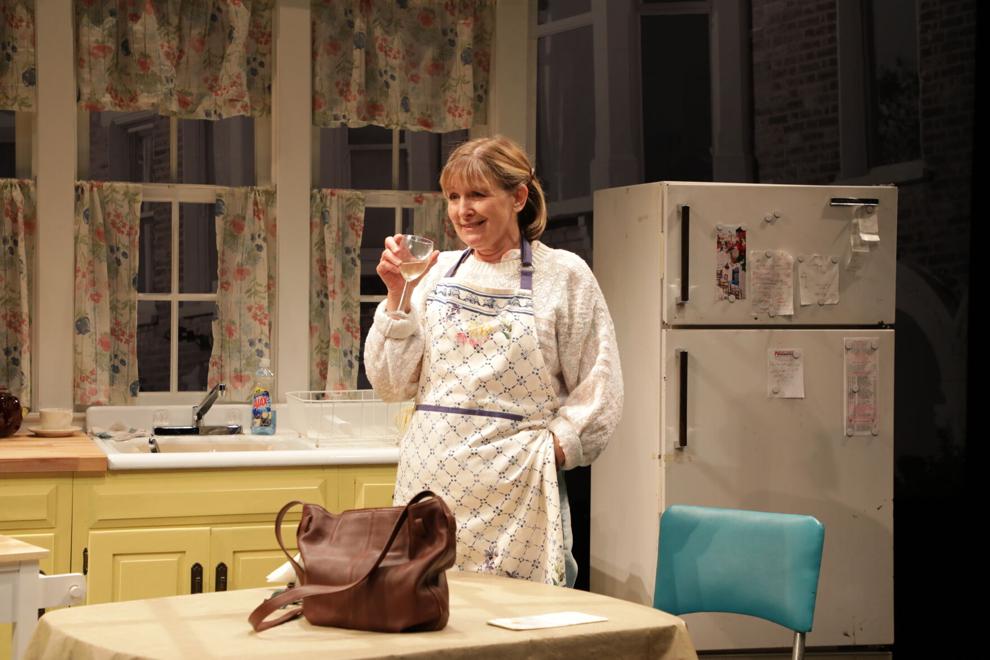 As she goes about her business in the kitchen — beautifully designed by Randall Parsons — preparing her husband's evening meal, indulging in a glass or two, or more, of Riesling as she does, she acknowledges to her closest confidante, "wall" that she had promised herself she would leave the marriage once the kids were grown and on their own "but by the time they grew up there was nowhere to go," Shirley says.
Shirley is terrified at the thought of leaving the safety and security of the world she knows for a world beyond "wall." She fears there would be no place for her beyond the wall. But now, on this evening, circumstances have changed. It's all in the timing. Shirley has an opportunity to follow her bliss, as the late mythologist Joseph Campbell wrote in "The Power of Myth."
"If you do follow your bliss," Campbell wrote, "you put yourself on a kind of track that has been there all the while, waiting for you, and the life you ought to be living is the one you are living."
Shirley's best mate, Jane, wants Shirley to accompany her on a two-week trip to Greece. She's bought Shirley's ticket and now Shirley is wrestling with the prospect of claiming a portion of her unused life.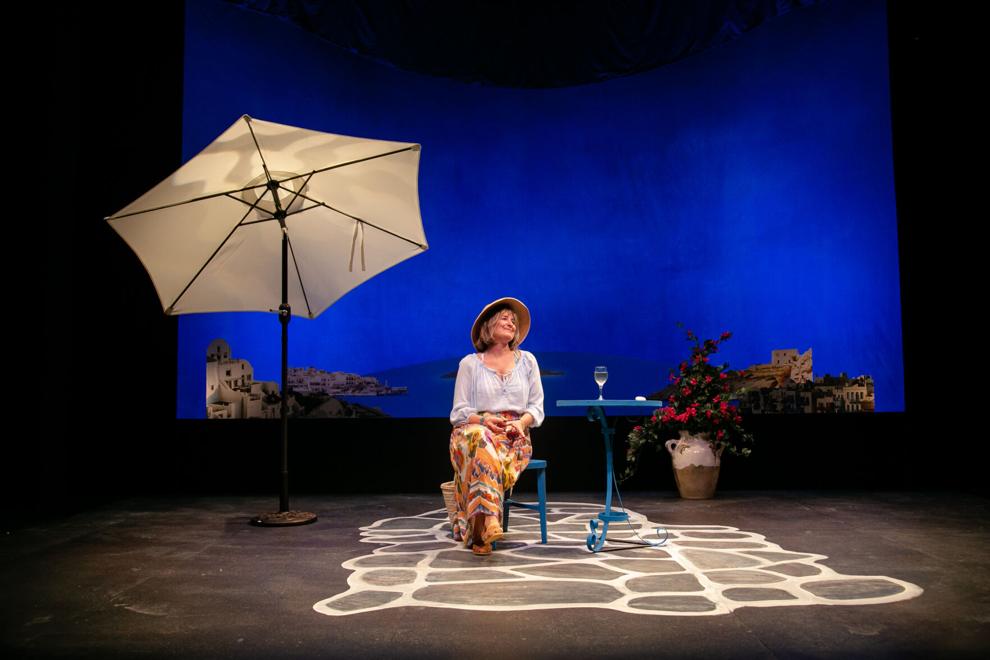 Shirley's trip is transformative. The tight confines of her kitchen have been replaced by a broad expanse of Greek sky and sand. Wall has been replaced by rock. Jane winds up leaving Shirley on her own for a few days during which Shirley has a fling with a taverna owner named Costas. That fling triggers not only a sexual awakening in Shirley but also serves as a portal to the world beyond the wall that turns out to be inviting, welcoming, accommodating, adventurous, open; so much so that the thought takes root in Shirley that she is on the cusp of living the life she was meant to live.
May is an accomplished actress. She approaches Russell's material with understanding, subtlety and nuance, and her emotional sensitivity blends well with her narrative skills. Shirley is a wonderful storyteller and May takes full advantage, especially in an affecting account of a chance meeting with a former classmate she hasn't seen since their high school days. In the first act especially there are moments in which May's Shirley shows a childlike vulnerability; a kind of innocence that belies her life experience. At the same time, there is a ladylike gentility around May's Shirley, smoothing Shirley's rougher edges.
The shift from act one's Shirley Bradshaw to the radiant, confident Shirley Valentine is, again, subtle and very much present. This is a confident, mature Shirley. She has no illusions, especially when it comes to her relationship with Costas. She's not in love with him; entertains no thoughts of making a life with Costas. Clearly, there is a renewed sense of life in Shirley, especially as she relates to her new confidante, "rock," the day she and Costas spent in the water, on the deck of his boat, swimming, having sex, simply lying next to one another under a Mediterranean sky; soaking in the bliss.