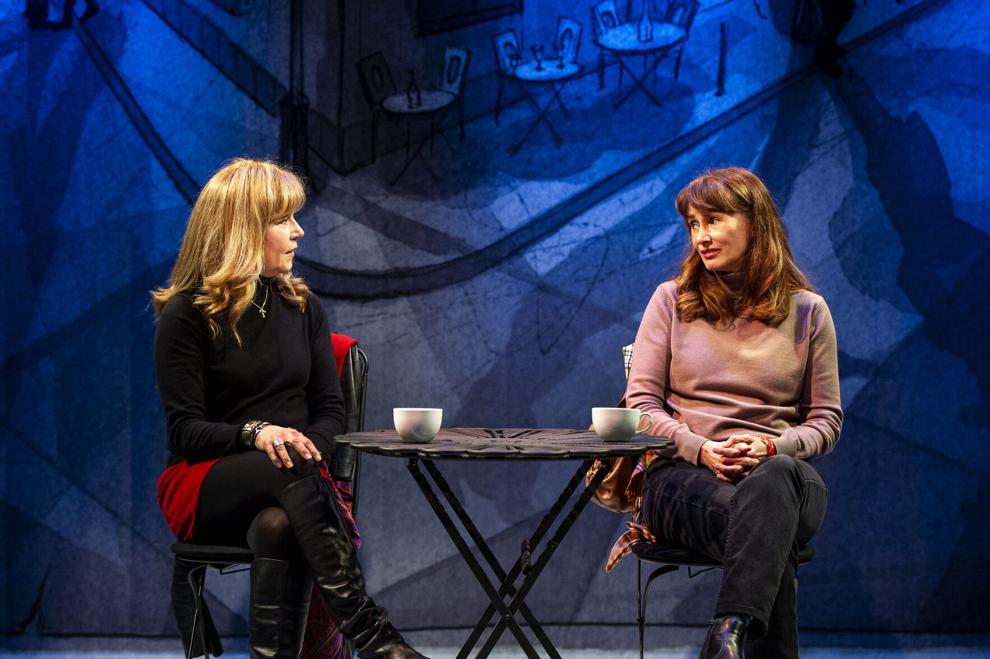 LENOX — Words matter. In Mark O'Rowe's "The Approach," which opened over the weekend in a skillfully acted, if emotionally uninvolving, production at Shakespeare & Company's Elayne P. Bernstein Theatre, unspoken words often matter more. Truth also matters. And in "The Approach" truth is virtually impossible to discern.
"The Approach" unfolds in a series of conversations between various pairings of the play's three characters — Anna (Michelle Joyner), Cora (Nicole Ansari) and Denise (Elizabeth Aspenlieder) — over an unspecified period of time in a cafe somewhere in Dublin.
With the exception of Jim Youngerman's distracting, atmospheric nighttime street scene backdrop, more is suggested and hinted at than specified in "The Approach."
Anna, Cora and Denise are connected by school; by a period in the younger portion of their lives living in Ranelagh, a tiny suburb of Dublin; by the suicide of a schoolmate; by unsuccessful — violently abusive in the case of Cora — relationships with men. In a sense, Cora, Anna and Denise have been living lives of quiet desperation and that has made each of them guarded, protective, cautious in how much they will reveal.
Their contacts with each other since Ranelagh have been sporadic, at best; spread over gaps of months, three years in one instance. Events that have elapsed in their lives in the intervals between get-togethers are shaped by time, memory, perception.
Two of the women, Anna and Denise, are sisters. Stemming from what Anna regards as an unforgivable betrayal by Denise and Anna's payback for that betrayal, their relationship is, at best, fractured.
"The Approach" is very much concerned with the fabric of relationships — friends, lovers, parental — and what happens to that fabric when our own sense of self-worth comes into play; when truth and trust are in doubt. What happens to these relationships when the threads start coming undone, a sense of broken connections and how far these friends are willing — able — to go to reconnect. Where is the line between, on the one hand, reaching out and connecting truthfully and authentically, and, on the other hand, ceremonial formality.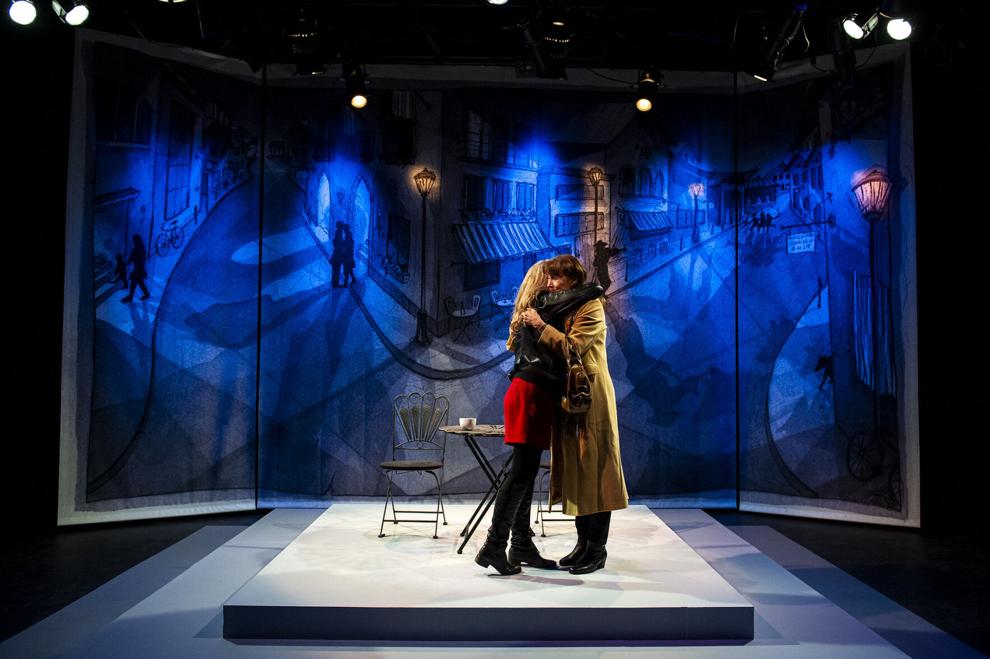 "The Approach" is a shrewdly crafted play and under Mark Farrell and Tina Packer's co-direction, Joyner, Aspenlieder and Ansari approach O'Rowe's material with intelligence and a keen way with nuance and shading. But for all the skills at play on the Bernstein stage, this largely cerebral exercise doesn't get under the skin, let alone engage our emotions, for any reasonably sustained period over the course of its intermissionless 75 or so minutes. Like the few figures in Youngerman's backdrop, the women who occupy Youngerman's brightly lit cafe, in the end seem little more than shadows.