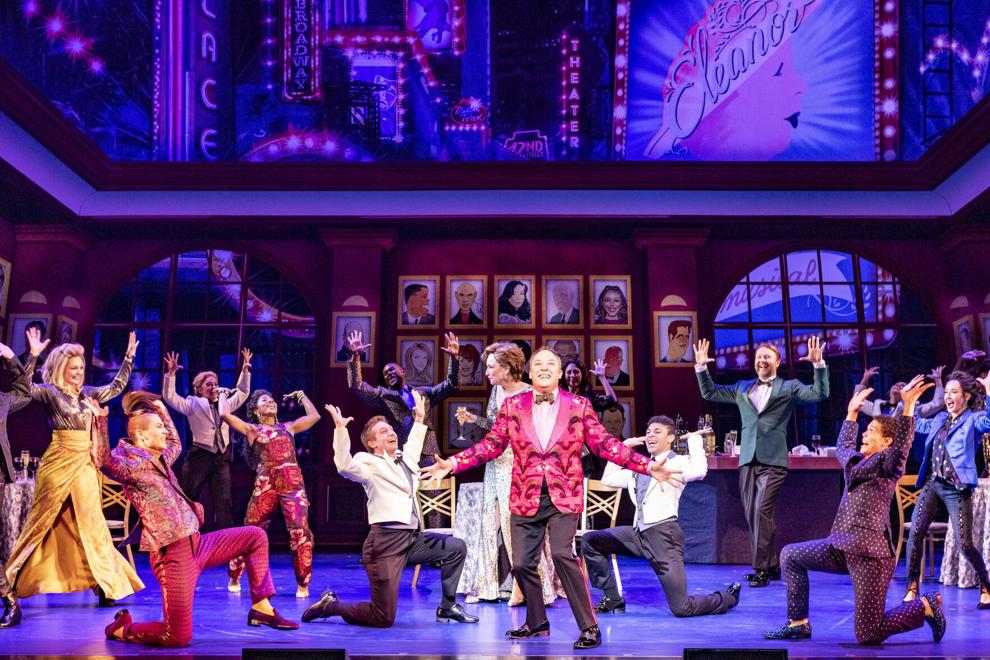 SCHENECTADY, N.Y. — Dee Dee Allen and Barry Glickman — two characters at the center of the well-intentioned, if frustratingly uneven, Broadway musical "The Prom," at Proctors through Sunday, March 6 — loom as large, if not larger, in their own minds as they do on Broadway.
The co-stars of a Broadway musical about Eleanor Roosevelt are cut down to size by a New York Times critic whose opening night review slams the two for being too self-absorbed to meaningfully convey the selflessness and compassion with which Eleanor, especially in her post-First Lady later life, and her husband, Franklin D., served this country. As a result, the show closes on opening night, leaving Dee Dee (played by Courtney Balan with a single-minded, distancing expansiveness) and Barry (Patrick Wetzel in an exquisitely composed, subtly shaded performance) determined to find some cause they can actively support in an attempt to appear selfless. They are joined by a young out-of-work actor, Trent Oliver (Bud Weber), a prideful Juilliard School graduate whose "best work" has been left in the classroom, and a chorine named Angie Dickinson (Emily Borromeo) — no, not THE late film and TV star — who has just quit the chorus of "Chicago" after 20 years because the producers never gave her the opportunity to play the leading role of Roxie Hart. Angie prowls the internet and finds what they are looking for in a small town in Indiana where a teenager named Emma has caused a furor by insisting, against community and student opposition, that she be permitted to bring her unidentified girlfriend to her high school prom.
The Broadway celebs clearly are out of their element in a community that has fallen on hard times and views them as intruders. Their initial effort to win over the community by staging a rally on Emma's behalf during halftime of a Monster Truck show proves a complete disaster
Leading the community opposition is PTA president Mrs. Greene (a frequently overly shrill Ashanti J'Aria), who seemingly has no idea that her teenage daughter, Alyssa, is Emma's girlfriend. Emma's biggest ally is the high school principal, Mr. Hawkins (played credibly by Sinclair Mitchell), who is a fan of Dee Dee. He has seen her perform often during his regular summer trips to New York to see theater. Emma also gets help from the state attorney general whose ruling ostensibly on Emma's behalf, however, leaves enough room for the community to throw Emma a big curve on prom night by staging an alternate prom in another part of town without telling her in advance. And so, she is thrust into a national spotlight she's been trying to avoid. She accepts the need to tell her story but to do it the best way she knows; her way. Right from the get-go, "The Prom" is a feel-good musical so it is not giving anything away to say that the results of her strategy — which the four Broadway celebs help facilitate in truly meaningful ways — are spectacular.
On the whole, this national touring company rises to "The Prom's" occasions, especially its big ensemble dance numbers — "Tonight Belongs to You;" "Love Thy Neighbor;" the finale, "It's Time to Dance;" and "Unruly Heart," featuring Emma and her peers. Director Casey Nicholaw's dazzling choreography explodes across the Proctors stage with liberating theatrical style and infectious energy.
"The Prom" is a big, formulaic cartoon of a musical that checks all the right boxes and too often seems at war with itself. The show's creators — Bob Martin and Chad Beguelin, book; composer Matthew Sklar and lyricist Beguelin — have created a musical that is as much a valentine to theater as it is a veneration of the differences among us that make us whole as a society; a consideration of what it means to respect, honor, discover, own who and what we are as individuals.
"The Prom" can't resist self-gratifying show business references; a Bob Fosse tribute, "Zazz;" a gratuitous song by Hawkins, "We Look to You," in which he explains to Dee Dee the value of theater for him and, by extension, many of us.
"The Prom" is at its most authentic and ingratiating when it is at its most sincere and intimate, most of them scenes involving Emma and Barry, and Emma and Alyssa. "The Prom's" heart may belong to Broadway but its soul belongs to Emma (played — and very effectively, I might add — on the night I saw "The Prom" by Kaden Kearney's understudy Megan Grosso); and Kalyn West in a heart-wrenching performance as Emma's secret girlfriend, Alyssa. Their memorable duet, "Dance With You," is filled with grace, love, hope.
In her song "Alyssa Greene," Alyssa spells out for Emma the impossible situation she is in being raised by her overly protective mother. Alyssa's journey, especially in this production, is as central to "The Prom" as is Emma's determination to be seen, heard and accepted for who she is. It's a journey Alyssa shares not only with Emma and four actors from New York but also with community, in the broadest sense of the word.