CATSKILL, N.Y. — Two significant corrections to the Western art canon happened last week.
British art historian and curator Katy Hessel's "The Story of Art Without Men" was released in the United States on May 2. The 512-page book is a broad survey that only just begins the work of uncovering the groundbreaking contributions women have made to visual art since the 1500s. Hessel begins the book by pointing out just how little gender equality exists in today's contemporary art world, noting that even in the 2020s we are still in an era of firsts, including the first woman of color, Simone Leigh, representing the U.S. at the über-prestigious Venice Biennale.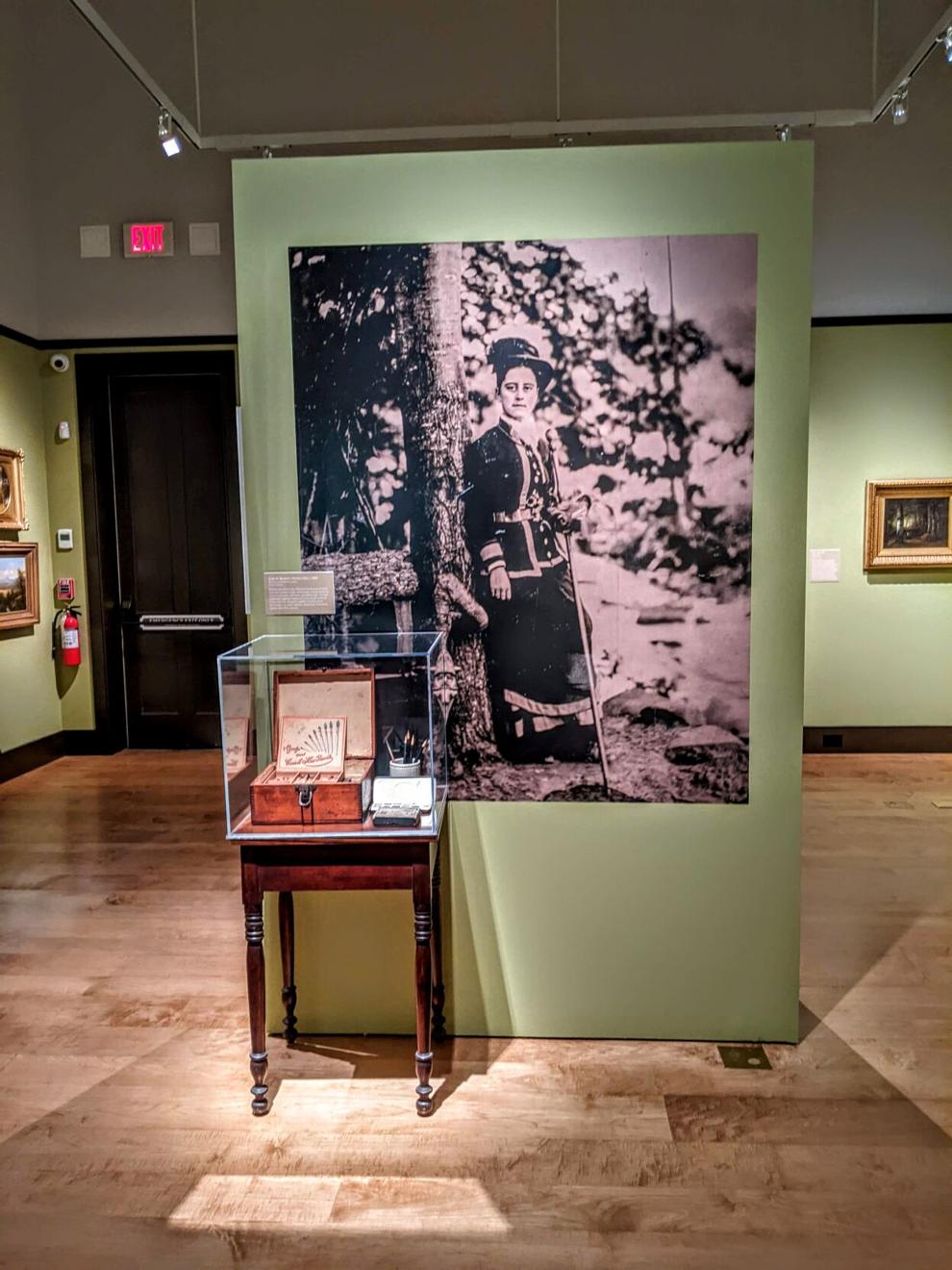 On May 6, the second of these canon corrections opened at the Thomas Cole National Historic Site. "Women Reframe American Landscape: Susie Barstow & Her Circle/Contemporary Practices" is a two-part exhibition that exemplifies what the Cole Site does best — placing contemporary artists in dialogue with painters from the Hudson River School. Thomas Cole is known as the founding father of the Hudson River School, which is considered the first major American art movement.
"Susie Barstow & Her Circle" is the historic component of the exhibition and it is a very satisfying display. Mounted in the New Studio building, nearly 40 paintings, sketches, and bits of Barstow ephemera are hung alongside paintings from six other painters — all women — from the second generation of Hudson River School painters. There is no doubt Barstow was an erudite painter, producing lush oil paintings that are often more magnificent than works by Cole.
By all accounts, Barstow was fiercely dedicated to painting and employed a shrewd entrepreneurial approach to get her work onto the walls of a burgeoning collector base, thus allowing her the resources she needed to continue her work. Barstow's friends and fellow painters told stories of how she could not be stopped, altering her clothing to allow more mobility while hiking eight to 12 miles a day in the forest, bounding off into all manner of weather to complete color and composition studies for her paintings. And yet, the story of this important and very animated artist was ignored in favor of the men working alongside her. We don't often hear it framed in that way — men working alongside her. The queerness of this phrasing, simple as it may be, reveals the gender-based poverty still at play in the arts today.
Despite Barstow's success in her own lifetime, "Susie Barstow & Her Circle" is the first retrospective of the artist's work. "So many people celebrate Cole as the founding father of the American Landscape and the Hudson River School, but we also want to complicate that by presenting women who were erased from the narrative," said Kate Menconeri, chief curator at the Thomas Cole National Historic Site and one of the three joint curators for this exhibition. The other historical artists on view in the Barstow retrospective are: Pittsfield-born Julie Hart Beers, Fidelia Bridges, Charlotte Buell Coman, Eliza Greatorex, Mary Josephine Walters and Laura Woodward.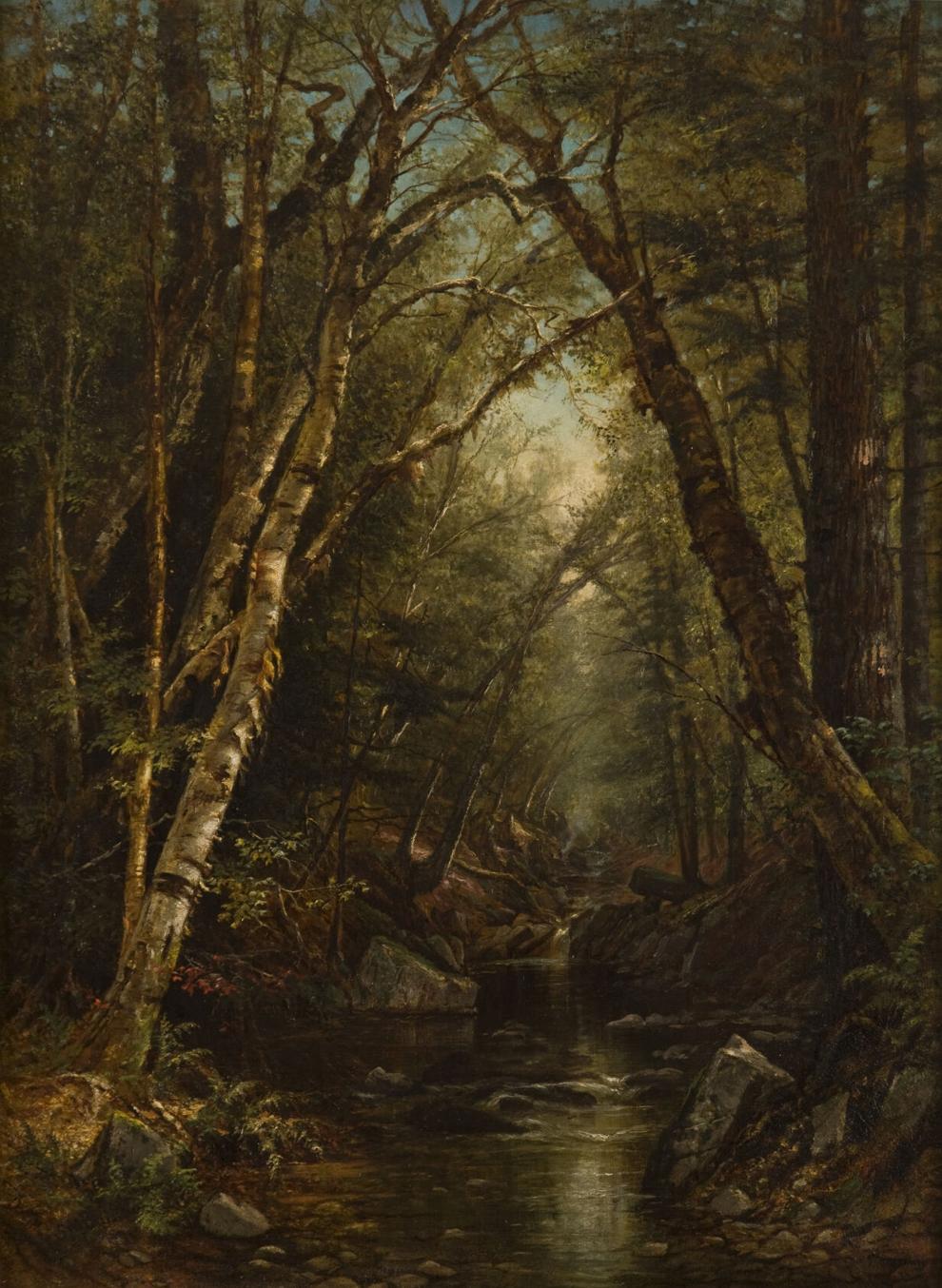 Barstow died in 1923. It would be appropriate to think many things have changed in the 100 years since her passing. But as the infamous, politically hard-hitting Guerrilla Girls point out, it would also be wrong to think this way.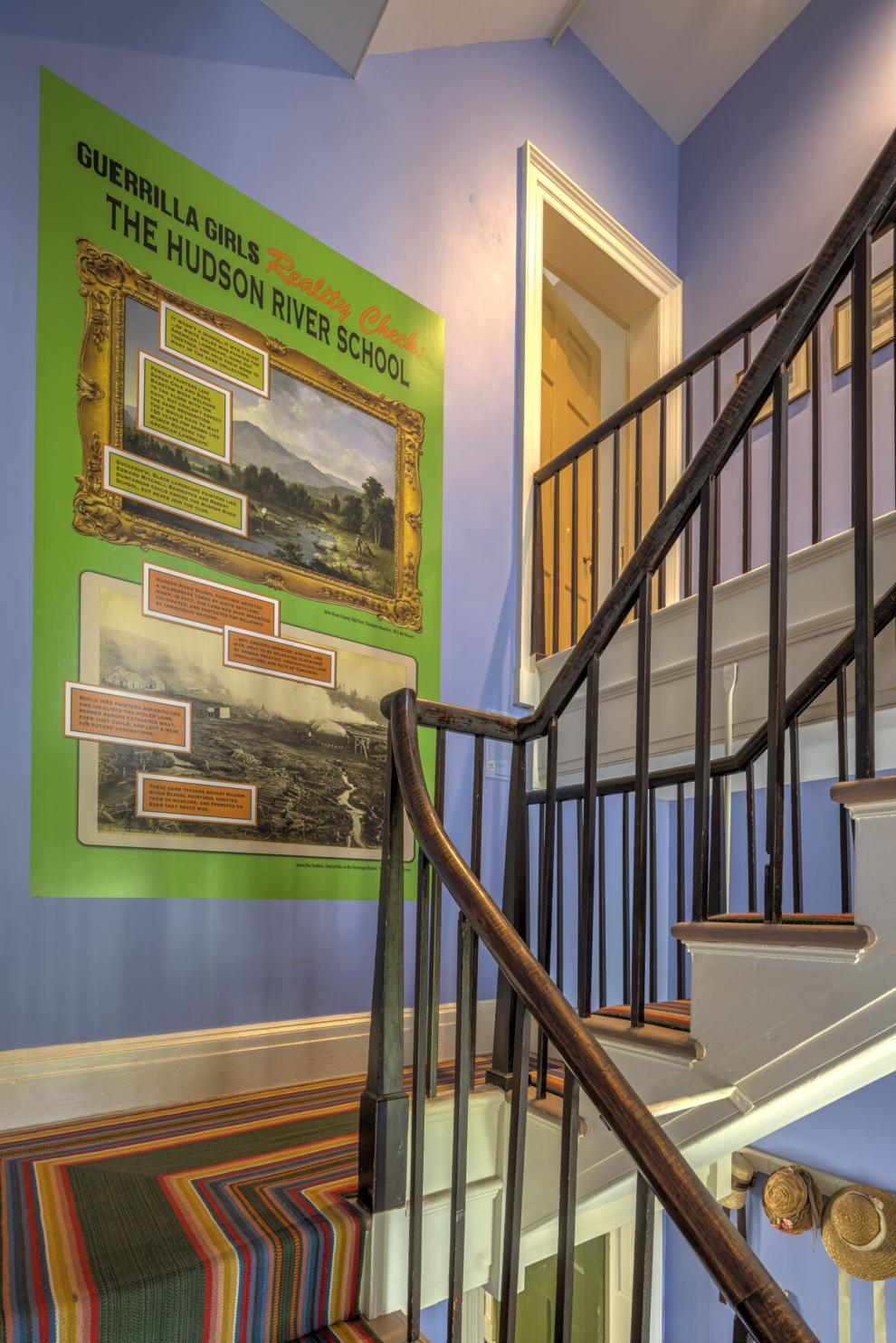 One of 13 artists in the "Contemporary Practices" portion of the exhibition, the Guerrilla Girls give a "Reality Check" to the Hudson River School in one of their typically confrontational, fact-based, poster-style works that push back on canonized (read: white male) notions of art in America. Presented as info panels over images, the appears over a painting by Asher Brown Durand and reads "It wasn't a school, it was a club!…of white males who painted the American landscape, hung out together, and sold their works to many of the same collectors." The five remaining info panels highlight the we-let-them-tag-along/sidekick status of women painters the complete exclusion Black painters from the Hudson River School. The bottom image in the poster is a photo of smoke pouring from charcoal kilns in an overly logged, decimated landscape along the the Chateaugay Railroad in the Adirondacks, 1889 by Seneca Ray Stoddard. The remaining infographics go on to detail the romanticization of a landscape that was being demolished by the white settlers who destroyed the Indigenous population and the years of devastation wrought by industrialization.
At an early preview of the exhibition, artist Jean Shin was on location to put the finishing touches on her works. Installed on the generous, wraparound porch of the main house, Shin has physically mined the land at the Cole Site in order to comment on the carbon footprint of art and art making. She is also interested in ideas around displacement. By combining waste from her own past installations — denim, Korean celadon pottery chards, electronic wires, and shredded Mountain Dew bottles—with neutralized soil from the TCNHS inside wooden crates that formerly held Cole's artworks, Shin has created three time-capsules that comment on ideas of displacement from land and lopsided ideas of the landscape.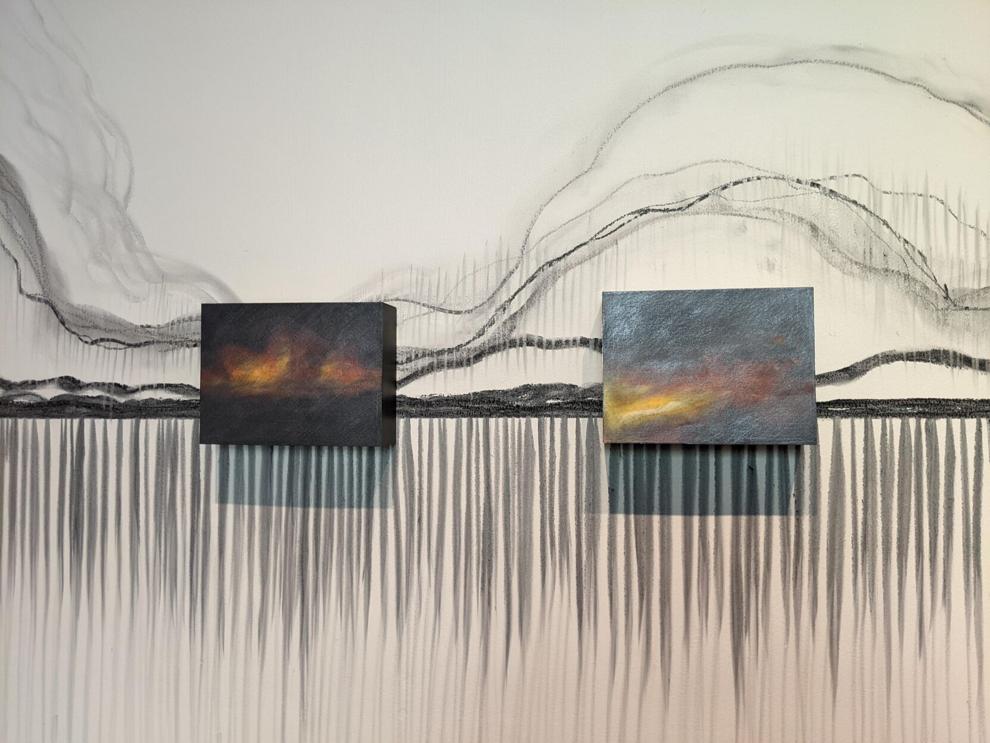 Work by MacArthur Fellow Teresita Fernández is featured inside the house. Using charcoal, which is produced by charring wood or other organic matter, Fernández drew a horizon-line landscape on the wall. She then layered paintings of small fires over the line conjuring up ideas of scorched Earth and climate change but also of Indigenous fire and land management practices. The installation is a simple, straightforward gesture that highlights the complex realities and stories we hold in our minds about our own relationship to the land where humans are both a force of destruction and stewards of the future.
ON VIEW
What: "Women Reframe American Landscape: Susie Barstow & Her Circle/Contemporary Practices"
Who: Curated by Nancy Siegel, professor of art history at Towson University, Kate Menconeri, chief curator and director of curatorial affairs, contemporary art and fellowship at the Thomas Cole National Historic Site, and Amanda Malmstrom, associate curator of the Cole Site.
With historical works by Susie Barstow, Julie Hart Beers, Fidelia Bridges, Charlotte Buell Coman, Eliza Greatorex, Mary Josephine Walters and Laura Woodward.
With contemporary works by Teresita Fernández, Guerrilla Girls, Marie Lorenz, Tanya Marcuse, Mary Mattingly, Ebony G. Patterson, Anna Plesset, Jean Shin, Wendy Red Star, Jaune Quick-to-See Smith, Cecilia Vicuña, Kay WalkingStick and Saya Woolfalk.
Where: Thomas Cole National Historic Site, 218 Spring St., Catskill, N.Y.
When: Through Oct. 29
Tickets: $18, 16 and over; $16, 62 and over, students and military/veterans with ID, $10, K-12 teachers with ID, free for 15 and under, members, museum employees with museum ID and SNAP/EBT cardholders. Add $2 for guided tours July through September.
More information and reservations: 518-943-7465, thomascole.org