NEW LEBANON, N.Y. — There is a delicious whimsy in Sam Slack's deceptively simple set design for director-choreographer Rebecca Frazier's production of the musical "You're a Good Man, Charlie Brown" at The Theater Barn. If only that sense of playfulness and ease were infused in the members of Frazier's too-often too-hard working cast.
The musical runs through Friday, Sept. 5.
The musical premiered Off-Broadway in March 1967 with book, music and lyrics by Clark Gesner based on material in Charles M. Schulz' popular comic strip. The show ran nearly four years. The musical had a major, if short-lived, Broadway revival — "You're A Good Man, Charlie Brown (revised)" — in 1999 with new dialogue by Michael Mayer and some additional new songs by Andrew Lippa. That revival lasted only three months, but it's the version that's been done since at regional and community theaters. It's the version being done here.
Mayer, Lippa and Gesner have remained true to the source and to Schulz' abiding spirit. The principal characters are here in all their childhood/grown-up longings, accomplishments, small (and some not so small) disappointments, and an endearing spirit that never knows when to quit, let go or relent.
Frazier's cast — Christian Ortega as Charlie Brown; Raina Fraley as the relentlessly crabby Lucy van Pelt; Brett Hennessey Jones as Lucy's blanket-clinging younger brother, Linus; Emily Song Tyler as Charlie Brown's younger sister, Sally; Kyle Jack as wannabe classical piano virtuoso Schroeder; and Jarod Bakum, very nice as the marvelously idiosyncratic Snoopy — goes about its business with earnestness, diligence and determination.
Under Kevin Francis Finn's musical direction, the vocalizing, supported by a fine five-musician ensemble, is expressive and harmonious and Frazier's stylish staging of the musical numbers is executed smoothly.
Every now and again, that whimsical impulse in the show's design shows up in the staging. One of the more antic and inspired designs has Bakum's Snoopy in a barely seen corner upstage attending to the kind of business nature requires dogs to attend to outdoors while downstage, Lucy is pressing one of the crew to answer a survey she is taking on her personality.
Frazier's production is, at its most, engaging not only in its musical numbers, but also when it is in the hands of Fraley's Lucy, even if her crabbiness can get overbearing at times, and particularly Tyler's absolutely delightful Sally whose sublime "My New Philosophy" is a soaring testament to Sally's facility for making lemonade when life, personified as her teacher, throws her lemons.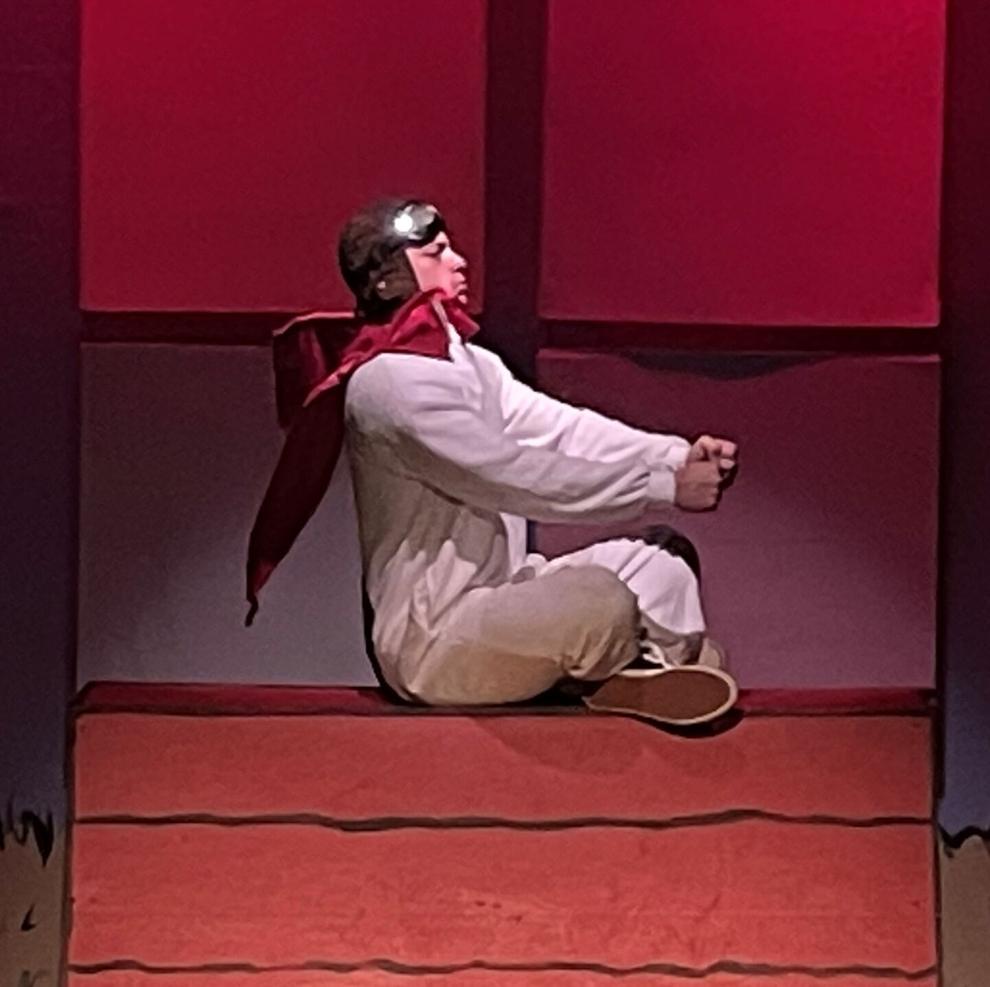 For all the hard work onstage, there is rarely that moment when you just want to put your arms around Charlie Brown or Linus or whomever and just say "There, there. Everything will be alright."
When, in this production, the full company comes together for the concluding conciliatory "Happiness," it's just another ensemble number; missing is that underlying nuance that everything is whole and welcome. In that context, when Fraley's Lucy shakes Charlie's hand and delivers the final line, from which the musical draws its title, you can't help but wonder if, rather than the confirmation of friendship it is meant to be, this is just one more trick Lucy is playing on the hapless Charlie Brown.