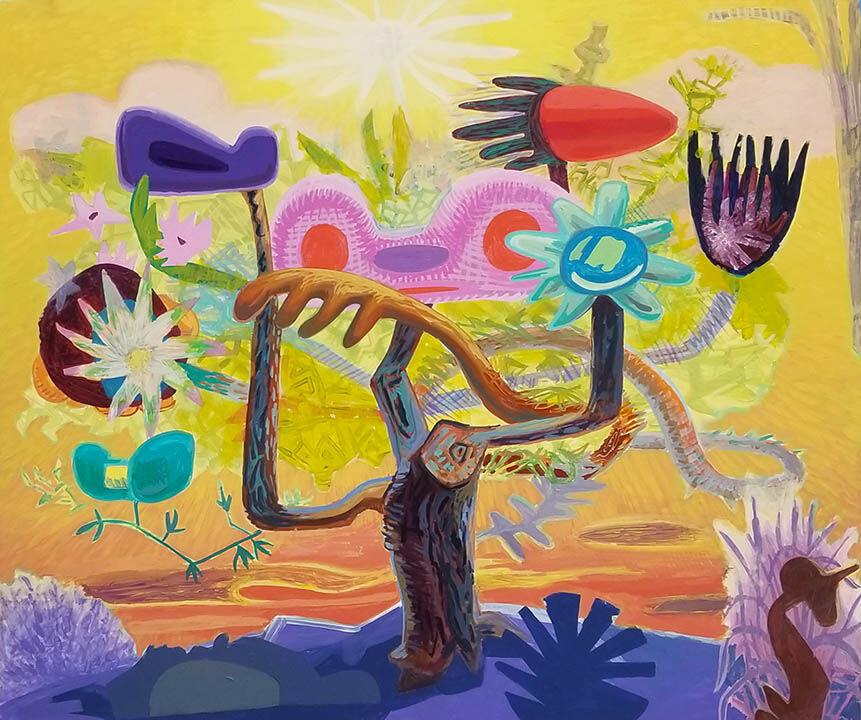 STOCKBRIDGE — There's a eucalyptus tree bark that takes on rainbow hues during its annual shedding. Artist Thomas Whitridge captures this phenomenon in a photograph that evokes paint dripping from a canvas.
His image hangs on the walls of Berkshire Botanical Garden's restored and renovated 18th-century farmhouse, Center House, as part of "Shimmer," a group show of 38 artists running April 1 through May 1. An opening reception will take place 5 to 7 p.m., Friday, April 1.
"It's astounding what nature provides for us," said artist Sue Muskat, who is curating "Shimmer" with husband and fellow artist Phil Knoll, during a phone interview from their home in Monterey. "When you start to train your eye and pay attention to what's in front of you, you can see the most extraordinary things."
This is their second group show at the garden; the first was "Ecophilia" in 2018. After leaving New York City for the Berkshires following 9/11, the couple were running Great Barrington's Geoffrey Young Gallery when then-Executive Director Michael Beck asked them to curate a show at Berkshire Botanical Garden. He repeated the offer before leaving for his current two-year sabbatical in the U.K.
The 38 exhibiting artists in "Shimmer" hail from far afield — Florida, Indiana, California — and nearby New York City, Connecticut and Vermont, as well as Hudson, N.Y. and the Berkshires.
"Proximity gives it that whole sense of community," Muskat said.
For Muskat, selecting artworks for a show is completely subjective and based on an intuitive reaction. "It's what you want to put out there, to stand behind and support," she explained. Many of the artists created new work for the occasion, she said.
Some works are rendered with meticulous detail, such as Ann Wolf's unfettered leafy undergrowth tangle and Karin Schaefer's fierce, fragile ice needles and water-rippled rocks.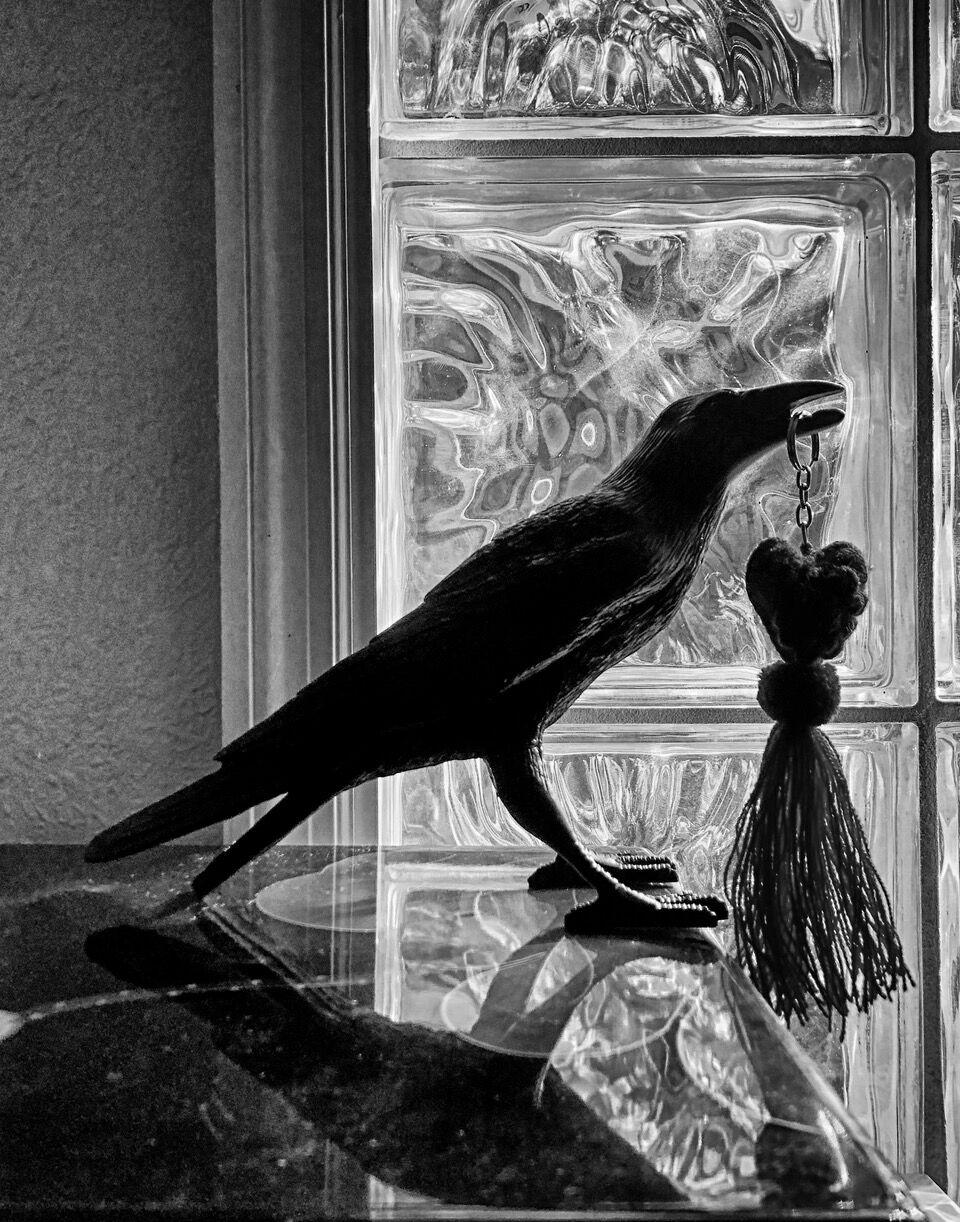 Others offer the merest hint of nature. In "Place," Michael St. John vividly uses a spray painted green line, blue blotch and scattered bullet holes to portray a rainy landscape.
Works can stir a wide range of emotions. Chris Zitelli's soaring, sun-kissed clouds and Daniel Herwitt's manically exuberant "Flutter" contrast late photographer Lisa Kernan's bleak grey-and-white "L.A. cactus" and Eric Wolf's black ink "Observatory Mountain," looming over an unsettled lake.
JoAnne Carson swivels from breezy, blue-toned "Cloudburst" to joyful, multi-hued "Sunny," her landscapes filled with eccentric plant life. "She's a master at color and form and composition," Muskat observed.
There's a healthy dose of whimsy in the show — Stephanie Anderson's ostrich family, for example — along with pure abstraction from artists such as Cary Smith, Julie Torres, Audrey Stone and Noah Post.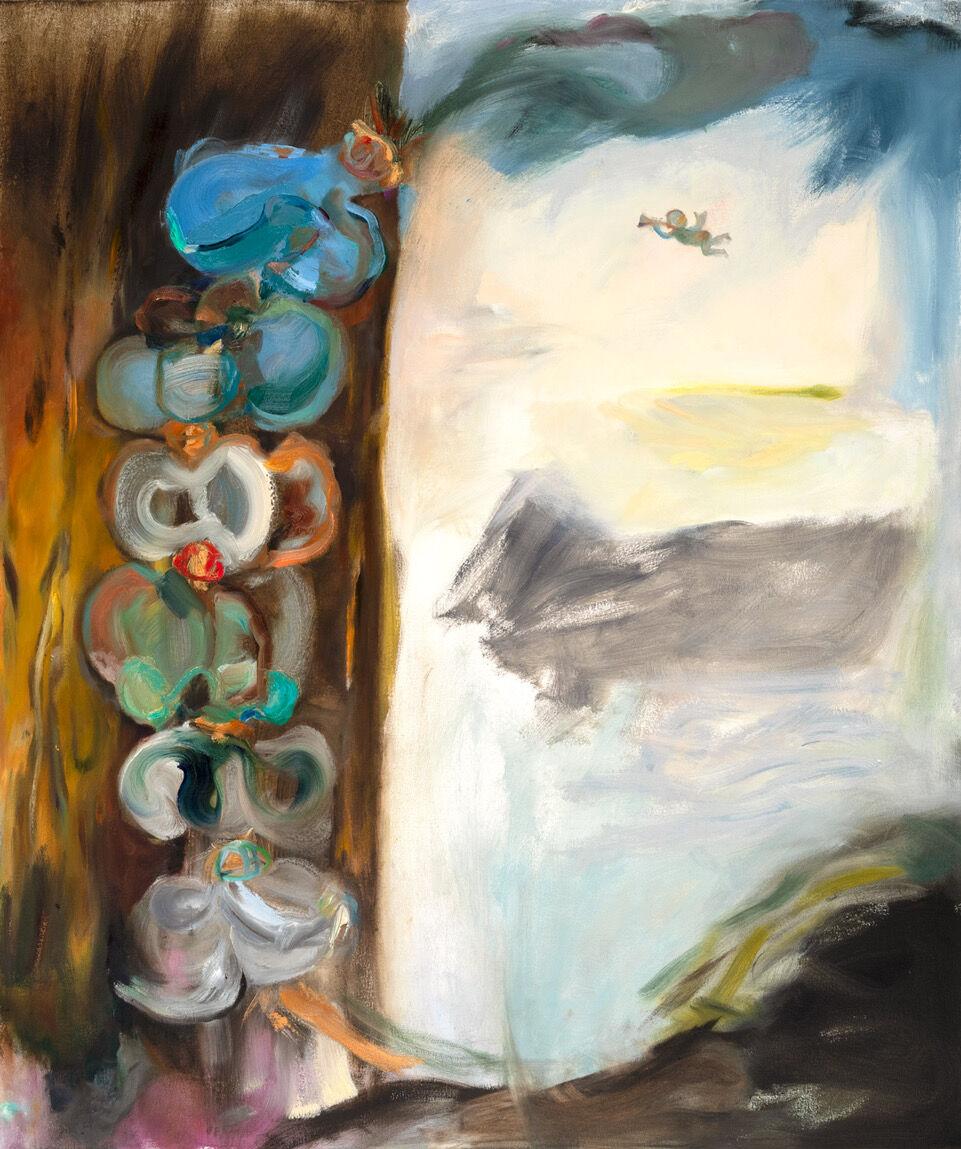 Some works combine multiple artistic expressions. Mike Glier's fox and elk inhabit stylized fields and forests, while Ricky Boscarino's ceramic tree trunk Face Pots stare back with questioning eyes. There's so much humanity in them, Muskat says.
In an Amanda Marie Mason photograph printed on aluminum, swirling glass silhouettes a crow dangling a tasseled heart from its beak; while Williamstown's Art Evans captures frozen ice droplets and roiling water in handmade, self-lit frames.
"I try to keep [the theme] as broad as possible," Muskat explained. "The title 'Shimmer' lets the artist take that concept and interpret it in any way they want. It's good to open up doors to allow artists to explore."
The show encompasses a broad range of styles, techniques and media from painting, prints and photography to sculpture and ceramics — even a wooden chair installation. "It's nice to have the variance," Muskat said. "In a group show, everybody's going to be living next to each other, yet have their own unique voice."
"So many artworks really need to be seen in person because of their brushwork, their surfaces, all of these tactile qualities."
"Shimmer" is part of a year-round schedule of solo and group art exhibits in BBG's Leonhardt Galleries, featuring both regional and international artists.
"I've always felt that art has a real place in gardens," said Thaddeus Thompson, interim executive director. "The gallery is very much central to the life of the garden, it's an historic building that people love."
"Each exhibit digs into some aspect of the natural world and horticulture through art. And Sue Muskat and Phil Knolls have deep ties into the artistic community throughout the region."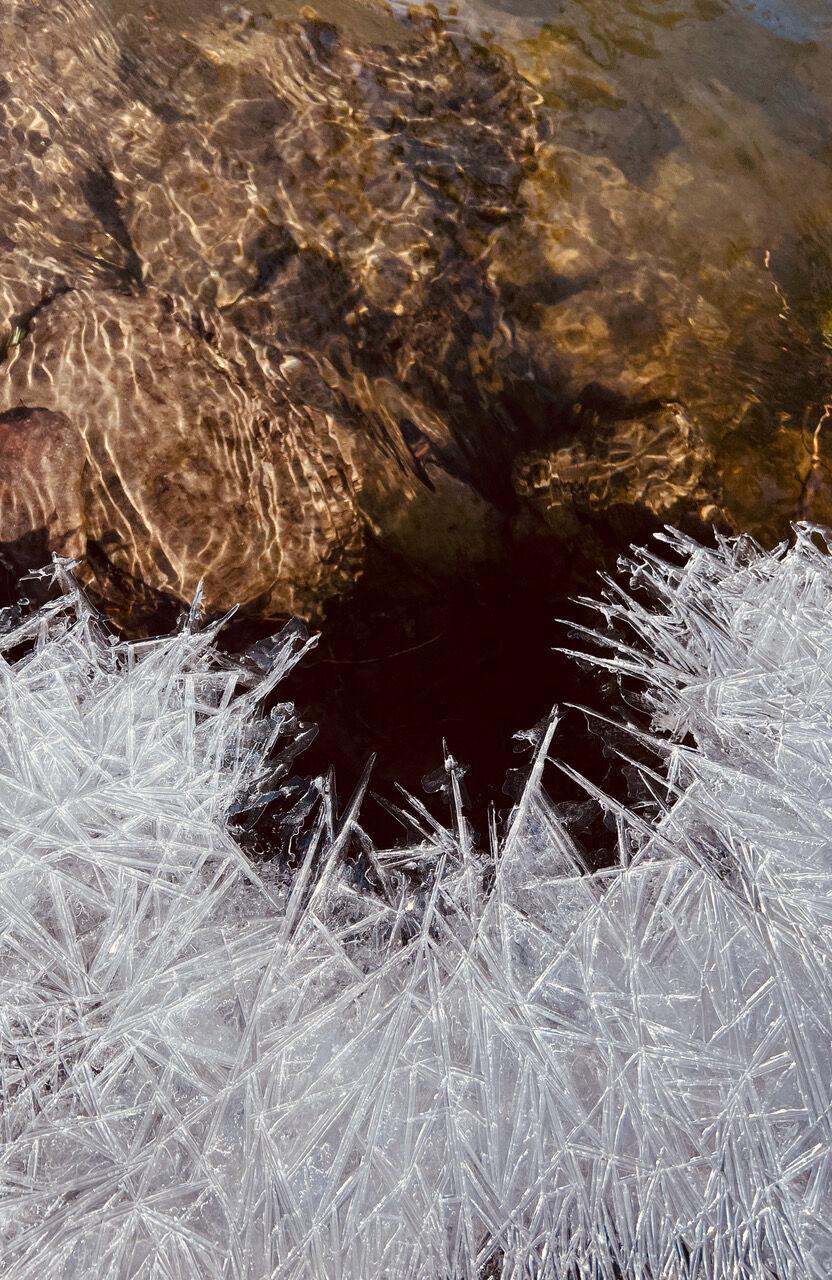 "It's a joy having so many different artists represented, each one of them providing a different lens on this theme," he added. "This show will give us a very optimistic, uplifting perspective."
For Muskat, that outlook is at the very core of "Shimmer."
"The times we are going through are unprecedented, we're getting hit with everything at once — political, ecological, economic, social unrest. And on top of it is a pandemic and now war. There just seems to be no reprieve," she explained.
"In times of strife and anxiety, we look to art for solace, an understanding of something deep and meaningful. That was the genesis of the show. That through the darkness you can see the light. There's always a little spark, it might be hard to see, but it's there. And sometimes it's blindingly bright."