LENOX — From a young age, Suzy Frelinghuysen had two artistic passions — painting and the opera.
Frelinghuysen pursued both her passions as careers, successfully. She was the first woman to have a painting permanently placed in A.E. Gallatin's Museum of Living Art and in 1943, was included in Peggy Guggenheim's "Exhibition by 31 Women" at the Art Of This Century Gallery in New York. She performed with the New York City Opera from 1947 to 1950, and then in 1950, debuted with the New Orleans Opera.
As a painter, she went by her maiden name, Suzy Frelinghuysen. As a dramatic soprano, she was known as Suzy Morris, her married name. But she was always "Suzy," rarely, if ever, Estelle, her proper name. (Suzy was a nickname given to her by her brothers.)
An ongoing exhibit at the Frelinghuysen Morris House and Studio, "Suzy Frelinghuysen — Painter & Opera Singer — Influences of Cubism & Music in Her Art," explores her duel careers through pairings of her music-infused collages and opera costumes with paintings from the master Cubist works she and her husband, George L.K. Morris, collected.
Estelle Condit Frelinghuysen, born in 1911, was the daughter of Frederick and Estelle B. (Kinney) Frelinghuysen of New Jersey, part of a prominent Newark, N.J., political family. Her grandfather, Frederick T. Frelinghuysen, secretary of state under President Chester A. Arthur, and her grandmother, Matilda Griswold Frelinghuysen, owned the Gilded Age mansion, situated near the center of downtown Lenox, known today as the Kemble Inn.
Suzy, like the daughters of other wealthy families, was a debutante and was educated at Miss Fine's School in Princeton, N.J. Her four brothers — George, Frederick, Thomas and Theodore — all attended Princeton University. And while Suzy showed a great affinity for art and drawing, she did not receive formal training like her brothers.
"She did have some training from her mother," said Kinney Frelinghuysen, nephew and director of the Frelinghuysen Morris House and Studio, during a recent visit to the historic artists' house and studio. "There's a figurative study of a kitchen worker that she did at an early age."
Suzy did receive some formal training as a singer and, in 1929, at the age of 18, moved to New York City to pursue a career in the opera. It was in New York that she met Morris, whose family split their time between their home in the city and their summer home, Brookhurst, in Lenox.
"It was a set up, by friends," said Linda Frelinghuysen, FMH&S communications director and Kinney's wife.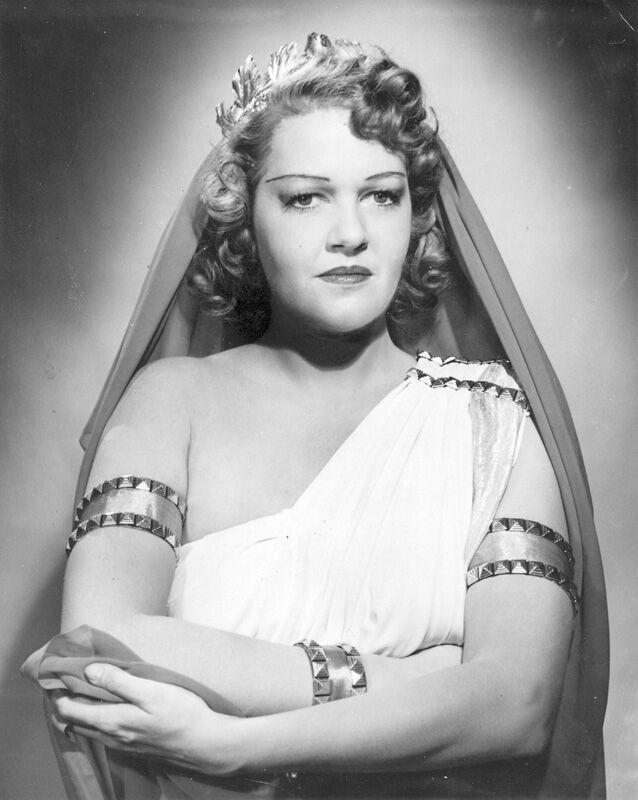 "When she met George, she was still studying voice lessons," Kinney added. "Margery Lewis [Margery Merrill at the time] had an opera box that somebody leant them for the night. Somebody knew Suzy and invited her. Somebody knew George and invited him.
"George hummed the arias he knew. Suzy guessed every one of them. That was it. From then on, they were together and it was ok."
The pair married on Jan. 30, 1935, in a small ceremony in the living room of Suzy's aunt, Mrs. Campbell Clark. Suzy painted in the realist style until meeting Morris, who had studied painting with French cubists Fernand Lêger and Amédée Ozenfant in 1929 and 1930. (He built his Lenox studio in 1931.) Morris, who traveled through Europe extensively in the 1930s, was friends with Picasso, Braque and Brancusi, and often purchased their work on behalf of the Museum of Modern Art in his role on the museum's Advisory Committee (and himself).
"The earliest dated abstract works [of Suzy's] we have are two collages," Kinney said, pointing out two pieces, one from 1935, the other from 1937.
"When George saw the top piece, he said, 'Oh my gosh, she's got it.' He encouraged her to paint. And they talked about art all of the time, they were living with this stuff every day," Kinney said.
Suzy's love for the opera remains front and center in the works from her formative years as an artist, 1935 to 1945, pieces of sheet music are incorporated into the collages, as are the shapes of musical notes and instruments. Often, in these works, such as "La Nuit," she incorporates parts of musical scores and text in ways that evoke a sense of sound. In "La Nuit" a musical score streams through the mouthlike opening of an oval head, as sound would flow from a singer's mouth.
Although Suzy found success as a painter, she continued to study voice and in 1947, she auditioned for the New York City Opera and began her career as a dramatic soprano, starring as Ariadne in "Ariadne auf Naxos" in 1947 and the following year was the lead in "Tosca." She later starred as Amneris in "Aida" and as Giulietta in "Les contes d'Hoffmann." She debuted with the New Orleans Opera Association as Amelia in "Un ballo in maschera" in 1950 and toured opera houses in the U.S. and Europe. Her career was cut short by a bout of bronchitis in 1951, which forced her retirement. She returned to painting full time, composing soon after, what she would call her masterpiece, "Mural Composition, 1951," a bold black and white abstract piece on view as part of the exhibit.
"She said John Arp and Ben Nicholson, who was a British abstractionist, they came to her studio and would rave about it. After looking at all this cubist influence, it really meets, does justice to the ideal of the pure abstract," Kinney said.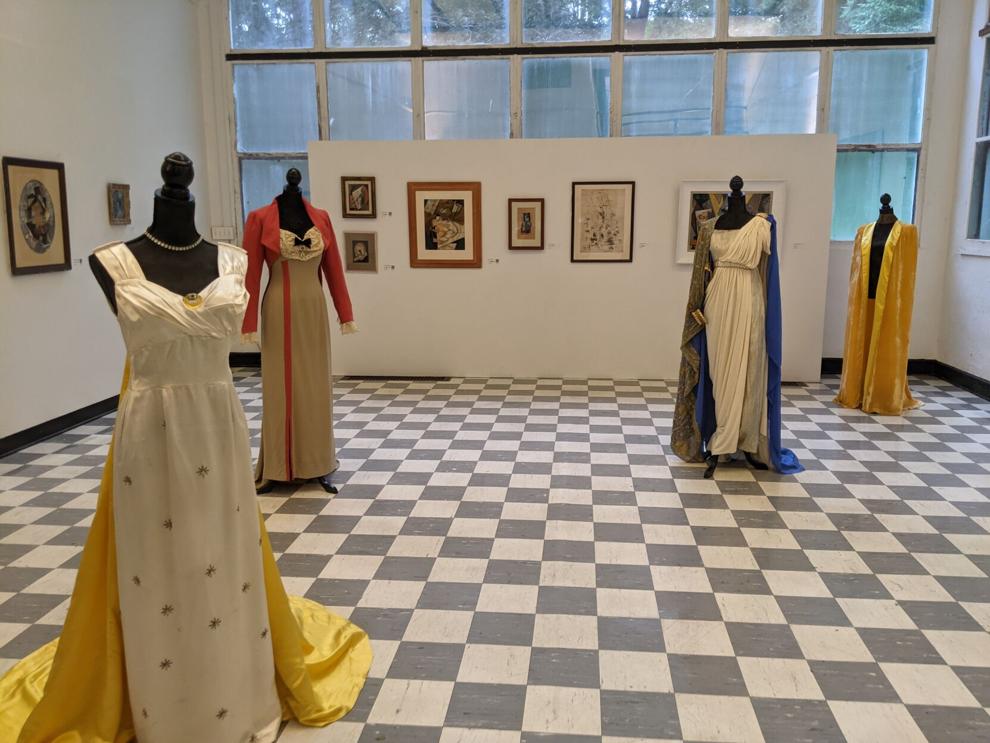 The painting, "Mural Composition, 1951," nicely bookends the show, which begins with Suzy's early paintings and ends with her masterpiece, in between the paintings, as in life, are her opera dresses — a white dress and yellow cloak, as well as an orange suit, which she work in "Tosca," and a white dress and blue cape from "Aida."
"We found the dresses right before the pandemic," Linda said. "When we closed the New York apartment, we brought them up here. We were looking for something else and found the trunk."
The exhibit, which focuses on Suzy's dual careers, is very representative of his aunt, Kinney said, noting that she was very independent for a woman of her time.
"She was a real feminist," he said. "I think people really enjoyed her free spirit."
IF YOU GO
What: "Suzy Frelinghuysen — Painter & Opera Singer — Influences of Cubism & Music in Her Art"
Where: Frelinghuysen Morris House & Studio, 92 Hawthorne St., Lenox
When: 10 am. - 4 p.m., Thursday - Sunday, through Oct. 10. Tours are self-guided, audio available.
Admission: $20, adults; $18, seniors; $10, college students with valid I.D.; free, 17 and under and members. $10 for grounds only.
Tickets and information: 413-637-0166, frelinghuysen.org
DAILY EVENTS
Director's Corner with Kinney Frelinghuysen
What: A quick highlight of the paintings on view.
When: 11: 15 a.m.
Contour Drawing
What: A quick interactive experience. Sketch pads provided.
When: 2 p.m.
SPECIAL EVENTS
What: House tour with noted architectural historian Richard Guy Wilson.
When: 2 p.m., Saturday, Aug. 13
Admission: $15, members; $20 non-members. Space is limited to 25.
Tickets and information: 413-637-0166, frelinghuysen.org
What: Color workshop with Kinney Frelinghuysen.
Color aid paper provided. Materials donation suggested.
When: TBA, Aug. 25