WILLIAMSTOWN — How well do you know the collection of the Sterling and Francine Clark Art Institute's collection? How many of its objects are you familiar with?
If you have visited The Clark in recent years, we're sure you can tick off a few of its most popular items on view — John Singer Sargent's "Fumée d'ambre gris (Smoke of Ambergris)," Claude Monet's "Rouen Cathedral, the Façade in Sunlight," Sir Lawrence Almatadema's piano, the Model D Pianoforte and Stools, which sits near William-Adolphe Bouguereau's "Nymphs and Satyr." There's also Edgar Degas' "Little Dancer Aged 14," numerous works by Pierre-Auguste Renoir, Winslow Homer and Fredric Remington.
For those looking to make the most of this month's free admission — which runs through March 31 — we encourage you to take a deeper look into some of The Clark's often overlooked spaces, such as the Burrows Gallery of American Decorative Arts and Lauzon Study Gallery on the upper level of its Manton Research Center.
To get you started, here are a few items we suggest taking a closer look at:
A PLATE ADORNED WITH INSECTS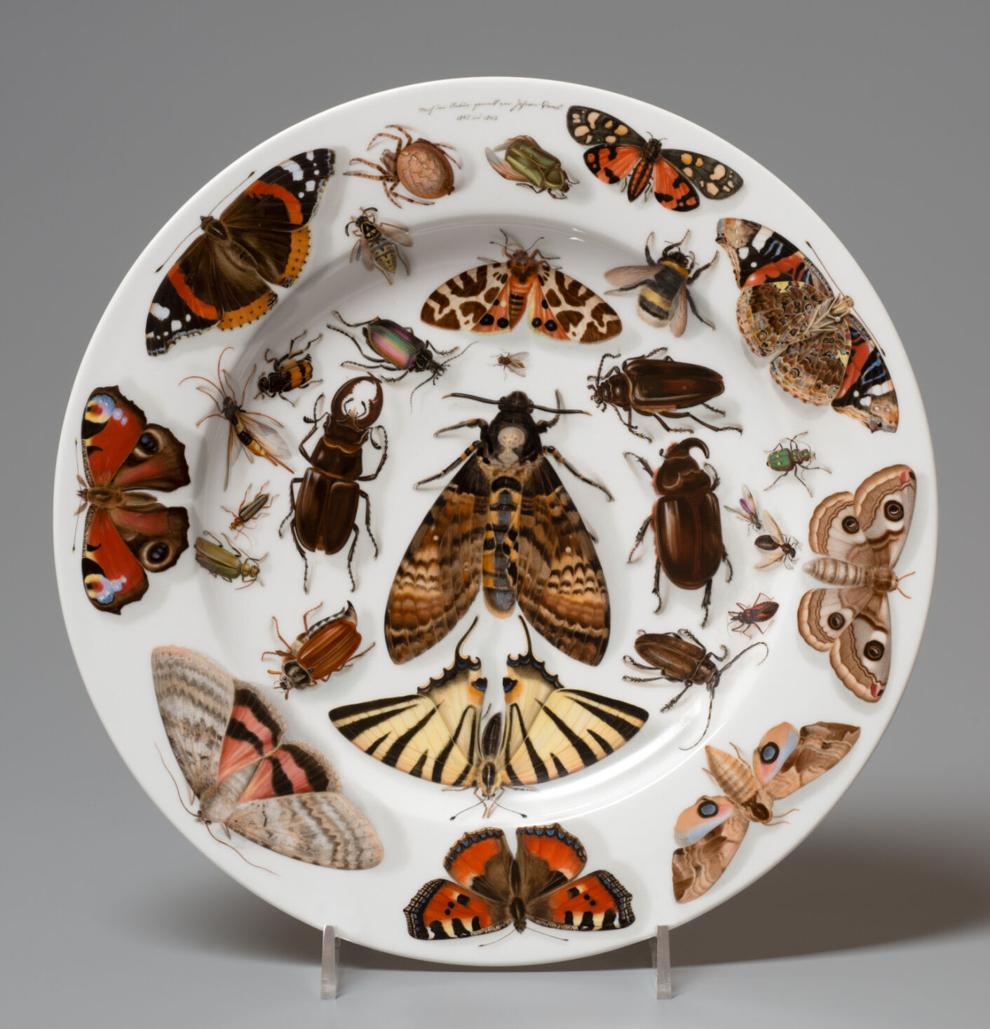 It's an unexpected sight among the dainty tea sets and delicate florals that dominate The Clark's European Decorative Arts collection: bugs, beetles and moths, covering a plate in ornate detail. This plate, painted by Johann Zacharias Quast, is an example of Bohemian-style porcelain, which developed when the secrets of porcelain manufacturing were discovered outside Asia, allowing European manufacturers — such as those in the Czech region of Bohemia — to create their own factories and art styles. If you look closely, you can see that Quast has even painted thin shadows under the bugs, making them appear ready to fly off the plate.
What: 10-inch hard-paste porcelain plate painted by Johann Zacharias Quast for the Lippert & Haas Manufactory, c. 1840. Acquired by The Clark in 1996.
Where to find it: European Decorative Arts Gallery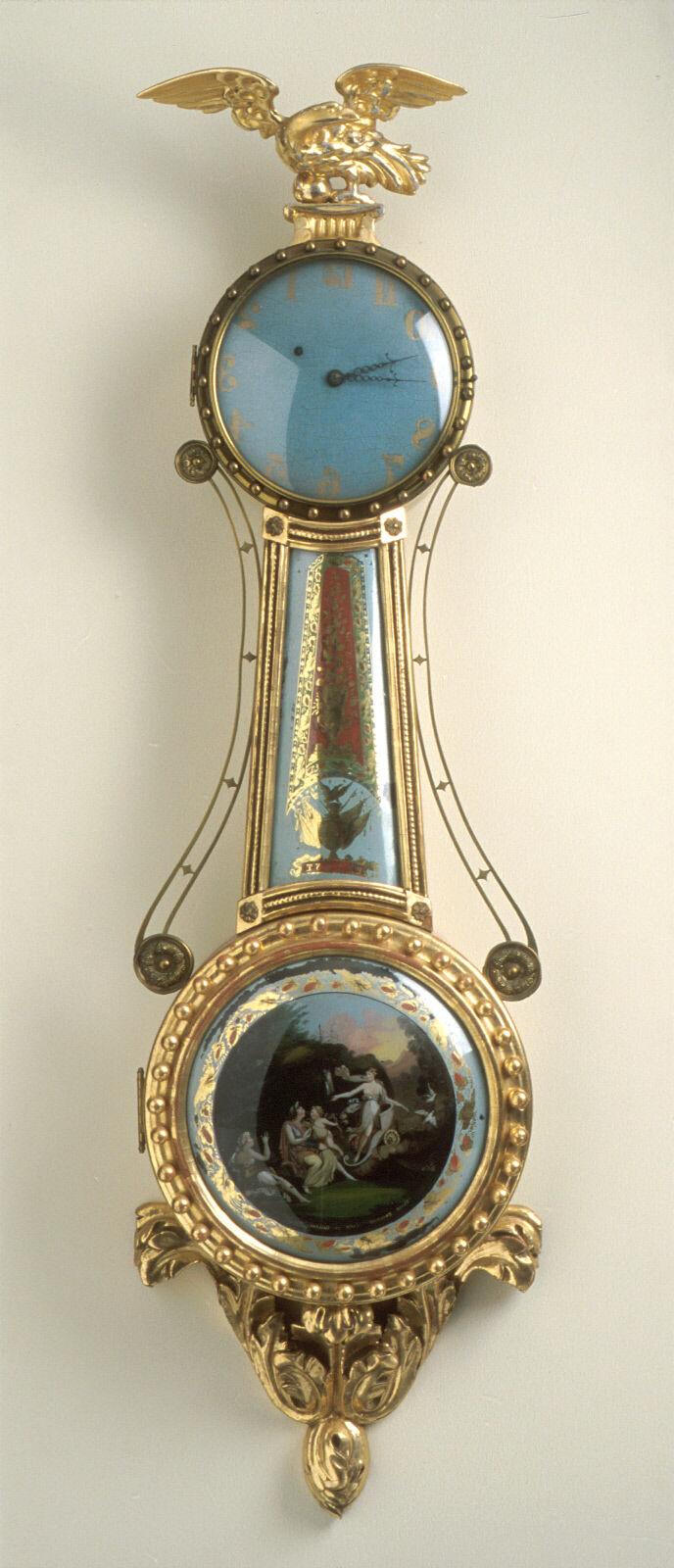 A MOST AESTHETICALLY-PLEASING CLOCK
The American Decorative Arts collection is heavy on cutlery, platters and jugs in eye-catching silver, but be sure to stop and look at the intricate clocks scattered throughout. This one is considered a "girandole" clock because of the convex glass on the bottom portion, covering the painted scene. Curtis, who opened his clock shop in Concord in 1811, patented his clock design — which he considered more advanced and aesthetically pleasing than any clock model existing at the time — in 1816.
What: A giltwood and eglomise girandole clock attributed to Lemuel Curtis, c. 1820. Gift of Florence Chambers in 1999.
Where to find it: Burrows Gallery of American Decorative Arts, Manton Research Center Upper Level
AN UNUSUAL SELF-PORTRAIT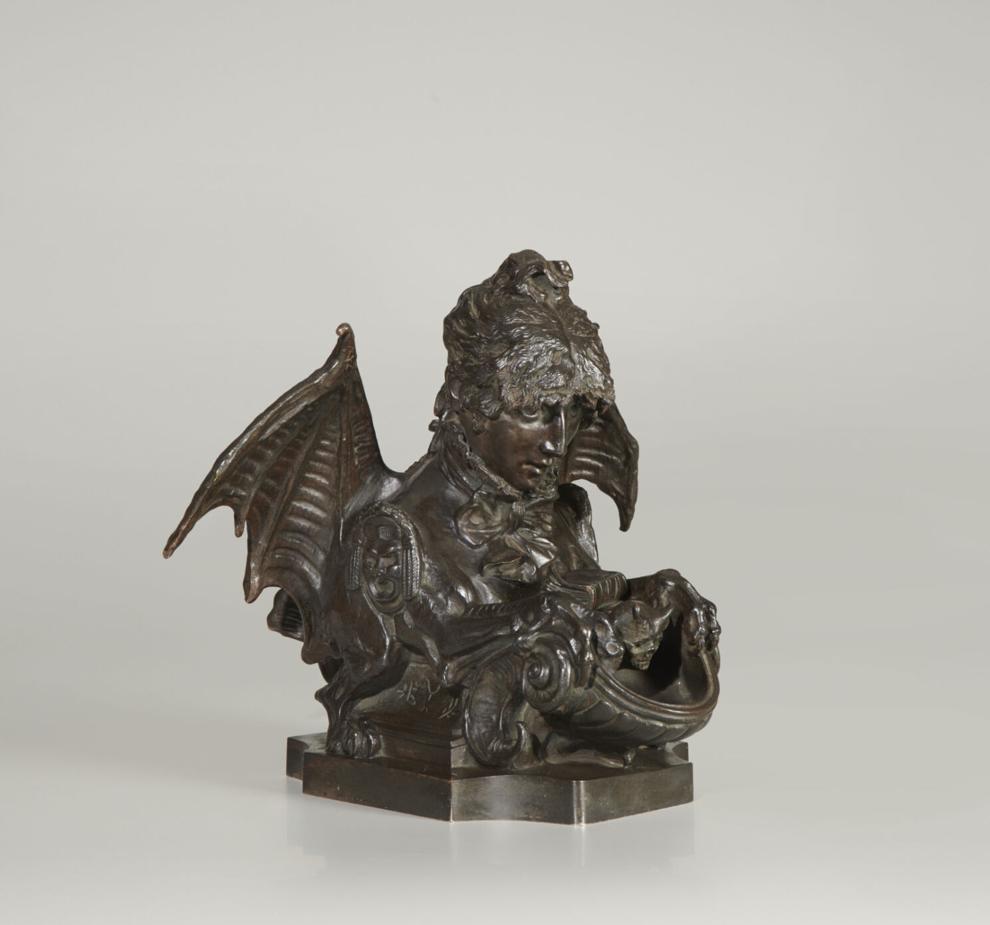 In this portrait, sculptor and actress Sarah Bernhardt gives herself the wings and talons as "chimera," or shape-shifter. Bernhardt was one of the most famous stars of French theater when she made this sculpture in 1879. There's an interesting contrast in the sculpture between Bernhardt's feminine hairstyle and blouse and the grotesque features she gives herself. The sculpture can be seen as a commentary on celebrity, femininity or theater—or appreciated simply as a striking work on its own.
According to The Clark, "She is thought to have sculpted it in 1879 when rehearsing for the role of Blanche de Chelles, the mysterious and demonic heroine of Octave Feuillet's play, 'Le Sphinx.'"
What: A bronze and dark brown patina inkwell by Sarah Bernhardt, c. 1879.
Where to find it: European Art Gallery
A BOHEMIAN BOTTLE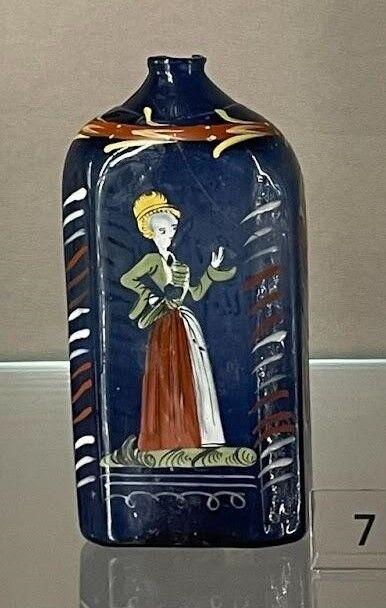 This cordial bottle is a sapphire-blue glass and enamel piece painted with a "decorative technique that was popular in German and Bohemian glass production during this time period." The front of the bottle displays a woman in a colorful dress and a golden hat, while the back of the piece reads "It is painful to live without someone" in German. This piece stands out from the rest as most of the glasswork in this gallery is painted with floral designs and other images.
What: A sapphire glass and enamel cordial bottle made in a German or Bohemian glass factory, c. 1775-1810.
Where to find it: Lauzon Study Gallery, Manton Research Center Upper Level
IF YOU GO
What: The Sterling and Francine Clark Art Institute
Where: 225 South St., Williamstown
Hours: 10 a.m. to 5 p.m. Tuesday through Sunday
Admission: Free through March 31
Information: 413-458-2303, clarkart.edu