KINDERHOOK, N.Y. — In a hauntingly beautiful self-portrait, "AGWU," Nigerian artist Ifeyinwa Joy Chiamonwu reveals her own Agwu — a divine spirit that controls the behavior of those it possesses, granting creativity and intelligence to those who follow the divine tasks put before them.
The Agwu can be benevolent or destructive, depending whether or not the person it possesses chooses to perform the initiation ceremonies and ritual sacrifices as servants. There is the release of the material world to tap into the spiritual. The reward is great intelligence and creativity.
In her revelation, Chiamonwu presents the duality of the lives of those possessed by the Agwu. One half of her face is that of the spirit, a mask with razor sharp teeth. The other half, is Chiamonwu, a white line of initiation flows under her wide-open eye, her gaze piercing.
Chiamonwu, in her hyperrealistic works, creates portraits with charcoal, graphite, sepia, pastels, paints and coffee, recasting family and friends as mythical figures from the Igbo people of Nigeria. Her works are a form of preservation and expression, a way to tell the story of her heritage, of the Igbo culture before Westernisation and globalisation, she told elephant.art in a January 2022 article.
"AGWU" is just one of several works by Chiamonwu on view in "Stressed World" through Dec. 3 at Jack Shainman Gallery's The School.
There is so much to see in "Stressed World," a show of 174 works from 30 artists that it is easy to only see the surface value — the materials, colors, the overall aesthetic. It is too easy to lose sight of what is being said by the artists, the conversations happening between the works, the deeper meaning hidden below the surface. It requires one to lean in, to look close.
This is show that requires time — to observe, to absorb, to contemplate, to revisit in your mind's eye in the days, weeks, even months after viewing it.
"Agwu" has been haunting my thoughts since visiting The School, a former elementary school-turned-gallery, in June. As have works by Carrie Mae Weems, Nick Cave, El Anatsui, Gehard Demetz, Vibha Galhotra, Barkley Hendricks and Deborah Luster and so many more.
Luster's silver-toned gelatin prints of city and landscapes are eerily breathtaking, even benign in appearance until one reads the labels for works from her 2011 series "Tooth for an Eye: A Choreography of Violence in Orleans Parish." The notes inscribed upon them offering up the horrifying details of each scene. No longer are the photographs in any shape serene.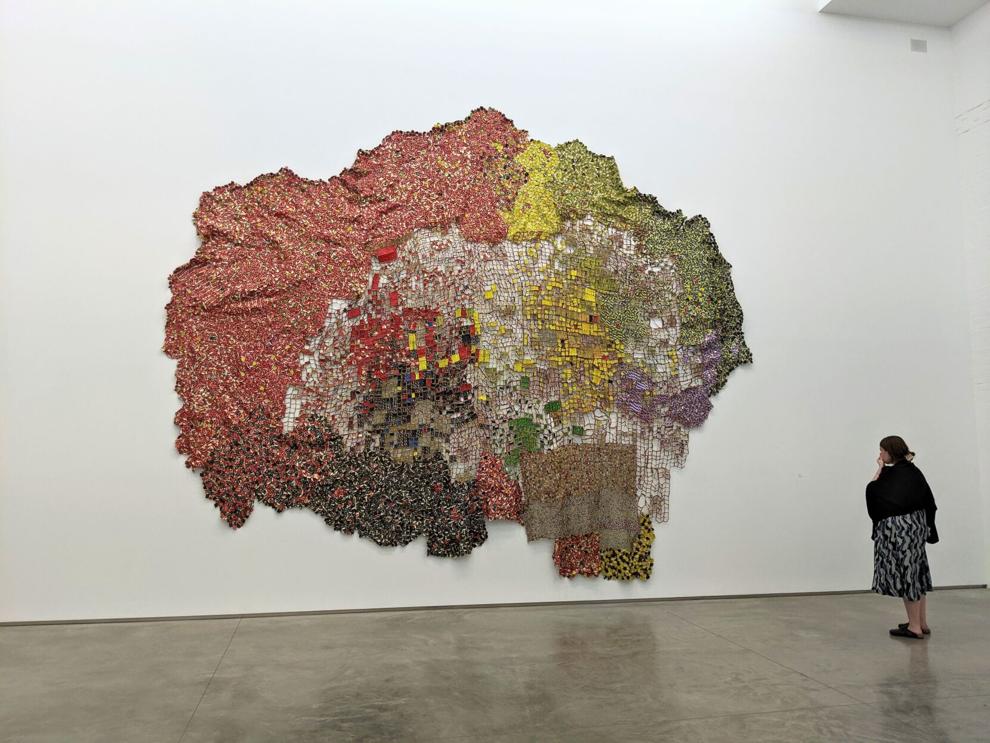 Even the least graphic of the series on view, "Tooth for an Eye, Ledger 03-20," photograph of fluffy clouds, caught in the sky above Desire Street at North Claiborne in New Orleans, marks a site of violence, where, according to the notes, Brian Moore, 32, was "found face up in the street." These harrowing details suggest this unassuming moment could have been Moore's last view of the wider world.
Anatsui's work, "Stressed World," from which the show takes its name, fills the majority of a wall in the building's former gymnasium. Here, the work shimmers in the light, from afar appearing to be a handwoven blanket that has been pinned up so its meticulous color patterns can be displayed. Those not knowing Anatsui's work might turn heel and head in a different direction, failing to walk up to the work, to lean in and behold the textile is woven not from fabric but from found aluminum and copper wire the artist has collected, repurposed and sculpted into something entirely new.
The artist is not alone in his mission, of defining and redefining materials, artistic movements and understanding, as each artist in this massive show has done that in their own way. Each has a story to tell, a different perspective to share. It's easy to overlook all of that as one strolls through showroom after showroom, just as easy as it is to ignore different perspectives and opinions of others in the world outside the gallery, in the reality of this stressed world of ours.
ON VIEW
What: "Stressed World"
Who: Carrie Mae Weems, Leslie Wayne, Andy Warhol, Carlos Vega, Hank Willis Thomas, Michael Snow, Paul Anthony Smith, Malick Sidibé, Claudette Schreuders, Garnett Puett, Gordon Parks, Odili Donald Odita, Jackie Nickerson, Adi Nes, Meleko Mokgosi, Tyler Mitchell, Deborah Luster, Anton Kannemeyer, Hayv Kahraman, Barkley L. Hendricks, Pierre Dorion, Gehard Demetz, Ifeyinwa Joy Chiamonwu, Nick Cave, Yoan Capote, Radcliffe Bailey, Shimon Attie, and El Anatsui
Where: The School, 25 Broad St., Kinderhook, N.Y.
When: Through Dec. 3
Hours: 11 a.m. to 6 p.m., Saturdays
More information: jackshainman.com