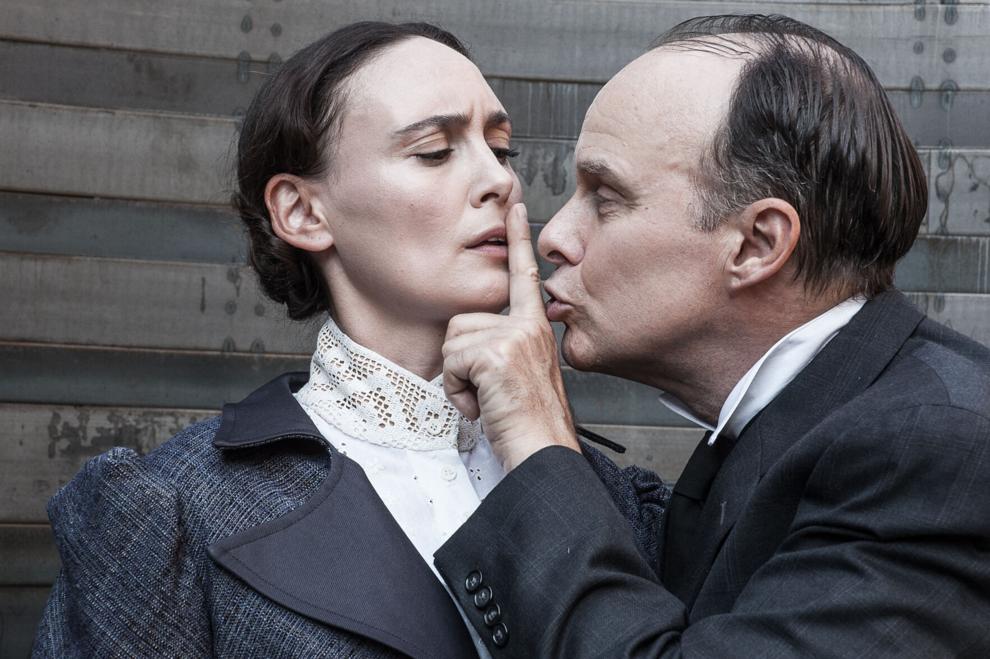 BENNINGTON, Vt.— Innocence dies hard in "The Turn of the Screw," playwright Jeffrey Hatcher's creative stage adaptation of Henry James' 1898 novella about two malevolent ghosts — one more menacing than the other — two orphan siblings — a little girl and her 10-year-old brother — who are their target, and an ingenuous young Victorian governess who is determined to exorcise the demon spirits at all cost.
It's a mission the governess — we are never given her name — clearly does not expect as she is interviewed for a job by the uncle of the two youngsters. As played by Rebecca Mozo in director Jillian Armenante's riveting, imaginative production for Oldcastle Theatre Company, the governess defines innocence, hope, optimism, faith. "I am a romantic at heart," the 20-year-old daughter of a poor country parson tells the uncle, who has been left guardian of his niece and nephew since the deaths of his brother and sister-in-law one year earlier. While the uncle lives in London, his niece, Flora, and nephew, Miles, live at Bly, a remote family estate in Essex, roughly 40 miles east of London, which he never visits and where the children are being looked after by a housekeeper.
The terms of employment are strict and clear. At no time during her stay at Bly is the governess to contact the uncle, no matter what emergency might arise. Her understanding is that Miles is away at school so she will devote her attention to Flora who rarely, if ever, speaks. Based on her own experience as a young girl spending many hours alone growing up in her father's parish, she anticipates forming a close relationship with Flora. Not long after arriving at Bly, she receives a letter from her employer that Miles will be coming to Bly, having been kicked out of school.
Upon inquiry, the governess learns from the housekeeper, Mrs. Grose, that her predecessor, Miss Jessel, drowned herself in a lake on the estate when she became pregnant as the result of a torrid relationship — witnessed by the children — with the morally bankrupt valet-groundskeeper Peter Quint, whose broken body was subsequently found in the snow by Flora, who has not spoken since. But Jessel and Quint's spirits haven't left. The children see the specters and so, in short time, does the governess. Her relationship with the moody, idiosyncratic Miles takes on eerie, unsettling sexual connotations as Quint aims to use the boy as a way of getting to the governess. She, in turn, senses a sexual awakening that is at once terrifying and compelling, especially as, at one point, it takes hold in a near-fatal wave of ecstasy. And just as the governess feels herself pulled to a dangerous precipice, she finds strength in the basic home-taught values she learned as a child.
Mrs. Grose takes Flora away to London while the governess remains at Bly to take on Quint in a determined all-or-nothing effort to free Miles from Quint's tightening grip.
Mazo plays all this with keen insight, nuance, shading and pacing. A little often goes a long way — watch, for example, her subtle register of discomfort when the governess mishears the uncle's utterance of the word "aversion" as "a virgin" or when, just moments later, the uncle stands in front of her, his hands clasped and extended toward her chest, stopping at a distance that is far enough away to be respectful while, at the same time, close enough to be invasive and threatening.
Mozo makes palpable the stirrings of sexual awareness as the governess sees her body for the first time ever in a full-length mirror in her bedroom; "My father's house had no mirrors," she says in near wonder. "I have never seen the whole of me before."
Mozo is in perfect sync with Oliver Wadsworth who plays the uncle, Mrs. Grose and Miles. Hatcher's multi-role conceit is no calculated theatrical gimmick a la "The Mystery of Irma Vep" or "Greater Tuna," where self-aware virtuosity is its own reason for being. Hatcher uses the device here completely in the service of storytelling. Wadsworth is more than up to the challenge. He has all the tools he needs in his toolbox and he uses them in masterly fashion. His transitions are smooth; his characters are vivid and full.
Mozo and Wadsworth work together seamlessly; a two-person ensemble in every respect that takes full advantage of Hatcher's material … and then some.