PITTSFIELD — Gregg Edelman simply couldn't say no when Berkshire Theatre Group artistic director and CEO Kate Maguire called him in February to ask if he'd be willing to direct "White Christmas" for BTG's holiday offering.
"I love the show. The score is great. I just jumped at the chance. Besides," he said during an interview at the Colonial Theatre, where, after previews tonight Dec. 2 and Friday, Dec. 3, the musical opens Saturday and runs through Dec. 23, "I've never been up here this time of year. I just love the weather. I'm from Chicago."
Adapted for the stage by David Ives and Paul Blake from a 1954 screenplay by Norman Krasna, Norman Panama and Melvin Frank, "White Christmas" centers on a pair of World War II veterans who have formed a song-and-dance team. They fall for a duo of singing sisters and follow them to a failing Vermont lodge that happens to be owned by their former commanding general. The four organize a show to save the inn.
Michael Wartella and Michael Starr play the pals, Phil Davis and Bob Wallace, originally played in the popular 1954 movie by, respectively, Bing Crosby and Danny Kaye. Alanna Saunders and Claire Saunders play the sisters, Betty Haynes and Judy Haynes, played in the film by, respectively, Rosemary Clooney and Vera-Ellen. BTG veteran David Adkins is the inn's owner, General Waverly, played in the film by Dean Jagger.
The iconic title song actually earned Berlin an Academy Award for best song when Crosby first sang it on screen in the 1946 movie "Holiday Inn."
It appears in "White Christmas" alongside such Berlin classics as "Blue Skies," "I Love a Piano," "How Deep is the Ocean," "Happy Holidays" and "The Best Things Happen When You're Dancing."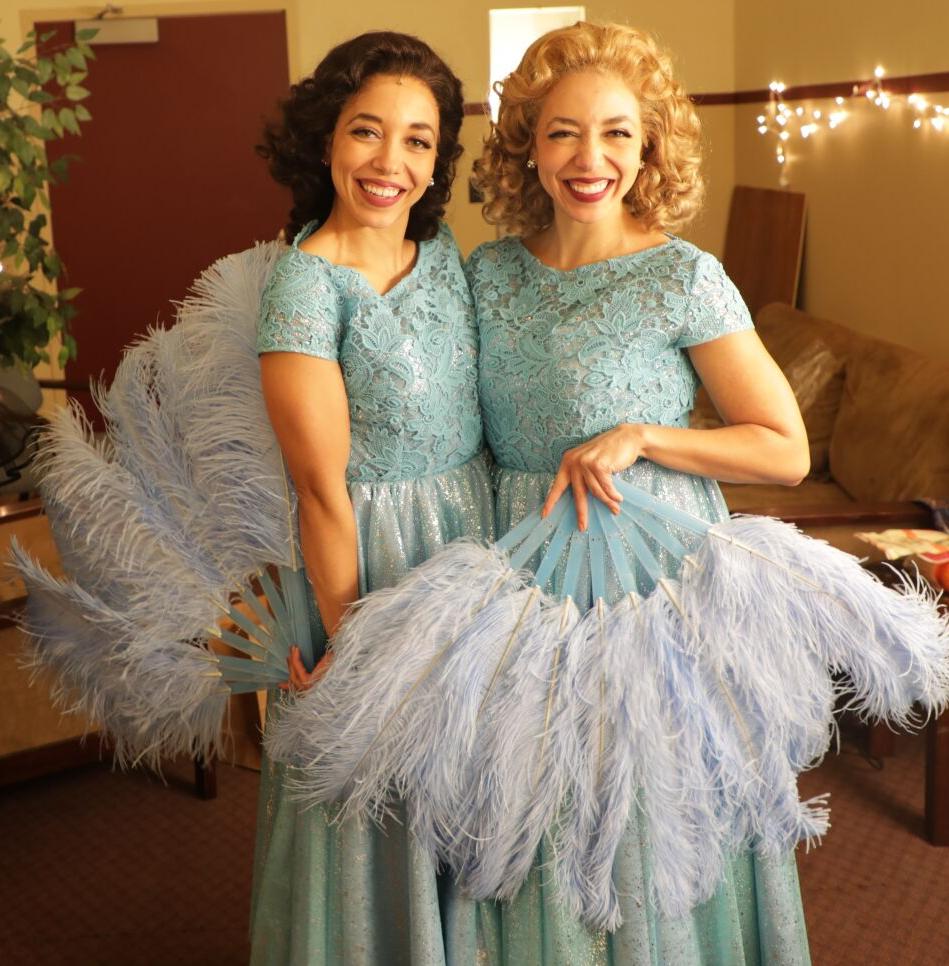 "These are all amazing songs that I … grew up with," Ross Patterson, the production's music director, said by email.
Patterson, a well-known pianist and arranger and, for the past 20 years, arranger and musical director for the Broadway by the Year series at New York's Town Hall, has played Berlin's songs in a variety of settings.
"He could write a gorgeous melody, and a poignant lyric," Patterson said, discussing Berlin's enduring appeal. "And he was able to tap into those universal emotions that speak to everyone: love, loss, joy, longing … "
Edelman — he directed BTG's productions of "Constellations" and Berkshire Theatre Critics Association Award winner "Coming Back Like a Song" (2018 — best musical) — readily acknowledges that "White Christmas" is a big undertaking; essentially a backstage musical "with a lot of characters coming and going," he said.
He is aided in all this by a friend of long standing — director-choreographer Gerry McIntyre, whom Edelman met when he replaced Howard McGillin in Lincoln Center's 1988 revival of Cole Porter's "Anything Goes." McIntyre had an ensemble role as a photographer. They've been close friends since.
"We know each other's theater sensibility," Edelman said. "We speak in the same terms; [same] vocabulary."
For McIntyre, who choreographed BTG's widely admired 2020 production of "Godspell" and directed this season's production of "Nina Simone: Four Women," the opportunity to work on "White Christmas" was equally appealing.
"We don't see shows with four tap numbers anymore," McIntyre said at the Colonial. "It doesn't stop; number after number; big production numbers. We open with a dance number [and] the second act opens with a dance number. It's fast and furious.
"The structure [of this musical] is so strong. I know this territory."
He is quick to credit associate choreographer Bryan Hunt for his skillful contributions.
"White Christmas" had its world premiere in 2000 at The Muny in St. Louis. The show had a brief Broadway run, only 53 performances, but earned two 2008 Tony Awards — one for Randy Skinner's choreography, another for Larry Blank's orchestrations. The show has had numerous productions since, on tour and at various regional theaters.
For Edelman, McIntyre and Maguire, "White Christmas" "speaks to where we are now," Maguire said by phone; "our need to find joy and go forward. It's a play that lifts you to another place."
"Around holiday time we get together with friends. We shake hands," Edelman said. "It's a holiday show and a good old-fashioned musical. It has great humor. It's a funny show. The script is witty.
"This show doesn't take a dark journey. It's about joy. It warms your heart. We need that now."