LENOX — In its own way, Brahms' Piano Concerto No. 1 seemed as monumental as the huge thunderstorm that struck before and during its performance by Daniil Trifonov at Tanglewood Saturday night.
With the Russian-born pianist as soloist with the Boston Symphony Orchestra under Andris Nelsons, the music and the deluge seemed to come from the same elemental source. Maybe it was competition with the storm that contributed to the performance's almost collaborative character.
Umbrellas gushing, about 3,000 hardy souls sloshed into the Shed — there was no lawn sitting — for the all-Russian program. Parking lots, pathways: everything was swamped. Perspiration was a peril onstage.
Trifonov's blend of fire and introspection was not the usual way this concerto is heard. More commonly, it is gnarled, rough-hewn, craggy. Yet in addition to being Brahms' early experiment in concerto form, the nearly hourlong work aspires to the grandeur Brahms achieved later in such works as his "German Requiem."
On the waterlogged weekend, dampness lay heavily over the BSO's playing. Tempos were sometimes slow. In the end, none of that mattered. Trifonov's playing was so sure and far-ranging, so powerful, yet flexible, in the massive trills and scales — so generous in its lyricism — that it carried the orchestra with it.
In part, this concerto is Brahms' confession of love for Clara Schumann, Robert's widow and, after Robert's death, Brahms' lifelong friend. The confessional mood came across in the beautifully shaded adagio. There was brilliance aplenty in the onrushing finale. A powerful keyboard technique was put in the service of a powerful conception.
Opening the program, Prokofiev's "Classical" Symphony did not fare as well. Caution and, probably, an oversized orchestra seemed to prevail. Slow tempos allowed the Haydn-inspired lines to emerge clearly, but it wasn't until the finale that the wit and sheer fun bubbled up.
"Bist du bei mir" (If you are with me"), a love song once thought to have been by Bach, served as a calming encore.
SIBLING RIVALRY
Under only a passing shower, Sunday's BSO program under Nelsons ventured off the beaten track with works by the Mendelssohns, sister and brother. Like her songs, Fanny Mendelssohn-Hensel's Overture in C, her only orchestral composition, could be taken for Felix's. It has similar broad melodies and dramatic surges. Felix was always the preferred sibling, but a spirited performance made Fanny's work appealing in its first-ever Tanglewood appearance.
Felix's contribution was his Symphony No. 5, the "Reformation." Heavy on rhetoric, it was composed for the 300th anniversary of the conference establishing Lutheranism as a faith. It ends with a blazing affirmation of Luther's famous hymn "Ein feste Burg ist unser Gott" ("A mighty fortress is our God"). Some roughness in the performance did not add to the work's appeal. No wonder this symphony, Felix's last, is not often performed.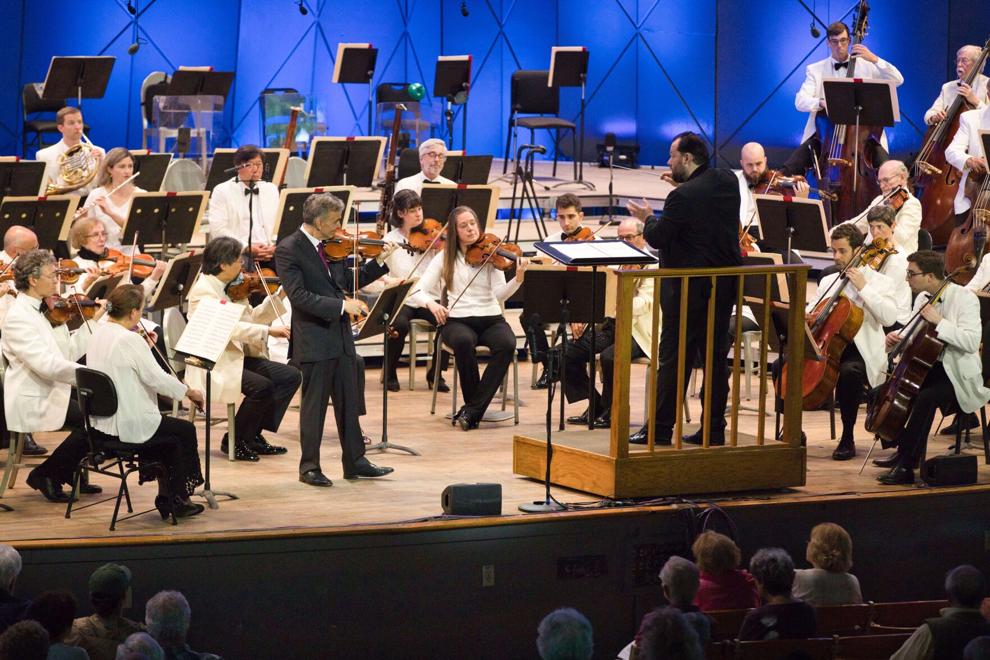 Absence of rhetoric was just the beginning of Gil Shaham's sterling performance of Mozart's Violin Concerto No. 3. Appearing in lieu of the duo-pianist Jussen brothers from the Netherlands, who canceled what would have been their debut, the ever-reliable Shaham spun webs of gold. His many inventive touches included a march episode in the rondo finale.
UNDER THE WEATHER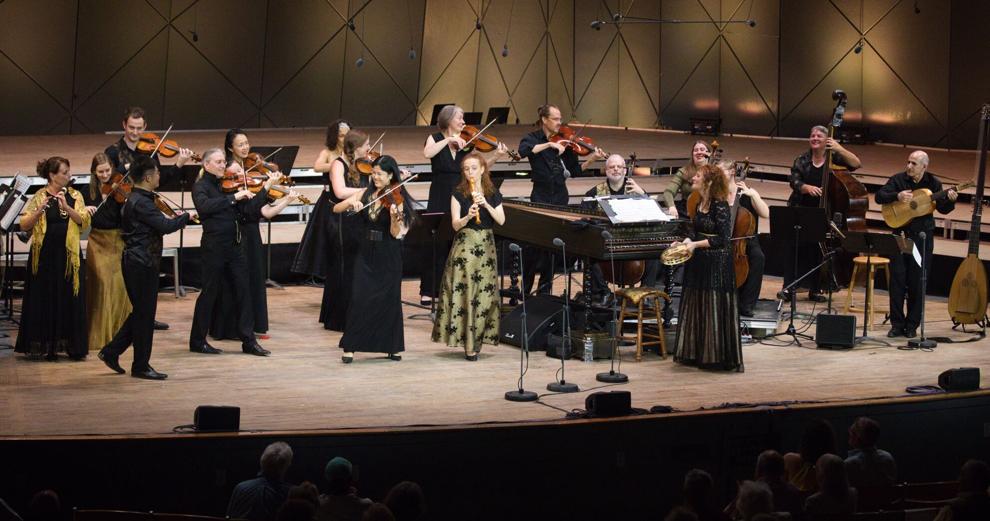 The modern-thinking early-music group Apollo's Fire took the Friday night audience on a trip to the Leipzig coffeehouse where Bach conducted his Collegium Musicum in informal concerts of his own and his contemporaries' compositions over convivial coffee.
Coffee was missing here, but humidity wasn't. The program started off with crisp playing and rhythmic zest in Telemann's Concerto Polonois in G. Telemann is often thought of as the non-Bach, but the playing showed his lively imagination and good humor to fine advantage. From here on, though, the concert turned into a more or less continuous struggle against the elements.
Apollo's Fire, directed and conducted by the energetic Jeannette Sorrell, describes itself as "The Cleveland Baroque Orchestra." That's baroque as in old music played on period instruments without strict regard to period-instrument niceties.
But oh, Sun God, why do you hide thyself from thy votaries? Tuning and ensemble were a more or less constant challenge in succeeding pieces by Vivaldi, his teaching colleague Nicola Porpora and Bach himself, though soloists performed heroically in concertos for four and two violins by Vivaldi.
Other solo heroics followed in Bach's "Brandenburg" Concerto No. 4, but the familiar piece was generally swallowed up in the vast spaces of the Tanglewood Shed amid the sonic soup created by the weather. The performance came across as surprisingly subdued for this usually high-flying group.
In appreciation of the Turkish coffee served at Bach's parties, a Turkish party tune, elaborately rattled, shaken and stomped, was an Apollonian encore.