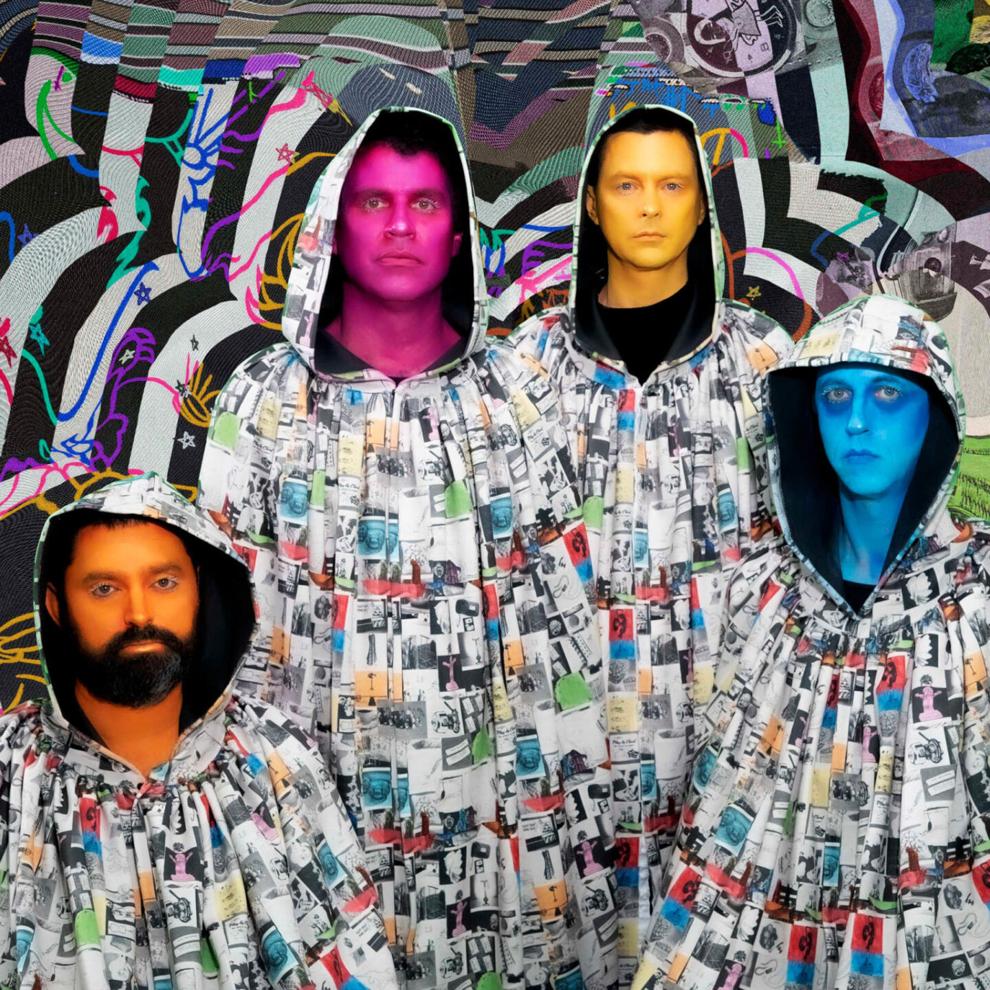 A lot can happen in six years, and in the past six years, a lot did. Celebrity presidents entered and exited office. Global pandemics surged and waned. And amidst the din of a shifting world, Animal Collective started writing songs again.
Animal Collective is the genre-defying musical project of high school friends and collaborators Avey Tare (Dave Portner), Panda Bear (Noah Lennox), Deakin (Josh Dibb), and Geologist (Brian Weitz), and they're ready to rock North Adams with synthesizers and drum breaks. On Friday, March 11, Animal Collective will bring their signature electro-psychedelic sound to the Massachusetts Museum of Contemporary Arts' Hunter Center as they tour in support of their 11th studio album, "Time Skiffs." For Animal Collective's cult fanbase, who revere the band's experimental approach to pop music, "Time Skiffs" is a huge deal — its phantasmagoric songs represent Animal Collective's first full-length studio release in half a decade. What's more, the album is the first of Animal Collective's studio projects since 2012 to include contributions from all four band members.
"I think we all settled into some sort of state of patience and calm and gratitude to just be like, 'This is amazing that we have this at all, and let's just let it take the time it needs to take," Animal Collective member Deakin said during a phone interview with The Eagle.
"Time Skiffs" is a short album, but a long time coming. Its nine songs emerged in the wake of the group's 2016 world tour, when the full group was on a well-deserved hiatus. The band had put out 10 albums in 13 years, and its members had grown up considerably since they swapped their first mixtapes during their high school years in early 2000s Baltimore. Three out of four members had solo side projects. Half of the group now had children. With one member living full time in Lisbon, getting the full band together for recording sessions proved tricky.
In 2018, the three stateside members of Animal Collective — Deakin, Avey Tare, and Geologist — were invited to partake in a residency at the Music Box Village, a unique performing arts venue in New Orleans where visitors can interact with artist-designed "musical house," architecturally sound structures that double as playable instruments.
"Me and Dave [Portner] and Brian [Weitz] all felt really excited about the opportunity to do something unique there," Deakin said. "Rather than just pulling up a bunch of old songs and reworking them for the space, we wanted to come up with a new set of material that felt site specific and had an openness to it that would allow for using the space to the best of its possibilities."
Two of the songs — "Royal and Desire," the album's concluding track, and "Prester John," which the band released as a single in 2021, emerged from these sessions at Music Box Village.
"The music that we wrote for that and the energy that sort of was created there, I think kind of was the beginning of what this era of music is," Deakin said. Energized by new ideas, the band decided to reconvene in the summer of 2019 for a "writing retreat" in a house outside Nashville to work on new material. But as soon as the band felt ready to record, COVID-19 hit.
"The pandemic obviously put a big cramp in what we were doing," Deakin said. "Our manager Zoe had been starting to say, 'Hey, guys, I don't know if this is going to end anytime soon. I think if you guys want to record, you should think about the idea that you might have to try and do this remotely.'"
For a band like Animal Collective, who write music by improvising in a room together, the prospect of a remote generative process was daunting.
"We had initially said, 'No way, we're not even going to try.' None of the songs are written to backing tracks or clicks or loops or anything. So the idea that we would do it without that just seemed sort of impossible. But as the year stretched on, I think we started to feel like maybe it was worth giving it a shot."
Time Skiffs was recorded remotely, with each band member tracking his part and sending it to the others. Deakin believes the band's comfort and trust with each other's musical rhythms helped them pull off such an unconventional recording process.
"There is definitely just something in our psychic DNA at this point that we know how to relate to each other in a way that still translated as present, live and relatable," he said.
But just because Animal Collective is comfortable playing together doesn't mean their work feels static — rather, as Deakin explained, the band constantly looks for ways to surprise and delight each other, which means their sonic palette often changes from album to album.
"Every single time some combination of us does something, whether I'm involved with it or not, we have that sense of wonder like, 'Man, we did this. Where did this come from?' I think that's a huge part of what keeps us vibrant for ourselves," he said. "For a lot of people, it's probably really frustrating. It's kind of why we change so much, because I think we really embrace our constant evolution as individuals. Going back to those high school days, it's always been about trying to discover something that feels new, that feels like we're in some sort of a land that we haven't quite ever been in before."
North Adams is a literal land the band hasn't been in before, and Deakin expressed excitement about hitting the road again for new cities and spaces.
"We got to play a couple of shows in September and even just being on the road for, like, four or five days was incredibly meaningful," Deakin said. "So I really can't wait."