PITTSFIELD — It often seems the best way to think about this year is to just skip ahead to next year. To imagine a world after the pandemic, after this election season, after the heavy economic consequences weighing on near everything have lifted. It can be a comfort even though you know it isn't yet real, or even if the optimism in such an uncertain concept is hard to find.
The Berkshire Art Association's Biennial 2020 explores what it means to think about that elusive idea of "next." It gathers 36 works from 20 artists from across New England and New York, in a show that began being planned in the middle of last year.
"We've always tried to relate to the world around us," said Mary Beth Eldridge, president of the BAA, about the biennial that has been a part of the arts landscape since the 1950s. "People were certainly thinking in the summer 2019 about [things like] the upcoming election and climate change. It offers a lot of concerning and interesting possibilities."
Several of the works now on display at the Lichtenstein Center for the Arts in Pittsfield directly engage with the pandemic. Among them is a quartet of portraits by Marisa Companion of Dover, N.H., "The Four Saints of Chronic Illness During the Time of Covid." Each vibrantly colored image leaves behind whatever the subjects' specific ailments might be, and dwells on their dignified power as an inspiration for the moment. It is one of the winners of this year's juror's award.
The brittle panic and irony of the moment is captured by Ilene Spiewak of West Stockbridge in her painting, "A Virtual Hang. SanitizeSanitizeSanitize and Keep Your Distance." It is an almost unfinished-looking self-portrait, in which "the face mask is a garment of truth," as explained in her statement.
Other works take on a much broader look at the notion.
"A lot of artists have been inspired by the pandemic in different ways," Eldridge said.
There is in many works a stubborn undercurrent of hope. Photographer Paul M. Murray of Jamestown, R.I., who also won a juror's award, seems to be aiming for capturing the quiet determination of the moment. One photo is of a man on a park bench with a pile of belongings beside him, looking off into the distance. "Even in the hardest times, human dignity is important to preserve," he writes.
Other pieces explore the fallout of our cornucopia of crises. There is a stark uncertainty in "The Woman in Light" by Denise Roszkowski of Lenox, a portrait of a woman just home from rehab for opioid addiction. She lies curled on the couch in fading sunlight, in a face-hiding gloom that seems on an edge that could fall either way. Another of her works, "The Daters," has two disparate figures sitting over drinks, unclear what the context leading up to the moment may be and where it might go.
Other work explores the powerful desire to make sense of uncertainty. Three paintings by Peter Knapp of Sunderland are about using art to manage an anxiety disorder. "The Patient's Garden" shows the artist's desperate effort to create a sense of visual order to keep chaos away, in the process creating work of unusual color and depth as he tries to harmonize a set of natural forms. "Serenity's Stronghold" does the same for an abstract series of shapes arrayed against a backdrop of visual noise and disorder. A more recent painting from this past summer, "Pandemic's Paradise," uses medicine packaging and clips and wires to create the same effect.
Even the more abstract works try to present a point in the uncertainty. Two paintings by David Lionheart from Walden, N.Y., "Gran Finale" and "Clear Path," feature his dark three-dimensional foam with pieces of wire and fabric to suggest a sense of direction and sturdiness against a hard-to-map background.
Ali Herrmann of Lenox has three paintings in the show, which include her distinct oval shapes and bright colors. The abstract images are inspired by microbiology and cell formation, blowing up the smallest units of life to show the hidden structures and patterns implicit there.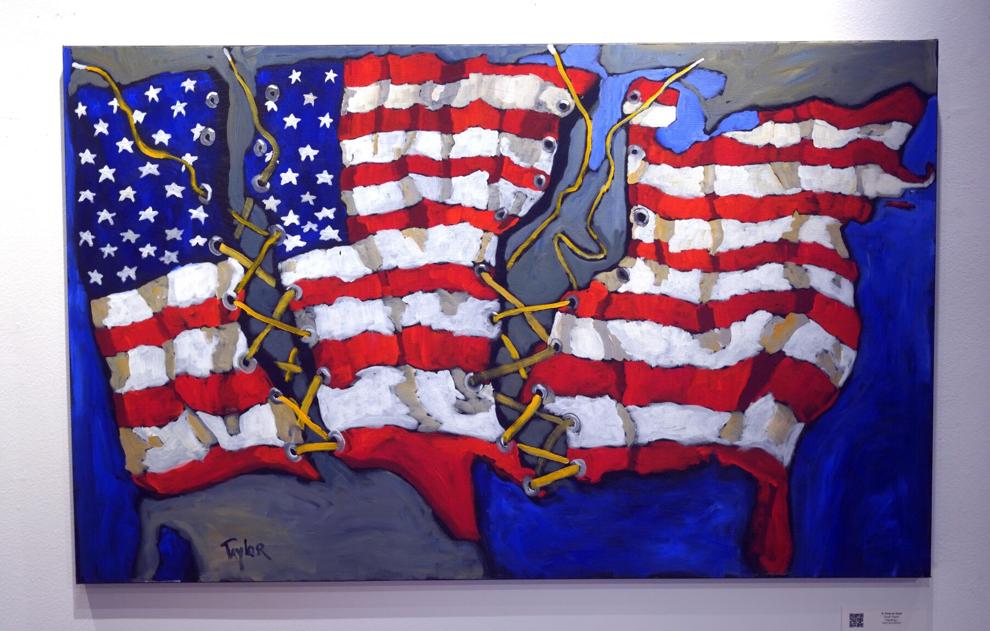 Many of the works are more straightforwardly illustrative, like three paintings by Scott Taylor of Pittsfield, each using imagery of the American flag to embody the nation coming apart and straining to hold together. Each has a tense optimism about the future, perhaps more than a bit undercut by the realization these are older works — two from around the last presidential election in 2016, another from 2012.
This year's Biennial fielded submissions from about 60 artists. The jury included Tatana Kellner, founder of the Women's Studio Workshop in Rosendale, N.Y; Nancy Gaucher-Thomas, president of the Providence Art Club in Rhode Island; and Leo Quiles, adjunct professor at MCLA.
The show is the first the city-owned Lichtenstein Center for the Arts on Renne Avenue has been able to host since March when the pandemic began, which cost them most of this year's schedule. The exhibit will be on view beginning on Saturday through Nov. 20, though unlike in previous years there will be no opening or awards receptions.
"I think it is awesome our first show back is with the [Berkshire Art Association]," said Jennifer Glockner, the city's cultural development director. "They are great collaborators and partners."