STOCKBRIDGE — At Berkshire Botanical Garden, magic hour on Mondays is a time to make music. As the sun nears, then dips beneath the horizon, shadows grow long and soften, casting a golden hue and diffuse light over the natural world below.
It's a time to gather with family and friends for a picnic on the grass, enjoy some wine or a beer, and listen to the sounds of music — cool jazz, swing and soul, Broadway favorites, African rhythms, 60s nostalgia. A time to wander through nature infused with art, with sculptures and whimsical topiary amid the lush plantings.
Each Monday from July 11 to Aug. 29, a band from a varied lineup brings after-hours music to the garden from 5:30 to 7:30 p.m.. This summer, returning favorites Gina Coleman and Misty Blues, Wanda Houston Band, The Lucky 5 and Union Jack are joined by area bands The Greystone Quartet, Robin Gerson Wong, O-Tones and Zikina.
Dana Audia, director of special events at Berkshire Botanical, inaugurated the music series at BBG in 2020. Having seen the success of outdoor concerts while working at the Clark Art Institute, she thought it would be a welcome addition to the garden's annual programming. The onset of the pandemic, however, necessitated careful reconsideration of these plans.
"We decided to see what happened even though it was in the middle of COVID," Audia recalled in a recent phone interview.
"People still showed up. They were happy to have a place to go when a lot of things were not open, they could be outside and enjoy some music."
Attendance has grown considerably since those early socially-distanced days.
"We probably get a couple of hundred people every week, depending on the group and the weather," Audia said. "With someone like Wanda Houston or Misty Blues which has a following, we can get 250 to 300 people. They bring their dinners with them on little carts, it's like a mini-Tanglewood."
There will be bottled water and soft drinks offered for sale, Audia noted. And parking, she assured, will be plentiful and free.
"We've had about 30 concerts and only one was a washout," she said. "We post [updates] on our website by 3 p.m. to let people know."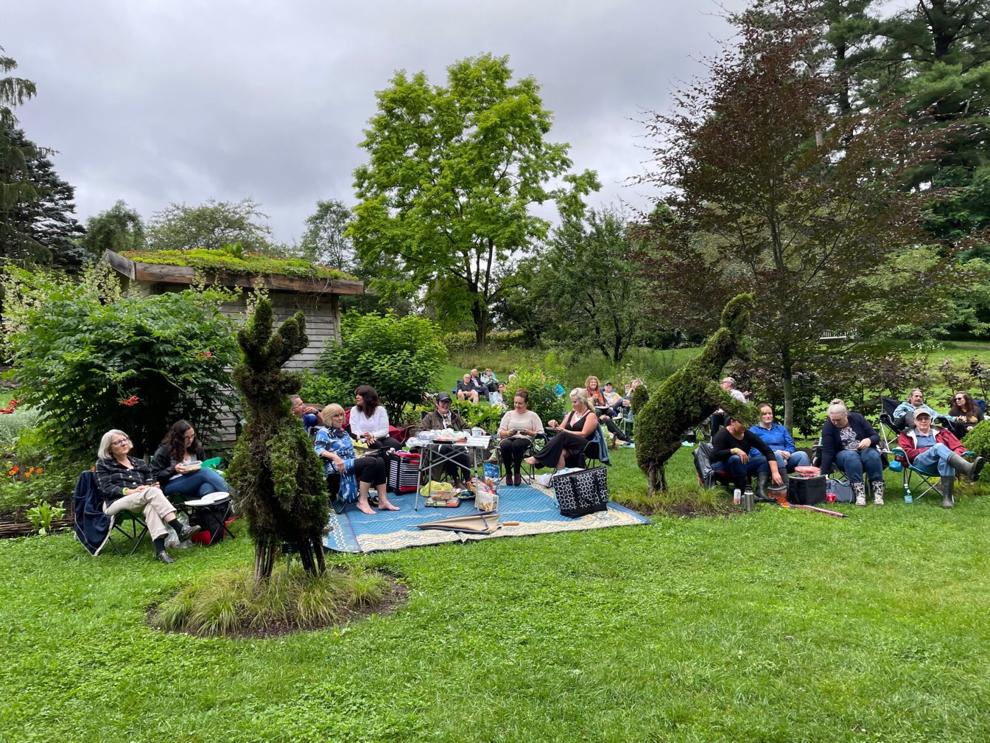 "We've had some of the same people playing year after year — Misty Blues, The Lucky 5, Wanda Houston, some of the local favorites — and I also try to get performers from Springfield and Albany and the surrounding area."
"Union Jack has been a big hit the last couple of years, they're a tribute to the British Invasion and play Beatles and 1960s music. People get up to dance."
Also on the bill is The Greystone Quartet, a jazz group led by local musical champion Andy Wrba. "They're fabulous," Audia enthused.
She makes a point of adding new faces to the lineup.
"New this year we have Mary Witt and the O-Tones, a six-piece band playing soul, swing and blues. Another new one is Robin Gerson Wong, she performs music from the Great American Songbook and Rogers & Hammerstein with a band behind her."
"We also have a new group I'm really excited about called Zikina. They're East African folk music with great percussion, cool instruments, and a Caribbean dance beat, but basically they're a lot of fun."
There is much more to enjoy at the Garden besides the music, Audia noted. Arrive anytime after 4:30 p.m. to view the Center House gallery show "Symbiosis," where art inspired by nature fills the walls and spills out onto the grounds with a dozen sculptures dotted among resplendent plantings and topiary. The gallery stays open all evening.
While the music is geared towards an older crowd, quite a few families attend the concerts. Children aged 12 and under are admitted free. "The kids run around in the garden and have a good time," Audia said.
This year, concerts have moved across the road from their original gazebo location.
"It's on the south side of the street over by the Schoolhouse," Audia said. "The vegetable garden, Children's Garden, and Fitzpatrick Greenhouse are all on that side of the road."
The new location includes many wonderful features of the garden, Berkshire Botanical Garden Executive Director Thaddeus Thompson said by phone. "The Children's Garden particularly is a whimsical space, with little hidden nooks for kids to play or read, and a wishing tree to write a little wish and hang it [on a branch]. There's a colorful little cottage building, and a half-dozen chickens in an enclosure with a coop. There are also some miniature goats close by."
And while the vegetable garden is a production garden, it's also a beautiful garden, he added.
Thompson is looking forward to the concert series. "It's a real mix of jazz, rhythm 'n' blues, British Invasion, even Broadway tunes and Great American Songbook," he said. "We wanted to offer people variety."
"I'm personally excited about Zikina, they've got a unique sound and innovative fusion of East African and contemporary folk. The lead is Ugandan, and several of them studied at Berklee College of Music and Wesleyan University."
He encourages concertgoers to arrive early and explore the grounds.
"It's a treat to be there in the evening in summer when we're not typically open," Thompson said. "It's really a wonderful time of day, the garden is at its peak, there's always something new in bloom. Each and every week offers a new surprise, it's constantly changing."
"We have a dozen sculptures around the property, and also the Center House gallery will be open. To offer concerts in the Garden and expose people to art inspired by nature is something we love to do. There's long been a wonderful association between gardens and the arts."
Concert proceeds help support the garden. "It adds a little more to our coffers," Audia said.
"There really wasn't anything happening on Mondays," she added. "When you start something like this you never know. But we've been really pleased with the attendance and it's growing all the time. We're hoping some of these folks have never been [here] before, it will introduce them to the garden."
"We've been really happy to have had something that we could offer the community," she said. "They're putting it on their calendars now."