CHATHAM, N.Y. —The lights are back on at Blue Plate restaurant. After closing for all of 2021, the popular establishment is back in business.
With a new chef Tomas Antonio and new owner David Grunberg — youngest son of late, longtime proprietor Judy Grunberg — the menu and ambience remain much the same: expansive main dining room, intimate tables on a glazed porch, cozy bar with tables in the basement.
The town nearly lost the restaurant 25 years ago. In 1996, the original Blue Plate was slated to shut down after three years in business, David Grunberg said as staff bustled around readying for dinner service.
"My mom and dad said, 'Where are we going to eat dinner when they close?' She loved coming here, and so decided to jump right in and become a restaurateur."
"[My mother] lived in Europe and New York, and knew what good food was. And she was an excellent cook at home. Northern Italian, crunchy granola, everything had brown rice instead of white. That was the signature difference between Blue Plate and other upscale casual places."
Though her husband, Paul, passed away within a year, over time Judy became a legendary local benefactor, starting nearby PS21 performance space in a tent, then a custom-designed building; ReWraps used clothing store; all the while offering support to myriad nonprofit organizations including a farm animal rescue shelter.
While her son David, 58, spent his adult life in Boston and New York City, he still considers himself a local boy.
"My parents moved here from New York City in 1965 when I was 2 1/2, and I went to Chatham public schools," he said. Unable then to afford two homes, they chose an upstate farm, he added.
In those days, Grunberg recalled, the Blue Plate building housed Hess's Butcher Shop. "When I was growing up, we shopped here, we got our liverwurst, salami, ground beef — he would give me a little taste at the counter." Indeed, brown butcher paper (complete with crayons for doodling) still tops the restaurant's linen tablecloths.
After studying engineering at Cornell University and music at Berklee College — he played violin in Chatham public schools since age 8 — Grunberg pursued careers in both software engineering and as a musician, conductor and composer, starting his own ensemble Spectrum Symphony in N.Y.C. in 2001.
He can now add restaurateur to his resume.
"One of my goals in reopening the restaurant is trying to integrate the two worlds I had in my life, Chatham boy and more worldly. It's a really interesting place to be."
In early 2019, when his mother got sick, Grunberg started spending more time in Chatham. She died that year in late August. "That was traumatic for everybody," he recalled.
Grunberg and his three brothers became much more involved in the restaurant and, when COVID came, transitioned to takeout only.
When stalwart grill chef Mike Baker died at the end of 2020, Blue Plate closed its kitchen. It remained closed throughout 2021.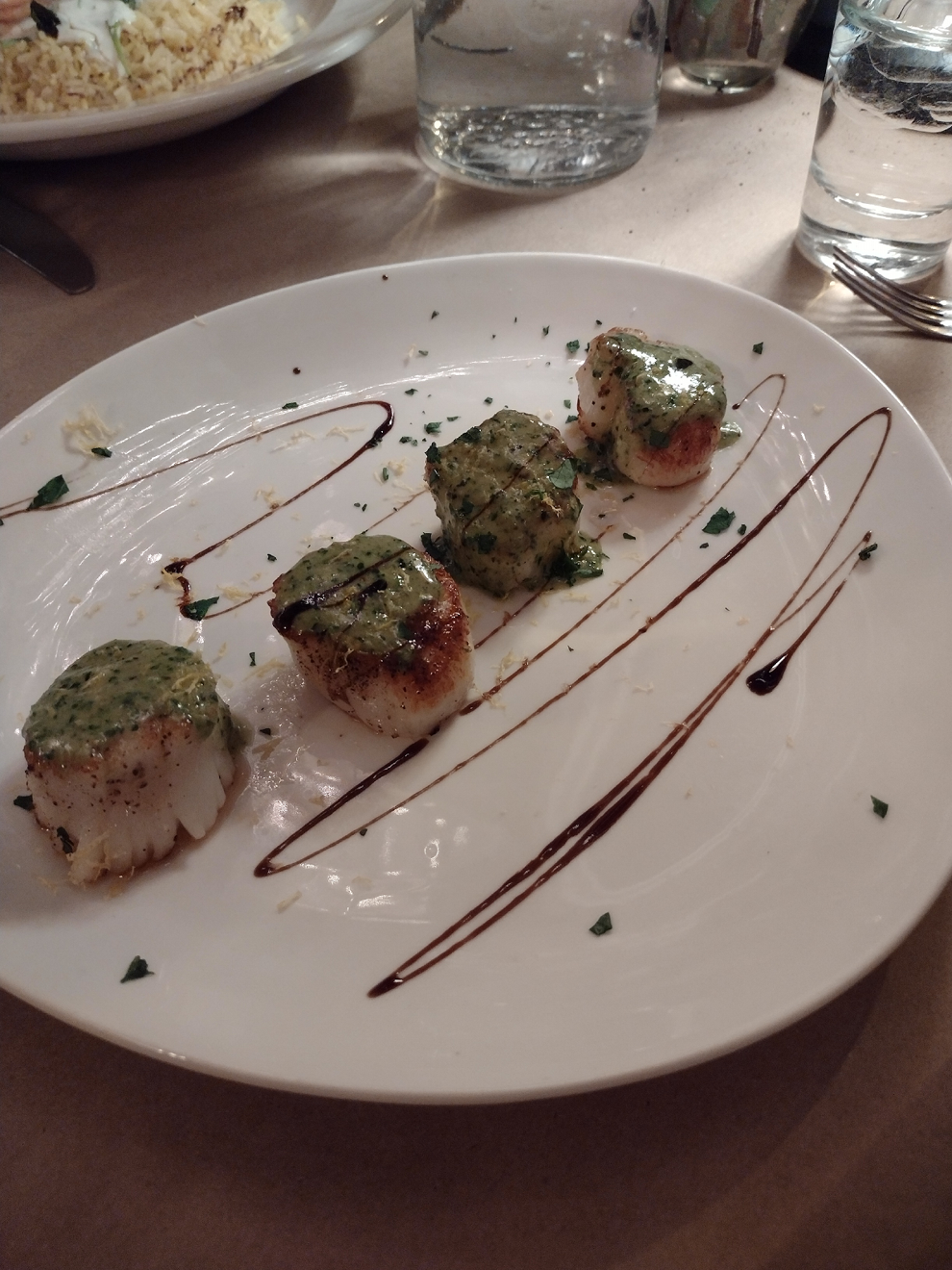 "I did a little soul searching," Grunberg recalled. "It felt too much of a loss to keep it shut down. So in early 2021, I met with my brothers and decided to take it over."
As longtime chef Dominic Giuliano had moved on to open his own tacos-based restaurant and food truck, a new chef was hired.
"Chef Tomas [is] fantastic, he listens to suggestions. We're going to do much more farm-to-table. The menu is what's called New American, with influences of Mexico and Europe."
Entrees range in price from burgers ($15) to scallops ($32). Returning favorites include meatloaf ($19) and vegan chickpea stew ($18), with rotating nightly specials such as blackened mahi-mahi ($28) and braised short ribs ($24). Small plates of calamari, mussels and vegetable tempura remain popular, as does signature olive tapenade with crusty bread.
"We're still sticking to brown rice," assured Grunberg. "It's something I carry over from mom."
And the kitchen has a lighter touch nowadays when it comes to salt. "You can add it but you can't take it away," he said.
Grunberg persuaded longtime staffer Colleen Carpenter-Rice to return as general manager.
"She's stepping into that [role] beautifully," he said. She oversees operations and a 25-member staff, half of whom work in the kitchen and dining room on any given night.
Besides working there since its inception as a bartender, server and floor manager, Carpenter-Rice, a professional baker, has made desserts for Blue Plate for 25 years — everything except Jane's ice cream and biscotti.
"Sticky toffee pudding, key lime tarts, flourless chocolate torte, I change the menu all the time," she said. "Apple, berry, peach crisps and cobblers, anything with fresh local fruit."
Customer favorite coconut cake runs as a special every few months. And she makes hot fudge sauce to Judy Grunberg's recipe, 20 gallons at a time, for sale in jars at the restaurant and area food purveyors.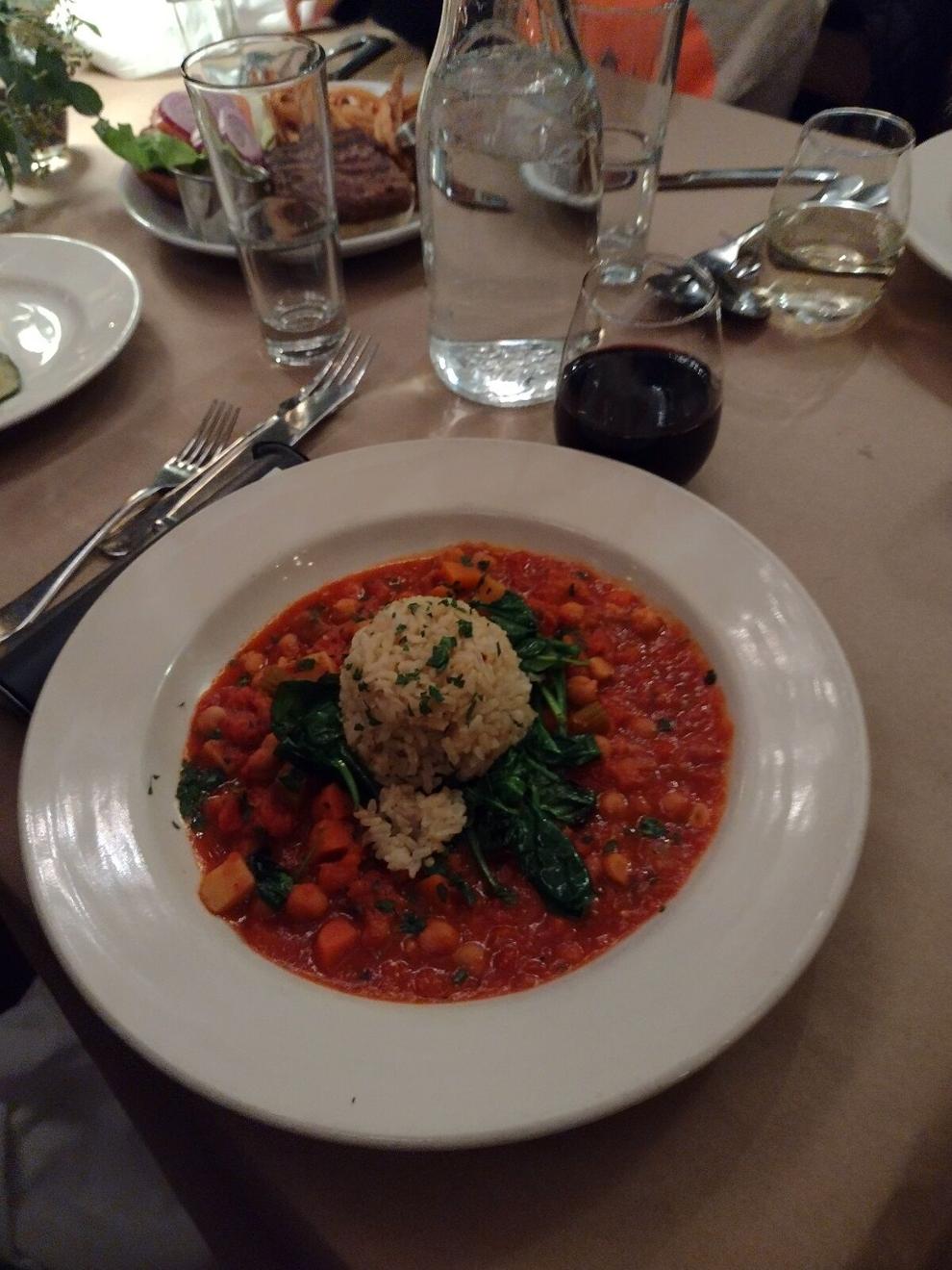 As president of Chatham Animal Haven, Carpenter-Rice also spends six hours a day tending to "10 goats, two sheep, six pigs, two ducks, and a couple chicken flocks. And a big fat happy barn cat that just showed up."
She reports people are thrilled the restaurant has reopened. "I've already seen people come back two or three times in just four weeks. They're saying how much they missed us."
Being a musician, Grunberg said he is very interested in maintaining the music happening in the basement.
Weekly live jazz music in the speakeasy-style bar has long been a Blue Plate highlight. Indeed, one of Judy Grunberg's last visits was for veteran international pianist Lincoln Mayorga's farewell appearance — after two decades performing there with bassist Otto Gardner, he was returning to his native California, where he once was Walt Disney Studios staff pianist.
Grunberg aims to offer regular Music Mondays featuring musicians such as local guitarist Joe Finn. "Jazz, maybe blues, we're going to post it on our Facebook page," he said.
He's already looking ahead to the future. "We're not set in stone, we're going to try more small plates, and big family-style [meals] during the week." The latter was popular as pandemic shutdown takeout, garnering national attention when Today show TV personality and area resident Al Roker filmed picking up Blue Plate meals for family and neighbors.
"It's hard to believe it's back, I'm still pinching myself," Grunberg said, smiling broadly. "It's been amazing, way more than I expected. I'm bringing two worlds together, the old Blue Plate crowd, and newer folks who've moved to the area from down state and other places."
"I think [mom would] be happy about it, she'd be proud. I feel she's looking down, and saying her usual 'Are we doing that?'"
"As we work our way out of COVID, with so many restaurants having closed over the pandemic, we need to come back and light up this end of Main Street once again."