GREAT BARRINGTON — Twenty years after they first met, things have come full circle for local hip-hop artists Quintavious Walls, Regi Wingo, Eric Shuman and Jackson Whalan.
Together, as BRK BRD, Walls, aka Carolina Black, Wingo aka Dominik Omega, Shuman aka D.R.A.M.A.T.I.C., and Whalan recently released the full-length album, "Corona Diaries" featuring 10 songs and three interludes, with themes spanning the importance of family, racial identity, politics and the pandemic.
The four first met when Whalan was a teenager and Walls, Shuman and Wingo were in their 20s. The trio first introduced Whalan to rapping during a workshop they were hosting at the Railroad Street Youth Project drop-in center in Great Barrington.
"Carolina and I were part of a group for a long time and we worked with D.R.A.M.A.T.I.C., but this was when Jackson was really, really young though," Wingo said during a recent phone call with all four artists. "And then, the rest of us started having kids and whatever. For me at least, music took a back seat. Then two years ago, I put out a little joint that Jackson filmed a video for. After that, we just started working together again.
"Honestly, the primary [reason this album happened] was Jackson. He really reached out to the dudes and was like, 'We should hop on a project.'"
Whalan added, "Before we all started working, the four of us, I was going up to Pittsfield and linking up with Eric. We had done a track too. That was pre-pandemic. I feel like that was like 2018, 2019. That's kind of when we started getting back together."
The album originally started off as a single song, Shuman said.
"We did one song and then we did another song and another song. Then we just sat down and, collectively, we just decided that it would probably be good if we just did a whole project," he said.
"Corona Diaries" is the culmination of three years of writing and recording.
"It started around 2018 or 2019. So that's at least three years of chipping away at making songs together whenever we can," Whalan said. "We all have our own lives and tons of different things going on. Q is running a clothing business; a merch business. Eric [is the circulation manager at the Berkshire Eagle.] Regi is at the Elizabeth Freeman Center [as the prevention team leader-outreach educator]. I've been doing music full time. And, I just had a son, so everyone has kids."
"And Regi is becoming a beekeeper," Walls added.
Wingo explained that he accidentally fell into beekeeping.
"One of my neighbors went away for an extended vacation essentially," he said. "The hives got attacked by a bear and nobody wanted to deal with it. So I ordered a suit and inherited 300,000 bees."
The album, now available on all major music platforms including Spotify, Apple Music, YouTube Music, Tidal and Bandcamp under the artist name BRK BRD, was co-produced by Whalan with Berkshires-based keyboardist and composer, Ian Evans. Shuman (produced the beats for "Eat the Rich" and "Shame on You". Live horns are featured in "Letter To My Fam" played by Tyler Gasek and Ian Stewart.
Editor's note: The following is an excerpt from an interview with Shuman, Whalan, Walls and Wingo. It has been lightly edited for length and clarity.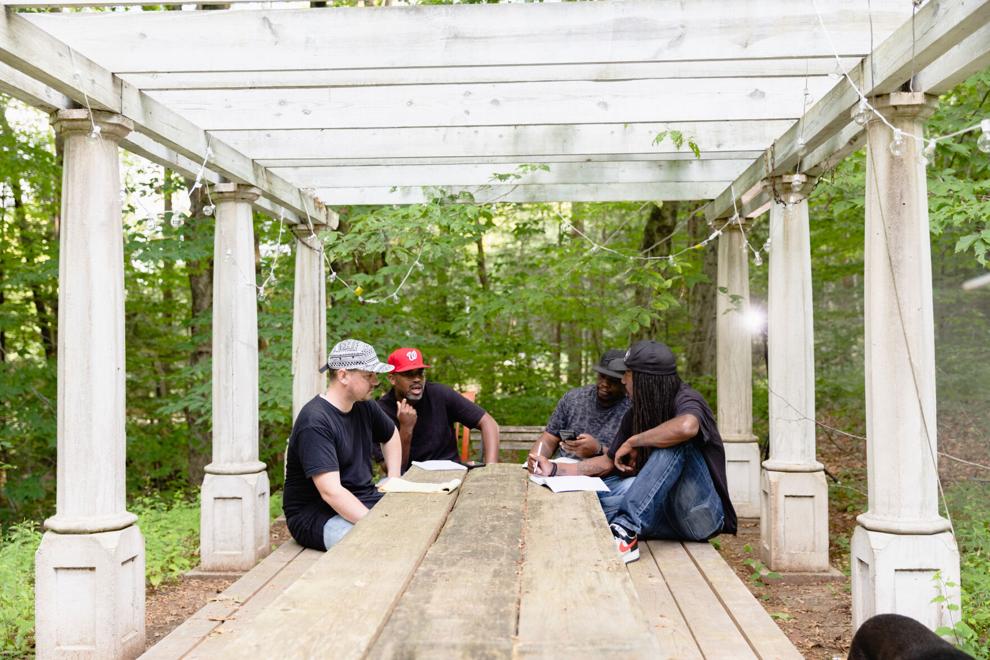 Q: I feel like there's so much packed into this album and I feel like there's this wisdom, that comes with age, that is shared throughout it. Do you feel that's true?
REGI WINGO: I can definitely say a friend of mine, who has been around a long time, pretty much from the jump when it was just me and Carolina. This cat Pablo called me after the album came out and said, 'I — just wanted to tell you that you've just matured so much in how you deliver.' And I said, 'Thank you. I really appreciate that.' I feel, for me at least, there is definitely a sense of maturity about this album, the way everybody is presenting themselves and their content in conjunction with these last three years.
I feel like we've lived through so many 'once-in-a-lifetime' events in these last three years. There was just a lot of content to choose from, discuss and present. I definitely think this is the most grown-up project I've ever worked on.
QUINTAVIOUS WALLS: For me, this is the first project that at the forefront of my mind was my family. This is the first project that I worked on since I had kids. Before the pandemic, I was an executive chef. And then, I was laid off because of the pandemic and I had an abundant amount of time to spend with my family. The maturity really came through in that aspect as well.
ERIC SHUMAN: Along with that maturity, I'm pretty sure you guys will agree, this album from every one of our standpoints, there is this level of vulnerability that I don't think any of us have ever done in music.
REGI WINGO: I also think like, for me, part of it was after living through the experience of being in quarantine, watching my daughter do a whole year of school from her bedroom, it feels like you have to be really introspective and really think about your stuff — what you got going on, the stuff that you are pushing under the bed like you'll deal with it later.
QUINTAVIOUS WALLS: Hip hop, it's a lot of people wearing masks. I feel like for this project, you know, I just wanted to be me — pull the curtain back and let people look in.
Q: What's the songwriting process like for you?
ERIC SHUMAN: Crazy. That's the shortest version I've got.
REGI WINGO: Basically, we pull up to the studio and Jackson plays some beats. And, if we like one, we'll start right in or basically, I'll start freestyling. If no, we'll ask Jackson to go into the secret folder, because producers do this thing where they present you with five beats and you're like, 'mmm, ok … but what's in that folder?' And they're like, 'Nothing good's in there.' But you always find the hottest beats in that folder.
Usually, I go in and I'm just trying to be nastier than everyone else because there's competitiveness. I think, really, this is the first time we really tried to pick themes. We were really like, what's this joint about? Like [the track] 'Eat the Rich' is really themed all around the election.
JACKSON WHALAN: For that song, I believe it was Regi who suggested that we all come up with a topic that related to the '1 percent' and different ways people are oppressed. I think Regi focused on education for that track, for his verse. Each of us came with a different verse, a different perspective on matters that point to the systemic issues that we face.
REGI WINGO: I've been doing a lot of work with an organization called Growing A New Heart and we do a lot of dismantling white supremacy work to where it's really opened up my eyes to the fact that while there is systemic racism and white supremacy, like all of existence right now really just comes down to class struggle.
Basically, throughout human history, class struggle has just been the thing, — a ruling class oppressing the working class. And that takes many forms — homophobia, racism, sexism, you know, the patriarchy, all of it. That was something that was at the forefront of my mind when we were working on this project. When you learn new things, you see them everywhere. I think that was part of it for me.
Q. It sounded like you guys really dug deep for this project. Can you speak to that?
REGI WINGO: This one, like [Carolina Black] said, was really a pull-off-the-mask project. Hip hop is about your stage persona, about being the dopest MC ever, having the best bars, or whatever.
ERIC SHUMAN: Like seriously driving home the ego. There was no ego this time.
REGI WINGO: Yeah, like really raw — this is where I'm at and this is what I've gone through.
I still think there's a playful element to it. All four of us are kind of clowns. You can't put us all in a room and expect us to be serious.
JACKSON WHALAN: There's a lot of joking and having fun in between creating the music. That is almost as important to us as making the music — just getting together. There is a boastful element to the art of rapping that exists on the project, but I think that's only part of this album. It doesn't take up too much space, because I think we definitely became introspective in our lives through the times we're living in. But then, I also think it has to do with what Regi was saying about how we're just maturing as artists, talking about things that are more personal and therefore more relatable to what other people are going through.
REGI WINGO: I think another cool aspect for me, with this project, was hearing the joints that I'm not on. I remember showing up at the studio and Jackson asked, 'Do you want to hear the joint me and Q did?' And as soon as he started playing 'God's Time,' I was just like, 'Oh, wow. That's incredible. That sounds like nothing else on the album.' A project like this is so cool because you like you're in it, but you get surprised inside of it.
ERIC SHUMAN: I think along with that came, a level of being able to marvel and admire each other a little more.
QUINTAVIOUS WALLS: I didn't feel like I was working with rappers. I felt like I was working with my brothers.
JACKSON WHALAN: There's this thing about being in a room with other artists and with other rappers. When I'm in a room by myself in the studio, it's not the same. Just having other people around to encourage you or give you feedback is huge. I feel like we all benefited from that dynamic as well.
ERIC SHUMAN: Yes, especially the part about giving each other a perspective that we might not have seen before.
REGI WINGO: Yeah, I think there's definitely something to be said for the collective energy because, on a couple of joints, you could just take a beat and write to it. But, when you're in a room with the fellows near, some people finish their verse and spin it and you get fired up and finish your verse. It's like that centrifuge builds to a crazy experience.
Q: What do you hope people will take away from the album?
ERIC SHUMAN: Hopefully, a strong perspective of self worth. Because 'Corona Diaries' is a time for each of us to present ourselves to ourselves and have to look at those flaws and the things that we do good and put it all into perspective, how it culminates for them. Just knowing you had time to sit back and reflect, not just on the things you've done in the past but also on how you want to go forward into the future.
JACKSON WHALAN: For me, it's like the last line of the album says, that you've got to keep pursuing your passion and having faith. That's kind of what I hope people get from this, especially on the local level, since it is so hyper-focused on us being from here and being connected for so long. And all of us having like so many different things happening in our lives, but still making time to pursue our passion and have faith that things are going to work out. I feel like my message and hopefully what the listener gets from it is that it's important to pursue what you're passionate about
QUINTAVIOUS WALLS: For me, I just want people to take away that despite everything going on and what you see, always remember to find the time to be grateful for what you have and for the people who are in your life.
REGI WINGO: I heard this crazy thing: If art is how we decorate space, then music is how we decorate time. And for me, that's like this. I think what I want people to take away is that even in these crazy times when so much is going on — the pandemic, the far right and Trump — there's still this space to be intentional and create art, to create beauty. And that, even though we're old now, we still got it.
Q: Where does the name BRK BRD come from?
ERIC SHUMAN: I'd love to give you this elaborate version of how it came about, but it's quite simple. It's just that ode to men, when you sit down with your brothers and you share a common cause. I don't know who coined the term, but it's called breaking bread. And I couldn't picture anyone else that I'd rather be breaking bread with.
JACKSON WHALAN: And then it has the BRK, which is kind of like a Berkshire thing, right?
ERIC SHUMAN: Yeah, we'll go with that. (Laughs)
REGI WINGO: The Berkshires is actually kind of important because we've been out here since we were kids. I will never forget when the [track] 'Corona Diaries' came back from the kid that mixed it and it was 4 minutes and 13 seconds long. I was like, 'This is a sign.'
ERIC SHUMAN: I can take that even a step further because, Jackson is born and raised [in the Berkshires], but it's crazy how the likeliest of things have happened. Like, for me to come from where I've come from and end up here, for Q to come from where he came from and end up here, and the same for Regi. For all of us to eventually meet up in a spot that kind of set the tone for the kind of lives that we would have, for the kind of careers that we would have, for the kind of people that we would become and have that happen in a place like Berkshire County.
I'm originally from New Jersey. I could have told you at the age of 13 that 'I'm never going to end up in Massachusetts.'
QUINTAVIOUS WALLS: I'm from North Carolina, same.
ERIC SHUMAN: That holds up big space to all of the things that we've done.
JACKSON WHALAN: I just want to drive home the point that it just feels incredible to have done this. It's a full-circle thing for us, 20 years in the making, from when we met each other. Also, I just feel that hip hop needs a voice in the Berkshires. I'm just happy we are able to contribute to that. There's not much of that here, so I feel like we're doing something important. Even though there's not a hip-hop show every week in the Berkshires, especially in South County, I feel like it's important to keep that alive here.