LEE — Around 11 a.m. on a Thursday, pastry chef Rachel Portnoy is finishing up a batch of dark chocolate brownies, when Café Triskele's phone rings.
The caller is wondering about recent change, from Chez Nous to Café Triskele, and the restaurant's new menu.
"We have the menu online," Portney tells the inquisitive caller.
After a brief discussion of the menu, Portney reassures the caller that she and her husband, chef Franck Tessier are still the owners. The couple opened the restaurant in 2005, and the food remains high quality at reasonable prices.
"We designed the menu to be take-out friendly, that was one of the changes we made," Portnoy informs the caller.
It's an exchange Portnoy and Tessier have been having alot — explaining the changes they've made to benefit diners in a post-COVID-19 world — since reopening in late April for in-person dining five-days-a-week.
The new name, Café Triskele, inspired by the Celtic Triskelion (a symbol of rebirth, renewal and moving forward) may need some getting used to. But it seems appropriate as restaurants find the coronavirus pandemic has changed the way they do business.
"We're reacting to the moment," Portnoy said. "The way we design a dish — it's still our cooking — but we won't put it on our menu if it doesn't travel well."
She believes takeout, which kept many restaurants afloat when in-person dining was limited or non-existent for months, will remain popular with many people still uncomfortable with dining in public.
The couple says the Chez Nous' regulars seem to have embraced the name and menu changes.
"It's been fantastic, well received. The menu is simpler, and more accessible, price wise," Tessier said.
The the entrees cater to vegetable, fish and meat lovers, with all prices below $20.
The portions are similar in size to when Chez Nous offered small portions as options for their dinners.
Tessier says this encourages the guest to share in a variety of dishes and still feel satisfied.
"One person might order a rack of lamb, another is a vegetable lover and another may want salmon. You can please yourself with different dishes," he said.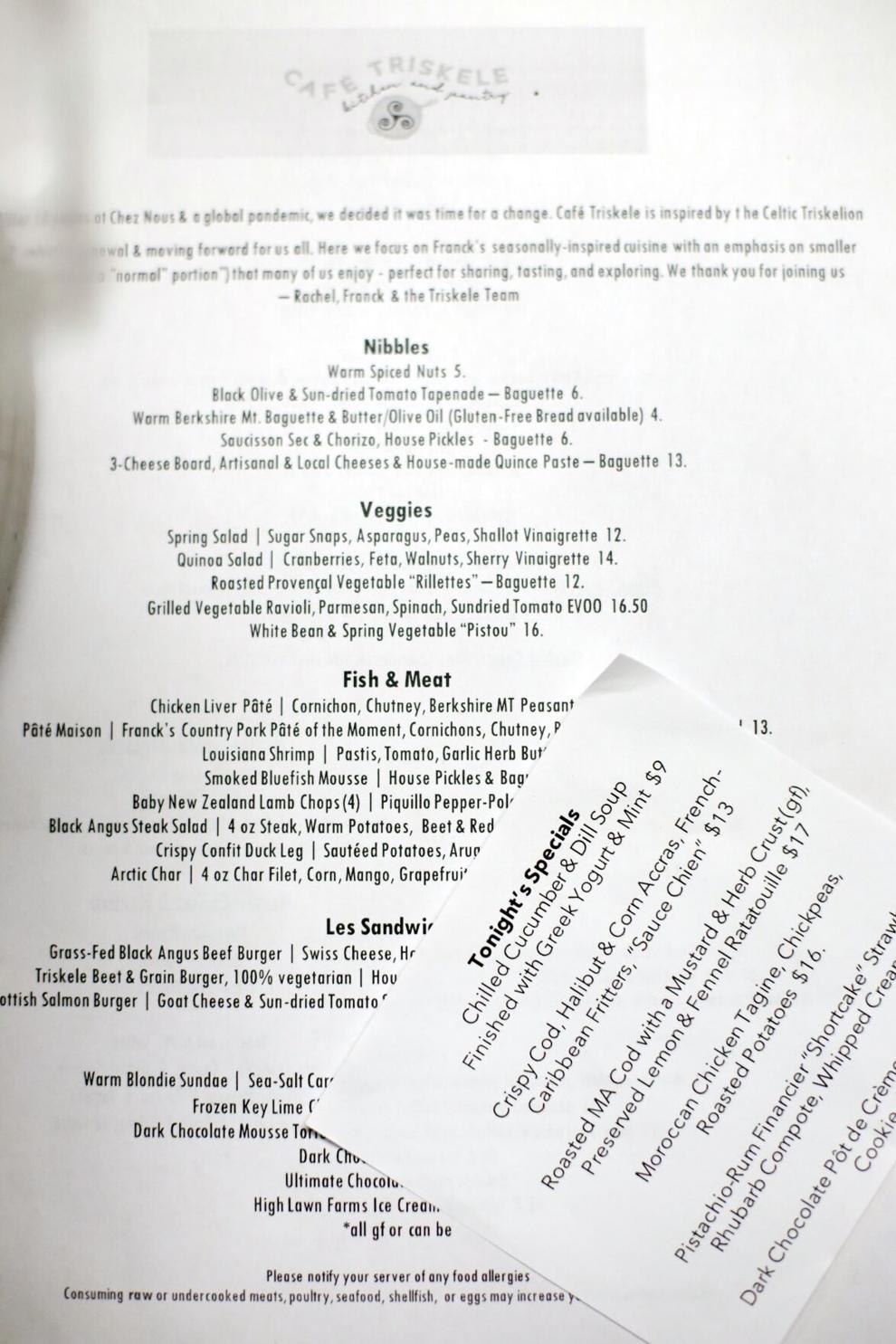 Quinoa salad, grilled vegetable ravioli, baby New Zealand lamb chops and Franck's country pork paté are among the entrees.
For those wanting something simpler, Cafe Triskele has expanded its sandwich offerings with a Scottish salmon burger and grilled Vermont chicken breast baguette joining their popular grass-fed black angus beef burger.
The dessert menu's popular warm blondie sundae, made with sea-salt caramel, rum raisin, vanilla ice cream and whipped cream, remains. Other sweet treats include locally made ice cream from High Lawn Farm, in Lee, and frozen key lime cheesecake.
While the state has lifted the mask wearing/social distancing mandates, Café Triskele is still adhering to COVID-19 protocols put in place last year. They still require masks be worn, regardless of vaccination status. Reservations are recommended. Seating is available inside, as well as outside, under a tent or on the patio.