ADAMS — When you arrive for your picnic at Chenail Crofts, drive past the gate and slowly make your way down the rocky path to a parking spot near the red barn on the right. As you exit your car, you'll be greeted by a friendly hostess with a warm smile, who will hand you and your date a glass of sparkling cider. You may also be greeted by a dozen goats, a gaggle of geese or an alpaca named Alfred.
Chenail Crofts, at 215 Gould Road, is a location many will remember as Gould Farm, a dairy farm that was in business for over 100 years through three generations of farmers. The property was sold to Ronald Chenail and Paula Melville Chenail in September 2016, who currently reside in Florida. While they are away, Paula's daughter Carleigh Oparowski and her partner Avery Cunningham are the caretakers of the 228 acres, taking care of a dozen goats, chickens, geese, ducks, bunnies, three dogs, two emus named Sonny and Cher, Alfred the alpaca, as well as their young son, River.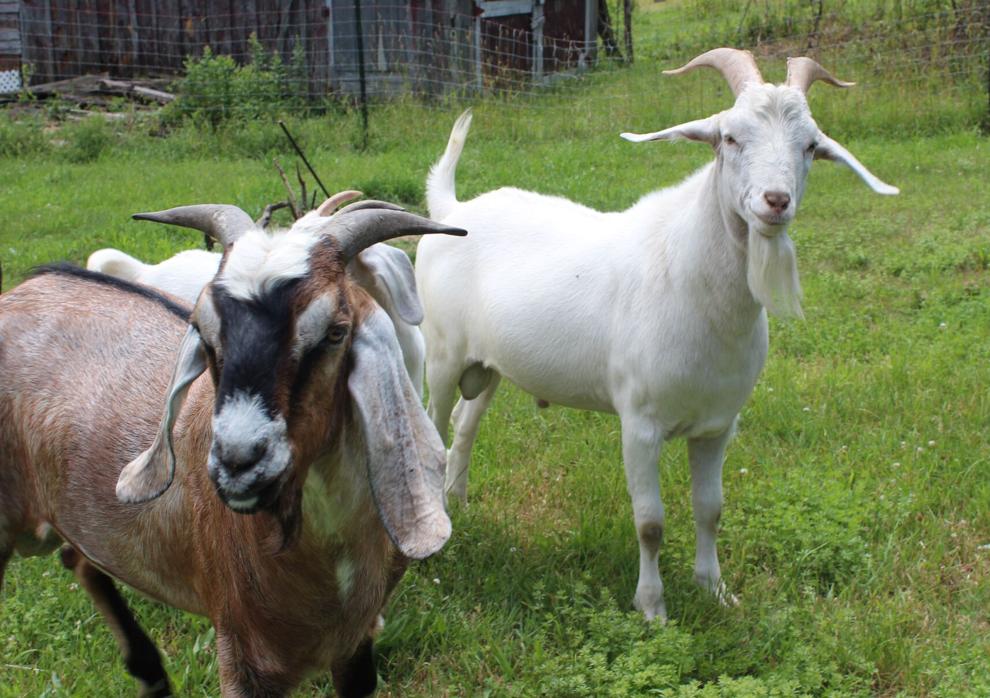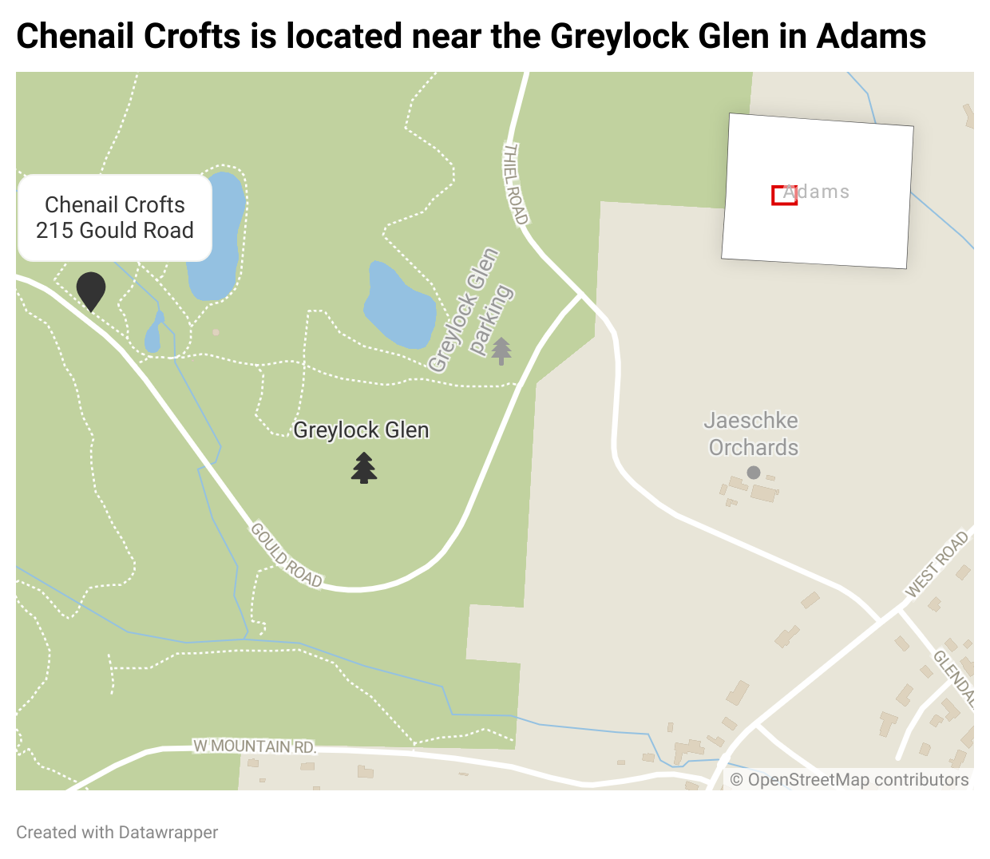 As caretakers of the land, which is located adjacent to the Greylock Glen, Oparowski and Cunningham run the day-to-day chores, such as feeding the animals, changing their water, gathering eggs and tending to the vegetable gardens. Cunningham stays busy making repairs to the farm equipment and helping to restore the farmhouse and barns, which were built in the early 1900s. Oparowski is the lead designer and hostess behind the farm's newest endeavor: Chic Picnics.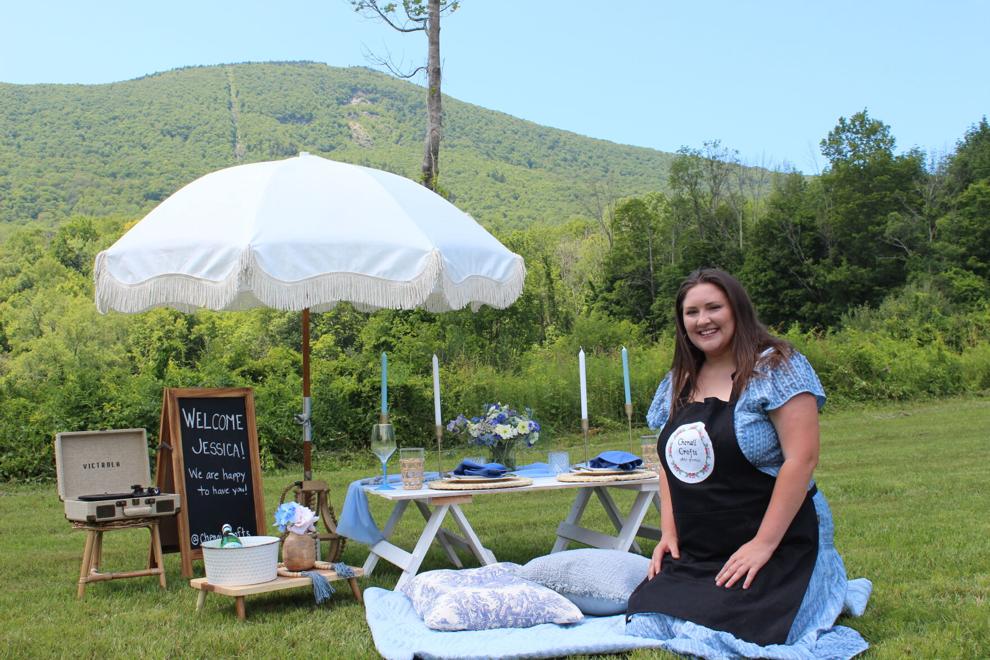 At the farm, couples or small parties are invited to enjoy 90 minutes picnicking in the private grassy fields looking out toward open farmlands and views of Mount Greylock. Guests are welcome to dine on snacks or a meal of their choosing, and have the option to explore the private hiking trails and meet and feed the goats at the end of the outing.
"Everyone loves to meet the goats," Oparowski said. "They're very friendly."
Oparowski said the idea to offer Chic Picnics was inspired by pop-up picnics she saw were popular on West Coast beaches and other public spaces. On a personal level, Oparowski says that while being a mom is a significant and rewarding part of her life, she was looking for an identity outside of being a stay-at-home mom. Through Chic Picnics, she is able to combine her passions of hostessing and decorating to create a custom event for clients on their private farm.
"I figured we'd give it a try, and we've been very successful," she said.
As of July 13, it's been one year since the farm began hosting picnics. The farm had completely booked the remainder of their season last year, and this year they expanded picnic hours to be held any day of the week. To celebrate this one-year anniversary, Chenail Crofts is offering 10 percent off picnics scheduled for July.
Oparowski says the calendar for the remainder of this season has been filling up with bookings from guests who live in the Berkshires and beyond. They've hosted guests who have traveled over two hours to visit the farm. Many of the guests have booked a picnic in the past, and one client has even booked three separate picnics for this season. Many guests find the farm through word of mouth or have seen photos from previous picnics on Instagram and Facebook.
Most often, clients who book the Chic Picnics are couples looking for a quiet moment to spend time with one another for an anniversary or a special date night. The picnics are also popular for parents and children who book the event as a birthday party, and groups of friends book a picnic as a way to meet up for a reunion. But the one event Oparowski is eager to book?
"An engagement picnic," she said. "How awesome would that be, to say you got engaged here at Chenail Crofts."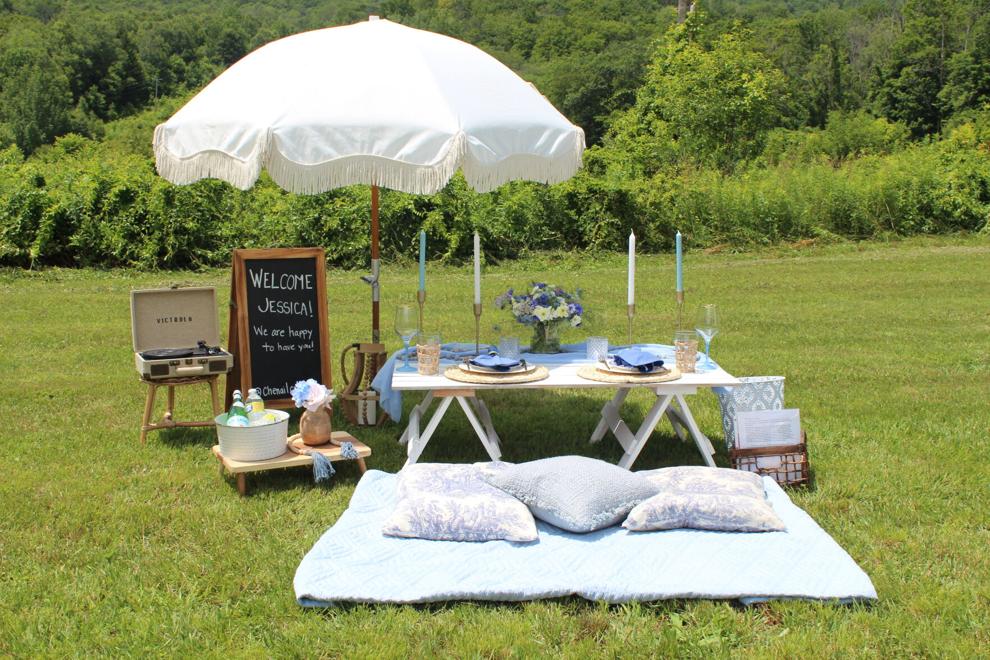 Every picnic is a unique and personal guest experience. Oparowski says hosting a picnic is more than just putting cups and plates on a table or spreading a blanket on the ground. She says she's creating a personal, luxury experience at an affordable price. Guests are able to choose from suggested picnic color themes and can make any customizations upon request. Chenail Crofts does all the setup, breakdown and trash removal. Everything from the plates to the blankets are cleaned and sterilized for each picnic so guests can enjoy a safe experience.
Aside from picnics, the farm has hosted events such as goat yoga and plein-air paint nights. They also hosted a small wedding for a family member on the farm last year, and hope to be able to host other small weddings and events in the coming year.
Working with local artists and small businesses is important to Oparowski and Cunningham. They are always looking for opportunities to collaborate with the community, such as selling locally crafted jewelry on the farm stand or partnering with local bakers, photographers, florists and small businesses for optional additions to picnic packages.
"I'm from Adams. I grew up here. Community is huge to me."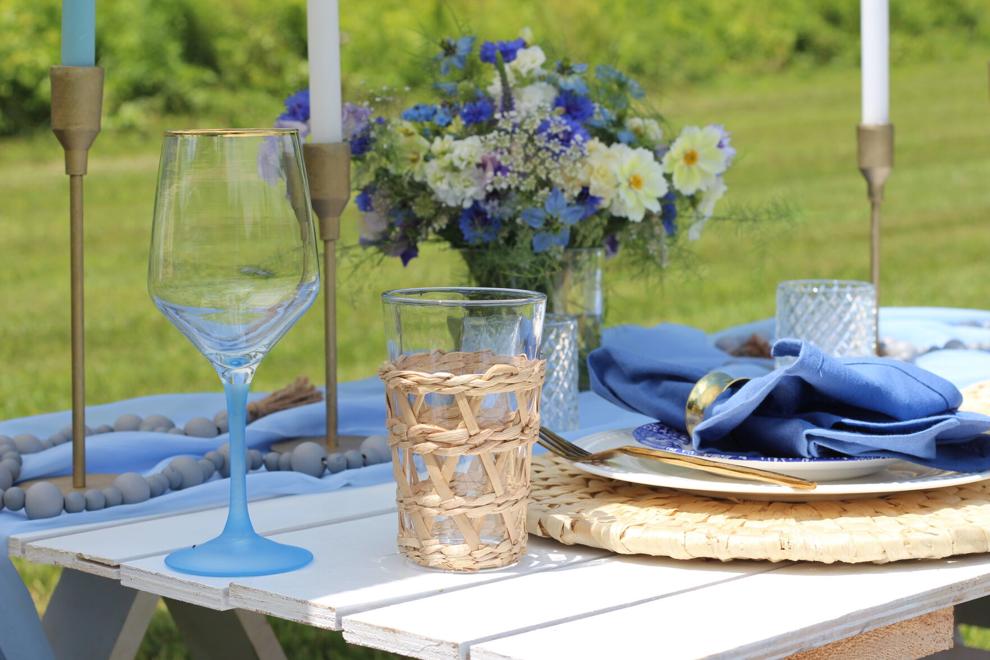 IF YOU GO
What: Chenail Crofts Chic Picnics, an outdoor picnic on a farm at the base of Mount Greylock.
What's included: Every package includes set-up, break-down and cleanup. Guests can dine on a low-lying table while sitting on rugs, blankets, pillows and or ground cushions. Tables are adorned with themed place settings for each guest, decorated with faux flowers and greenery. Each picnic includes bottled water and amenities such as a mini-Bluetooth speaker, bug spray, hand-sanitizer, a deck of playing cards, extra (disposable) napkins, and a container for trash.
Who should book?: Any two people looking to celebrate a birthday, date night, anniversary, brunch, teatime, a special occasion, or just a place to relax. Additional guests, up to 4 or 10 depending on the package, can be accommodated upon request.
When: Picnic season runs from Mother's Day weekend through October. Each picnic runs for 90 minutes between the hours of 1 p.m. to 6 p.m. any day of the week. Longer picnic windows are available upon request.
Pricing: Packages start at $100 for two guests. Additional add-ons such as a personalized bouquet, locally made desserts, a mocktail kit, a mini-photoshoot and other gift options are available.
How to book: Email chenailcrofts@gmail.com to inquire about a date and time.
Note: There is no public restroom on the property but there are restrooms down the road at the Greylock Glen. This event is BYO beverages and food to eat if you do not decide to purchase additional add-ons. Full payment is due within 24 hours of booking to secure the time and date.