NORTH ADAMS — Loud sizzling and tantalizing smells drift from a gray truck in a corner of Courtyard A on the Massachusetts Museum of Contemporary Art campus.
It's not unusual to see a line formed in front of Chingòn Taco Truck, ornamented with potted plants, brightly colored outdoor furniture and bumper stickers from local businesses, after its serving window opens, from 1 p.m. to 7 p.m. Wednesday through Sunday. Inside are Mariah and Justin Forstmann, who run the entire operation.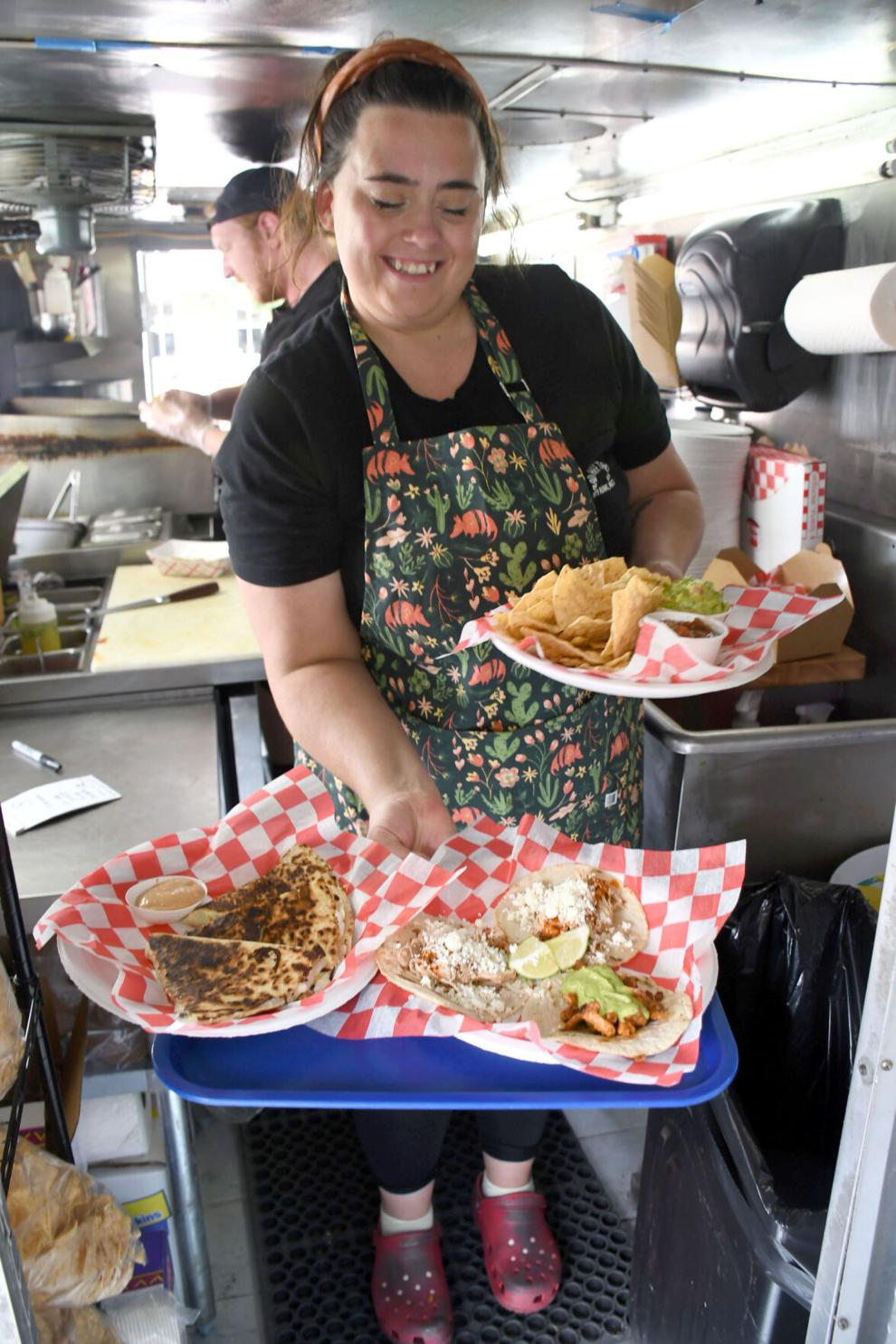 Having worked in restaurants for most of their adult lives, the Forstmanns had long dreamed of having their own. The pandemic presented them an opportunity to do so — just not quite as they imagined it.
After moving back home to Connecticut from Portland, Oregon, they put all of their savings into an old truck, fixing it up and installing a kitchen. This became their food truck, which is now a fixture on the Mass MoCA campus. Chingòn translates to "bad a--" or "awesome." Through luck, creativity and sheer energy, the Forstmanns have found success over the past year of operation.
"We didn't know what the world would look like at the end of the year," Mariah Forstmann said. "We were like, 'we don't know if restaurants are a thing anymore.' So, we bought the old truck and it was going to be our stepping-stone to living out our dream of a restaurant, and then this became our dream, and it's been absolutely incredible so far."
The interior of the truck prioritizes efficiency. One side has an orderly assembly line of industrial kitchenware — stovetop, steam table for cooked meat and vegetables, and cutting board with bins for salsa. The other side has a large sink and space for storage. Justin Forstmann said there's a lot of "shimmying past each other and one person's climbing into the sink, so it also helps that we're married."
Essentially, it's a small metal box. "And we're kind of bigger people," Mariah Forstmann said, laughing.
Last August, when they first set up shop on Mass MoCA's campus, they were living in Justin Forstmann's parents' house in Connecticut and commuting one hour and 45 minutes each way. They would leave the house at 6:30 a.m. each morning, and get home around 1:00 a.m. They got about four hours of sleep each night.
"It was full adrenaline every day," Justin Forstmann said.
Drawn to the intensity of restaurant jobs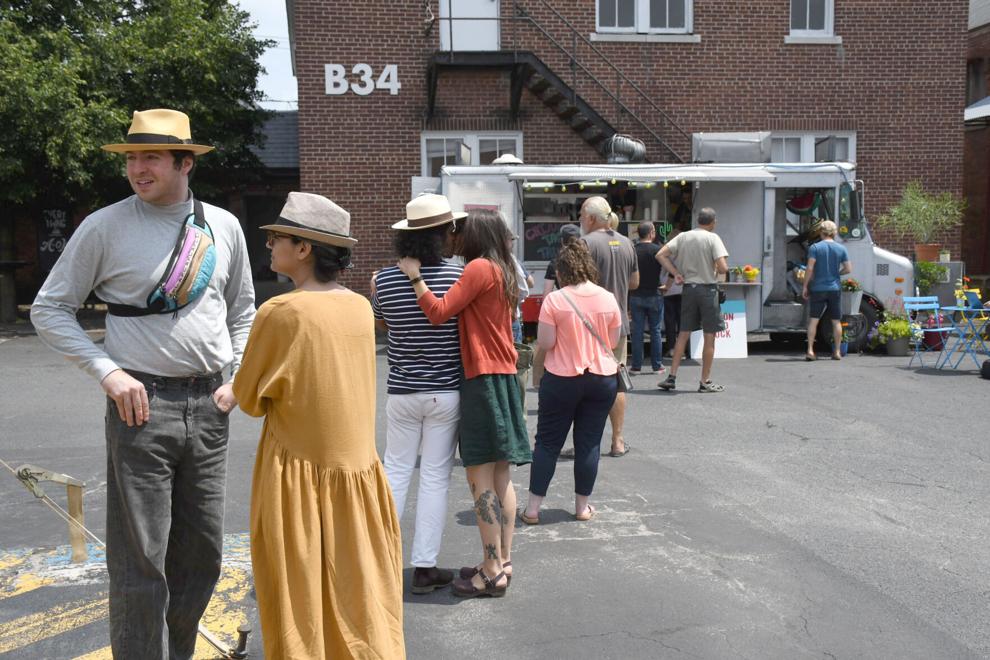 Mariah Forstmann said she has been working front-of-house restaurant jobs since she was 13, when she started working at a friend's dad's deli. She said she loves planning events, and has a knack for organization.
After Justin Forstmann graduated from high school, his parents presented him with an ultimatum: college or a job. Having never really liked school, he decided to find a job, and started working at restaurants. Mariah Forstmann, who was best friends with his sister in high school, got him his first job. As an 18-year-old, he said it was addictive to earn $500 or $600 a night.
Justin Forstmann's cooking journey began in earnest after he and Mariah moved to Portland, and he started working at a renowned Mexican restaurant under head chef Benjamin Gonzalez. He started as a dishwasher, and, after Gonzalez took him under his wing, worked his way up to sous chef.
Justin Forstmann had no formal training. In fact, he said that he didn't cook growing up. He was instead drawn to the intensity of the profession.
Using what he's learned from Gonzalez, Justin Forstmann hand makes tortillas with a from-scratch masa. Rolling a ball of masa between his hands, he explains that it holds thousands of years of history and heritage, which he acknowledges does not belong to him.
After cooking the tortillas on the stove top for a couple minutes, Justin Forstmann takes them off and flattens out the hot air. Once that's done, they're safe to handle and ready to pass on to Mariah Forstmann at the cutting board, who fills the taco with meats and vegetables from the steam table and salsa from little metal bins. Some taco fillings take days to cook.
Mariah Forstmann also handles the cash register, plans events and manages the truck's online presence.
Never the 'new kids on the block'
Because public health guidelines required that alcohol be served with food, the Forstmanns planned to do a brewery tour in Connecticut and other nearby states.
But they never embarked on the tour because, while searching for stops, Bright Ideas Brewing, which is located in Mass MoCA's courtyard A, offered that they set up shop nearby and stay for a while. Orion Howard, a friend of Justin Forstmann's father, Eric, and founder of Bright Ideas, said the Forstmanns met their revenue projection for the week on their first day of operation, Aug. 11.
Justin Forstmann said he and Mariah never felt like the "new kids on the block." They said one of their first regulars, a local who works at a tattoo parlor, decided one day to make a logo for them, which they put on T-shirts and sold. The Forstmanns said they're also friends with the staff at A-OK Berkshire Barbecue and Bright Ideas, and are working with a graphic designer from Bright Ideas.
Makayla-Courtney McGeeney, taproom supervisor at Bright Ideas, said that the taco truck quickly built up an identity and following of its own.
"Charismatic, nice, humble, kind, creative, community-oriented," McGeeney said of the Forstmanns. "They're just down to do whatever ... They are also aware of their capabilities. Like, they don't say yes to everything because they want to make sure they're doing everything right."
A mix of regulars and tourists
When tourists flock to Mass MoCA on Saturdays, the truck tends to quickly sell out of tacos. Justin Forstmann said the scent is useful advertising.
"When I'm cooking stuff two hours before we open — I'm cooking vegetables on the flat top and that's the only thing that's permeating this whole courtyard, it's incredible — people will come up and they will start queuing in line 35, 40 minutes before we open because they're drawn to it because the smells are so good," he said.
The aromas generally draw a mix of locals and tourists. Come on a Wednesday, it's mostly regulars, according to the Forstmanns. According to Howard, Courtyard A has become a community area which North Adams locals find welcoming.
"People from North Adams feel really comfortable hanging out in the front. Even the people who sort of hated the museum out of the principle it got rid of manufacturing in North Adams, they're willing to step onto the courtyard," Howard said. "Justin and Mariah have been the recent linchpin for making that happen because that taco truck vibe in the courtyard really changed the feeling of [it]."
Mariah Forstmann said they try to keep the prices fair.
"Not gouging just because we are on the MASS MoCA campus [is important]," she said. "We cover our overhead and go from there." The recommended meal size is two to three tacos, and each taco costs $4.
Justin Forstmann said he sees the businesses moving into North Adams as healthy for the city.
"It's not like a bunch of wealthy people coming in and blowing down houses and building crazy shopping centers," he said. "People with dreams are able to do something because rental for retail and rental for business is still so low that it's achievable for everyone."