GREAT BARRINGTON – Pedrito Martinez grew up in Havana, Cuba, surrounded with music. His mother loved to sing, and two of his brothers became percussionists, following his uncle's lead.
Early on, Martinez experienced the rich traditions of Cuban music in the most accessible way — from his balcony. His family lived in front of Trillo Park, one of the oldest parks in the island's capital. Every year there was a series of concerts called "Neighborhood Tours" where the best Cuban orchestras performed.
Martinez did not stay in the audience for long. By age 13, he was already playing with folk music groups.
On Saturday, May 13, at the Mahaiwe Performing Arts Center, together with his band of four musicians, The Pedrito Martinez Group, Martinez plans to give a performance that he predicts will be remembered for a long time for its energy and danceability.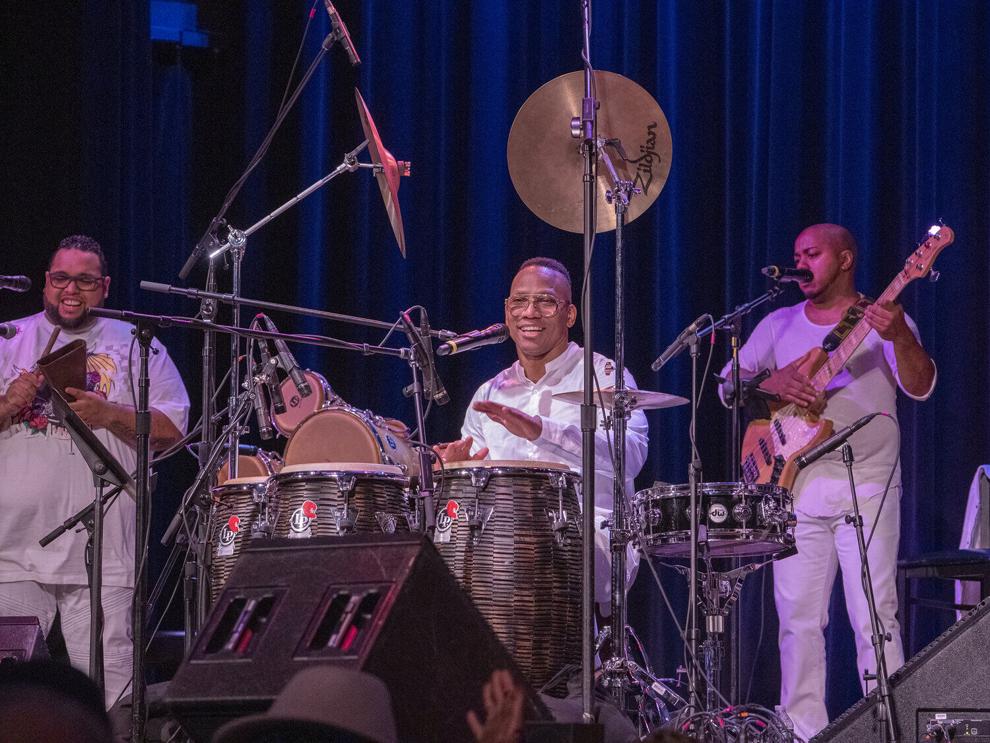 "We are a quintet, but people say we sound like 15 people. We are all singers, we all play instruments, direct the group and compose songs," Martinez said in a recent interview with The Eagle. "It's music to cheer the soul."
Martinez thinks he can make any audience dance.
"I was in New Mexico and the audience was on the older side. I was a bit worried about how they'd react. My music is very strong, it's danceable, it's energy. And people had a lot of fun, which we absolutely loved and inspired us to continue to make music," he said.
Martinez created this event to introduce the audience to his favorite instrument, one he has loved since he first touched it as a kid — the batá drum.
THREE DRUMS PLAYED IN SYNC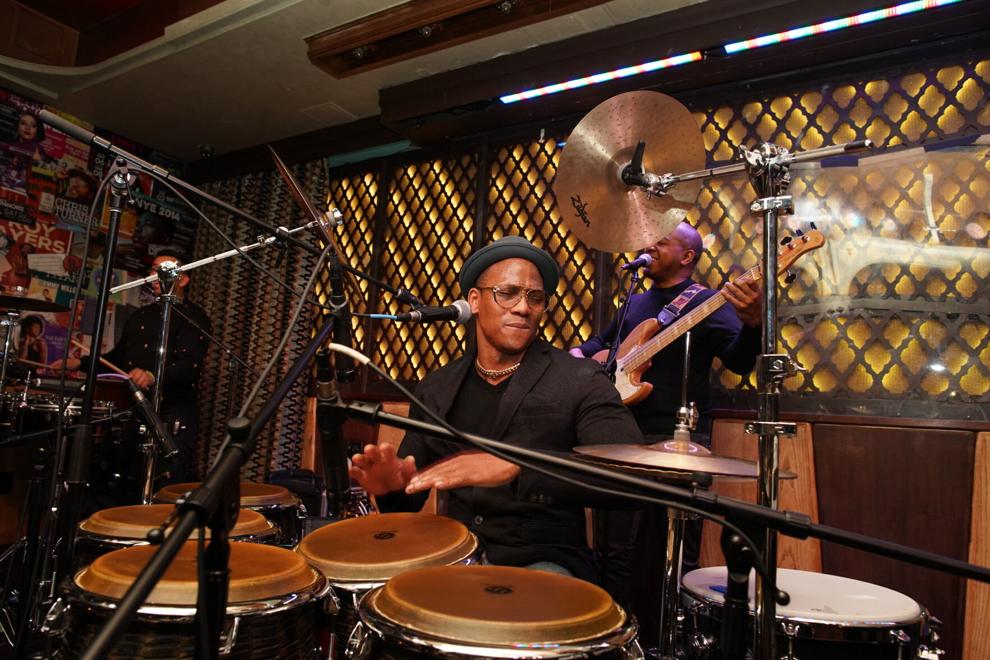 The batá comes from Yoruba culture in Nigeria. Its origins date back over 500 years, and was first brought to the Americas sometime in the 19th century by enslaved people. Today, it is one of the most important instruments in Afro-Cuban music.
The batá is made up of three drums, named (from largest to smallest) iyá, itótele and okónkolo. While a person could theoretically play the three drums at the time, in practice they are played by three different people who must be totally synchronized not only between each other but with the rest of the band as well.
"It's my mission to help this instrument gain respect and recognition," said Martinez.
The instrument has religious origins. In Cuba, the batá is the star in Santería religion, a religion of the African diaspora with roots in both the West African Yoruba religion and Catholicism. Martinez, who is a Santería priest, says he draws a lot of inspiration in this faith, since the batá used to be played only as a religious instrument. "Knowing all the religious chants helps me compose from a wider perspective," he said.
Martinez says this spiritual connection gives depth to his music. "Music needs personal spirituality. Music is energy, spirituality, passion. I see all of this connected. I write music in my room where my saints are. That gives me a lot of strength, balance. In my songs I try to incorporate a bit of Yoruba songs. Trying to keep Afro-antillean music alive," he said.
EXPLORING DIFFERENT SOUNDS
Despite his interest and knowledge in Afro-Cuban music, Martinez has never been interested in just exploring that musical tradition alone. "I loved playing with other musicians to learn from them. They learn and I learn. It adds a new tone [to my music], new nuances," he said.
Martinez arrived in New York City in 1998, a city he credits with exposing him to the best musicians of many different genres. For a long time, he was a "musician's musician," especially after winning a percussion competition in Washington D.C. As his career and reputation started rising, he began playing and recording with big names such as, Bruce Springsteen, Elton John, Paul Simon, Sting, Camila Cabello, Dave Matthews, Jackson Browne and James Taylor.
Driven by his curiosity, he enjoyed being part of other people's musical universe. "I thought about this as a beautiful journey. Most musicians go through this before being group directors," he said.
Starting his own group wasn't a plan, until it happened. One day, a fellow musician and friend called. An Argentinian restaurant owner was looking for a group to play. "That's where I started working on composing, practicing for new tunes," he said. What came together was a mix of Latin Jazz, hip-hop and Afro-Cuban music. In 2013, their first album, "The Pedrito Martinez Group," was nominated for a Grammy Award for Best Latin Jazz Album and was one of NPR's "Favorite Albums of 2013."
Since coming to the United States, Martinez said he has seen various Latino music genres have high and low points. Salsa, which he also plays, is losing popularity with the explosion of reggaeton, a blend of Latin American dancehall and hip-hop. His versatility is what keeps him current. "I can't complain, I'm in a circle where I get invited to jazz festivals, rock, salsa festivals. I like this possibility that I don't get boxed in a category," he said.
He hopes his audience this weekend can feel that, through his music, they can escape being static.
"Music contains all the emotions that a human being can experience," Martinez said. "Music is so important for people to live a nicer life and happier life."
IF YOU GO
What: Pedrito Martinez
When: 8 p.m., Saturday, May 13
Where: Mahaiwe Performing Arts Center, 14 Castle St., Great Barrington
Tickets: $33, reserved; $48, preferred; $58, premium. Members receive $5 off per ticket. $15 for 30 and under, please contact box office for discount.
Information and reservations: 413-528-0100, mahaiwe.org
COVID policy: Face masks are requested (not required) for all attendees while inside the theater.