CHATHAM, N.Y. — On the silver screen at PS21's bucolic open-sided pavilion theater on Aug. 11, the 1930 Ukrainian silent film "Earth" by Oleksandr Dovzhenko will show peasants farming amid scenes of extraordinary natural beauty from a long-forgotten, utopian world.
Accompanying these images in elaborate folk costumes complete with tall black lambskin hats, the four musicians and singers of Ukrainian band DakhaBrakha will form harmonies evoking a distant time and place, steeped in the ethnic and regional roots of their beleaguered country.
But this is no historically defined folklife presentation. The mesmerizing, dynamic sound is brought emphatically into the present by influences, instruments and rhythms from around the world and across time, that the band describes as "a trans-national sound rooted in Ukrainian culture." Even the costumes are chimeras of expected tradition.
The globe-trotting Ukrainian ensemble is one of seven international productions, out of 18 presentations at PS21 this season, that include performers from South Korea and Nigeria, said PS21 director Elena Siyanko by phone.
"Since they broke into the Global Fest scene they just exploded and became darlings of global music," Siyanko said. "It's their incredible cosmopolitanism in both the aural and visual experience. They use polyphonic harmonies of traditional Ukrainian songs and transform them using African, Australian, Arabic, Indian instrumentation, alongside punk, hip hop, trance, dance influences, which makes them very appealing to contemporary audiences.
"This incredibly important Ukrainian modernist masterpiece film is our tribute to Ukraine, to modernism and to the Earth. It is an adoration of land, and we are in an apple orchard on 100 acres of land. A lot of our programming is about environmental stewardship and sustainability, and we look for artists who really shift the boundary of form and genre with a relation to the landscape."
Banned almost immediately on release by Stalinist officials, "Earth" only became widely celebrated in the 1950s after Dovzhenko's death.
"They were expecting the glorification of collectivization, of tractors," Siyanko said. "[Instead] they got the modernist beauty of close-ups on a sunflower, field of grain, apples. Dovzhenko used collectivization as a narrative device to express his love of both nature and Ukrainian culture."
It also includes realities of peasant life such as passion, rebellion and even a murder within its sylvan scenes.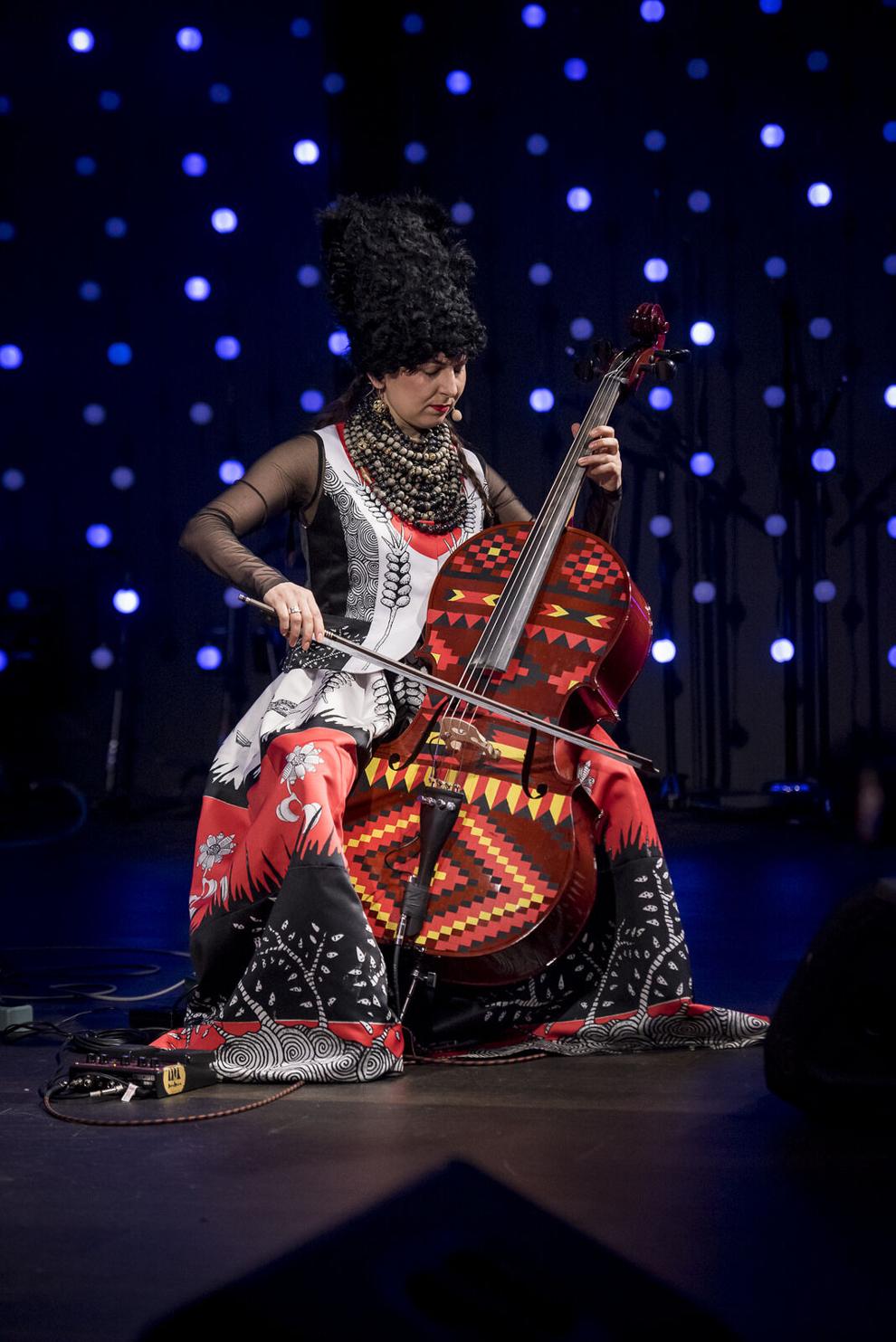 "The soundtrack is an avant-garde cinema theater of sound, blending different cultures and musical practices of [multiple] regions of Ukraine into this incredible sonic soundscape," Siyanko added.
DakhaBrakha manager Iryna Gorban explained by email how the band came to be.
The band was founded in Kyiv in 2004 by Dakh Theater director Vladyslav Troitskyi, who suggested experimenting with Ukrainian folk music, Gorban said. "At first, we created music exclusively for theatrical performances, but later realized we could work both as an independent band and in theater."
The four musicians — Marko Halanevych, Iryna Kovalenko, Olena Tsybulska and Nina Garenetska — all provide vocals and play multiple diverse instruments, including conventional keyboard, cello, percussion, trombone, accordion; international djembe, tabla and didgeridoo; and traditional Ukrainian zgaleyka, darbuka, bugay, garmoshka.
The name DakhaBrakha means to give and take, Gorban said. "We used two old Ukrainian words and made them into one, emphasizing the circulation of energy between us and the audience, our roots, and things that surround and affect us today."
The band describes its musical style as "ethno-chaos."
"Chaos is the first basis of everything, where different pieces of sound, instruments and genres create our musical universe," Gorban said.
They have been on the road for more than a dozen years, performing in Ukraine and around the world. "We feel like we've been touring all our lives," Gorban said. "Now we are in the USA on our 20th North American tour."
They are not a folkloric ensemble, said band member Marko Halanevych by email.
"Those large hats we wear on stage, women never wear such hats, they're just something we came up with," Halanevych said. "We didn't want to perform in traditional folkloric costumes, so we came up with our own look. We didn't want to be literal with our ethnic garb, just like we don't play straightforward folk music, our instrumentation is mixed with a lot of influences."
"Earth" is the band's first full-length film soundtrack. "We thought about what songs in our repertoire we can use for the film, and what other music needs to be composed," Halanevych said. "In most places we were looking for a specific sound."
"Our music is used quite a lot by Ukrainian and international film projects," he added, "we even had one song used by the film series 'Fargo.'"
Ivan Kozlenko, former director of the Dovzhenko Center in Kyiv, suggested they create a soundtrack for "Earth," he said.
"The Center restores old Ukrainian archival films created in the '20s and '30s, and musicians are commissioned to create soundtracks. We were glad to collaborate because 'Earth' is one of the most powerful early films of Ukrainian cinema, filmed in Ukraine by a Ukrainian director and about Ukraine."
Their accompaniment is full of singing, he noted. "The women in our group trained as singers and also studied history of Ukrainian and other folklore. Our material is drawn from authentic sources, most recorded in different parts of Ukraine. Some of the sounds carry the character of pre-Christian songs and later periods, and have undergone many changes through transmission from people to people."
While they have recorded a half dozen albums over the years, Halanevych said, "right now the focus is to communicate with the world through concert appearances."
"When war broke out we were in Ukraine, we heard the explosions, it was very close. We realized our lives had changed irrevocably. We decided to continue with concerts, to give interviews, travel and tell the world what's happening in Ukraine."
"This solidarity with the world is extremely important to us and we are very grateful. We convey this sense of support to our friends in Ukraine. We transfer money from touring to friends and different causes in Ukraine, to displaced people, military, and medical help, anything to support our country in this difficult time."
When not touring, the band and family members are currently based in France. "Some have children with them, others left parents and families behind, in Western Ukraine or in a safe country in Europe," Halanevych said.
"The war is a big tragedy for us," he added. "We want to remain a free and democratic country, we cherish our independence. Every day the best of ours in Ukraine are doing their best to preserve these freedoms. We believe in victory, that we will overcome."
"As Ukrainians on a democratic path, we don't want to go back to the Soviet Union," he explained, "an autocratic and despotic place where people live without basic freedoms, with no Independent courts, no rule of law, freedom of belief, freedom of speech and expression."
"We Ukrainians cannot withstand the onslaught without the help of others," he stressed. "This support with military weapons is extremely important so we can protect our families, our country, and defend our country from occupation."
The performance is deeply personal for Siyanko, who is also Ukrainian. Raised in her native Ukraine and also in Moscow where her maternal grandparents lived, she came to the United States at age 20 as a student.
Her mother still lives in Kyiv. "At first when people started running and train stations were flooded with people, she said 'well, I'm already old, let the mothers and kids escape first.' Then she said, 'the city is well protected,' so she feels she is safer there and prefers to be in her own apartment."
Without cars, Kyiv is "very tranquil, a very green city full of parks," Siyanko said.
Siyanko has experienced a surge of interest in Ukrainian culture. At PS21, she maintains a focus of the arts in the midst of nature. Through DakhaBrakha and "Earth," she brings the voice of tormented Ukraine to a peaceful place.
IF YOU GO
What: DakhaBrakha (Ukrainian ethno-chaos band) provides live soundtrack to Oleksandr Dovzhenko's silent film "Earth" (1930)
Where: PS21 open air pavilion theater, Performance Spaces for the 21st Century, 2980 NY-66, Chatham, N.Y.
When: 8 p.m., Aug. 11 at 8 p.m. Doors open 7 p.m.
Admission: $35
COVID policy: Proof of full vaccination with booster or negative PCR test within 72 hours required, masks optional.
Tickets and more information: 518-392-6121, ps21chatham.org