STOCKBRIDGE — "Finally!"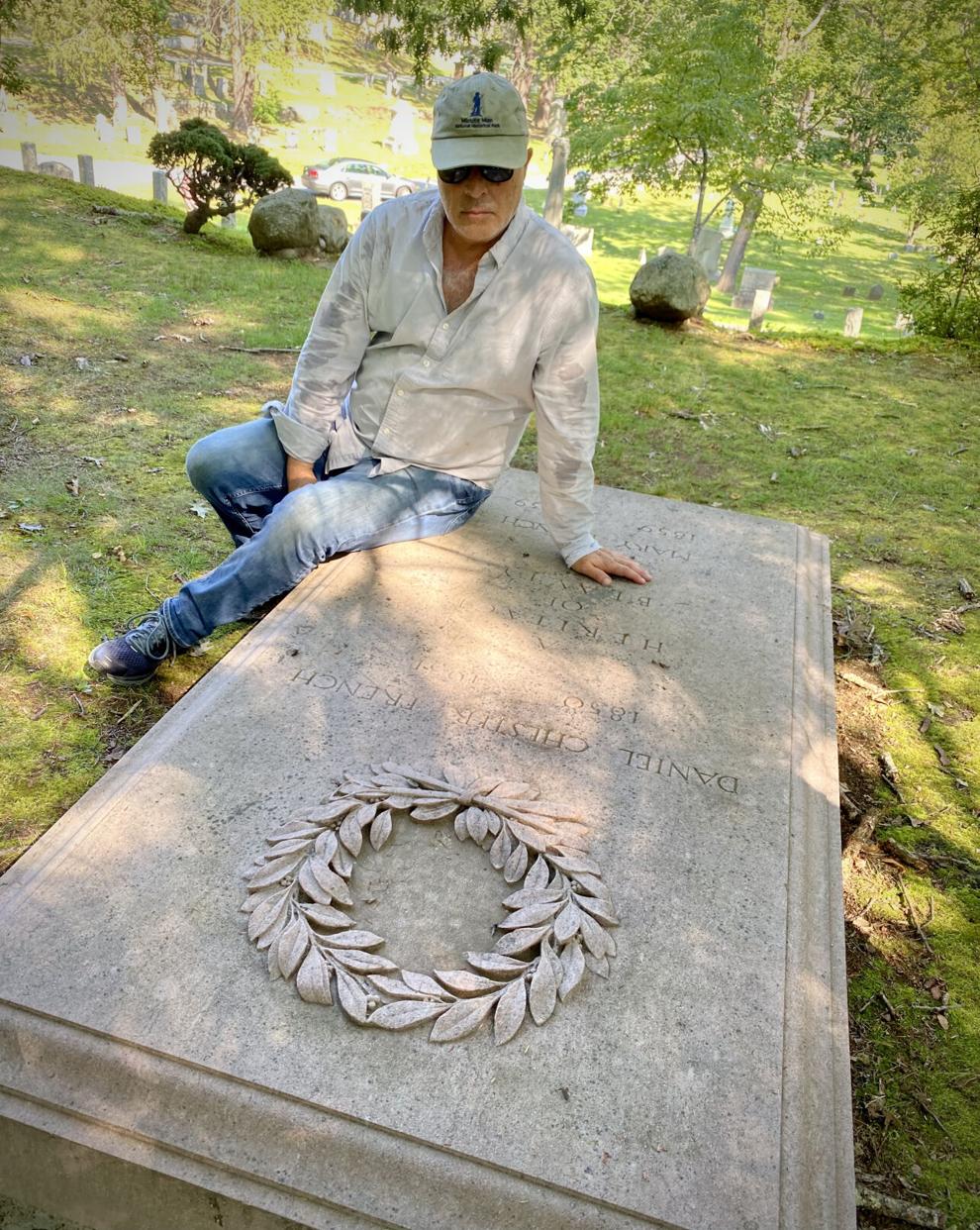 That was Donna Hassler's exclamation as the first film about sculptor Daniel Chester French of Lincoln Memorial fame goes into production, written, directed and produced by veteran documentarian Eduardo Montes-Bradley.
"It is surprising that there has been no previous documentary," said Hassler, executive director of the Chesterwood historic house, museum and sculpture garden, which she called "a sleeping giant that needed to be reimagined and reawakened."
"My important role here has been to raise the visibility and profile of French and Chesterwood through various traveling exhibitions, articles and a definitive biography," she said. "A film was one of those things waiting in the wings. Now, we're the key adviser on the production, and there are many resources here."
Chesterwood, headed by Hassler for 13 years, was French's May-October home and studio from 1897 until his death there in 1931. There, he sculpted the Lincoln Memorial in plaster. The 6-foot-high sculpture of the seated Lincoln statue was the model used to create the marble version in the nation's capital and it remains a major attraction of the museum's collection.
Montes-Bradley, with more than 40 titles to his credit, wondered whether the throngs flocking to the Lincoln Memorial in Washington, D.C., were aware of the statue's origin.
"In September, when I went to interview visitors, not a single one knew who Daniel Chester French was," Montes-Bradley told The Eagle from his home in Charlottesville, Va.
Hassler agrees: "Most people will say it's their favorite monument, but if you ask them who was the sculptor, they don't know, because people don't ask that question and they're interested in knowing more about Lincoln."
She noted that there's no plaque or signage stating that the seated-figure sculpture was created by French. Hassler hopes the film will bring "a newer perspective of his life, but also of his sensitivity as an artist who created 100 monuments, starting with 'The Minute Man' in Concord."
The Argentinian-American filmmaker, Montes-Bradley, 61, has spent the past 13 years partnering with museums, other cultural institutions and community groups.
His simply titled "Daniel Chester French" is to be completed in time for the May 30, 2022 celebration of the Lincoln Memorial's centennial. French's masterpiece will be rededicated during that Memorial Day event.
Fundraising is continuing for the film; its world premiere is expected at a southern Berkshire venue on Memorial Day weekend, Hassler said.
Montes-Bradley said he was inspired by a suggestion from his friend, collaborator and scholar Daniel Preston, whom he met when he was working on a documentary about James Monroe, the fifth U.S. President (1817-1825) and the last of the Founding Fathers.
The filmmaker visited Chesterwood three times last summer, including a two-week residency at Meadowlark, the sculptor's second studio later converted into a cottage, accompanied by Preston, for a deep immersion into the sculptor's life and work.
"I've learned throughout the years that relying on the editors of the papers of any subject you work on is fundamental," Montes-Bradley said. Preston, who edited the Monroe Papers, did the same for French's letters, papers and notes, collaborating with Michael Richman, the sculptor's first biographer.
"Walking through the Chesterwood studio, the house and the woods, it was important for me geographically to grasp what kind of place this is, and was at the time," Montes-Bradley noted. "The whole idea of French moving to the area was based on his seeking a bucolic retreat."
The filmmaker also focused on the nearby Stockbridge village of Glendale, a 19th-century industrial center and site of a paper mill that eventually burned to the ground, as well as a church (now a private home) attended by French.
"Learning about the Lincoln Memorial brings you down many different rabbit holes, because that's what a documentary is!" Montes-Bradley said.
The film is budgeted at $89,250, with more than $36,000 in major support so far from Chesterwood, which is owned and operated by the National Trust for Historic Preservation. The effort got a $20,000 jump-start from the Morris and Alma Schapiro Fund of New York, which resulted "from a drink at the Red Lion Inn with the right person," Montes-Bradley said.
Shifting into full production, he described "needing a plot, to know what is the story I want to tell, and then find out who are the major players."
They include biographer Richman, Harold Holzer, the second biographer and a scholar specializing in Abraham Lincoln, and New Marlborough artist Shawn Fields, who illustrated Linda Booth Sweeney's children's book, "Monument Maker: Daniel Chester French and the Lincoln Memorial."
The arc of the film will show how the Lincoln Memorial, with its seated sculpture of Lincoln in deep contemplation, became "the shrine of American democracy," Montes-Bradley said, noting its role as a focal point in the civil rights struggle, anti-Vietnam war protests and the feminist movement.
According to the National Park Service, the memorial, open 24 hours a day, was visited by nearly eight million people annually from 2015 to 2019. A $25 million restoration began in 2018 and is near completion.
The film will be distributed by Kanopy, an on-demand streaming service aimed at public and academic libraries, but also available to the general public with a library card or university ID. A 10-minute version is being produced for the Chesterwood website, likely by the end of the year, and the completed film will be entered into film festivals and then surface on YouTube later in 2022.
The project is especially personal for Montes-Bradley, an 11th-generation Argentinian descended from New Englanders who migrated there shortly after publication of the 1823 Monroe Doctrine, bolstering South American nations fighting European colonial powers.
He's a one-man band.
"I'm a despot," he joked. "The film-making happens between 1 a.m. and 5 a.m. in my house, in my pajamas, in front of my computer. That's when the magic happens."
"It's going to be one of my most successful experiences," he predicted, "because it coincides with the 100th anniversary of the Lincoln Memorial's installation. The only challenge here is being faithful to the man, to French. I don't want to betray his courage, his standing. Sometimes, I think maybe I'm betraying him by trying to make him famous, when he didn't want to be."
How to be faithful?
"I need to listen very carefully to what the editors of his papers, the art historians and the biographers think about him, then draw my own conclusions," Montes-Bradley declared. "If I'm being honest with them and with myself, then I believe we're honoring Daniel Chester French."