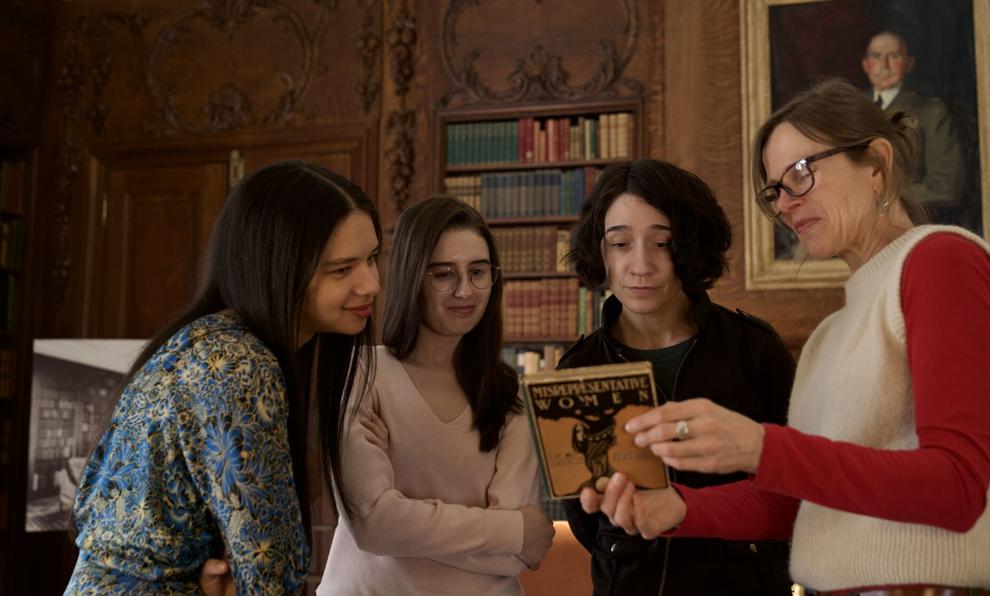 LENOX — The stories move from inlets of red mangrove and seagrass to worn tarmac in northern Alaska on long nights, and a family looking across city skylines between Tehran and Boston.
They are all exploring strength and pain, and experiences many people have shared without the words to express them. And they are looking for new language.
In the rain and thaw, three writers are sitting in a quiet room off to the side of Edith Wharton's parlor. Yasmine Ameli, Ella Jacobson and Liana Mack have come to The Mount as the first three Edith Wharton-Straw Dog Writers Guild Writers-in-Residence. This is the eighth year The Mount has offered writers an opportunity to create at The Mount and its first year partnering with Straw Dog Writers Guild of Northampton. The revamped residency program is hosting nine writers over three weeks, from March 6 through 26. Residencies are a week long and include lodging at Seven Hills Inn, a workspace at The Mount, breakfast, lunch, and a $500 stipend. There is no prerequisite for being published; instead the program focuses on writers developing their craft.
Jacobson is working on a series of essays, memoir and nonfiction, looking at people who have been involved in a death by accident, without blame, without knowing it will happen.
"Huge numbers of people have gone through this," she said, "and we don't even have a word for it."
"We're each looking at the past and trying to retell a story in a way that acknowledges that the story is plural," Ameli said.
She is writing and editing a collection of poetry exploring her childhood and coming of age as an Iranian American woman while the U.S. engages in a 40-year conflict with Iran.
"We don't talk about it as an active war," she said.
But she has felt the force of it since her childhood. It has challenged her when she tries to talk with her grandparents and learn her family's stories, to study abroad or learn the language, or travel there.
Mack is writing her first novel, set on a plantation at the southern tip of Florida in the 1700s. She is blending elements of myth, fantasy and power, set in an alternate universe on the real Plantation Key, one of the small islands with their stands of slash pines and sandy ground stretching out toward the Caribbean.
She imagines a light-skinned woman, African and American, isolated from the Black community working in the house and the fields and the white people in power, and trying to survive.
"Most plantation remnants in Florida have been completely destroyed," she said.
And few records and signs remain. The island has held evidence of plantations here, and Native peoples, the Calusa and Tequesta. But most has been swept away in hurricanes, she said, and a Black women living here 300 years ago could rarely tell her own story in a way Mack can hear today.
In doing research, Mack has been assembling fragments from accounts, letters and journals and the narratives of people who had lived enslaved and won free. They would write for abolition societies, she said. Non-fiction holds few records where the narrator could give an honest expression of their own experiences. So she turns to fiction to explore them.
Ameli, too, works with primary sources and oral histories. She recalls a series of poems she has written in response to stories she grew up hearing.
"I am questioning the nature of how we remember," she said, "or how we misremember, and the details we change."
She explores them to understand her own culture, her families' culture, she said. She has felt the pressures in America shaped by the anti-Iranian sentiment after the hostage crisis in the 1970s, and Iran shaped by social and political conflict.
Her family spoke both Farsi and English as she was growing up, she said — until their pediatrician told them speaking two languages would hurt childrens' development. So they began speaking only in English.
Her grandparents traveled back and forth to Iran, she said, and losing Farsi made it hard for her and her brother to talk with them. In graduate school, she studied their language in immersive programs — though she could not study in Iran, because the U.S. still has no diplomatic ties to Iran. And she found it a challenging experience.
"I've learned French too," she said. "and ... in an introductory French class, words like 'soldier' and 'war' are not on the vocabulary lists for the next quiz. CIA agents do not visit to recruit. The scheduled 'cultural activity' is not a presentation on terrorism. ROTC cadets are not a large percent of my classmates. I felt gaslit the whole time."
Jacobson too is thinking through how understanding experience can heal, and a lack of language can harm.
"I'm thinking about the stories we take on," she said.
Drawn through her own experience, she is examining the narratives of people who have been involved in an experience that led to someone's death, and not through their own fault, ethically or legally.
They have not intended harm, Jacobson said, and often they could not have prevented it, but they carry the weight of it — she has written about a young man involved in a car accident when someone swerved directly in front of him, and she gives examples of people who have survived workplace or natural disasters when others did not.
She wants to write about how people grapple with a trauma like this, she said, when they have no words for it, or the words they have are someone else's and often skewed and damaging.
"Growing up without language for an experience, hearing only thoughts and beliefs that are not your own, can do harm that stretches on long past the accident," Jacobson said.
She too looked back to influences from her childhood. Her home state can bring its own challenges.
"Alaska has the highest rate of women murdered by men," she said, "second highest for rape, highest rate of missing people and top five for domestic violence."
It's a place of extreme weather, she said — and also a huge and glorious landscapes and surreal beauty — a place where people can grow 2000-pound pumpkins, larger than her car, and cabbages 6 feet across. In summer, it's light 24/7. In the winter, living in a dry cabin with an outhouse, she could look up and see the aurora borealis.
"I love being in severe environments," Mack said. "(I would love to go to ) Alaska … I spent a long time in the Westfjords of Iceland. There's something resonant in being alone in intense beauty. It feels authentic, left to my survival by myself."
In her novel, Mack imagines a central character, a woman separated from the Black families working in the fields and in the house. Her narrator has lighter skin, and so the white men of the house will force her into a role to satisfy them, and that can give her both a kind of privilege and bitter pain.
On the keys and on island plantations in the Caribbean, people could not escape to the North, Mack said. Surrounded by water, they often could not swim and had no access to boats. They could either destroy the place where they were or stay trapped there. And so the families working in the fields would see her narrator as selling herself to survive, even though white people would never see her as white.
"If I were existing on an antebellum plantation, I would be split into a separate version of slavery because of my lighter skin ... My survival would be a different experience. But 'passing' is mostly a myth. Looking exotic and looking white are not the same. (A woman like my narrator) could never become white enough to escape slavery. I've been thinking about what survival means when it deprives you of community and belonging."
"… My own experience of selling out, surviving, and thriving has been isolating and lonely."
Having the space and resources and support to look into these experiences from a new angle can be powerful, Jacobson said. Recognizing the experience, and the pain of it, and the strength of the people who have carried it, can become the first step to healing, integrating the experience into the whole body.
"… There's a lack of language for all of this, really," Mack said. "We're working as writers to find words to describe something obvious and inescapable, because that language doesn't exist."