NORTH ADAMS — With the new opera "Iphigenia" concluding a two-week residency at the Massachusetts Museum of Contemporary Art, acclaimed bassist, composer and singer Esperanza Spalding casts new light on Euripides' ancient Greek myth — and helps realize a life-long dream of her mentor-turned-collaborator, legendary jazz saxophonist Wayne Shorter.
"I heard him say he'd always wanted to write an opera [since] he was a teenager," Spalding said, speaking by phone while grabbing a bite of breakfast before rehearsal at Mass MoCA.
She recalled first collaborating with Shorter in 2013 on his 25-minute piece "Gaia."
"I got it into my head I could help bring together a group of people, funding and support he needed to make [this] happen," she said of the collaboration eight years in the making.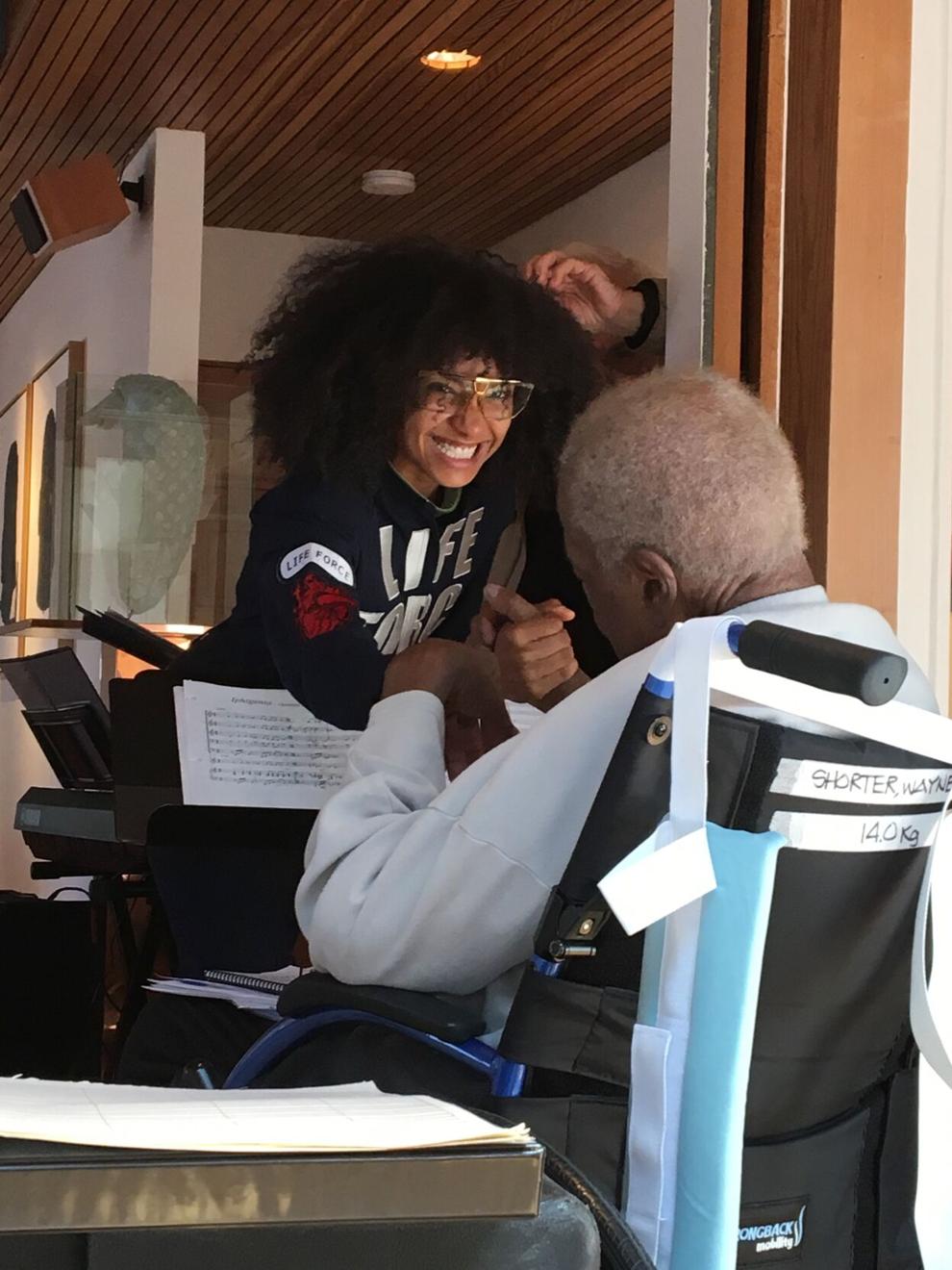 Spurred by the encouragement, Shorter "started writing furiously and hasn't stopped," Spalding said.
Forming a company, Real Magic, to develop the project with executive creative producer Jeff Tang, she said, that along the way she "got enlisted as librettist [and] one of the characters in the opera."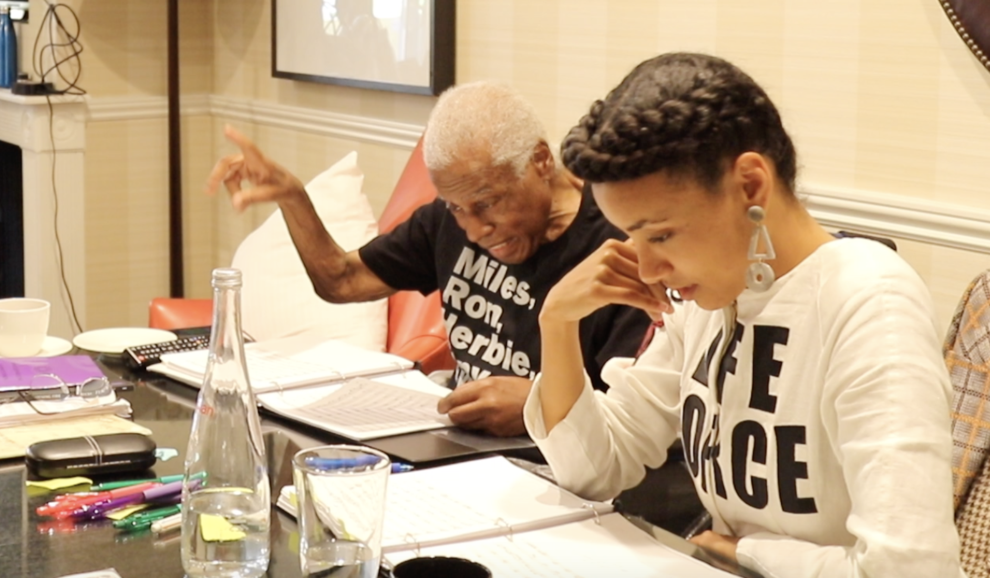 Obie Award-winner Lileana Blain-Cruz directs and Clark Rundell conducts the nine vocalists and 10-person chorus, with a cappella vocal arrangements by Caroline Shaw. The 16-piece chamber orchestra from the Albany Symphony is joined by Wayne Shorter Quartet members Brian Blade, John Patitucci, and Danilo Pérez, plus Jeff "Tain" Watts. Scenic design is by world-renowned architect Frank Gehry, Shorter's longtime friend.
Following the two sold-out previews in North Adams, the 90-minute opera debuts at ArtsEmerson in Boston before performances at the John F. Kennedy Center for the Performing Arts in Washington, D.C., in December, before moving on to California for shows in February in Berkeley and at The Broad Stage in Los Angeles.
Prior to "Iphigenia," Spalding had never written a libretto before.
"At first you think, if you make an hour-and-a-half album with words it's the same," she explained. "But this was particularly tricky, it's been an eviscerating, humbling and expanding process."
An inside look at the new opera by Wayne Shorter & Esperanza Spalding. Coming Fall 2021. Learn more at iphigenia.live Trailer credits Prod…
AN INTERVENTION OF SORTS
Over the centuries, Iphigenia's story has been widely adapted for stage, opera and film.
As Spalding describes it, "the goddess Artemis is offended and strands the Greek army during a very high-stakes war. The only way she can be appeased is if King Agamemnon sacrifices his daughter Iphigenia to make amends."
But Spalding and Shorter did not want to simply put another adaption of the Greek myth into the world. Instead, the pair sees their work as "an intervention into myth-making, music and opera as we know it. "
Spalding's libretto portrays multiple Iphigenias (a total of five different voices) — and multiple perspectives.
"I didn't want to claim the singular voice of this woman who's been silent throughout history, so I invited three women poets from different areas of the world — Joy Harjo, Safiya Sinclair and Ganavya Doraiswamy — to write her testimony."
She included "very calcified and chauvinistic sounding language" of early 20th-century playwright, Charles Stanford Elgutter.
Blending classical and jazz forms, Shorter's music and ideas bring a unique perspective to the character of Iphigenia, Spalding said. The opera, she said, "is our interpretation of the myth of her life."
"The myth is mysterious, at the heart is a misinterpretation and reducing of the solution being asked for."
ARTISTS-IN-RESIDENCE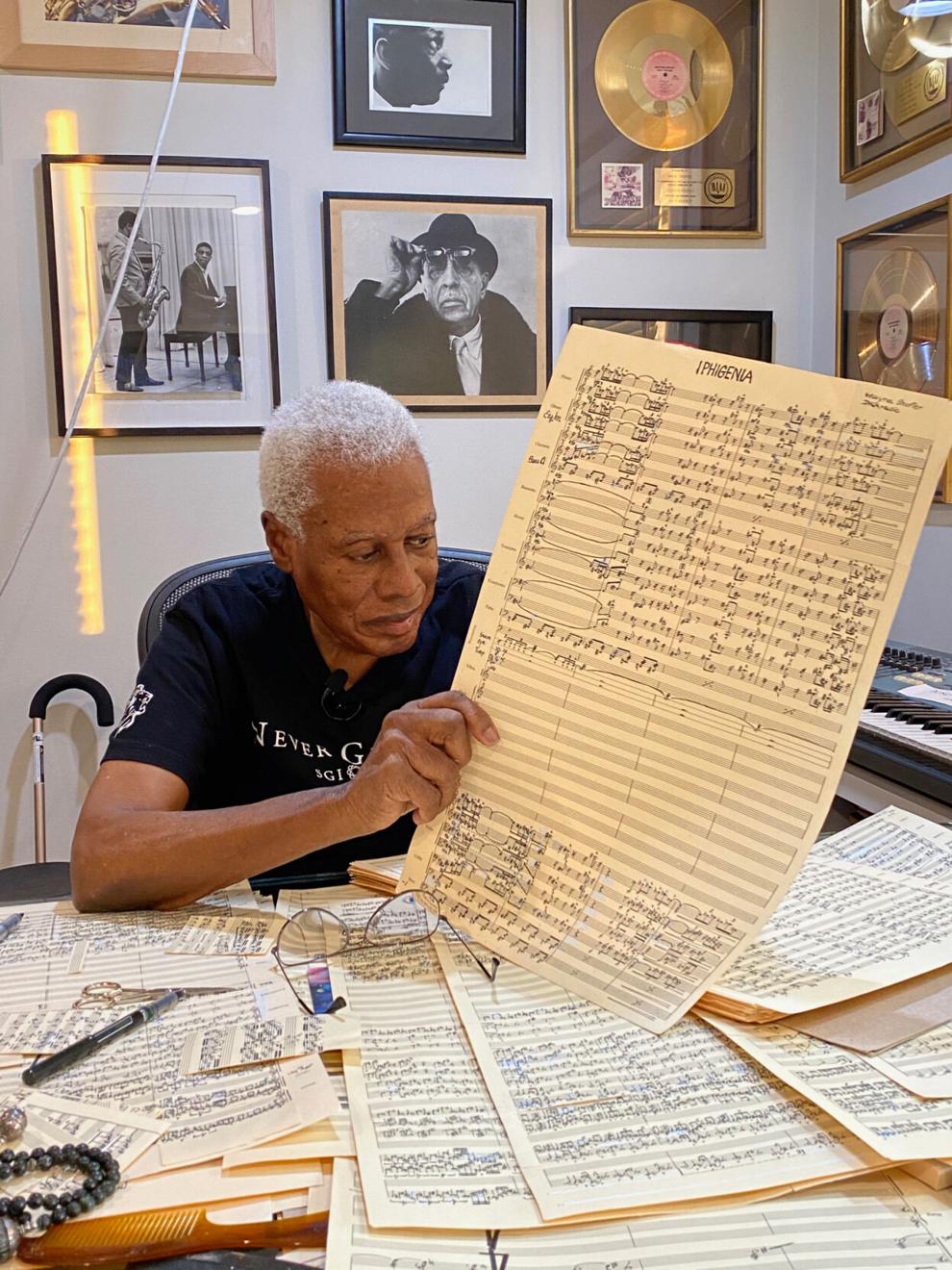 The opera is part of Mass MoCA's Artists-In-Residence program, which supports artists at various developmental stages including William Kentridge, Laurie Anderson, Bill T. Jones and Taylor Mac. Projects range from exploring new ideas to polishing finished productions.
"There are 44 people here right now, said Sue Killam, the museum's director of performing arts. "This is definitely on the bigger side of things. Kentridge was 75. Sometimes, we have just one person in residency.
"Spalding is an artist we've always wanted to work with. It was a great opportunity to help her explore a different side of her creativity and see their project to the end."
A dozen performing arts staff work directly on residencies, implementing lighting and audio design and assisting with company management, artist and technical services, with many more staff in support.
Mass MoCA has offered artist residencies since its 1999 opening, at no cost to artists.
"We don't charge them, [they] are here as a gift," Killam said. "We're hosting them, helping them find their way. We curate our residency program, looking for a balance of genre, ideas and diversity."
Residencies are funded by grants and public showings at their conclusion.
"We're blessed with space and time, a relaxing pace and very creative environment. And we always have housing. Combining that felt like a great way [to] contribute to the field. It's on point with our mission to help further artists."
During shutdown, Mass MoCA doubled its residencies "to keep everyone moving forward in their careers and ideas," Killam said. "They felt supported, like there was a future for everyone. And it kept our staff employed."
"The Mellon Foundation was really generous in [helping] keep artists creating in this time of no performance," she noted.
FINISH LINE IN SIGHT
It took "so many people" to keep "Iphigenia" moving, Spalding said.
With the finish line in sight, she "feels like anything is possible with sustained intention, trust, effort, giving to a thing larger than oneself."
"Wayne's music is being honored and that's most important," Spalding said. "Once we deliver it to the world, other people can run with [it] and see what they find."
While Shorter can't attend the preview, he's been actively involved in the process.
"He's still writing new endings." Spalding said.