TROY, N.Y. — An architectural and acoustical treasure, Troy Savings Bank Music Hall is a jewel box of a concert venue that has hosted top-tier musical performers since its 1875 opening. A frequent home of Albany Symphony Orchestra, on Jan. 14 and 15 it will resonate to the sound of world-renowned Scottish solo percussionist Dame Evelyn Glennie's prodigious musical talents, when she performs the U.S. premiere of a work by Turkish-American composer Kamran Ince that draws inspiration from his ancestral homeland.
The much-lauded performer is a frequent guest of Albany Symphony — their recording of John Corigliano's "Conjurer" earned the orchestra and Glennie their first Grammy Award in 2014. The orchestra's extensive discography of new and never-before recorded works includes several past collaborations with Glennie; and they will record Ince's concerto during her visit.
Glennie, 57, is eager to perform the piece by Ince again, which was written for her and premiered in Turkey in 2019. When she was first introduced to the composer's music, she said between U.K. studio sessions, she "enjoyed the extreme color, the orchestration."
"There's a kind of immediate appeal, it's almost, in many respects, like film music. But at the same time it seems to cross that boundary between his background as a Turkish musician [and] a very western feel as well," she said. "It's for multi-percussion, including a set-up that is multi-drums and marimba, vibraphone and other bits and pieces including a double-headed Turkish drum called a Davul. It's full of color, full of energy. Kamran judges space really well, and so the tiniest little strike on something can have meaning."
In a YouTube video recorded just prior to the work's premiere, she described some of the vast dynamic range of Ince's piece.
"[There's] a real myriad of instruments, but also small things. For example, the composer has one line where I use pebbles that you can find outside, it's got a real crack sound. And also sandpaper blocks. He's also asked for three anvils [small metal instruments] played with brass sticks, it will be enormously loud and incredibly piercing. In performance this will be absolutely huge."
Albany Symphony music director and conductor David Alan Miller said he's delighted to be working with Glennie once more.
"She's a wonderful human being and a great artist and just an incredible person," he said. "She has come here regularly, about every three years or so. The most recent visit, she did a recording and performance of Joan Tower's percussion concerto, that came out a year ago on Naxos. And that was beautiful. I've worked with her a great number of times, we're old friends. I think 35 years ago, in my 20s, I conducted one of her very first performances at the Hollywood Bowl with the LA Philharmonic."
Miller was "thrilled" that Glennie wanted to play the piece Ince had written for her.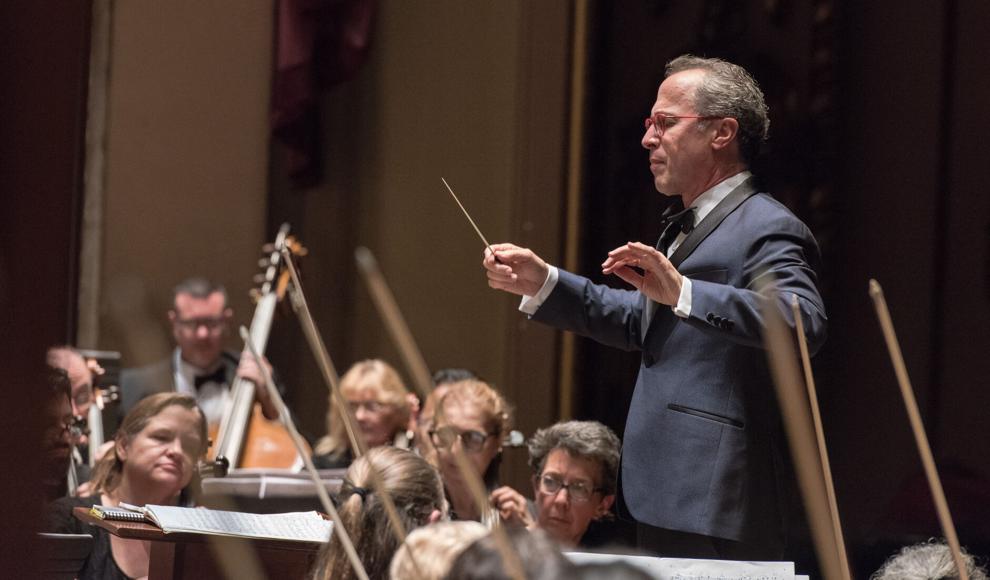 "Kamran is an even older friend of mine, I'm a huge fan of his. As a young composer, we performed and recorded a number of his pieces [that] I think helped establish his international career," he said. "The first time I heard a piece of his, a friend played some music for me and said, see, it sounds like Rachmaninoff goes to Turkey!"
Miller added, "His music is very evocative of this Turkish-American world, he has this incredible bi-cultural identity. He was born in Montana and raised in Turkey, his father is Turkish, his mother is American from the midwest. He has taught for 30 years at University of Memphis and also at Istanbul Technical University, so he goes back and forth between Turkey and Tennessee and lives in both worlds."
The concerto "is inspired and named after this old market area in Ankara called 'Cikrikcilar Hill'," Miller said. "As a kid, Kamran was always fascinated by the sounds of it, all these clinking, clanging, chiming sorts of sounds. There are lots of tiny Turkish percussion instruments engaged in it, he wanted to capture the sound world of this very Turkish place."
"It's a very singular piece, very rhythmic but also very tonal. It has five movements and each features different combinations of instruments, so they're very different in character."
"Kamran's music is incredibly big sounding," Miller noted. "In Troy Music Hall, which is gorgeous and intimate, we'll be able to balance it because Evelyn is such a sensitive player."
Miller, who has long championed representation and new music, said the concert will open with "a wonderful nine-minute piece called 'Harrietlehre' by a brilliant young composer and Yale doctoral student named Harriet Steinke." It's the professional orchestra premiere of the Detroit native's new work, he said.
"We also have Jean Sibelius' No. 5 on the program, a very poetic, beautiful, powerful symphony which is one of my all-time favorite works. It's gorgeous music, inspired by nature and the world in which he lived," Miller said. "Even in his own life, he became such an iconic figure. He honed this Scandinavian sound, incredible purity and clarity, an icy beauty that sounds like absolutely no one else. He really forged his own unique path."
Miller sees Glennie as "an incredibly expressive and choreographic performer, she revels in the theatricality of moving around and playing all these incredible percussion instruments. It's quite mesmerizing, her performance is not only musically stunning but [also] visually stunning."
Glennie used to spend up to half the year touring the U.S., but now prefers to visit for short periods. So far in 2023 she has upcoming concerts in February in Texas and in March in Oklahoma.
"Audiences around the world change, but that's from town to town rather than country to country," she said. "I can play in Glasgow and Edinburgh [and] experience two very different audiences. It's the same in the States. But I've spent so much time there, and they are responsive to solo percussion. We've had a good body of new pieces from composers from the U.S.."
"I think the whole business has really changed," she added, "it's so sporadic and project based as opposed to knowing exactly what you're going to be doing in the next three or four years."
As for working with Miller, she said, "We've known each other for a number of years, and it's always been a terrific experience collaborating with him. He's so experienced with contemporary music and really such a nice chap to be with, so creative. Somehow the chemistry works really well.
"The Albany Symphony is an extraordinary high level of an orchestra, and the experience the players have is quite tremendous. They're always so willing to try things and to be open minded about new music and programming."
The "Conjuror" Grammy was "a real surprise," she said. "It's nice when percussion can be recognized, but of course John has written such a strong piece of music. And all credit to every single player who contributed to that recording, really the Grammy belongs to everybody who participated."
While Glennie has visited the Capital Region on numerous occasions, she has yet to see much of it. "Usually when I go somewhere to work, that's what I do and then I'm keen to get home again. I try to keep work and play really separate. But maybe one day I'll actually be able to explore the area without having to look at the clock or carry a barrage of sticks and mallets."
Glennie's skills and accomplishments are all the more extraordinary due to her becoming profoundly deaf at age 12, because of a nerve disorder. She learned to experience music through different parts of her body — she often performs barefoot — and uses her abilities to inspire and educate people around the world on how to listen.
Pandemic mask wearing has been a challenge, though.
"A masked world has not been good for deaf people like myself, it's been extremely difficult," she acknowledged. "We've tried to encourage see-through masks, which I think should be the norm anyway. I think we missed a huge part of facial expressions during that time."
As the motivational musician has written, "My career and my life have been about listening in the deepest possible sense. Losing my hearing meant learning how to listen differently, to discover features of sound I hadn't realized existed. Losing my hearing made me a better listener."
IF YOU GO
What: Evelyn Glennie!
Who: Albany Symphony Orchestra led by conductor David Alan Miller with guest artist Dame Evelyn Glennie, solo percussion.
Program includes the American premiere of a Percussion Concerto by Kamran Ince, a new work, Harrietlehre (professional premiere) by American composer Harriet Steinke and Jean Sibelius' Symphony No. 5.
Where: Troy Savings Bank Music Hall, 30 2nd St., Troy, N.Y.
When: 7:30 p.m. Saturday, Jan. 14 and 3 p.m. Sunday, Jan. 15
Tickets: $20 to $65
More information and tickets: 518-694-3300, albanysymphony.com