NORTH ADAMS — Over the years, Mass MoCA's stages have heard music ranging from a mariachi band to Broadway musical numbers. Those two disparate worlds will merge on Saturday, Feb. 4,when Mexican-born husband and wife team, Jaime Lozano and Florencia Cuenca present "Broadway en Spanglish" at Club B-10.
It will be an evening of iconic show-tunes arranged by Lozano and sung in blended English and Spanish by acclaimed singer and actress Cuenca, with backing by New York City-based Mariachi Real de Mexico, founded by Ramon Ponce.
Selections from shows including "Hamilton," "Company" and "Rent" are transformed by Cuenca's soaring, impassioned voice, filled with drama and emotion. She sings of love and loss, anguish and longing, themes common across the two cultures.
Performing familiar songs Mexican-style with mixed language helps audiences relate to them differently, Lozano said during an interview by phone from their home near New York City.
"We are just being ourselves, telling our stories using our own music, doing covers of contemporary musical theater songs in our own, unique way," he said.
"They are solo songs that showcase the female voice," he added. "Florencia is the star, she is carrying this project. She is my favorite storyteller, more than a singer or an actress."
At Mass MoCA there will be a traditional small mariachi ensemble with trumpet, violin, guitarrón Mexican bass, and acoustic guitar, said Lozano, who plays guitar and adds vocals.
The duo deliberately chooses songs that audiences know well. "It's refreshing to hear people [say], I could have never imagined this," Lozano said.
"We sing 'Let It Go' from 'Frozen,' and it sounds great in mariachi, it's so cool," Cuenca noted.
The project began three years ago, right before the pandemic, she said. "I was on a bus coming home and was very tired after teaching Spanish to kids all over the city [all day]. I was doing that to live, Mexican immigrants here don't find many opportunities as a performer."
She was paying the rent, but knew she wanted more.
Feeling low, Cuenca decided to listen to show tunes "and imagine a scenario in my head." As she listened to "Burn" from "Hamilton," she thought, "This song sounds like a Mariachi Ranchera. We always sing about being heartbroken, about pain, and those kinds of dramatic stories. And I thought, I can totally hear this song with a mariachi."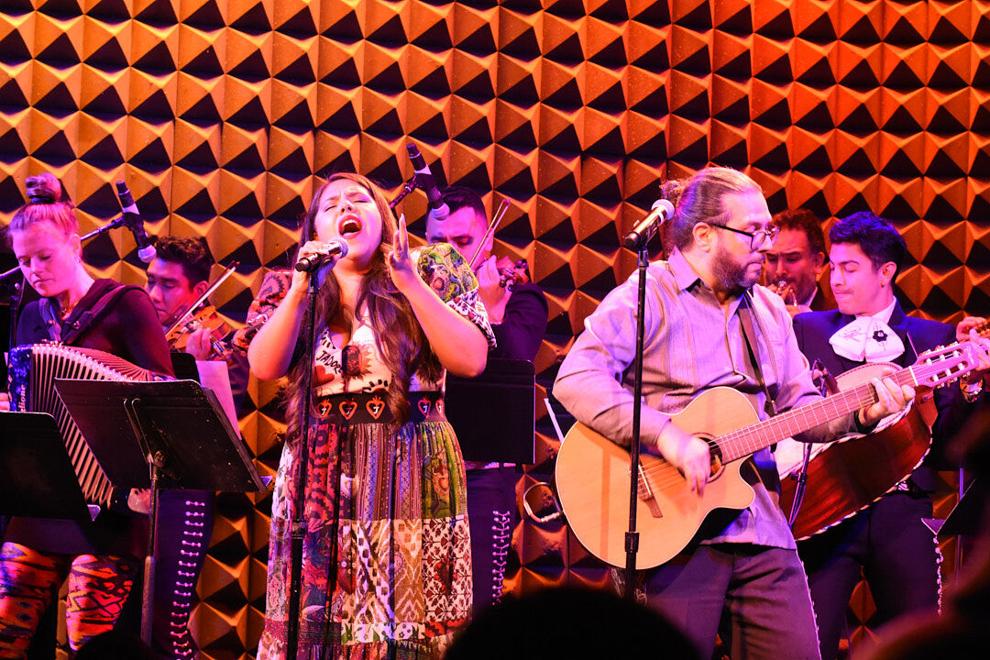 Derived from traditional folk songs, Rancheras were born in the countryside but popularized in cities throughout Mexico. Themes often include love, nostalgia and valor, amid the trials of daily life.
Cuenca shared her idea with Lozano, a musician, composer and arranger with a busy career on stage and film. "We can reflect what we are doing right now," she said, "mixing things we love the most: English and Spanish, musical theatre with Latin rhythms."
Blending languages was key to the project. "[Spanglish] is a whole thing we started doing when we arrived here, switching from one language to the other," she explained.
"During the pandemic, we played at home with the guitar, and I started doing arrangements," Lozano continued.
He asked musician friends in Mexico to help record one of the tracks at their studio. "I had my own recording studio downstairs," he noted.
The first song completed was "Burn," and the response was overwhelmingly positive. "Hamilton" creator Lin-Manuel Miranda "was going, 'this is amazing, I love this version of the song,'" Lozano reported, "and he tweeted about it, [which got us] more attention." They have since worked on other songs, and an album will be released in a few months, Lozano said.
Their Mexican roots and life journeys greatly influence Cuenca and Lozano's creative work, and personal stories punctuate the songs. "We talk about our immigrant journey and what it takes to be here," Cuenco said, "And how we created this project from necessity, and from the heart."
"Everybody can relate," she added. "The beautiful thing about music is it speaks all languages."
Cuenca grew up in Mexico City, where her father, Enrique Cuenca, was a famous comedian with a long-running television show. She appeared on stage with him from age three, singing and telling jokes as he toured internationally.
"I have always wanted to be a performer, and did musical theater, telenovela, TV shows," she explained.
While musical theater in Mexico City was limited, New York City also presented its own challenges. Many immigrants from Latin America and the world don't have performance opportunities, she noted. "The business is doing things differently, but we still have a long way to go."
Cuenca began to write and direct her own stories. "Our mission as artists is to keep creating, not only for us but for people like us." she said.
Lozano, who has played guitar since age 16, originally planned to study criminology at college in his hometown, Monterrey.
"I decided not to do it and took a sabbatical," he recalled. One year later, he enrolled in music school. "Something inside told me, this is a decision you have to make," he said.
Taking a leap of faith "has been our whole life," he added. "[Each] decision leads us to the next one."
He studied opera singing before changing to composition. "It was contemporary, Philip Glass, John Cage, modern stuff," he explained. "It wasn't commercial."
He saw a poster for show auditions and was cast in the ensemble. "I met musical theater and fell in love with it," he recalled.
Lozano performed for a few years as a student before starting to write, produce and direct. Looking to take it further, he sought out a master's program and was offered a full scholarship to New York University's Graduate Musical Theatre Writing Program.
"I didn't speak English, so I don't know why they were so crazy and let me in," he recalled. "It was another leap of faith."
When Lozano returned to Mexico, he met Cuenca at a friend's wedding. "I fell in love immediately with this amazing woman," he recalled. "We got married in 2015 and came to New York for our honeymoon."
They decided to make that city their home, and a month later got pregnant with their now-six year old son Alonzo. "He is part of the team, he's growing up around theater performers, singers and musicians," Lozano said. "Being artists and parents at the same time is a great journey that we enjoy every single day."
"Broadway en Spanglish" has been performed at New York City venues including Joe's Pub at the storied Public Theater, and will be at Lincoln Center this spring. It has also traveled across the border to Mexico.
"Mass MoCA is our first show in the States outside of New York City," Lozano noted. "We're very excited to begin [our] tour this way."
They hope to perform in places like California and Texas with large Hispanic populations, Cuenca added.
The couple is juggling numerous projects, including another album, "Jaime Lozano and The Familia."
"The Familia is this amazing group of Latinx performers from Broadway, off-Broadway and beyond, we've been doing sold-out concerts around NYC," Lozano said. "We've been working for a few years now creating this community, and have been very lucky that there is an audience that has been supporting us."
They're also collaborating on the musical "Desaparecidas," based on Mexican femicides in the 1990s. "We wanted to tell the story of these amazing women who [fought] to survive against very adverse circumstances," Lozano said. "We had a sold-out run in an off-Broadway theater and are now rewriting the show."
It's no surprise that Lin-Manuel Miranda declared Lozano "the next best thing" on Broadway, and wrote glowing liner notes for Lozano's 2020 album "Songs by an Immigrant."
"We like to do a lot of things at the same time," Lozano said. "We strongly believe that we need to create our own opportunities, because nobody is going to do it for us."
"We're doing what we need to do to celebrate our culture and heritage, and showcase what we can offer to this business," Cuenca added.
"It's been a very exciting journey," Lozano said.
IF YOU GO
What: "Broadway en Spanglish"
Who: Florencia Cuenca, Jaime Lozano and Mariachi Real de Mexico de Ramon Ponce.
Where: Club B-10, Mass MoCA, 1040 Mass MoCA Way, North Adams
When: 8 p.m., Saturday, Feb. 4
Admission: $22 advance, $32 day of, $46 preferred seating. Museum admission included with preferred seating.
Information and tickets: 413-662-2111, massmoca.org
COVID-19 Policy: Masks required in Club B-10 when not eating or drinking.