Whether you're a longtime gardener or new to the outdoor hobby, aches and pains seem to go hand-in-hand with gardening's healthy benefits.
But what if you could garden without those aches and pains? A new television show, "GardenFit," hosted by expert gardener Madeline Hooper and fitness trainer Jeff Hughes, aims to help gardeners do just that, while at the same time, showcasing some of the country's most unique and exquisite gardens.
Two Berkshire farms are featured in the series. In episode 3, "Bringing African Farming Home," Hooper and Hughes visit with Brooke Bridges at Soul Fire Farm in Petersburg, N.Y. Episode 10 finds the stopping by Black Barn Farm, a topiary garden in Richmond, to pay Matt Larkin a visit.
The 13-episode show, debuting on PBS Tuesday, March 21 (Beginning 10 a.m., May 1 on WMHT), is the result of Hooper's own fitness sessions with Hughes. Episodes also will be streamed online at gardenfit.fit.
Hooper, vice chair of the Berkshire Botanical Garden's board of trustees and owner of Rockland Farm Garden in Canaan, N.Y., was no exception to the aches and pains of gardening. Despite being in good shape, she'd been living with aches and pains for years.
"A dear friend and his wife gave me a gift certificate for three sessions with Jeff," she said during a recent interview with Hughes over Zoom. Hooper met with Hughes, of Hudson, N.Y., an award-winning fitness instructor with over three decades of experience, who identified issues with her neck and shoulder. He suggested ways to modify her gardening techniques and a series of strengthening exercises.
A month later, she was feeling better. Three months later, her aches and pains were gone.
"He fixed me," Hooper said. "I said, 'We need to tell people about this.' I kept after him about it."
"We talked about doing a few videos about it. She kept asking and I kept saying, 'Shut up and do your pushups,'" Hugh said, with a chuckle. "It's not about 'fixing' people really. It's about understanding how you're doing a task and incorporating a few modifications."
Hughes' fixes or modifications, aim to retrain an individual's muscles, helping them to commit new, better behaviors into "muscle memory."
Each episode features Hooper and Hughes on their way to visit a new garden and gardener — a Japanese garden in Connecticut, a saffron farm in California, a traditional Native American farm in Michigan and a large-scale tropical garden in Florida are among those featured.
"It's really a destination show," Hooper said, adding that all of the gardeners contacted for the show wanted to meet with Hughes immediately.
Hughes said the show's format allows for viewers to learn about gardening and fitness in a fun manner.
"We begin with us driving to our next location. I ask Madeline about the garden we're going to," he said. "She reaches into this bag, I call it a 'Mary Poppins bag' because she always pulls something out of it to help explain a fun fact about the garden."
A key part of the show, Hughes said, is visiting the gardeners in their gardens; learning how their gardens are maintained and observing how they do those tasks.
"If we have an ache or pain, we're usually causing it," Hughes said. "I start by understanding, what a person is doing and teach them how not to cause it. The solution is to create a new habit."
For Larkin, chairman of the Berkshire Botanical Garden's board of trustees and owner of Black Barn Farm, Hughes' modifications focused on two specific issues — tall ladder work and work close to the ground.
"I've had sciatica problems in the past and had a postural therapist," Larkin said during a recent interview. Repeated movements, he said, while pruning topiary on tall orchard ladders and similar movements working on a stool close to the ground cause aches and pains and sciatica issues.
"Orchard ladders are unwieldy. Once you move it, you want to use it [in that location] as much as you can. One thing Jeff saw that he liked, when I was on the ladder, was that I was bending right and left," he said. "One of the things he taught me was how to stand on the ladder and pull my abdomen in, to keep from hunching over. He also taught me how to stand on the ladder on the ball of my foot, not on the arch."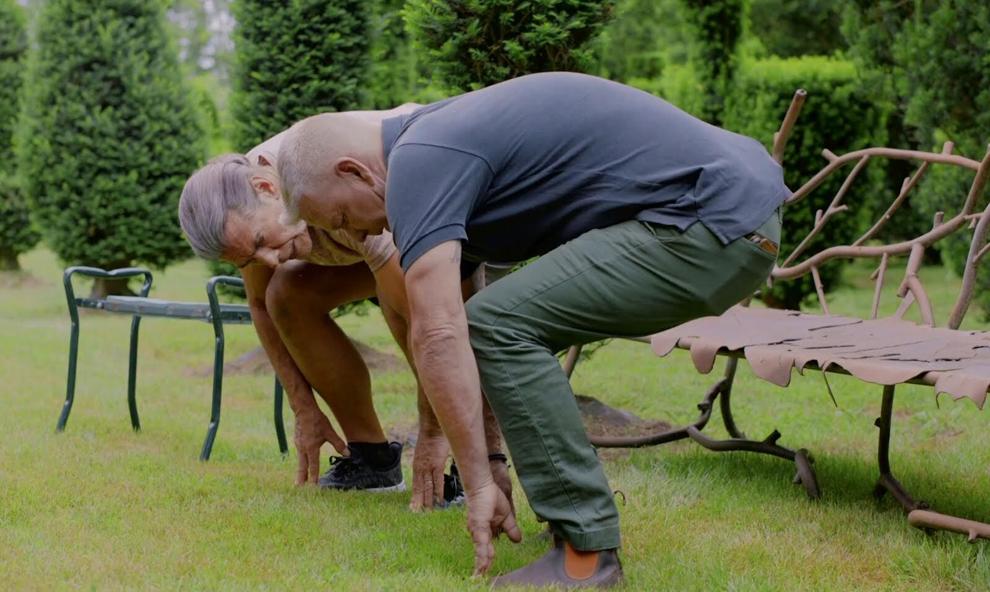 For the lower ground work, Hughes had Larkin straddle his stool, with a leg on either side, as opposed to sitting on it. From there, they focused on tightening the abdominal muscles, to improve posture, and working from left to right.
"They were very simple techniques," Larkin said.
After the garden visit, the next portion of the show is a visit to the gym, where exercises and stretches are taught. The final segment of the show is a return visit, 28 days later to see how the gardener is feeling.
"It takes about four weeks for a new habit to form," Hughes said.
Larkin said a month later, he had gone from consciously holding in his abdomen to doing it unconsciously. "It becomes muscle memory; it's second nature now."
"When we visited Matt a month later, he was standing taller and looked stronger. His whole body looked healthier," Hughes said.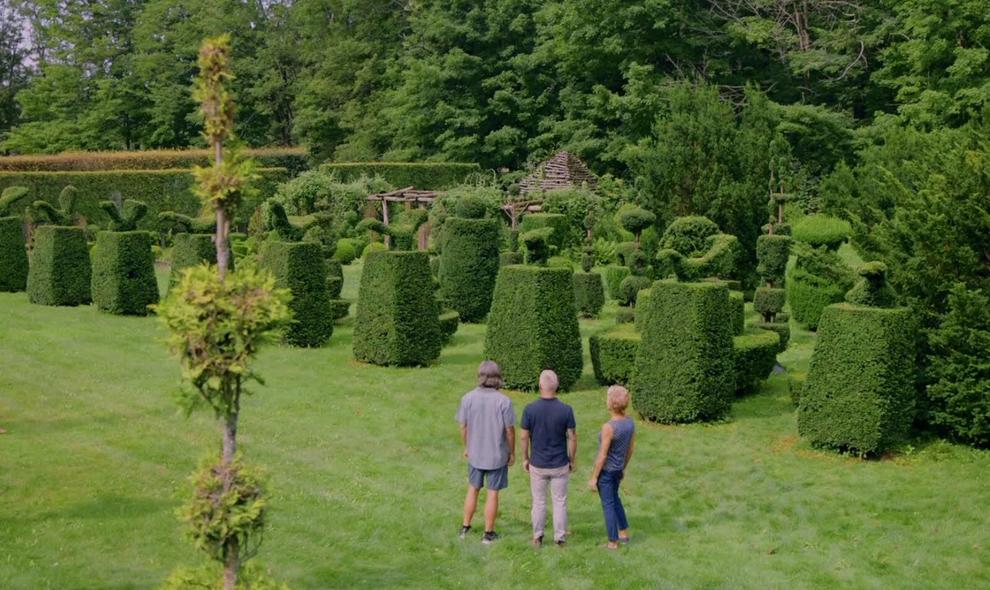 Hooper added, "It's just overwhelming to see how many of these gardeners changed. In many cases, their aches and pains go away."
Part of the challenge, Hughes said, is to get the gardeners to take care of their bodies with the same care and in the same manner they do their gardens.
And they get it, he said.
"We've really felt from the beginning," Hooper said, "that the most important tool of a gardener is their body. If you keep yourself healthy, your garden will be healthier too."