DALTON — It's late winter, the time of year when the friends and neighbors of Geno DiNicola enjoy his homemade maple syrup — harvested from the sap of maple trees near his house and boiled down in his backyard over a wood fire.
For a few weeks around this time of year, passersby will smell the smoke of the wood fire and spot DiNicola in his backyard, tending the fire and stirring boiling pans of maple sap.
For DiNicola, it's a hobby, one that he's passionately pursued for years. He only makes five gallons every season, but to get there he taps nine trees, six in his yard and three in a neighbor's yard.
To make five gallons, DiNicola, 71, has to collect 200 gallons of sap. Because the sap is roughly 97 percent water, he has to boil it down until most of the water has evaporated. That's when it becomes syrup.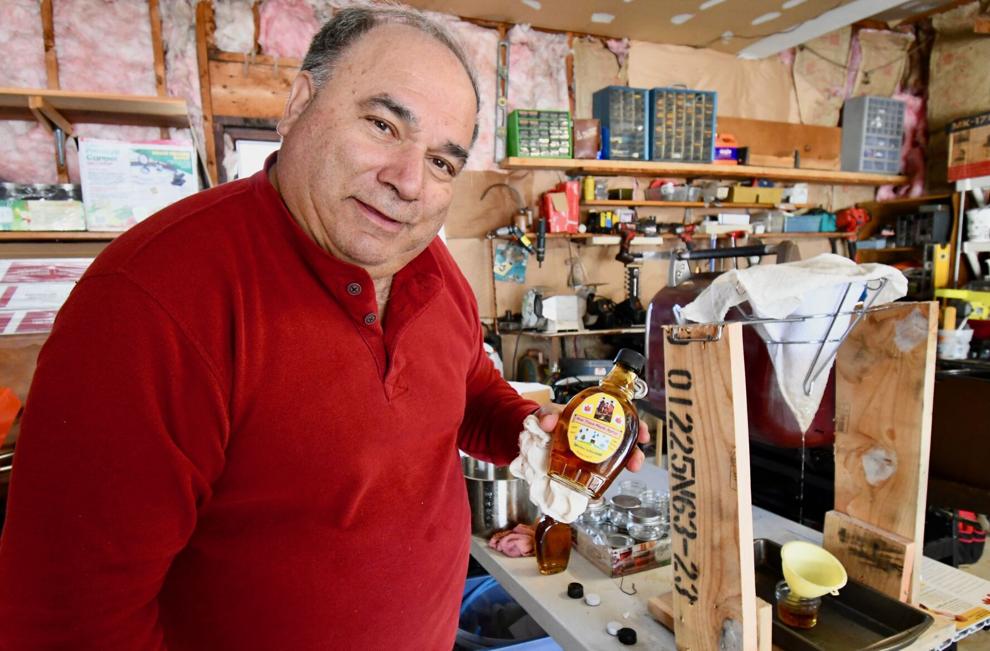 He's pretty picky about making quality syrup.
"My kids eat it. My grandkids eat it. So it has to be right," he said.
Last year was tough. The tug of war between freezing and thawing, which drives the circulation of sap in maple trees, wasn't working the same because of inconsistent temperatures. This year is a different story.
"This year's been fabulous," DiNicola said.
He devotes lots of energy to his sugaring habit. He taps the trees, and harvests firewood from trees on his property. He devised a homemade boiler, which consists of two 55-gallon barrels with holes cut in them to feed the wood into the fire, and holes in the top to fit the serving pans, in which he boils the sap.
It's a long process that needs monitoring, DiNicola noted.
"There are some nights when my wife will find me out here at midnight tending to the sap," he said. "So I'll leave the pan filled with new sap while the fire burns down, so the water will evaporate overnight."
Once the sap has boiled down, he'll carry it into the garage, where another homemade assembly line awaits.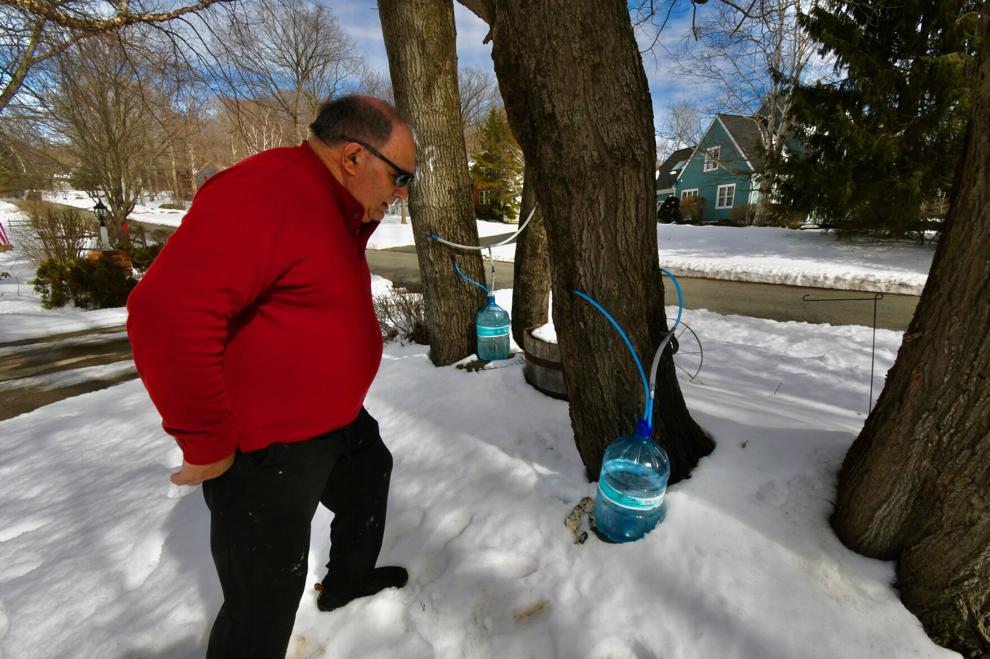 He'll put it in a heated vessel, and ladle the syrup through a filter made of cheese cloth, several coffee filters and fabric filters.
Once passing through the filters, DiNicola packages his product in small bottles bearing the label "Nine Trees Maple Syrup."
"It's a sticky job, but somebody's got to do it," he said wearing a wide grin.
DiNicola also has a hobby for the summer — growing veggies.
"It keeps me busy," he said.
A large part of his motivation, he explained, is that he is carrying on a tradition begun by indigenous Americans since at least the very early 1600s.
According to information published on the website of the Massachusetts Maple Producers Association, as winter started to wind down, Native Americans would move to a spot with plenty of sugar maple trees. One widely used early method of harvesting sap was to cut V-shaped slashes in the tree to collect the sap. They boiled away the water from their sap by dropping hot rocks in the containers made of hollowed out logs, birch bark, or clay.
"It's a nice feeling to continue a tradition that has been going on for such a long time," DiNicola said. "I'm part of that. Also, I just like doing it."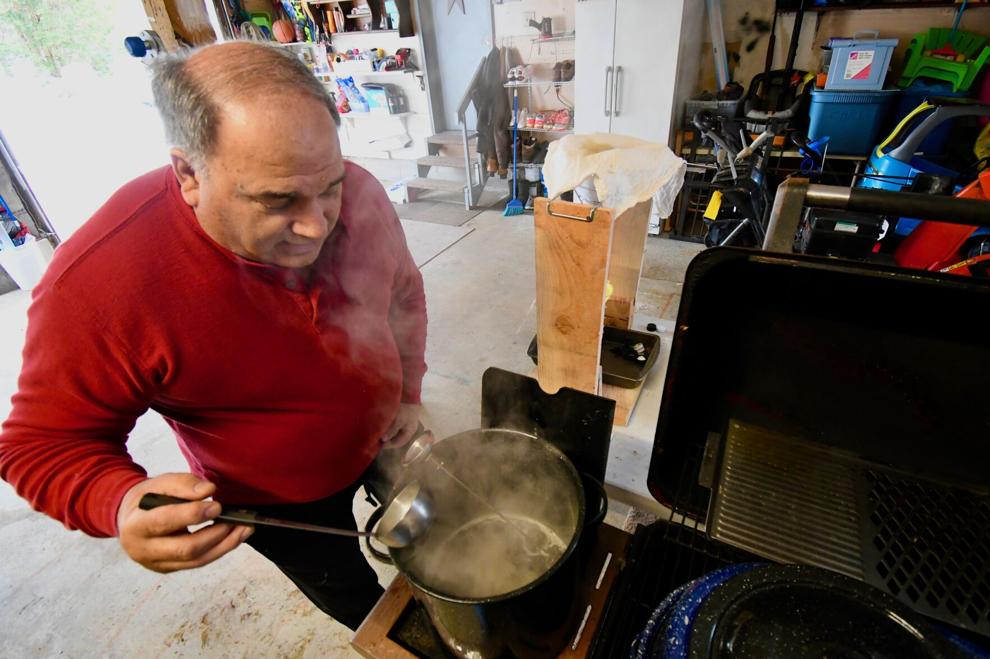 Once his harvest is bottled, he won't sell it. He'll give it away to coworkers, friends and neighbors, as well as family members.
"I think just about everybody on this street has had my maple syrup," he said.
DiNicola has three sons and a few grandchildren. He said he'll enjoy some maple syrup with breakfast, in his coffee, and on ice cream. That is, if there is any left. It seems his sons have gotten into the habit of swiping a bottle of syrup or two.
"I'll end up with some, if my kids don't take it all," he said, laughing. "Are you kidding me? They're brutal!"
CELEBRATE MASS MAPLE WEEKEND AT A SUGARHOUSE
Berkshire County Sugarhouses participating in Massachusetts Maple Weekend, March 18 and 19
HOLIDAY BROOK FARM
100 Holiday Cottage Road, Dalton
413-684-0444, holidaybrookfarm.com
Pancake breakfast and sugarhouse tours offered 8 a.m. to 1 p.m. Saturday and Sunday
IOKA VALLEY FARM
3475 Route 43, Hancock
413-441-5147, iokavalleyfarm.com
Pancake breakfast, sugarhouse tours, tastings and demonstrations offered 8 a.m. to 3 p.m. Saturday and Sunday
MILL BROOK SUGARHOUSE
409 1/2 New Lenox Road, Lenox
413-298-3473, millbrookmaplestore.com
Sugarhouse tours, samples, gift basket raffle, 10 a.m. to 4 p.m. Saturday and Sunday
Source: massmaple.org