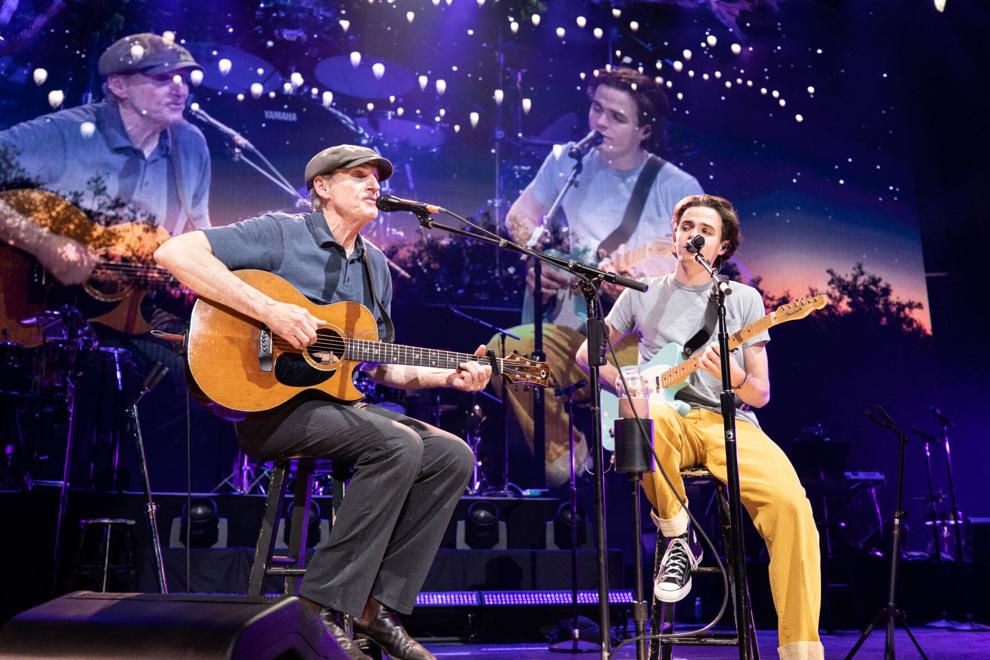 LENOX — For the first time since back-to-back shows on July 3 and 4, 2019, James Taylor is back at Tanglewood, his musical home base, with three appearances this summer. Two are with his All-Star Band on Sunday, July 3, and Monday, July 4, and later as a guest saluting revered composer and Boston Pops Laureate Conductor John Williams, who's also artist-in-residence at Tanglewood, at his 90th birthday celebration concert Aug. 20.
During a recent conversation at their home and studio in the town of Washington, James and Boston Symphony Trustee Kim Taylor — who were married in Boston on Feb. 18, 2001, eight years after Williams introduced them backstage at Symphony Hall — discussed the impact of the COVID-19 pandemic on performing artists and audiences.
Taylor, citing Tanglewood as his favored performance venue, emphasized how much he missed connecting live with his local fans after his 2020 and 2021 shows here had to be postponed. "I can't tell if it's me or the audience, because I feel a great sense of relief" being back on the road, he said.
Several weeks after the pandemic erupted full-force in March 2020, Taylor predicted in an Eagle interview that "life on the other side of this thing is going to change." How much it would change, no one could know at that time.
Last year, Taylor and guest artist Jackson Browne performed across the U.S. from late July through mid-December at 48 venues from coast to coast, including the Saratoga Performing Arts Center in upstate New York. But his Aug. 31 show at Tanglewood (more than 15,000 tickets sold) had to be rescheduled because of a 9,000 cap imposed on audiences at the time by local public health authorities.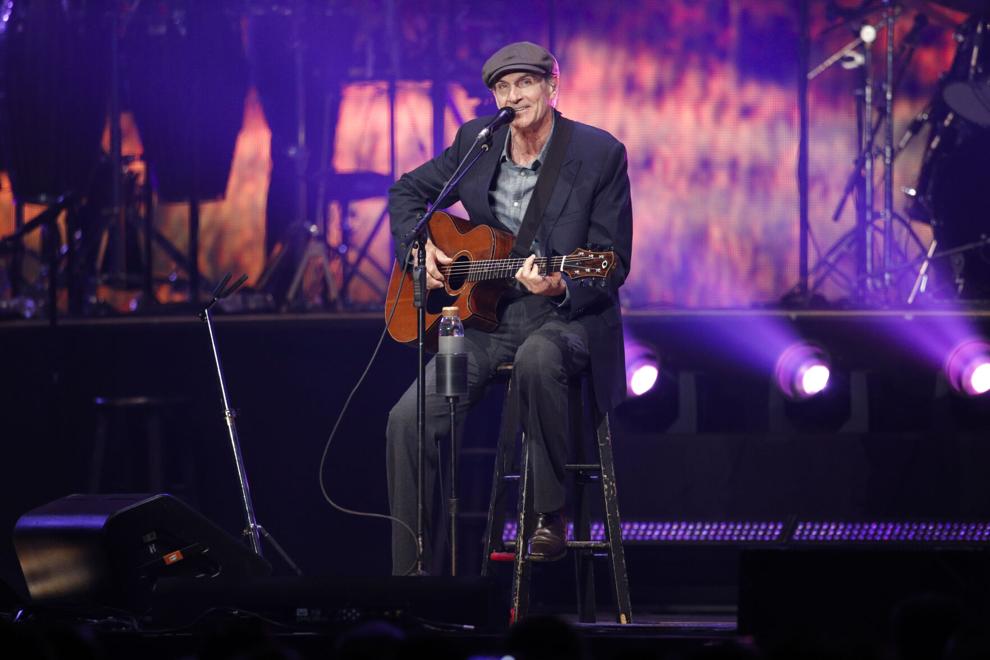 Taylor was back on the road this spring, performing 11 concerts across Canada ahead of a summertime U.S. tour that began June 21, including a recently announced official opening of the new 5,000-plus seat MGM Music Hall at Fenway in Boston on Aug. 29 and 30. That will be followed by a swing through Europe with 30 appearances in the fall.
In May of this year, accepting an honorary doctorate degree from the New England Conservatory of Music in Boston, Taylor told the graduating class that "live music, performed in an actual, non-virtual space, with an audience of fellow humans, can be truly transcendent, a communal emotional event. COVID and its hiatus of nearly two years has brought home to me just how much I need it."
Editor's note: The following conversation with James and Kim Taylor has been condensed and lightly edited for clarity.
Q: During your 2021 tours and this past spring in Canada, did you get a different feeling about the response of audiences, or were the vibes more like old times thanks to the healing powers of music?
KT: People were very emotional, there were a lot of tears. It was like they hadn't had this experience and they felt a little bit stunned at times — is this really happening? It was a little overwhelming, but exhilarating.
JT: I can't tell if it's me or the audience, because I feel a great sense of relief at coming back to it, too. It reminded me of when we went back on the road after 9/11, when the World Trade Center attacks were fresh on everyone's mind. A lot of my songs have a soothing, healing effect, because I needed them to do that for me, that's what I was looking for myself when writing those songs. Sometimes other people can tap into that same thing, that's what you want. It felt profound, deeply resonant. When you come together to listen to music with a lot of other people and sharing an emotional experience, there is some kind of a feeling you get, like singing a hymn in church. Of course, music is also celebratory, revelatory, to put it in a word, "whoopee." Those things are great too, but they're also a release. The human condition is that we're trapped in ourselves, it's something we construct or assemble throughout our lives, and everyone around us is doing the same thing, we're comparing our world view to everybody else's all the time.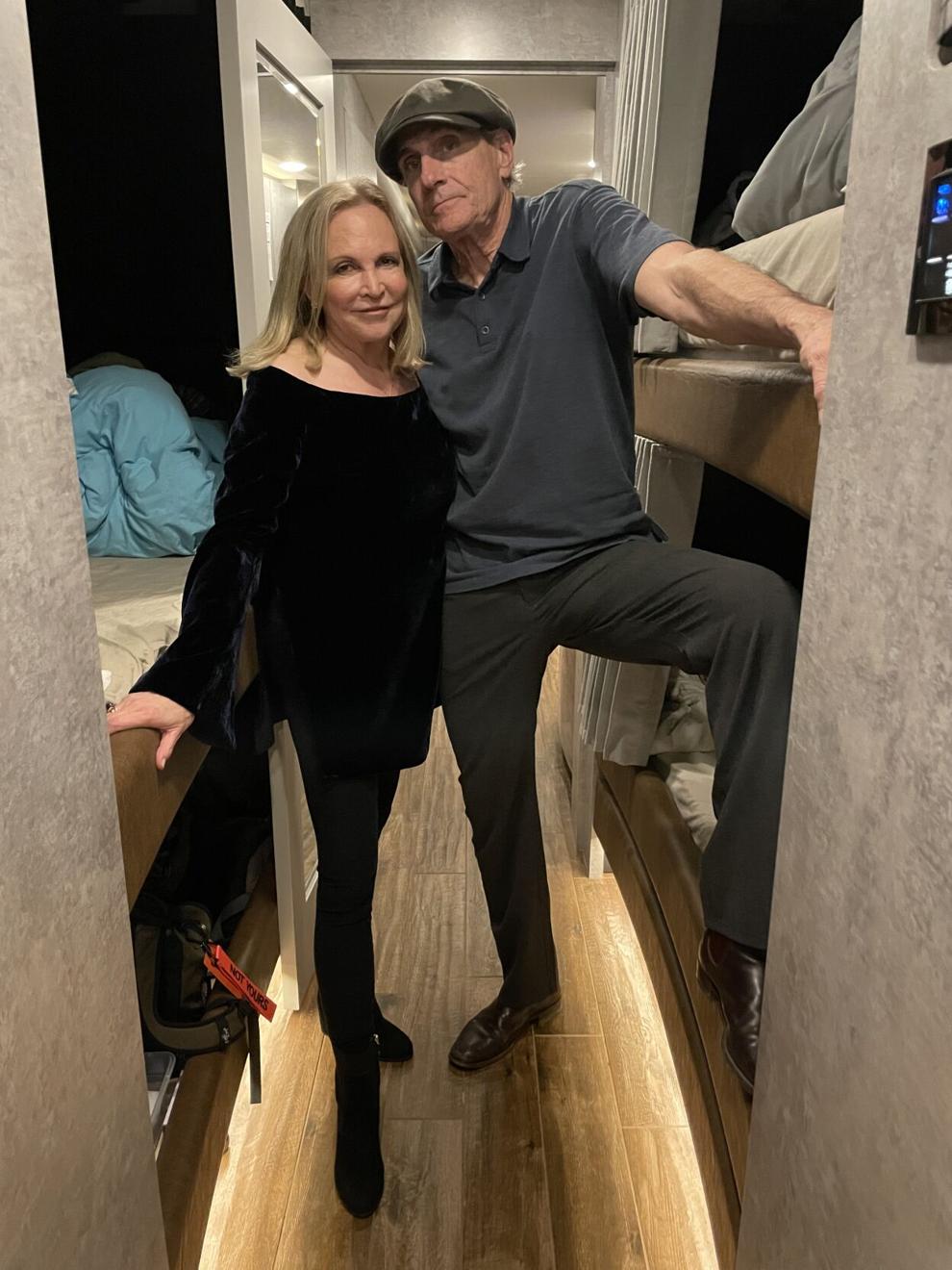 Q: It seems as if you're referring to the magical power of live music to take us out of ourselves.
JT: When we can actually allow ourselves to just feel the beneficence and the benevolence of being alive as human beings on this planet, when that happens, that escape from the self, a number of things can do it: A walk in the woods, true love, exhilarating exertion and athletics can do it for some people. Music does it reliably, and it is a human language. Listening to music and making music are very, very close to the same thing, that's what people who don't make music but listen to it and love it don't really understand. They're right next to doing it. Music can just hit you, and it grounds you, sometimes in the most exquisite and sophisticated ways, and sometimes just like "animal in the jungle ways." There's something about being human that we need to escape from, and music is one of the things that helps us do that.
Q: So many people experience entertainment, including music, primarily through electronics. How would you contrast that with the live experience?
JT: You go to see a movie and you're not surprised when the guy grows wings and flies out of the window. It's almost too much magic. But when you're watching musicians perform on stage, it's not the magic, you're watching something that human beings can actually do. That has a real force to it, you know you're not being lied to. When it's actually happening, it's all the more remarkable because it's undeniably real.
Q: During all the downtime between the surges of the pandemic, were you motivated to think about creating new songs?
JT: It would have been a perfect time, but as it turns out, I wasn't. We did a number of virtual things.
KT: We were in Montana during the first wave in 2020, and we did virtual fundraisers for the Biden campaign [via Zoom] and then we started doing more things virtually, for a Paul Simon benefit, for the Boston Symphony, for first responders.
JT: It was spring break, we were there to ski with the kids, the young guys [Henry and Rufus, now 21], we were trapped for a while, and eventually we got back home here to the Berkshires, and we were really glad. Everyone got used to doing things by Zoom, but it's not the same! Modern life is dehumanizing enough as it is, without losing more contact with each other.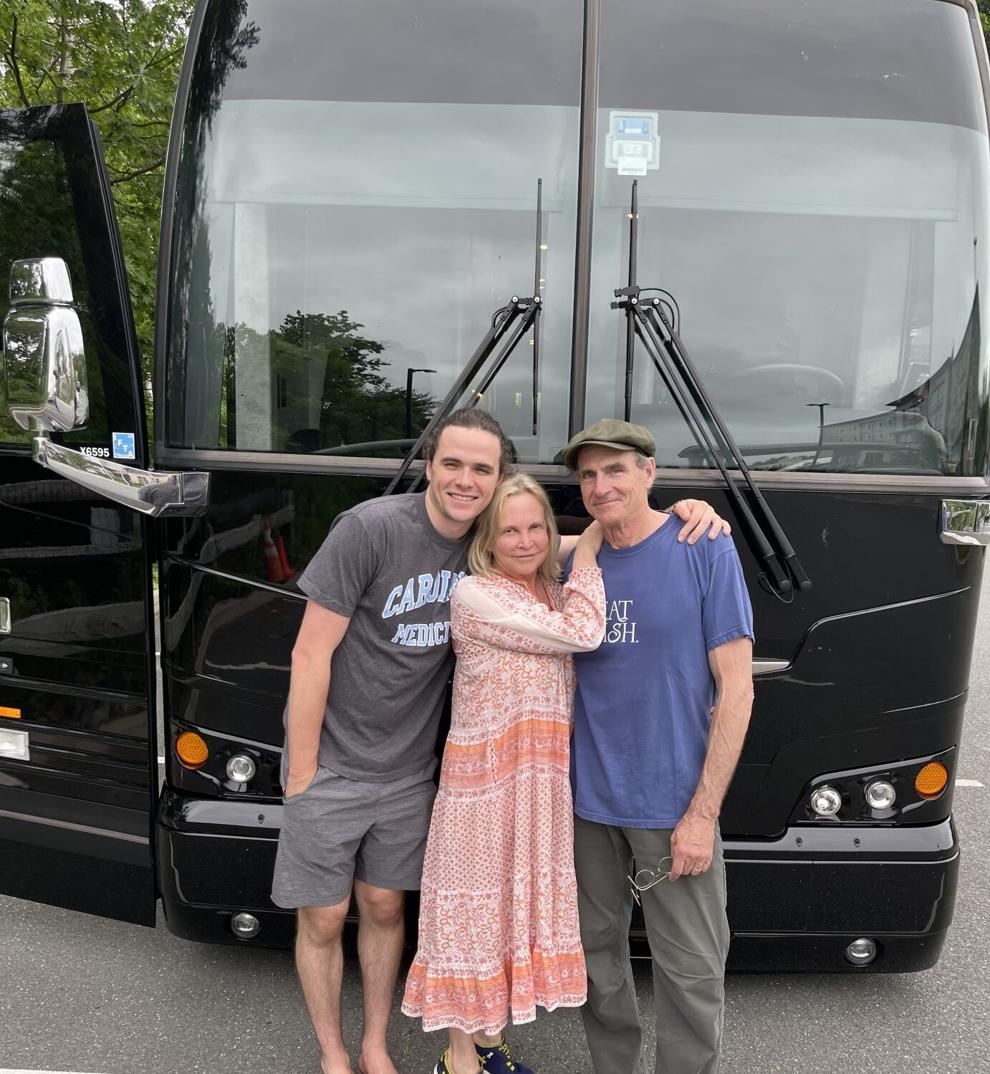 Q: Do you still experience pre-performance anxiety after all these years?
JT: I feel the weight of it when it happens. I have to trick myself out of it so I can just do the task, that's the thing you hide behind if you're a musician, you've got this highly functional thing you've got to do, so you focus on producing the song, then you hope to inhabit it, and almost inevitably do, partially because the audience is there and you're making sure the audience gets what it came for and giving them the right experience. You have an expectation of how good it can be if it really connects. You just want that to happen, it's what makes this life worthwhile, really. It's what we missed when we were away from it during COVID. It's daunting, but as I always joke to the audience, "it's not the same without you."
Q: You've said many times that Tanglewood is your home base, musically. Is there a different feeling when you're onstage at Tanglewood compared to all the other venues?
JT: Yes, it does feel different. When you have a lot of history with a place, an experience with the audience that goes back so many years, you definitely have the sense that the audience gets you, it's a trusted connection. Also in the Berkshires, where we live, we have a sense of the people who live here and those attracted to come here in the summertime, I feel as though they know me and I know them. Some of that is a burden, but most of it just feels like being home.
Q: How can it be a burden?
JT: Jackson Browne, whom I've been touring with, and I agree that when you can do a concert in a town where you don't know anybody, you're definitely passing through, you're freed up to think about what you're about to do instead of what you just did. The stakes aren't as high, you feel unencumbered and often you do your best work in those circumstances, somehow. When you play at Tanglewood, there are things about it that are daunting, you're going to run into dozens of people from the audience for another year before you get a chance to redeem yourself! You also want to offer them something fresh. At Tanglewood, I want to play more extraordinary stuff, more deep tracks, deeper in the catalog, more new stuff and I get the sense that the audience is ready for that because we've got such a history. At the same time, people also want to hear "Stockbridge to Boston," so it's always a balancing act but particularly at Tanglewood, you wonder whether they've heard this too many times?
There are some people [performers] who need to care more about what's happening. That's not my problem or Jackson's problem, or Bonnie [Raitt's] problem, we care too much. You have to trick yourself into feeling casual about it. You want to be as prepared as possible, but also as free as possible. So, you sort of play tricks on yourself to take the weight off. I feel most comfortable if I don't amp up that performance anxiety any more than necessary.