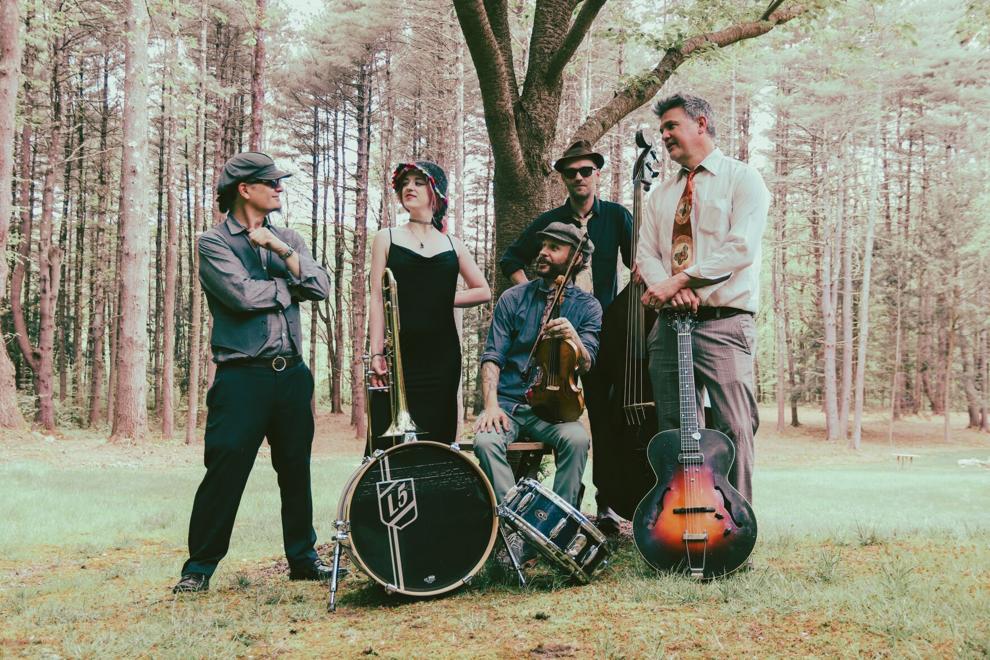 SPENCERTOWN, N.Y. — When 11-year-old Kip Beacco walked to his friend's house in Stockbridge, he would stand on the street and listen to a neighbor practice his drums. Tom Gibson, son of "The Miracle Worker" playwright William Gibson, soon became Beacco's teacher.
"He instilled in me how to keep time and the sensitivity of syncopation," Beacco said during a recent phone interview. "That's what drew me in."
Moving to guitar, Beacco morphed from rock into blues, then folk, bluegrass and, ultimately, swing music. It just kept going, he said.
Nowadays, Beacco leads Berkshire-based band The Lucky 5, comprised of Beacco on guitar/vocals; Jonathan Talbot on violin/vocals; Carolyn Dufraine on vocals/trombone; Matt Downing on bass/vocals; and Tom Parker on drums.
On Saturday, May 28, they will perform at Spencertown Academy as part of the Roots and Shoots Concerts Series.
The band is described as "a hard-swinging jazz band that blends 30s and 40s-style swing with gypsy and Parisian flavors to create a unique blend of music … combining originals and creative reworks of old standards."
"Ninety-five percent of everything we play is dance music," Beacco said, "it all has the 4-to-the-bar swing beat that comes out of that era."
The name harks back to early traditional New Orleans jazz back in the 20s and 30s.
"Louis Armstrong had The Hot Five and The Hot Seven, and we thought that would be super cool," Beacco said. "So we came up with "Lucky," and put it with 5. But sometimes we show up with 4 or 7 musicians, and on occasion it's The Lucky 3."
Young people come to jazz through modern musicians, they aren't aware of how it originated, Beacco said. "It all boils back to Louis Armstrong. We've come from the beginning and worked our way up. And we're still progressing."
"Our favorite guitar player is Django Reinhardt. Everything after was influenced and changed by him. He is the godfather of gypsy jazz, American jazz and swing. He has 'Le Pump,' this strong rhythm that drives the music. It all goes together so well."
The Lucky 5 band members are all seasoned musicians, playing both vocal and instrumental music, with Beacco and Dufraine singing lead vocals.
Bassist Matt Downing and Beacco have played together for 20 years. In "The Hunger Mountain Boys" trio, they traveled to all the states, the UK, and Europe, "kind of a bluegrass-ish string band, starting to approach swing music," Beacco said.
When that ended, "we started getting into early traditional jazz and experimented with different personnel. We've been together with violin player Jonathan Talbot for 15 years."
Beacco plays an acoustic archtop guitar, with f-holes [like a violin] instead of a round hole. "That's kind of a tradition, they're acoustically loud, and great for this kind of music."
'We're big fans of horns," he said. "Trombone player Carolyn Dufraine sat in and started playing with us more and more. She is this brilliant, amazingly talented trombone player and vocalist and songwriter. She's been with us 4 years now, and she's only 26."
"The current lineup with drummer Tom Parker has played together for a couple of years," he added.
Performing mostly in the Berkshires, the band has toured to Boston, Saratoga, N.Y., and New York City. In Virginia, they recorded an album old-school on analog tape and put it out on vinyl, Beacco said.
In good times, The Lucky 5 performs 150 gigs a year, sometimes 4 or 5 in a single weekend. A decade ago, Beacco asked to play at The Prairie Whale restaurant in Great Barrington; and an initial monthly booking turned into a weekly residency on Sundays that continues to this day.
"No other music is ever there, just us," Beacco said. "No matter how busy we get, the band can always come together once a week at least and keep our chops up."
After spending lockdown "all in our separate spaces and practicing on our own," the band has moved on from the pandemic.
"Life just came back with a vengeance, all of a sudden we're busy," Beacco said. "Things are really flying right now."
"There's a lot more little music venues, I think people really missed live music, they realize how important that is."
Beacco still lives near his old neighborhood. "I moved to Housatonic [a village of Great Barrington] right down the road by way of Colorado and Oregon. I came back and raised a family and love it here."
And the music he loves endures. "It's so organic and real and infectious, it makes you want to move. The rhythms come from that whole combination of African beats and New Orleans. It makes people feel good."
"I'm a big jazz fan," said Wayne Greene, Academy music committee and board member during a phone interview. "The Lucky 5 incorporates an old 1930s, 40s swing tradition and brings it up to date. They rely heavily on the Paris hot jazz violin and guitar tradition of Django Reinhardt and Stephane Grappelli."
"They also just play fun, rhythmic music that you can dance to or just sit in your chair and tap your foot to," he added. "Their musicianship is stellar, they interpret standards as well as compose and perform original tunes."
The band performed at the Academy without an audience in April 2021.
"We streamed the concert over our YouTube channel, [as] we didn't feel safe having audiences in the building," Greene said. "They were wonderful and got a lot of views."
"We wanted to have them back with an audience and a true concert setting."
A free swing dance lesson is scheduled for ticket holders before the performance. Led by Capital Region instructor Jason Fenton, several experienced swing dancers will attend and take advantage of the dance floor, Greene said.
The Academy has a long musical tradition.
"Back in the 1970s through the early 90s there was a regular folk music series, [with] icons Pete Seeger, Odetta, and Tom Paxton, really big names, as well as local ones," Greene said. "Artists really love performing in this very intimate and acoustically perfect space. Part of it is the charm of the setting, and our beautiful vintage Steinway piano."
The Roots and Shoots Concerts Series "showcases contemporary artists who reach back to earlier traditions in music," Greene said. "We focus on Americana, jazz, blues, folk, rock — groups engaged in that tradition but putting their own spin on it."
Next in the series is Jay Ungar and Molly Mason on June 18. Best known for their evocative work on Ken Burns' "Civil War" documentary series, "they're impossible to categorize," Greene said. "They synthesize all kinds of music into their unique sound, they're just incredible."
It's a return engagement of sorts, he added; the duo last played the Academy back in 1992.
The Lucky 5 will perform in the newly-dedicated Blanche H. Grubin Auditorium, named for the late arts and music-loving mother of Academy neighbor and supporter Sharon Grubin, whose generous donation helped complete the renovation of the 175-year-old Greek Revival former schoolhouse in the Academy's 50th anniversary year.
This is the first indoor concert of the 2022 season; Wanda Houston performed last fall.
With a close eye on CDC guidelines, high grade air purifiers, screened open windows for cross ventilation, and limited audience size, Greene said, "we're tentatively moving forward, but doing it mindfully and thoughtfully and hopefully smartly."
"We're doing all we can to try to get back to normal, or the new normal," he added. "With spring here, things may be lightening up as a society, and it's nice to have a bit of a celebratory experience on a Saturday night."