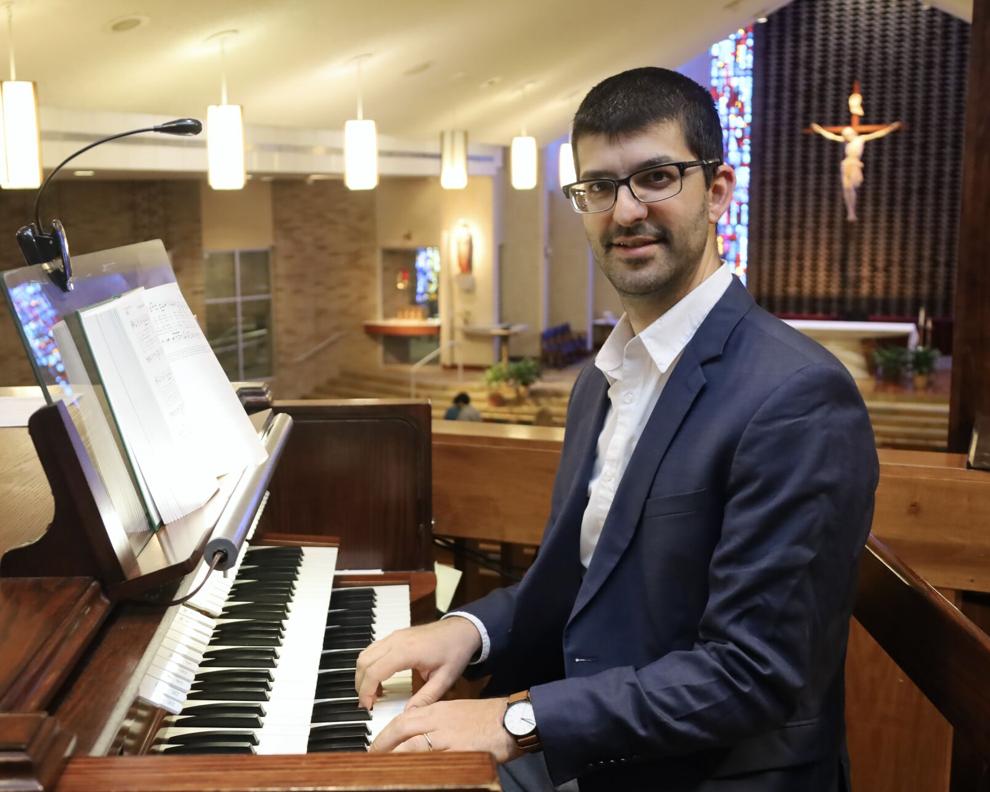 Luke Massery, a native son of Pittsfield, who first learned to play the church organ as a teen parishioner at St. Mark's on West Street, is now a husband and a father of four and living in Strongsville, Ohio. There, among other things, he's become a musical anthropologist of sorts, seeking to help reintroduce and restore a mislaid tradition of the Roman Catholic Church.
A Daniel Pearl Berkshire Scholarship recipient and graduate of Pittsfield High School, Massery earned his bachelor's of music from Eastman School of Music, a master's of music from the University of Massachusetts — Amherst and a master's of arts from the University of Akron. Now, 35, he's developed what he calls the Catholic Antiphon Renewal project, "making it easy to recover the Catholic Church's sung texts," as he puts it.
His efforts are two-fold, mutually exclusive and on display and downloadable for free on his website, antiphonrenewal.com.
One option he's organized provides translated text to what were once ancient Latin chants. He's set these texts to well-known melodies from modern hymns. Another option offers simplified settings of ancient chants for choirs that don't have as much time or skill to learn the more complicated, ancient versions.
Does this all sound kind of obscure?
If you're not a church music director, probably it does. But the results intend to create a more prayerful Mass experience, more tightly tied to Scripture, more tightly tied to centuries of tradition.
In some ways, all of his work comprises a compromise, following the changes to the Mass that were put into motion following the church's historic Second Vatican Council that ran from 1962 to 1965.
"A lot of us are kind of rediscovering our patrimony in our tradition as Catholics," said Madelaine Beckford, the music director of St. Clare of Assisi Catholic Church, on Daniel Island, S.C., who is among the many music directors who makes use of Massery's free website. "Luke has done a lot of hard work to provide a resource that a lot of us use, a tool to help music directors kind of guide the transition."
EMBRACING PAST ELEMENTS
The transition she's referring to is one that seeks to embrace elements of the Catholic Mass dating back to its ancient origins.
"Basically, there's a beautiful, ancient tradition of music that is the foundation of Western civilization, foundation of all Western music, that was developed in the Catholic Church," said Massery, the music director of St. Joseph Catholic Church, in Strongsville, and a speech language pathologist. "Musical notation was invented for the purpose of writing this great treasure of sacred music, and these chants, unfortunately, were tossed out the window after the Second Vatican Council, not because of the Second Vatican Council, but because of the interpretation or misinterpretations of it."
The council, called by Pope John XXIII, ran from 1962 to 1965 and sought to "update" the Church in certain ways that would help it to connect with people in an increasingly modernized and secularized age.
Massery's efforts are part of a widespread movement amongst a new generation of church music directors to "recover this great treasure that has been abandoned in the West," he said.
For some in the church, the Mass lost much of its beauty and power when the local vernacular replaced the traditional Latin, following the Second Vatican Council. That's when modern hymns were introduced.
The Second Vatican Council never intended to shut the doors on sacred music. Quite the contrary, it called the combination of scripture with sacred music "a treasure of inestimable value, greater even than that of any other art."
But when the local vernacular was permitted, the flock ran with it — and kept running. In some people's opinion, including Massery's, that was all to the detriment of the Mass itself, an occasion meant to inspire solemn wonder and profound reverence. Specifically among the casualties were the many odds and ends of sung Scripture sprinkled throughout many Masses, depending on the day, and the traditional chants, which tie back to the Church's early days when the entire Mass was sung.
"In the spirit of the 60s-70s, the Zeitgeist was, 'Out with the old, in with the new,'" Massery said. "The vacuum was filled by this new sort of folk-60s-style hymns."
Think "Here I Am, Lord" and "Be Not Afraid." Think Jim Croce introducing singalongs to a gathering of third-century desert monks.
Today, those hymns sound dated, Massery said, particularly when compared against, say, ancient Gregorian chants, which sound timeless.
When it comes to tradition shattering, Massery refrains from entirely placing blame on the freewheeling culture of the 1960s and 1970s. Indeed, in the earlier part of last century, many parishes had already begun to abandon the use of Gregorian chants in place of priests simply reciting scriptural text.
For Pittsfield Catholics who have been around awhile, there's plenty of poetic justice in Massery's efforts. His grandfather, Edward Massery, was part of a group at St. Mark's dedicated to restoring the Gregorian chants to the Mass back in the 1950s or 1960s.
GREGORIAN CHANTS
Massery can understand his grandfather's concerns.
Gregorian chants, he said, "sort of impart this wonderful character of stillness and prayerfulness. It's not bound by strict rhythm. It fosters prayer. It decorates the text. It's text first, music second." By comparison, he said, "a lot of modern hymns are music first, text second."
He said, "These chants, as we know them today, were handed down and evolved from the earliest centuries, even drawing inspiration from the way the Jews would sing their songs in the temple or the synagogue.
"If you think about it," he continued, "if you're watching TV, or a movie, or even a video game, oftentimes you hear Gregorian chants, and you instantly think 'Catholicism.' It's the only music that smacks of Catholicism and that imparts that sacred feeling. And yet, why is it the one music that is anathema to many local parishes? Everything else, musically, is OK except for the one that's the most Catholic? That doesn't make sense."
Massery got his first taste of the spiritually sublime as a parishioner at St. Mark's Church. The son of Jimmy and Natalie Massery, he was boy-wonder classical pianist who, beginning in his teens, learned to play the organ under the tutelage of St. Mark's former music director, the late Jeff Hunt.
"That's how I got started on the sacred music track," Massery said. "I was totally inspired by it. I thought it was so awesome to be able to create such an enormous sound with an instrument, with an organ, and the church is part of the instrument. To have such a beautiful stone church like St. Mark's, with a beautiful organ there, it was just incredible."