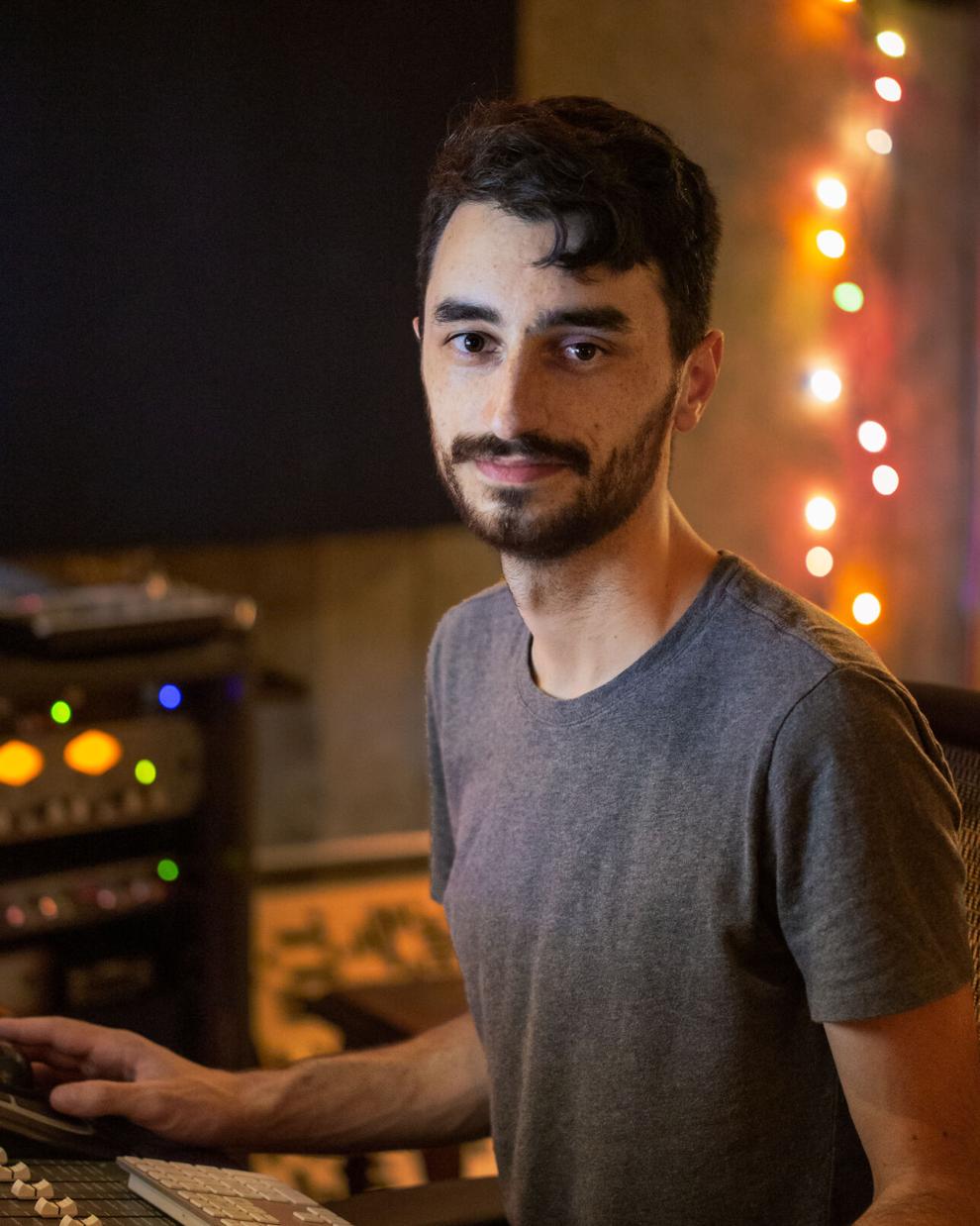 PITTSFIELD — If Mike Tierney wins a Grammy, which he might, he's decided this much: Unlike other audio engineers and producers, he will not display the award, a gilded gramophone, in his bathroom. (Who knew?)
That's "if." The 2010 Taconic High School graduate learned in November that, yet again, he's Grammy caliber, this time for his role on Christopher Cerrone's album "The Arching Path," nominated for Best Classical Compendium.
Unlike the previous two occasions in which projects he's worked were nominated for Grammys, this time Tierney was ready. He tuned into the livestream broadcast of the nominations, on Nov. 23, while at home in Brooklyn, N.Y., and feeling unwell following his COVID-19 booster.
The members of the Italian rock band Måneskin took to the podium and announced "Cerrone: The Arching Path," and there it was on the screen: "Mike Tierney, producer."
"I'm pretty happy about it, yes," says Tierney, 29. "I was watching it, and I was actually, like, very sick from the booster. I was waiting for them to announce our category so that I could just go to bed."
But, he adds, "It was a good day."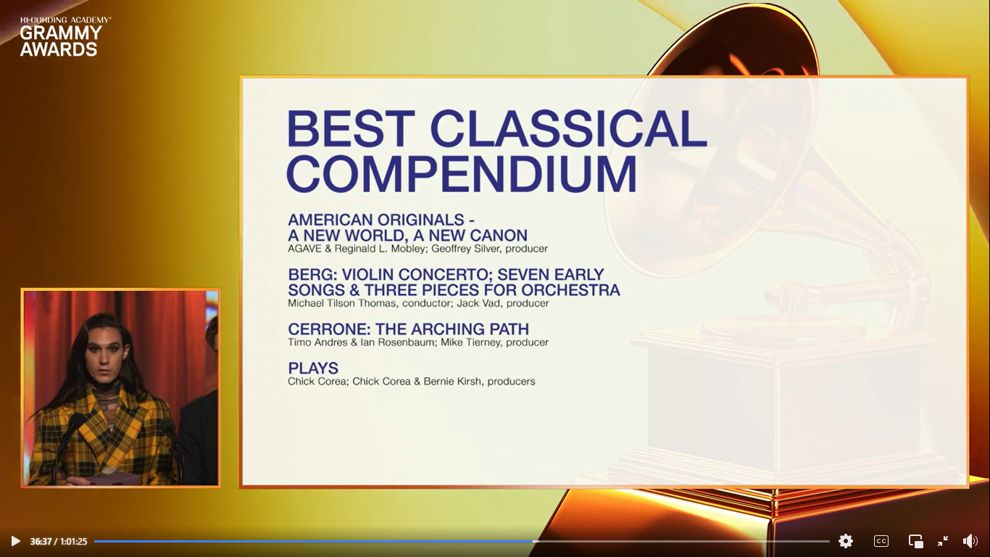 The awards ceremony, officially known as the 64th Grammy Awards, had been scheduled for Monday, Jan. 31, in Los Angeles, but it was postponed due to what organizers called "too many risks" from the COVID-19 omicron variant. The ceremonies are now planned for a live broadcast from the MGM Grand Garden Arena in Las Vegas on April 3. If it includes a live audience, Tierney plans to attend.
This marks the third Grammy nomination for Tierney, remembered in Pittsfield as the bassist with the mad licks in Taconic High School's jazz band; the guy whose musical aptitude prompted school administrators to cobble together an Advanced Placement program in music theory.
A graduate of Clark University, with a major in music composition, and New York University, where he earned a master's degree in music technology, Tierney was a mix engineer on Judy Collins' and Ari Hest's album, "Silver Skies Blue," nominated for Best Folk Album in 2016. He was a recording engineer on Christopher Cerrone's, Christopher Rountree's and WildUp's album, "The Pieces That Fall to Earth," nominated for Best Chamber Music/Small Ensemble Performance in 2019.
Tierney credits a lot of people for his success. Close to home, it begins with his parents, David and Laurie Tierney, the owners of Hotel on North, who encouraged him to take up music at an early age. And Taconic's jazz band "was really, really formative for me," he said.
While studying at NYU, he had the good fortune to become an assistant to Alan Silverman, a mastering engineer, mixer and producer with credits on more than 80 Grammy-nominated and winning records.
"He got me involved in a lot of opportunities that I wouldn't have had otherwise," says Tierney, who also has a background as a composer and arranger.
In a career that's not yet a decade long, Tierney has worked with artists such as Medeski Martin & Wood, Julia Wolfe, Stephen Stills, Pharaoh Sanders and Alarm Will Sound.
For the latest Grammy nomination, he served as producer, engineer and mix engineer. The album, a collection of modern classical compositions, was inspired by Cerrone's travels to Italy.
According to the program notes by Jennifer Gersten, "The works on 'The Arching Path' examine how we metabolize place — not an attempt to inscribe experiences exactly, but rather to chronicle their aftershocks long after we have returned home."
Cerrone underscored that the production process, itself, was as fundamental to the album as the compositions, which he wrote over a span of 10 years.
"Part of the joy of the project has been creating an album that goes far beyond the replication of live performance and instead becomes an object all its own, where recording, editing, and mixing techniques are as essential to the process as composition," he's quoted in the program notes.
The album features "some of the best instrumentalists we know," says Tierney, including pianist Timo Andres, percussionist Ian Rosenbaum, soprano Lindsay Kesselman and clarinetist Mingzhe Wang.
Tierney and Cerrone have been working together since 2014.
"But most of the work that we'd done together up until 'The Arching Path' was smaller projects under less-than-ideal circumstances," Tierney says. "Maybe we'd do a live recording for documentation, or maybe he'd started the project with another engineer, then had me come in to finish the project.
"'The Arching Path' was different in the sense that we went into it with a clean slate and an uncompromising approach, and it made the process much less challenging than any of our past projects together."
They recorded the album in Brooklyn, at The Bunker Studio, "because it has my favorite piano in the city," Tierney says. An additional plus was that studio is a mere 15-minute walk from the apartment Tierney shares with his wife, Mahin Salman.
In addition to working in studios throughout the city, Tierney owns his own, called Shiny Things Studio, a 750-square-foot space in his apartment.
So far, Tierney is 0-2 in Grammy wins, but he feels this time around could be different.
OK, so if he wins, where will the Grammy go? Tierney has given it some thought.
"There's a lot of superstition about that," he says. "The most common place I usually see people put their Grammys and Grammy nominations and whatnot is in the bathroom. That's kind of a norm. The idea is that if you put the Grammy on your desk, where you work, you are always self-congratulating because it's always in your view. It's like saying, 'The client is privileged to work with me because I have this Grammy' or something. It may make you not work as hard, they say."
Thus, a popular placement, says Tierney, is a bathroom, "because you then don't have to pay attention to it while you're working."
And so what about him?
"Since I have a home studio, I wouldn't really want to put it in the bathroom," he says. "That's kind of weird."
Along a wall leading to his studio, he has already hung framed Grammy nominations. That's the spot, he says.
"It's kind of the compromise where it's really not where you're working, but it's not in the restroom," he says.