PITTSFIELD — Mission has closed its doors, but Monday Night Jazz lives on in Pittsfield.
On Monday, a jazz trio led by bassist Andy Wrba commenced a six-week run of shows, continuing the nearly 10-year tradition of weeknight jazz sessions that had been hosted at Mission, a tapas bar and live music venue on North Street. With Mission's sudden closure at the end of October, there was a fear this tradition, too, would end.
But this fear was laid to rest on Oct. 31, Mission's closing night. Wrba, during a break between songs, announced to a crowd of costumed patrons that the next show would be held at neighboring Dottie's Coffee Lounge in two weeks. He hinted at other shows, but wouldn't say where they would be held.
"You gotta show up to find out," Wrba said. On Monday, he again declined to reveal the location of any show besides the trio's next gig (at Methuselah Bar and Lounge), explaining that it was part of the magic of live music.
"You gotta show up. I've never been interested in livestreaming or even really recording our shows [on Mondays] because it takes away from the magic. Being live is part of what makes jazz special."
For Wrba, the semi-pop-up nature of the shows fits in with the loose and easy spirit of jazz music. To sweeten the deal for audiences, he even promised additional surprises at each event.
"It'll be fun!" Wrba said, as he leafed through pages of sheet music, still deciding which songs he would play that night with pianist Benny Kohn and drummer Connor Meehan. Even 30 minutes before the show, he refused to spoil any surprises for the evening, including the set list.
"I'm just so taken aback by how much effort is going into backing this," he said, commenting on how much the community has come together. "Dottie's didn't just open the doors for us to play, they also set tables, brought in food, they brought in drinks, they brought in new decorations."
Jessica Rufo — owner of Dottie's — chose to do all these things as a sort of "audition" for being the new home of Monday Night Jazz.
"The way the community gathered for jazz nights is in line with our ideals for the neighborhood," she said. "We want to provide a magical place for jazz night, and we hope it comes to stay here in the future."
Dottie's was transformed for the evening. Rufo created a new menu for the occasion, featuring a coconut curry, platters of meat and cheese, squash soup and a salad with candied walnuts and goat cheese. She even secured a one-day liquor license for the event.
"This is really a coming of age for Dottie's," said Rufo, "a transition from 'Dottie' to 'Dorothy.' We wanted the vibe to be more mature, like how we view nightlife as being for adults."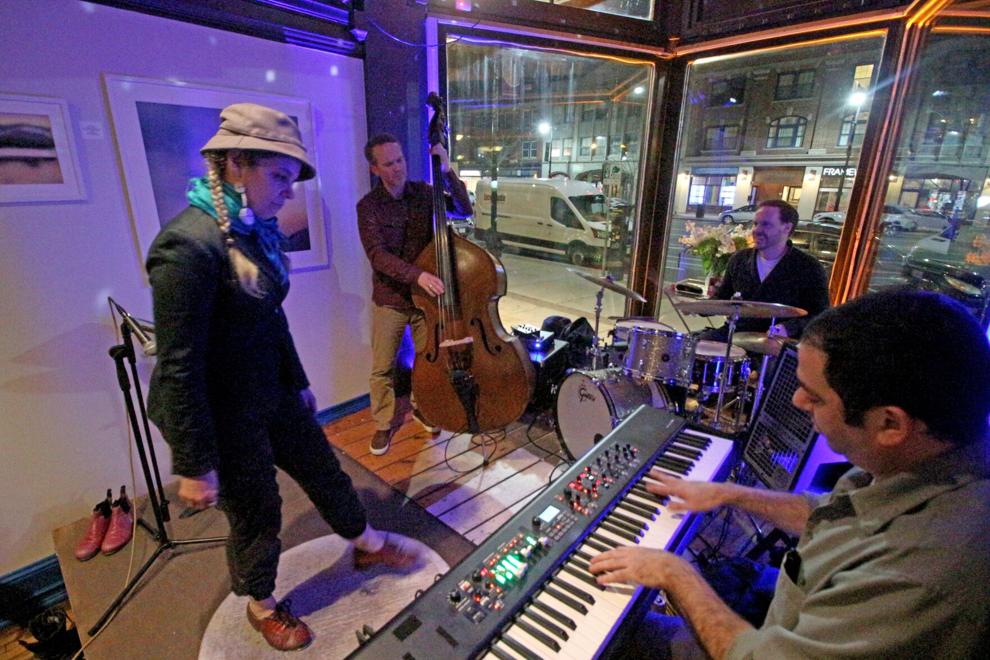 Rufo's effort didn't go unnoticed by patrons.
"I'm so happy to see the music evolving, to see Dottie's evolving," Wendy Darling, of Lanesborough, said, "It's so important to have live music where the community can be invited in, and the art is allowed to evolve. It's beautiful to see the jam sessions and the improvised acts."
The "improvised" act Darling referred to was one of the surprises Wrba had for the evening. Just before the first set break, Wrba invited local tap dancer Stefanie Webber onto the stage to make the trio into a quartet. Webber danced on a small, portable plywood floor she brought along for the performance, alternating between rapid staccato and slower taps to the beat of the music.
During one song, Webber started a duel with Connor Meehan, the band's drummer. The bass and piano trailed off as the two percussionists traded faster and more complex rhythms for almost five minutes. Eventually, the two musicians blended together and harmony was restored, earning applause from the audience.
"I wish it had lasted half an hour," said Webber afterward. Monday was the first time she had performed for a live audience since the pandemic, and she was happy to "get back into the jazz shape."
The band played a mixture of jazz standards and original pieces, ranging from upbeat jams to slow ballads about the feeling of locking eyes with a stranger on a train. One song, "Blues in the Window" by pianist Benny Kohn, was an ode to the years of playing jazz in the bay window of Mission. Rather than mourning the loss of the old space, it remembered the good times with quick melodies and bouncy rhythms.
"When we heard that Mission was closing, I knew it wasn't the end," said Wrba. "It may be the end of an era, but it can be the start of a new one too. There is more to come."
The next jazz night will be on Nov. 21, at Methuselah Bar and Lounge.
Want to know where it'll be after that? Or any of the other surprises in store? You gotta show up.