PITTSFIELD — In the 1800s, public mourning rather than private grieving was a way of life.
Victorian social etiquette laid down strict social rules for mourning, from the clothing worn to the length of time individuals observed mourning customs.
"There were three primary times of mourning — deep mourning, second mourning and half mourning," said Erin Hunt, curator of the Berkshire County Historical Society at Herman Melville's Arrowhead. "During that first, deepest mourning, women withdrew from public. Not all women had that opportunity. Women of a certain means had the ability for intricate mourning practices."
Mourning practices in the Berkshires, during the 18th and 19th centuries, are the focus of "Lifting the Veil: Mourning in the Berkshires," an ongoing exhibit at Arrowhead, which includes examples of mourning attire and other mourning practices including jewelry and mourning silks.
"The length of time a person mourned depended on how closely related they were to the deceased," she said. "A widow was expected to mourn the longest. It was less of a period of time for a mother, father, child. And it changed over the years with different trends."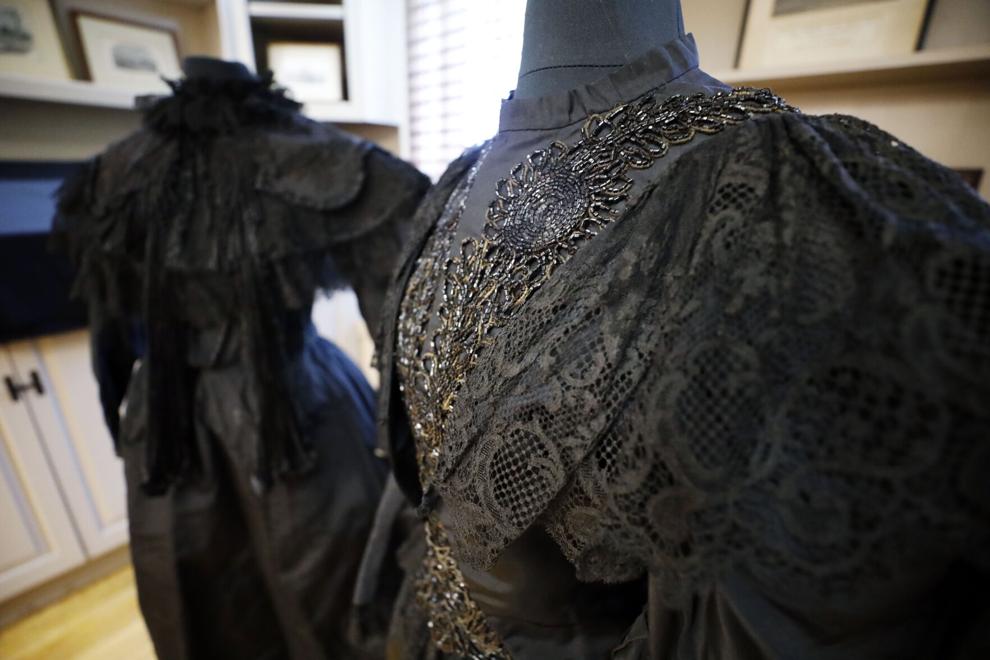 Widowers mourned for a period of six months, while children or parents of deceased children mourned publicly for a year. Public grief lasted six months when grandparents or siblings were lost; aunts and uncles were grieved for two months and cousins for a month. Widows, however, were expected to grieve for two years.
During the first phase, deepest mourning, widows grieved for a year and a day, wearing only black. Dresses were kept simple, with little decoration. Jewelry was jet black and veils were worn with hats. Those who could, disappeared from society for this entire time period.
"In second mourning, women still wore black, but they were able to add some color — purples, greys and whites in trim," Hunt said. Gold jewelry with colored stones, combined with jet black were also acceptable. Over the nine months of second mourning, women slowly reentered public life.
In the third phase, half mourning, which lasted three to six months, muted colors were added back into wardrobes and crape trim was replaced with embroidery.
"There were shades of mauve, purple and gray that were used," she said, pointing out the plum hue of plush velvet used on a "walking suit" featured in the North Parlor of Arrowhead. The dress, a gift of Mr. and Mrs. Benjamin Harris, features steel buttons, velvet trim and cuffs, a gored skirt in panels of taffeta velvet with a large bustle with side drapes.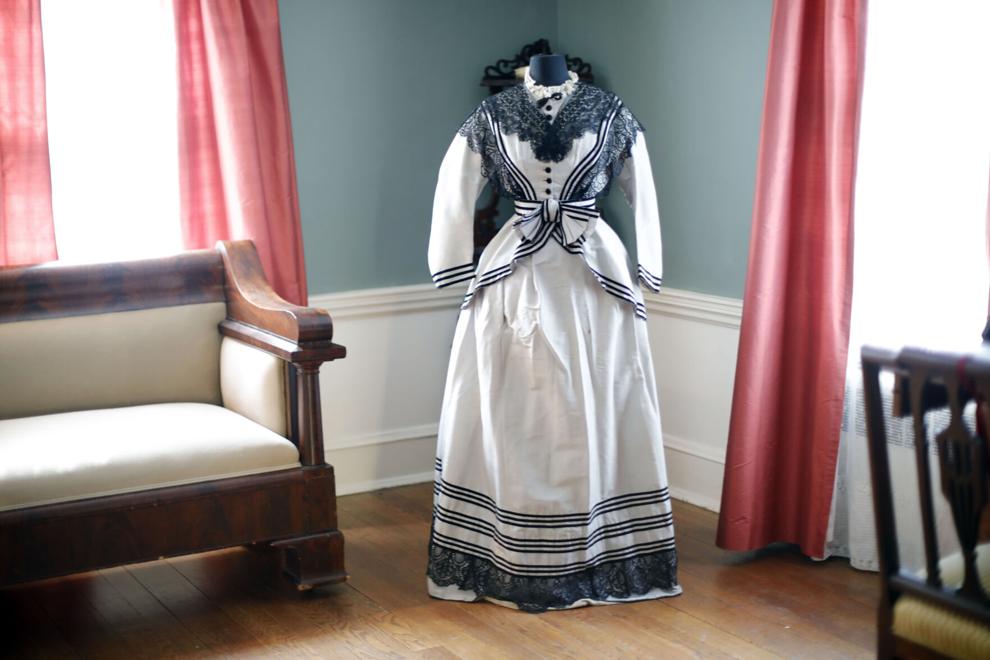 A gray dress with black trim, featured in the Arrowhead's South Parlor, is another example of half mourning attire, Hunt said, worn toward the end of mourning, when women were returning to their public, social lives. The gray would signal the wearer was in those final stages and was probably out visiting.
"None of our examples are working class dresses," Hunt said. "But, the great thing is, we know that most of the dresses in [the Berkshire Historical Society's] collection, are from Pittsfield-based families."
But grief practices were not confined to clothing and social etiquette alone. They were applied to the household as well, from the colors and fabrics a house was decorated in, to the items that hung on its walls.
Among those items were mourning silks — elaborate memorial embroideries — mementos of death, many made by hand to be displayed in the home.
"There were prescribed elements that most followed; tombstones, weeping willows, a woman," Hunt said. "Because most women were taught needlework, it was a common form of expression. They are interesting to look at, because of the varying levels of skill. These women were all expressing the same thing, grief, but they vary in skill and material quality."
Among the items on display at Arrowhead is a mourning silk from around 1805, possibly by Edith Williams, daughter of Stoddard and Martha Williams. The mourning silk memorializes two Williams children baptized July 1793 at St. Luke's Episcopal Church in Lanesborough. The silk depicts a cemetery plot in which there are four small headstones and two monuments.
Other common mourning practices included keeping the coffin plates of the deceased, as a memento, and mourning jewelry, in which locks of the hair of the deceased were encased and worn on a daily basis. Rings and pins, the most common items, were handed out to primary family members at the funeral.
"It was a sentimental way to remember the person; a literal way of keeping a loved one with you," she said. "Customs of the early centuries, which we think of now, as morbid, were just part of normal life. Death was so much more of a part everyday life back then."