LENOX — There was plenty of electricity in the air this past weekend at Tanglewood, fortunately, not the result of storms, but instead sparked by two celebrated instrumentalists — Joshua Bell and Yo-Yo Ma — as well as the Boston Symphony Orchestra debut of a rapidly rising conductor and a memorable appearance by the world's oldest active living maestro.
Artistry at Ma's level should never be taken for granted. His performance of Tchaikovsky's ingratiating Variations on a Rococo Theme on Sunday, Aug. 8, with Karina Canellakis on the podium in her BSO debut, reflected the work's charm, grace and liveliness through its stylistic bow to Mozart (the Russian composer's idol). It's a challenge for any cellist, but Ma appeared to relish its upper-register demands with his characteristic flair and ease.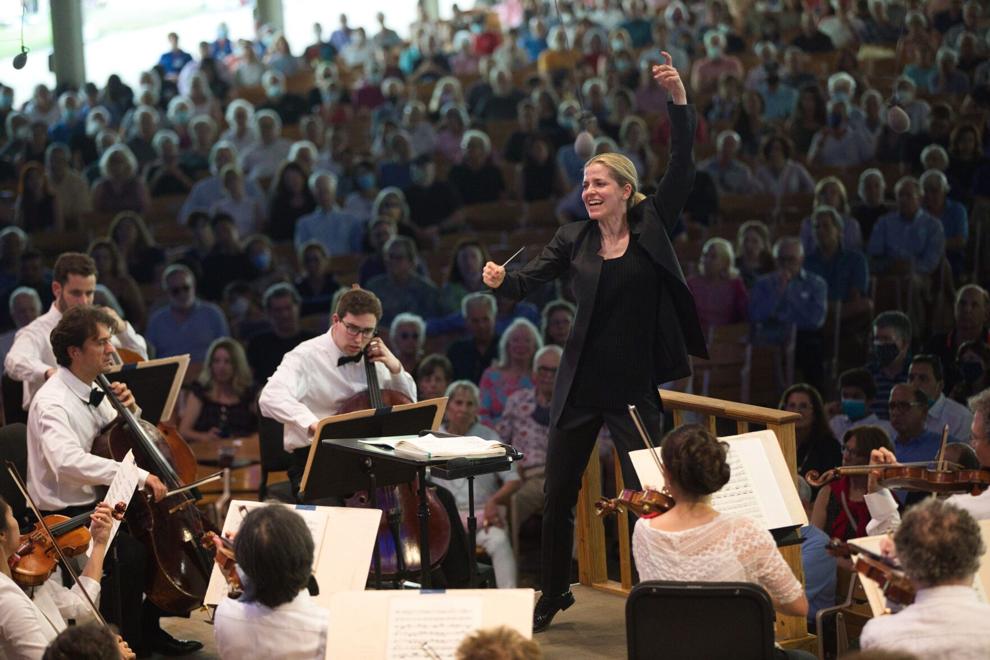 Irrepressible as always, Ma cut off the cheering by grabbing a microphone, saluting Canellakis and several wind players, and then turning solemn, suggesting that "communion starts with silence" and then introducing a remembrance "for those we've lost and those who need our help."
That turned out to be the suitably solemn "Calvary Ostinato" from "Lamentations: A Black Folk Song Suite" for solo cello by Coleridge-Taylor Perkinson, a crossover composer (1932-2004) of genres ranging from jazz and pop to classical. At its conclusion, Ma held the silence in the Shed for close to 30 seconds.
Much has been written about how few and far between are women as music directors of our major orchestras. Canellakis, 40, the impressive American conductor of Greek-Russian heritage who was a conducting fellow at the Tanglewood Music Center (Class of 2014), is a very promising candidate.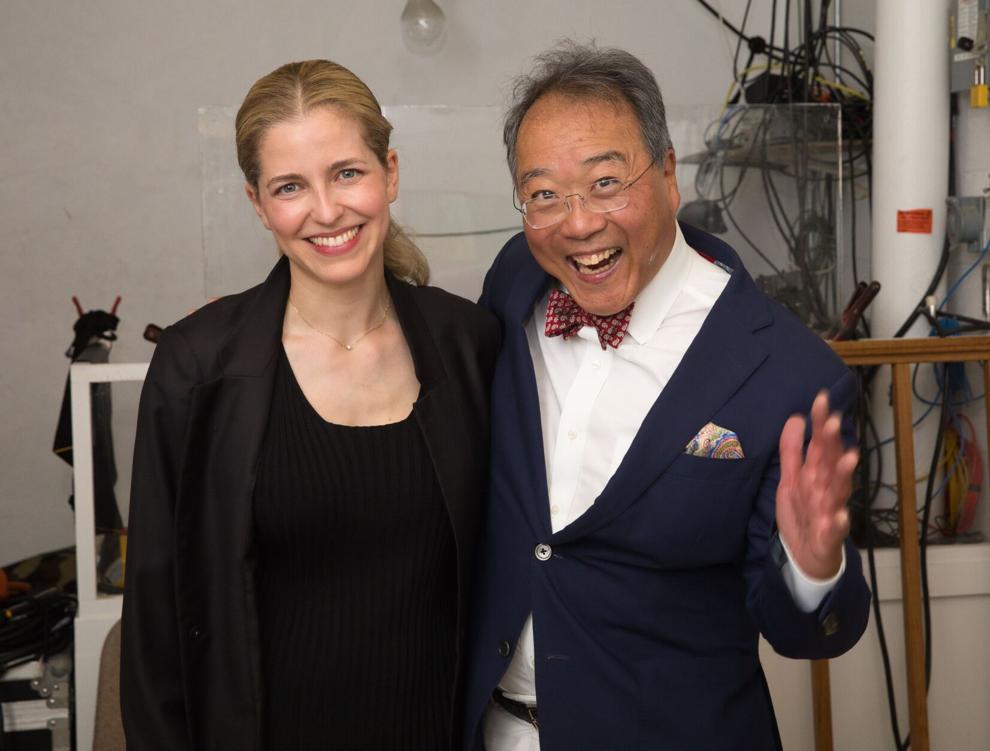 She's also an accomplished violinist who was mentored as a conductor by Simon Rattle at the Berlin Philharmonic's academy and is already on the shortlist for guest appearances at Europe's and America's leading orchestras. Already, she holds two prestigious appointments, as principal guest conductor of the London Philharmonic and chief conductor of the Netherlands Radio Philharmonic.
Highly expressive and animated on the podium, she led the BSO in American composer Missy Mazzoli's Sinfonia (for Orbiting Spheres), commissioned by the Los Angeles Philharmonic and first performed there in 2014.
Mazzoli has written that the 10-minute piece "churns and roils, inching close to the listener only to leap away at breakneck speed," transforming the orchestra "into a makeshift hurdy-gurdy, flung recklessly into space." That it did, with a soundscape that included brass players performing improvisations on the harmonica. It's a dizzying, unsettling piece, well worth hearing again.
Leading Tchaikovsky's Fourth Symphony, Canellakis maximized brilliance and visceral excitement without neglecting the lyrical melancholy of the second movement and the pizzicato-driven playfulness of the scherzo. The finale, based on the Russian folk tune "In the Field Stood a Birch Tree," ended in a nearly off-the-rails blaze of brass and percussion that demonstrated the conductor's considerable mastery and control combined with the BSO's push-to-the-limits virtuosity. A well-deserved ovation followed.
Bell and Blomstedt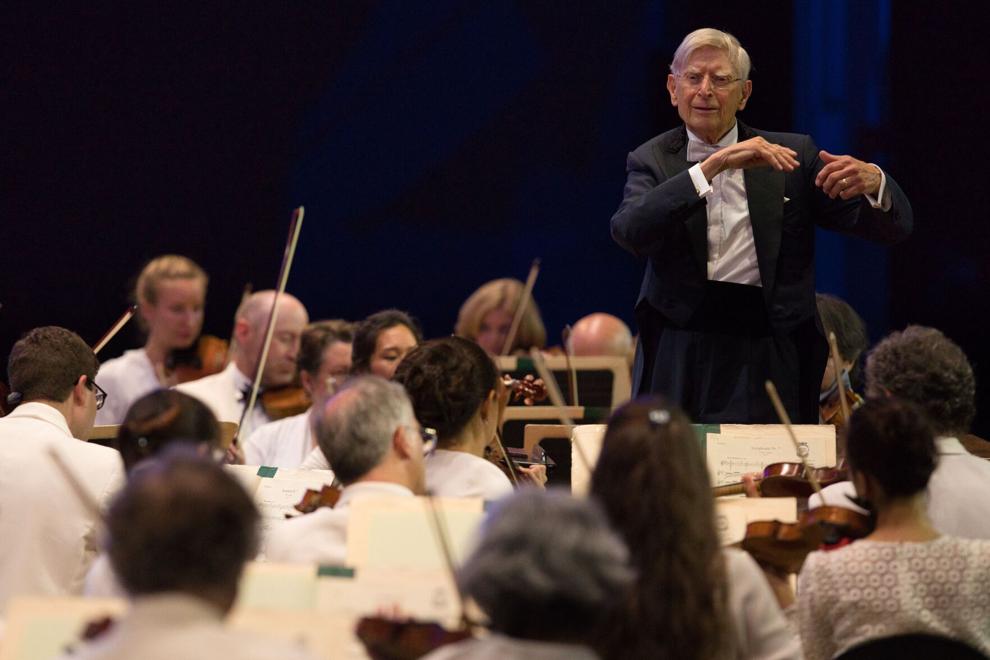 On Saturday, Aug. 7, it was another of this season's all-Beethoven programs celebrating the coronavirus pandemic-delayed 250th anniversary of his birth.
Bell, with eminent conductor (and Springfield native) Herbert Blomstedt, 94, on the podium, quickly displayed his customary technical skills in the Violin Concerto's dramatic call-and-response first movement, while emphasizing the repose of the second movement and the joyousness of the finale's bucolic romp. Performing his own cadenzas, Bell pushed his antique Stradivarius instrument to the max. A still-youthful 53, he has entered his second decade as principal conductor of London's Academy of Saint Martin in the Fields chamber orchestra. His interpretation of the Beethoven concerto, 32 years after his BSO debut at Tanglewood, demonstrated a deepening commitment, maturity and sensitivity.
Wisely avoiding the increasingly customary encore offered by many soloists, Bell, along with Blomstedt, acknowledged the audience's enthusiasm and elbow-bumped, a gesture of mutual appreciation for a memorable collaboration.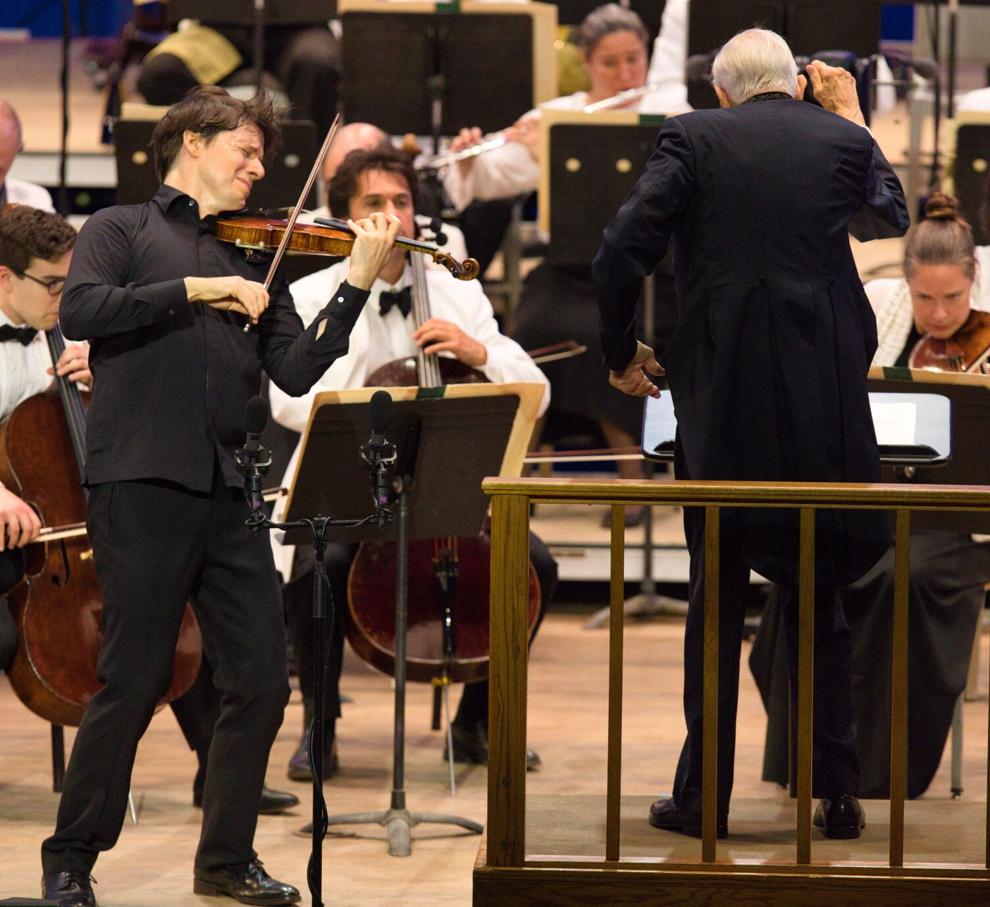 As a 1953 alumnus of the BSO's summer academy for young musicians, then known as the Berkshire Music Center, Blomstedt's spare gestures on the podium belie his ability to inspire the orchestra to a remarkably spontaneous-sounding performance that made Beethoven's Seventh Symphony, a repertoire standard, sound fresh and downright thrilling.
The orchestra responded with some of this summer's best, edge-of-the-seat playing for this "apotheosis of the dance," as Richard Wagner described it, with nary a misstep. Unlike most conductors, Blomstedt included every possible repeat in each movement, a welcome choice on this occasion.
During the whirlwind wildness of the final movement, the performance ascended to the heights of virtuosity that few orchestras could have navigated. Blomstedt generously credited players in the wind, brass and string sections, as well as the extraordinary artistry of timpanist Timothy Genis.
In an interview many years ago, Blomstedt pointed out that "music is not like a painting or a lithograph; it's something that is constantly being re-created, so immensely alive that it makes everybody — listeners or players — so involved. … That is really what makes concerts so exciting."
That well describes week five of the BSO's six-week residency at Tanglewood.