PITTSFIELD — On a brisk Tuesday morning outside Pittsfield High School, a marching band stands poised in the parking lot, ready to disturb the peace.
Students are lined up in formation, warming up with half-note scales in the key of B-flat, the prelude to two classics from the 1980s that will soon ring out across the expanse. Brass and woodwind players dig deep to find extra air in the cold morning. Drummers rap their snares, prepping for the opening beats of Michael Jackson's "Thriller."
For weeks, these students — 22 in all — have been learning how to play their songs sitting down.
Now, it's time to march.
The band has been getting ready to take part in the Northern Berkshire Fall Foliage Festival in North Adams, in a parade that's been going strong for 66 years and counting, celebrating the changing leaves. (In the last 68 years, the parade has only been canceled twice — in 1987 for a snowstorm and in 2020 due to COVID-19 restrictions.)
Pittsfield High is one of four marching bands participating in the parade, along with Drury High School in North Adams, Hoosac Valley High School in Cheshire and Ichabod Crane High School in Valatie, N.Y.
Ashley Paradis, music teacher and band director at PHS, stands at the head of the procession. She's been working with students on the songs — "Thriller" and the theme from "Ghostbusters" – since the school year began. This morning, she wanted her players to pump up some unrestrained elements into the Michael Jackson classic. A section of the song has the percussionists cry out.
"No halfway screaming!" Paradis calls to them. "We're outside! Scare the gym class!"
A group of students on a nearby athletic field they do not appear to be frightened by the theatrics.
Students listen attentively as Paradis, "Miss P," gives them directives. Paradis demonstrates a heel-toe walk, called "roll-stepping," to help keep the students and their instruments stable as they march. She breaks down the concept by explaining that you want to be able to flatten out a tube of toothpaste with your foot as you step.
"We want to be floating like magical marching band people," she says.
And so the band marches, left foot first, from one end of the parking lot to another. The formation is occasionally broken as slow-moving traffic needs the lane to get through. But for the most part, the march is unimpeded.
As they process, someone inside the school opens a third-floor window shouts out encouragement. The marching band makes a loop around the school, then heads back in to get ready for the next class.
By Sunday, the students need to be able to march for a little over a mile, the length of the parade's route, while playing their instruments. They'll likely play "Thriller" and "Ghostbusters", as well as a cadence, about four to five times each.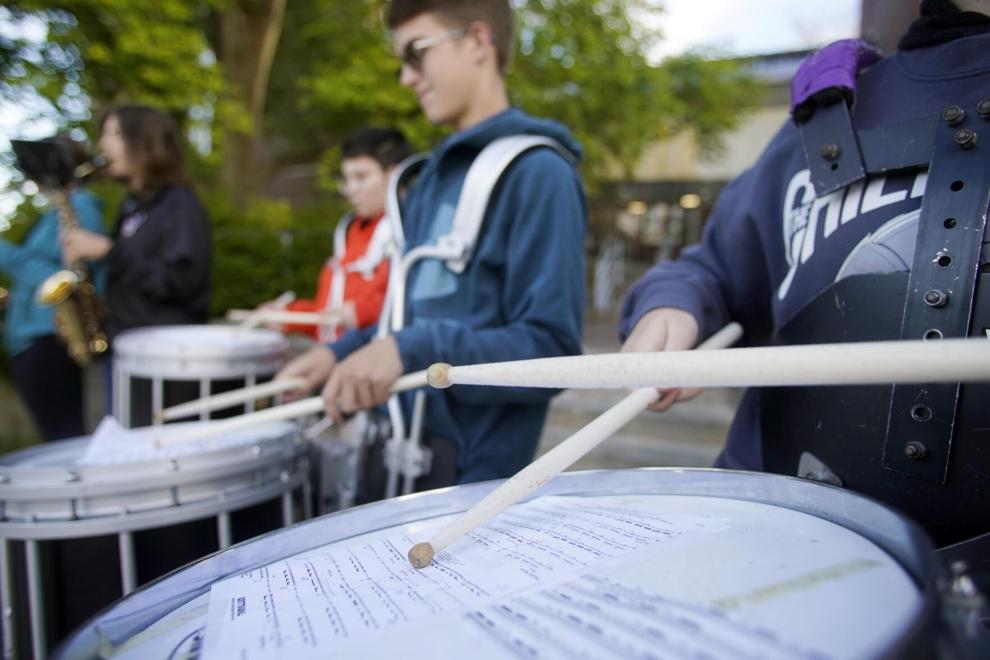 It isn't as easy as it sounds.
"Marching is the hardest for the drums, I think," said Donnie Corbett, one of the band's drummers. "We're used to them being stationary, so it can be tough."
Corbett is one of three snare drummers, along with Nate Crespo and Grace Proskin. The three agreed it is no easy task keeping the drums steady while marching … but it's nothing they can't handle.
"You get kinda zoned in on it," Corbett said.
Some instruments are heavier than others. Kaleb Contini, the marching band's tuba player, said that playing while hauling the extra weight of the band's biggest instrument can lead to sore shoulders.
The elements offer challenges, too. To stay warm, band members will have to wear additional layers under their new uniforms. Contini said the mouthpiece on his instrument got cold quickly once the band made its way outside. Paradis recalls a Veteran's Day parade where frozen valves incapacitated the horn section.
She carries an instrument repair kit for "spontaneous" problems that arise. On Tuesday, that included makeshift repairs to a tuba using a hammer.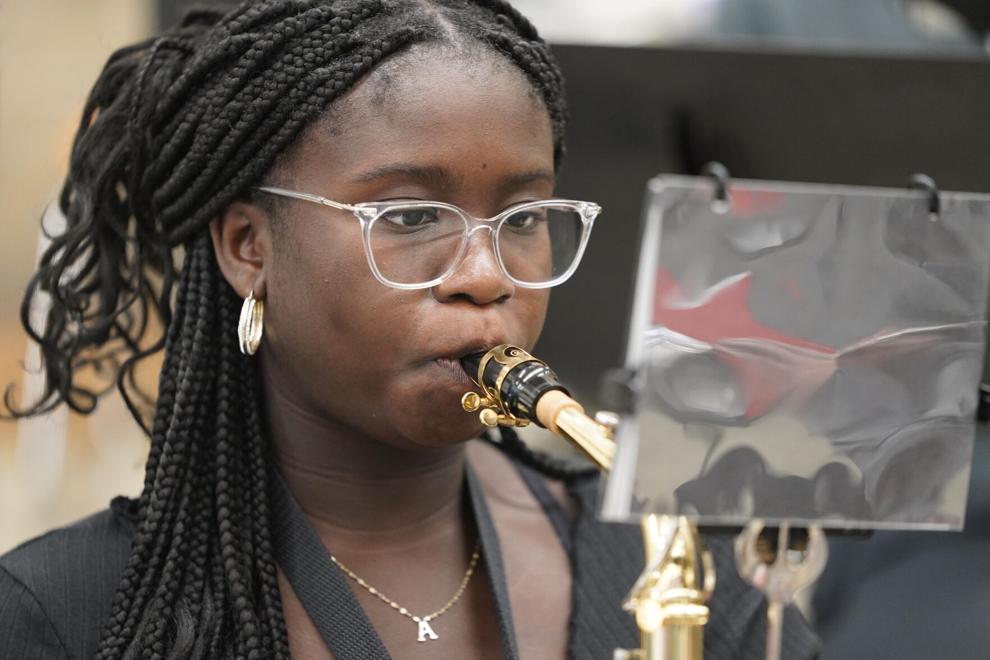 Contini's tuba has been missing a button that had previously been super-glued on. He demonstrates that he can still play it without the button, but it requires an adjustment on his part all the same. Contini has been playing the tuba for about five years now. He started off playing the trumpet when he was in 5th Grade, but made the switch before he entered high school. Now, he's at the front of the marching band providing a backbone bassline for the rest of the band. In some ways, he sees it as a leadership role.
"If someone gets lost, they can find the tempo again with my part," Contini said.
Contini said that he's grown into playing the instrument, and that now as a senior he feels he's ready to take a bigger role with it. That's mostly thanks to continued work with Paradis, he said.
Each section of the band has its own part to play.
Dominick Ott, a flutist for the marching band, is focused on playing the melody for songs in the program. That's what got him interested in the flute in the first place.
Essentially, getting ready for the parade is a step-by-step process, Paradis said. First, it's about learning the music. Then coming playing while marching.
It isn't easy to get everyone ready to march for a mile with their instruments. Paradis finds a way to make it work. "It can be hard, but they're representing PHS," she said. "They're proud of that."
IF YOU GO
What: The 66th Northern Berkshire Fall Foliage Parade
Where: North Adams
When: 1 p.m., parade steps off from the corner of Old State and State streets. Parade ends at the corner of Ashland and Washington streets.
Information: 1berkshire.com/events/fall-foliage-parade