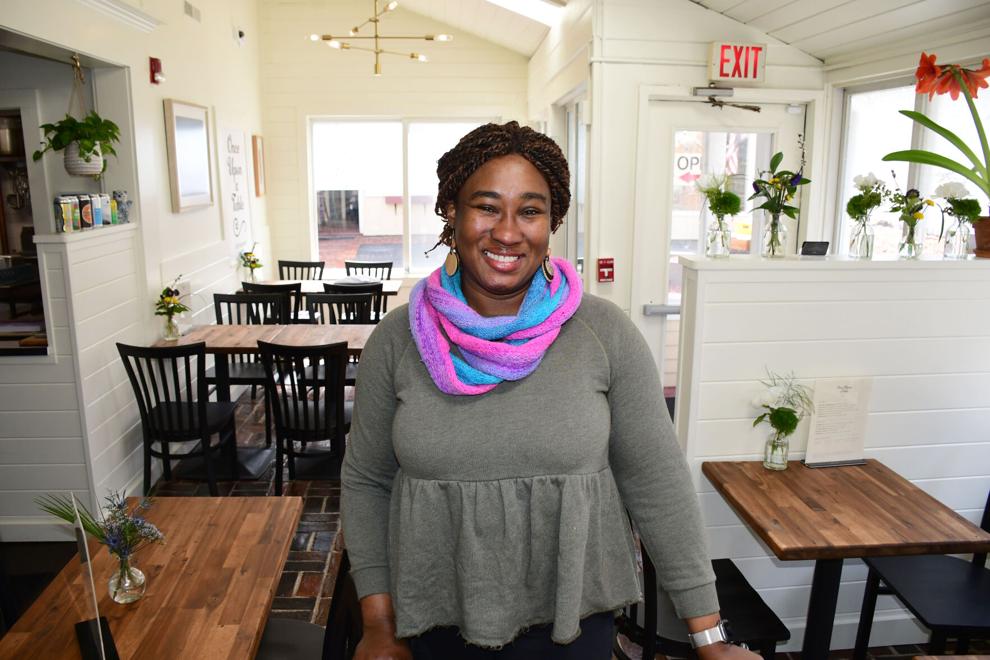 STOCKBRIDGE — For Avie Maloney, it's been a long, complicated journey from her native Grenada in the West Indies to Stockbridge, where she's the town's newest restaurant proprietor.
After eight years as a waitress at Once Upon a Table — down an alley at 36 Main St. in a shopping plaza called The Mews — Maloney has a clear vision for the popular down-home dining spot, which was founded in 1996 and subsequently owned by Alan and Teresa O'Brient for 23 years.
"I want to give people good food for the money they're spending, serving a $30 steak that tastes like $60," she said. "I want everyone to feel welcome here. For patrons, irrespective of possible dietary restrictions, we're going to take care of you."
At the 30-seat restaurant — with 16 more outside in good weather — Maloney has kept on some of the previous staff while adding several friends and former colleagues. By summer, she expects to employ 15, up from the current total of eight.
Aware of burnout pitfalls, she's intent on keeping her colleagues "balanced and happy."
"To me, that is more important than trying to push it and make a ton of money, and then our standards drop," she said. Possible expansion to brunch and lunch service "depends on how we all feel collectively. And since I've lived it and done it all, I'm not just a regular owner, I'm hands-on. So the staff comes first."
Of course, the key ingredient is the chef, Alexandra "Alex" Chisholm, whom Maloney recruited by word-of-mouth — "she's been working with me since Dec. 1, trying to pull this thing together."
Chisholm's parents, Roy and Christy Hammond, owned several area restaurants. "If you asked me when I was 5 what I wanted to be, I would have said chef, I knew," she said.
Chisholm learned the trade at the former Arizona Pizza in Lee, Bennigan's in Lenox, Allium in Great Barrington, Mezze Catering in Williamstown and Cantina 229 in New Marlborough. Then, as the pandemic hit, she took a road trip and settled in Ketchikan, Alaska, before returning to Stockbridge to work with Maloney.
"Sourcing is really important to us, so we try to be intentional in our purchasing, who we're buying from," Chisholm said, describing her cuisine as "New England comfort food."
It's still a learning experience, she acknowledged: "We learn something at every service, we say, 'that didn't work, this is working great,' and we make adjustments. We're keeping it small and simple, to start. Our greatest challenge is space limitations. We want to make sure we do everything perfectly."
Maloney, 43, calls her native Grenada "the isle of spice, where everything's nice." She was her mother Esmay Maloney's only child, but her father Leslie Boney's seventh child.
"I had a normal childhood," she recalled. "My mom worked for the government of Grenada and she was also a local Methodist preacher."
Maloney acknowledged her mother's great expectations — "she was hellbent on my getting a good education, which turned out to be helpful in the long run."
But, she emphasized, "in her wildest dreams, she was not expecting me to become a waitress. That was not her ambition for me at all."
But now?
"My mom will be visiting this summer and she is proud, yet very cautiously optimistic about my very adventurous path of small business ownership," Maloney said.
After teaching school in Grenada, she immigrated to the U.S. 20 years ago, sponsored by her father, who was working for Volvo Cars USA.
Living in Brooklyn, N.Y., she discovered the Berkshires by housesitting for a Volvo executive's second home in West Stockbridge. "I realized, this is better than Brooklyn," Maloney said.
She worked as a server at the Red Lion Inn before moving on to jobs at Blantyre, Kripalu Center for Yoga & Health, and at CET (Center for EcoTechnology) in Pittsfield.
In 2014, Maloney became office manager at the Montessori School of the Berkshires in Lenox, continuing her second job waitressing several days a week at Once Upon a Table while raising her two children, now 21 and 15.
Since the O'Brients were keen on retiring as restaurant owners, they approached several employees about taking it over, but Maloney emerged as the sole proprietor.
"I had to decide that 'OK, I'm going do this,' but still it didn't quite register," she said, realizing in January that she had to leave Montessori to focus on the restaurant.
Explaining she was not eligible for a bank loan, Maloney credited Alan O'Brient for a goodwill arrangement allowing her to pay off the purchase price over eight years. She leases the premises from the Manhattan-based Housatonic Realty LLC.
"It's the best gift anybody has given me, because there was no way I would be able come up with the money," she said. "He wanted to keep it local and to give it to someone with a vision. He's an ally, I can still call him with questions, and I'm grateful because I have big shoes to fill, but I'm going to do my best."
O'Brient, now owner of the nearby 7 Arts gift shop and Williams & Sons country store, told The Eagle he wanted to "keep the culture of the restaurant moving forward" and described Maloney as "the right person at the right time" to take over, having received stellar feedback while on the wait staff.
"She was the one everyone remembered," he commented. "Avie has always had the ability to see the big picture. I knew she had the right background and mindset. But to me, the biggest thing was that she had the motivation to put in the work. She was at the right point in her life, the same age I was when I bought the restaurant. She was young enough to have the energy and old enough to have the right experience."
Maloney reopened the restaurant on March 31 following months of renovations and labor "funded by a few close friends who believed in the project and in my vision."
"I wanted to update while keeping that community feel," Maloney stressed, "so the food remains 'New England flair,' with some special pop-ups like Caribbean Night, Italian Night, Asian Night."
With legal assistance from Cohen Kinne Valicenti & Cook LLP of Pittsfield, she secured the transfer of O'Brient's malt license to serve beer and wine.
Good service is the key, Maloney added, since "patrons come out not just for the food but for social enjoyment and celebrations such as anniversaries, birthdays, a job promotion, of COVID finally receding."
The takeaway since reopening, she discovered, is the importance of teamwork, "front of the house, back of the house, all of us together, and it has been positive."