When Andrew Bowser decided to develop a feature film around his viral YouTube/TikTok character Onyx the Fortuitous, aka Marcus J. Trillbury, aka "weird guy," he knew he wanted to make a "throwback adventure horror comedy" in the vein of "Gremlins" and "Fright Night." He also knew he wanted to set it in New England.
"It always just felt like this movie subgenre is an East Coast movie. I know a lot of the movies that inspired me were just shot out here in Pasadena [Calif.] on the lot at Universal. But, I think the vibe they were going for was often a very New England spooky mansion vibe," said Bowser, director and star of "Onyx the Fortuitous and the Talisman of Souls," during a phone interview with The Eagle.
He'd soon find that location in the Berkshires — at Ventfort Hall Mansion and Gilded Age Museum.
"We made a list early on of all sorts of mansions everywhere, but I told one of my co-producers to focus on the East Coast and Ventfort Hall was, out of a list of probably 30, it was my absolute favorite. It was my top choice," Bowser said. " It just had the exact right look. It's not often, especially with indie films that you get what's in your head on screen. But it really was the mansion that was in my head, even down to the architecture and the spires, the whole Gilded Age look.
"They were one of the first places I called, and they were immediately amenable to the idea of filming. We just had a lot of details to work out and specifics to discuss, but I could tell right away having done this long enough that it was at least an open door to have this conversation. And it ended up being a perfect partnership."
'ONYX THE FORTUITOUS'
The film, shot at Ventfort Hall in April 2022, premiered at Sundance Film Festival as part of its Midnight Program. In an April 26 Variety.com article, it was reported Cinedigm had acquired the North American rights to the horror-comedy film, with a planned theatrical release set for the fall. Locally, you have a chance to catch the film when it screens at the Berkshire International Film Festival on June 2 and 3.
But where did this "weird" character come from?
"Onyx is a character I've done on the internet for about 10 years. He started in a series of viral videos where I would film myself in character and splice that footage into real newscasts," Bowser said. "There was a newscast from the Satanic Temple statue dedication in Detroit. I filmed myself here in Burbank, Calif., and spliced it into the newscast and put it on the internet. People thought Onyx was really there, that he was a real person."
The videos went viral and Bowser kept creating more content of the "weird guy" who eventually became Onyx, who has accumulated over 3 million online views and over 1 million TikTok followers.
"As that was happening, I was also growing, as a director, directing a lot of sketches and music video parodies for Nerdist, which is kind of a geeky nerd news outlet," he said. "And it just got to a point where as a storyteller and a director, I wanted to go to the next level as far as the scope and size of a project. And Onyx because of his success on the internet was really the only way I could do that and partially by crowdfunding."
On Kickstarter, Bowser and crew were able to raise $610,467 from 7,493 backers who wanted to see the quirky character on the big screen. And so, Onyx would soon find himself reprising his role as a fledgling occultist — a combination of Bowser's preferred film genres and the popularity of his "Weird Satanist Guy" video.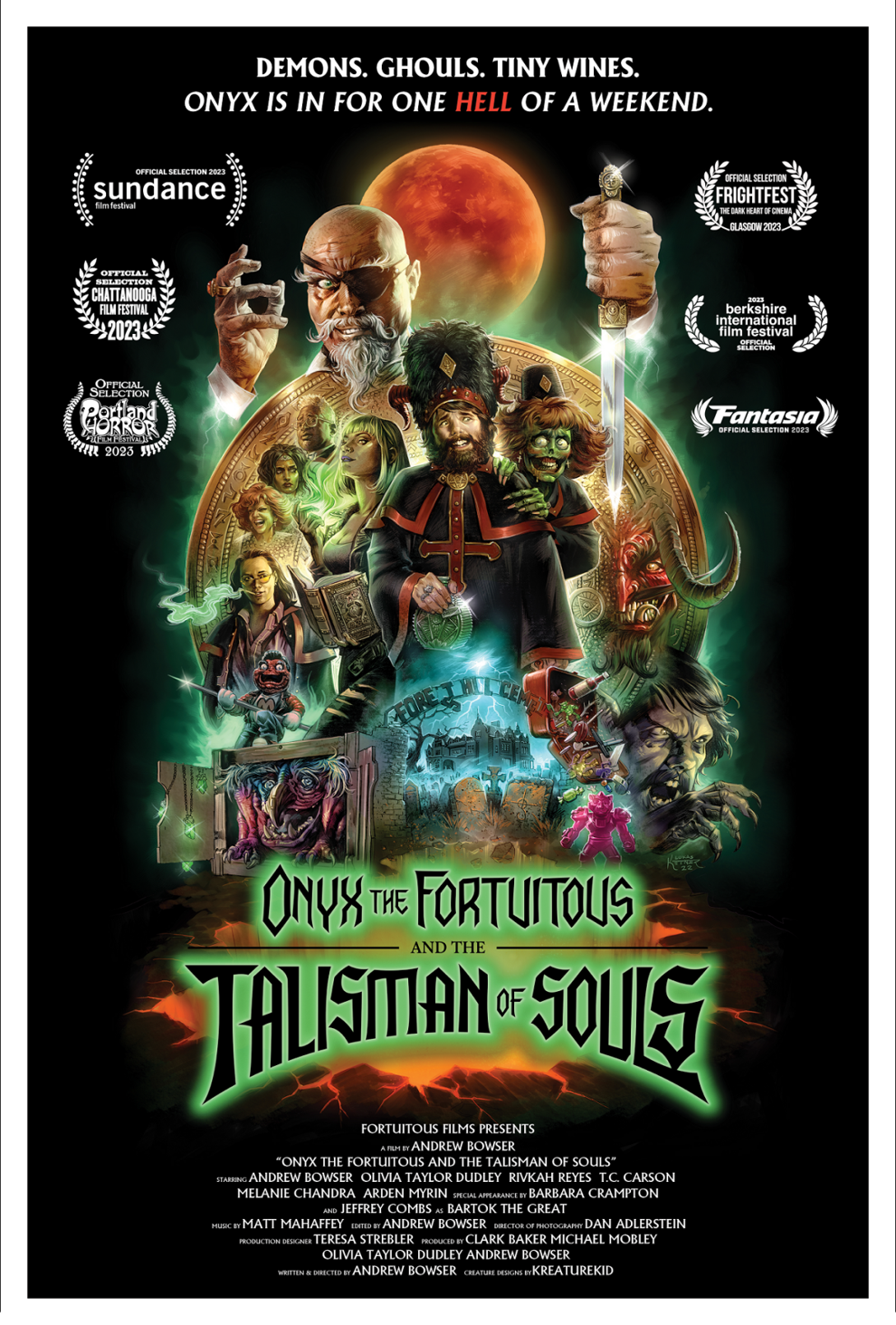 "My interest, as a filmmaker, is horror or comedy, stuff from the '80s that I grew up on like 'Re-Animator' or 'Fright Night.' So, it was just inevitable that if I got to make a film with Onyx that would be the subgenre that he was placed in," Bowser said. "Because of one of the viral videos that basically said, my character was a practicing Satanist that that was my inroad for the plot of this film: If Onyx is a fledgling occultist, what would be the big adventure that he would go on?
"And so I thought of a twist on Willie Wonka, where maybe a few of these devotees of this cult leader are invited to a mansion, to Bartok's mansion, the home of their idol. They're told that they're going to participate in a once-in-a-lifetime ritual, where they're going to get communicate with the spirit of ancient demons, but of course, it being a dark mansion movie, the twist is that their idol has much more nefarious plans in store for them. So, Onyx and the rest of the Satanists have to band together to survive the weekend."
Bowser and co-producers Clark Baker, Michael Mobley and Olivia Taylor Dudley would soon line up a cast that includes Taylor Dudley ("Paranormal Activity: The Ghost Dimension"), Ralph Ineson, Rivkah Reyes, TC Carson, Arden Myrin and Melanie Chandra and '80s horror royalty Jeffrey Combs ("Re-Animator," "Fright Night") and Barbara Crampton ("Re-Animator," "Chopping Mall," "From Beyond.")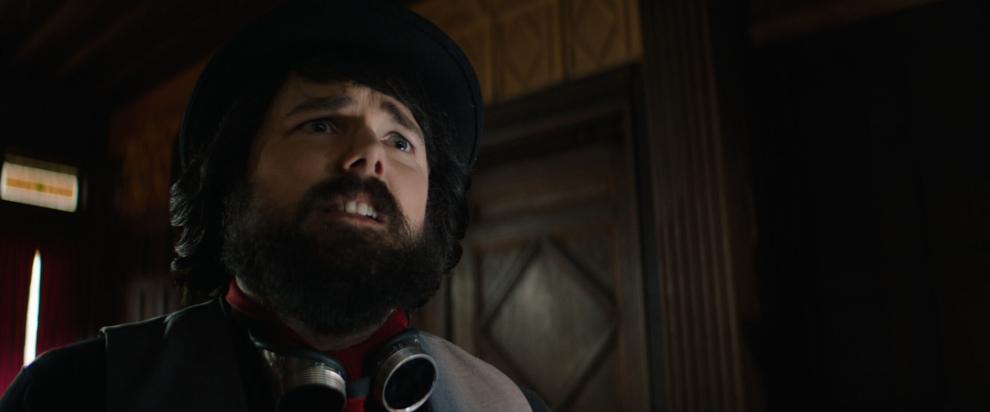 FILMING IN THE BERKSHIRES
With a cast in place, Bowser headed to the Berkshires to see if Ventfort Hall was as great a location as he thought it would be.
"I visited it there, scouted the location and walked through my script. Everything we needed was there," he said.
"Everything" would soon include help from the Berkshire community of filmmakers and theatrical people, who were brought to the project through co-producers Elizabeth Aspenlieder and Deborah Sims.
"When films come in from out of town, whether Los Angeles or New York City, it's always so great to showcase the extraordinary talent we have right here in The Berkshires and surrounding areas," Aspenlieder said in an email interview. "For 'Onyx,' out of the 40 crew and production team members, 22 were local hires — which is not only incredible for the production and its budget, but also for the local economy.
"As a co-producer, I was booking and coordinating all the accommodations, catering, and vehicles — we used local inns and hotels, and countless local vendors, restaurants and businesses to support the shoot. 'Onyx' is one of seven feature films that I've worked on since 2019 in the Berkshires."
Bowser said that without Aspenlieder and Sims, the film wouldn't have happened.
"Initially, I thought, we need the location. We need Ventfort. I didn't know where resources were going to come from — craftspeople, technicians in the area — and it turned out, we needed so many more people and they almost all came from the Berkshires. We had so much support," he said.
"We had space at Shakespeare & Company for people to stay and for our creature designers to work. Looking back, it was very fortuitous that we landed at Ventfort because the film was then kind of built out based on resources in the Berkshires and it really couldn't have been done any other way."
IF YOU GO
'Onyx the Fortuitous and the Talisman of Souls'
What: Onyx joins a group of fellow occultists to attend a dark ritual at the mansion of their idol, Bartok. Suspecting Bartok's nefarious intentions, Onyx is suddenly immersed in a world of monsters, mystery and mayhem.
When: 7:15 p.m. June 2 at Triplex Cinema, 70 Railroad St., Great Barrington
When: 4 p.m. June 3 at Tanglewood Linde Center, 3A W Hawthorne Road, Lenox
Tickets: $15
Information and reservations: 413-528-8030, biffma.org