PITTSFIELD — Stefanie Weber can't seem to find space in Pittsfield where she can tap dance, much less teach others. She is, however, having some luck in Nairobi, Kenya.
Weber, a native of Pittsfield, says she found her soul tap dancing in 1997 while at Indiana University. Upon returning to the Berkshires, she received a scholarship to train at Jacob's Pillow. She has performed and taught lessons around the county ever since, but lately has struggled to find a place suitable for her craft.
Sometimes the floors aren't right — most dance studios have replaced their wood floors with marley, a vinyl-like material that is perfect for point-dancing, but terrible for tap. Sometimes the problem is beneath the floor, either in the form of concrete — Weber says it's hard on your joints — or neighbors who don't appreciate the noise.
Weber also feels distant from local dance studios.
"Each organization is kind of its own world. You can't really go there as an individual teaching artist and do a class unless you want to rent the space and market it yourself, which I've done," she said. "I've done it a million times. It's exhausting. And, if you're actually trying to make a living, it's just not going to happen. At least, not around here."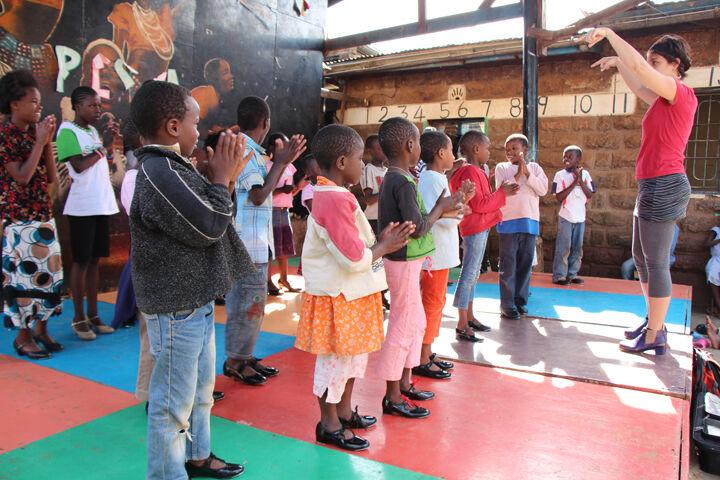 With few opportunities to teach locally, Weber has been able to focus more on contributing to the growing tap dance community in Nairobi. Through her organization, They Dance For Rain, she provides lessons and materials to children and adults seeking to learn this American dance style.
Weber's dancing ventures in Africa started in 2012 when she flew to Nairobi to visit a friend. Unsure of what she'd do while her friend was at work, she brought a bag of tap shoes with her.
"That's who I am, and that's what I do," she said. News of Weber and her shoes spread through the community until a local musician, Eric Wainaina, approached her about teaching people how to tap, especially in the "informal settlements" surrounding Nairobi.
"And that was pretty much it," said Weber, recalling the whirlwind success. Her phone started ringing constantly with interested people connected to Wainaina. "I didn't even really know what I was doing. Whoever wanted to get into my bag of tap shoes, I said, 'OK.' I started meeting all different choreographers and dance artists and dancers and dreamers."
After that visit, Weber decided to come back with the intention of expanding and formalizing the impromptu project. Her friend Monika Pizzichemi, a photographer and videographer, joined in to help document and spread the word of Weber's work.
"She was putting her camera on the floor, setting the timer and taking video and pictures that way," said Pizzichemi. "I thought, 'If this is really something that you want to grow, you need to have good images of what you're doing so that you can have more outreach, do some fundraising and get more help.'"
Three years into the project, Weber and Pizzichemi met Stacey Achieng, a full-time dancer who teaches adults, teens and children as young as 2 years old. Achieng started dancing eight years ago, at the age of 21, which she was told is "quite late" in life for a dancer. Next year, she will be dancing with Tapatapa — another group Weber is partnered with — at the Kenya National Theatre for the Dance Life Festival. Achieng picked up tap dancing so quickly thanks to the similar rhythms and techniques found in traditional Luo, Kikuyu and Kamba dances.
TAPPING INTO HISTORY
When people think of tap dancing, odds are they picture something along the lines of Fred Astaire performing "Puttin' on the Ritz" in 1946. This style of tap dancing is a product of its time. Tailored to fit the silver screen, it is very flashy and well choreographed to emphasize the skill of the dancers. This style — what Weber informally refers to as "Hollywood tap" — is not all that tap can be, nor all that it has been in the past.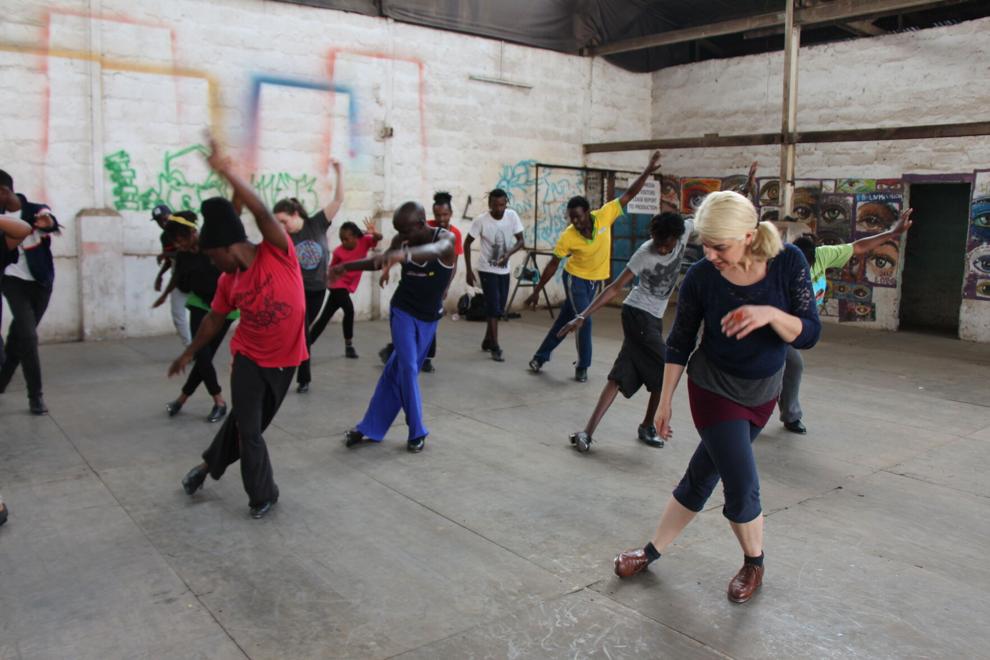 Tap's roots stretch far past the 20th century. According to University of Michigan's University Musical Society, "Tap gained popularity after the Civil War as a part of traveling minstrel shows, where white and black performers wore blackface and belittled black people by portraying them as lazy, dumb,and comical."
Going back further, tap dancers can trace their cultural lineage to two rapidly growing demographics in 19th-century America — Irish immigrants and enslaved Africans.
"Tap dancing, the roots that come from [Africa], is basically what we used to do. You would make rhythms with your feet," said Achieng. "So when slavery happened and we got to the European side, that's when it merged with the Irish and Scottish stepdances. What they saw was that they had similar music-making with their feet, but one was with bare feet and on Earth and the other was with shoes on a platform or board."
"On the African side of it, we're basically just bodies low, like really low on the ground," Achieng explained, springing from her seat to demonstrate. "Most of our dances are like this, bending the knees and shoulders down. We're making ourselves as round and small as possible. Whereas with the Irish stepdance they're really tall and straight, not moving the upper body as much."
Achieng sees elements of American tap dancing reminiscent of Kikuyu, Luo and Kamba traditional dances preparing for harvest or war. She also mentioned the South African Gumboot Dance, used by indigenous miners to communicate when talking was prohibited by colonial overseers.
TAPPING INTO THE COMMUNITY
As Weber expands her projects in Nairobi, she is looking for ways to make it self-sustaining. She hopes to return to Kenya early next year, depending on her fundraising.
"When we go back, it's not going to be the same," said Weber. "It's going to be more of developing floors, developing new taps, developing shoes and teaching the teachers to teach. Then they take it out to their communities, which is way better."
Weber is insistent on using local artisans and local materials going forward. Through Achieng, she has made connections with metalworkers in Nairobi who would be interested in making the metal taps on the shoes. She's also looking for alternative materials for shoes and floors, due to the high cost of leather and hardwood.
Establishing a self-sustaining model in Nairobi is important for Weber because she doesn't want the project to be about her. She has no desire to be seen as a "white savior" doing acts of service in a "missionary way," as she puts it. At the same time, she does not want to be lauded by people who say things like, "that's so incredible, I could never do what you do."
"I'm just an artist, who's sharing what I know how to do with people who want to do it, and don't have access to it," said Weber. "That's it."
More information on Weber's work, including performances and other service projects, can be found at her website fertileuniverse.com.