GREAT BARRINGTON — There are two productions of "Don Giovanni" onstage at the Berkshire Opera Festival this year, stepping off simultaneously and on the very same stage.
One is the opera of Wolfgang Amadeus Mozart and librettist Lorenzo da Ponte: titanic, classic and, here, well-sung and largely well-acted.
The other is the production director Jonathon Loy envisions, a reimagined "Giovanni" for a new age. This one lives in the veneers and shadows, dancers doubling principals and props rethought into new, contemporary forms. We see only glimpses of it, intelligently sketched but, on the whole, unrealized. Only on three occasions do these parallel productions meet.
Twice, we are there with Loy's vision — in the famous Champagne aria and in the title character's mandolin serenade to an unseen maid — we can see where Loy wants to go, and it's enthralling. Once, in the showstopping finale that drags Giovanni to hell, it is overdone, and leaves one wondering whether the vision should not have itself been reimagined.
"Don Giovanni" already is an opera of duality: rich and poor, male and female, powerful and subservient — often respectively. Sometimes, characters are tantalized by the prospect of crossing these barriers.
In the opening aria, Christian Zaremba's clever, lively Leporello, the put-upon manservant, dreams of attaining his master's station. Later, peasant bride Zerlina (a feline, buoyant Natalia Santaliz) is told by the domineering don that, through him, she "can change [her] fate." Indeed, characters trade places by way of a mask, a hat or, in Zerlina's case, by stepping into Giovanni's clothes and taking on swashbuckling, leering masculinity in a scene Santaliz nails.
But with much mutability comes much more fate, immovable as if made from the same marble that decorates the angular, light-accented, Stephen Dobay-designed set.
We encounter the lecherous Giovanni (André Courville, an insightful actor and powerful, able singer) as he attempts to rape Donna Anna, killing her father, Il Commendatore, before fleeing. Anna and her betrothed, Don Ottavio, swear vengeance, a goal shared (among others) by Donna Elvira, Giovanni's betrayed lover. Along the way, Giovanni sets his eyes on Zerlina, eventually drawing her wrath and that of her fiance, Masetto (Brian James Myer).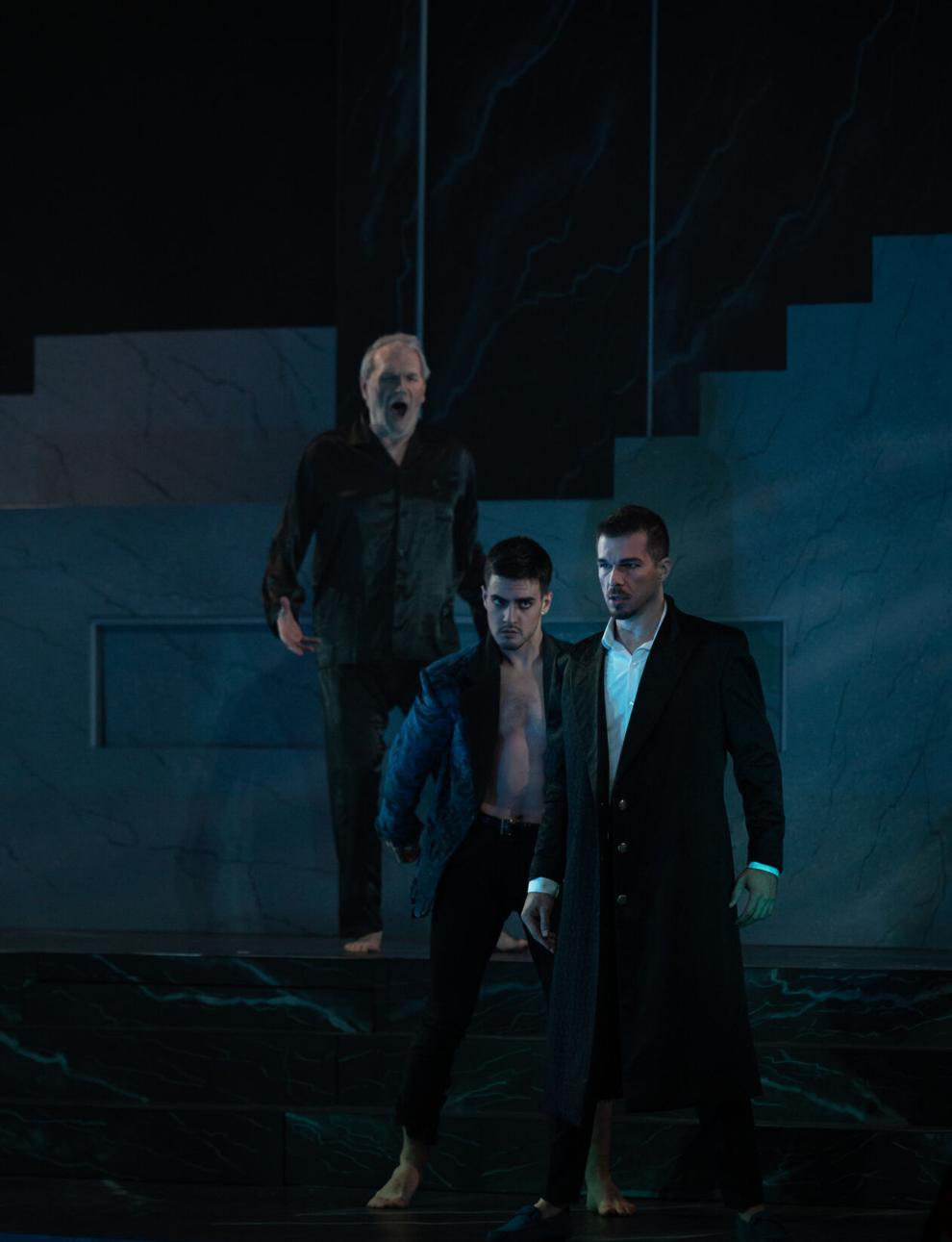 After all is revealed at a debaucherous feast, Giovanni and Leporello switch places to evade their pursuers, with mixed results. Once seemingly scot-free, Giovanni taunts a statue of Il Commendatore, who arrives as a specter of death to deliver the entirely unrepentant Giovanni to his eternal punishment.
Megan Moore's Elvira was revelatory, especially in a quietly devastating scene where she apparently contemplates suicide yet resolves to steel herself for whatever lies ahead. Moore has a preternatural ability to distill and convey the myriad conflicting drives within her character, the only one who truly did love Giovanni, even if she knew better.
Ottavio was a golden-voiced, dynamic Joshua Blue who, in key moments, managed flashes of strong characterization. He was betrayed by a ridiculous costume of vest and high-waisted trousers out of "Thoroughly Modern Millie," but when sang, when he defined his love for Anna in soft, stinging poetry, we believed his every word.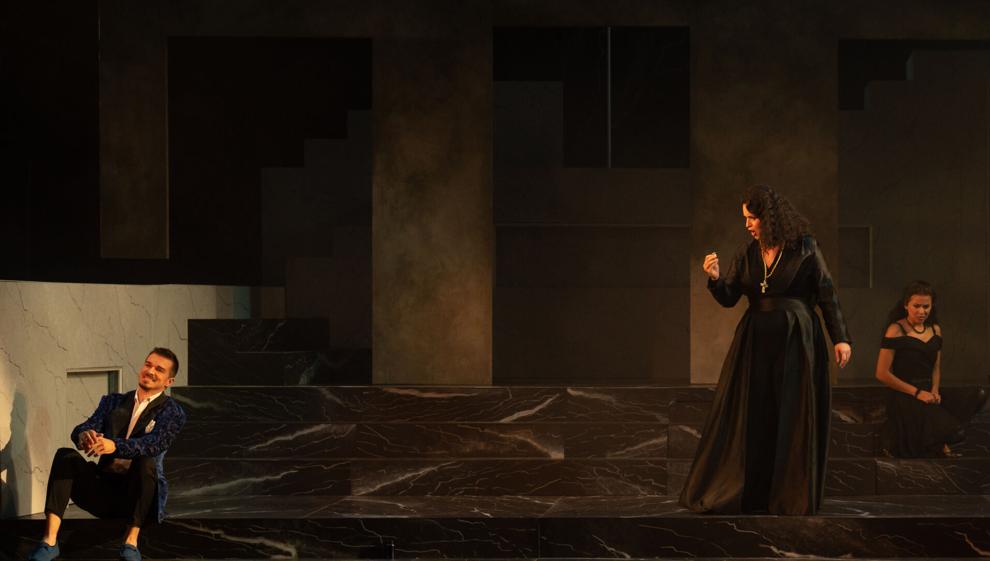 Anna (Laura Wilde) was less believable — save one scene where she brings full force to Anna's harrowing account of her assault, the performance was broadly soulless. Too often, Wilde and Blue, and others, were placed in corners or at awkward distances on the multi-tiered set, crisscrossed by trapdoors. Solos highlighted Wilde's soprano, but she got lost in group numbers and often seemed unsure of what to do with her hands. Drawn against superb physical comedy from Zaremba and a buzzing Courville, this showed.
The production's forefront physicality was buttressed by the addition of a dancer representing Giovanni's id (Edoardo Torresin).
Intriguingly, Torresin's best scenes were also those where the lighting, by Alex Jainchill, was best — otherwise, it was simply too dark. During the Champagne aria, as red light bathes the stage, we can almost see the desires that dominate Giovanni flashing before his manic eyes. The dance concept comes into its own in strained, ecstatic motion.
We see what could be if Torresin was a less intermittent foil to Courville. Elsewhere, when Courville and Zaremba jell perfectly as the foils Mozart actually intended — their melodies bouncing off each other's colorful, multi-faceted voices — the third character distracts and undermines. Another dancer (Katie Harding) making explicit Giovanni's appetites, was frankly gratuitous.
Also a mixed bag was the replacement of fine food and wine with hard drugs. In the first act finale, the addled chorus swirls into a terrifying, beautiful danse macabre that one hopes will foreshadow the demonic maelstrom Mozart calls for in Act II (it doesn't, unfortunately). Elsewhere, the candy-colored canisters on platters piled high with oft-scarfed pills seem silly and unbecoming the seriousness of rock-bottom addiction.
When the intense, deeply satisfying finale does come, it is not a chorus of devils that joins John Cheek's bombastic, terrifying Commendatore (made up too far beyond Bela Lugosi), but one demon, a larger-than-life puppet Death that shadows Cheek as Torresin shadows Courville. Without that hellion retinue, though, the reaper seems out of place, doubling down unnecessarily on Cheek's and Courville's far truer allegory.
Loy and creative partner Brian Garman, a virtuosic conductor, strive to reinvent "Giovanni" for 2022 — they've said as much in this newspaper. Their task might be impossible, though, perhaps one for an entirely new opera from the young talent this groundbreaking festival has and hopes to more greatly encourage.
From the overture's start — an arresting pair of notes then tempestuous scales that will return later as Giovanni is condemned — we hear for ourselves that his fate, "the rake punished," is sealed.
Giovanni the man, it is clear, lacks the capacity for change others have. "Giovanni" the opera, it becomes clear, may also — by virtue of Mozart's compositional skill, Da Ponte's misogynist and frequently comic libretto, and the full weight of 235 years of audiences — be as unalterable as Il Commendatore's cold, stone hand.
Yet despite a production somewhat cloven and not entirely successful as either a faithful "Giovanni" or a reinvention, BOF has undeniably illuminated a new path — and how wonderful it is to have a company in our region willing to take that monumental first step.
OPERA REVIEW
What: "Don Giovanni" by Wolfgang Amadeus Mozart, libretto by Lorenzo Da Ponte, based on the libretto by Giovanni Bertali, directed by Jonathon Loy
With: André Courville, Christian Zaremba, John Cheek, Laura Wilde, Joshua Blue, Megan Moore, Natalia Santaliz and Brian James Myer
Who: Berkshire Opera Festival
Where: Mahaiwe Performing Arts Center, 14 Castle St., Great Barrington
Performances: 7:30 p.m. Tuesday, Aug. 23, and Friday, Aug. 26
Running time: 3 hours, 10 minutes, with one intermission
Content warning: The opera deals with sexual harassment and assault, gun violence, drug and alcohol abuse, and suicidal thoughts.
Tickets: $20-$120
Reservations: 413-528-0100, mahaiwe.org
Information: berkshireoperafestival.org
COVID protocols: Proof of vaccination is required. Masks must be worn at all times inside the building