LENOX — It all went by in the proverbial blink of an eye.
As the "curtain" fell on the Boston Symphony Orchestra's abbreviated six-week residency at Tanglewood on Sunday afternoon, a near-capacity audience erupted into prolonged cheers after esteemed guest conductor Herbert Blomstedt, 94, completed a traditional all-Brahms program.
No question, on the concert's merits, the ovation for the still-spry maestro and the indefatigable musicians — performing another intermission-free program — was well-deserved.
Clearly, the crowd was offering profound gratitude that the BSO and its Boston Pops presented an ambitious, though compressed, season against all odds and with a resurgent variant-mutation pandemic threatening now-forlorn hopes of a gradual return to a semblance of normalcy. (Great thanks must go to former BSO President-CEO Mark Volpe, Director of Tanglewood and BSO Artistic Administrator Tony Fogg, the management team and the trustees for their efforts, and for a red-carpet welcome to the recently arrived new President-CEO, Gail Samuel.)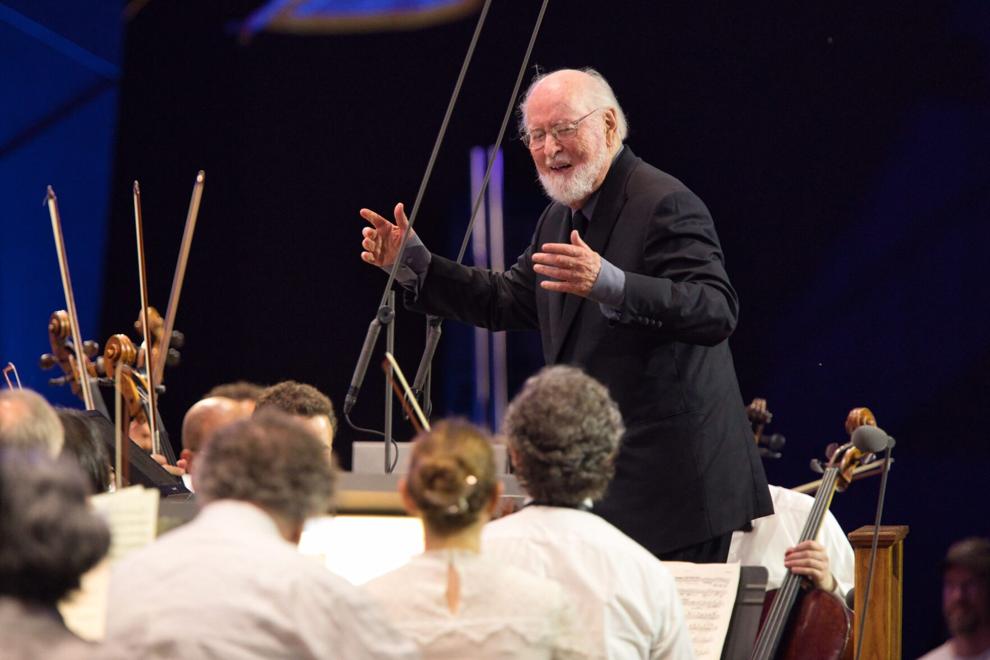 The weekend's three concerts encapsulated the season's range of diverse programming designed to maximize attendance and restore some urgently-needed "earned income" for the BSO. The something-for-everyone approach included the world's best-known living composer, John Williams, sharing the podium with Boston Pops Conductor Keith Lockhart (in his 26th season) for Film Night.
Now a 20-year tradition, especially prized by Berkshire residents, its roots go back to Williams' 14-season tenure as Pops conductor (1980-1993) when formerly-neglected music for the screen — not only his own — became a repertoire staple for orchestras worldwide.
Friday night's program led off with Lockhart's kaleidoscopic sampling of Hollywood's treasured cinematic soundtracks, enhanced by the remarkable, quick-cut film montages assembled by veteran public TV producer and BSO/Pops documentarian Susan Dangel and her colleague, Hollywood editor-director Dick Bartlett.
The highlight was a tribute to Audrey Hepburn, the beloved actress and humanitarian whose 27 films from 1948 to 1989 included many Golden Age gems ("Sabrina," "Roman Holiday," "Breakfast at Tiffany's," "My Fair Lady," just to name several personal favorites) represented in this five-minute retrospective. Williams's lush, charmingly romantic theme for the 1995 "Sabrina" remake included a standout solo by Pops Concertmaster (and BSO Associate Concertmaster) Alexander Velinzon.
Greatly enhanced by well-chosen film clips were Maurice Jarre's Suite from "Lawrence of Arabia," Nino Rota's Suite from "The Godfather," the 1951 "American in Paris" with music and dance based on Gershwin's orchestral masterpiece and, arguably one of Hollywood's most iconic soundtracks, Max Steiner's "Casablanca" score, all led by Lockhart in the aural equivalent of CinemaScope and VistaVision. Talk about a trip down Memory Boulevard!
Commemorating the recent Tokyo Games, Williams conducted his Olympic Fanfare and Theme, with a screening of historic highlights. Acknowledging that most of the audience had not seen Steven Spielberg's 2016 "The BFG" (Big Friendly Giant), Williams offered a sampling of his balletic, phantasmagorical score that made me keen to see the film considered a rare box-office disappointment for the iconic director.
"Raiders of the Lost Ark" was represented by Marion's Theme, the Scherzo for Motorcycle and Orchestra (from "Indiana Jones and the Last Crusade") and, as a "Star Wars" encore, the Imperial March from "The Empire Strikes Back."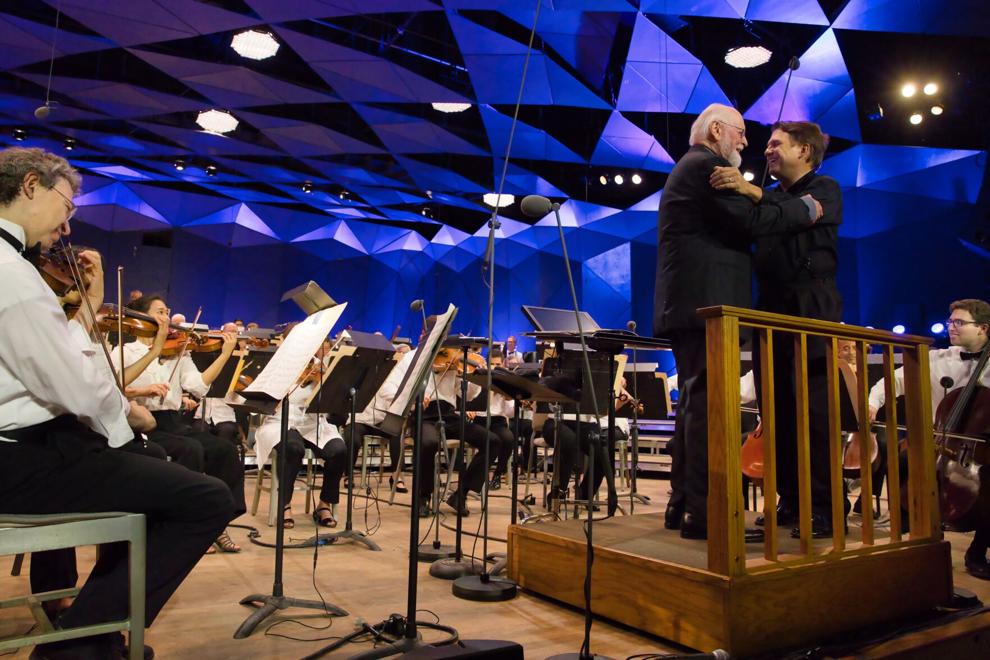 Finally, amid ongoing cheers, Williams returned for a poignant moment, starting to lead the Flying Theme from "E.T." and handing off to Lockhart in a symbolic gesture recalling their transfer of Boston Pops leadership in 1995. Of course, considering his vigor and love of sharing his music with the public, we can hope and even count on a return by the ever-modest Williams, Tanglewood's Artist-in-Residence.
A Tanglewood debut — finally
Saturday night's BSO concert offered the greatly anticipated, pandemic- delayed Tanglewood debut of Assistant Conductor Anna Rakitina, 32, whose initial two-year term has been extended through the 2022-23 season. A charismatic figure on the podium, she displayed the ability to navigate smoothly through the intricacies of Moscow-born composer Elena Langer's orchestral suite from her 2016 opera, "Figaro Gets a Divorce."
With a story very loosely derived from Rossini's "Barber of Seville" and Mozart's "The Marriage of Figaro," Langer's score places the accordion, rarely seen in symphonic music, front and center, augmented by bongos, maracas, flutes, piccolo and celeste. Langer, who was present to acknowledge an enthusiastic reception by the audience, was a composition student at the Tanglewood Music Center in 2009. Her exotic soundscape reflects her description of the music as reminiscent of "cicadas, insects and birds in the warm night-time garden."
Rakitina, joined by frequent guest artist Jean-Yves Thibaudet, led a suitably raucous rendition of Ravel's jazz-inflected, Gershwin-inspired Piano Concerto in G (with undertones of "Rhapsody in Blue"). Thibaudet owns this music, and his outer-movement keyboard pyrotechnics were a sound to behold, as was the repose of his delicately dreamlike, romantic adagio.
In a bold-stroke performance of Elgar's brilliant "Enigma Variations," Rakitina demonstrated her mettle as a fast-rising conductor. Her noble interpretation of the ubiquitous Variation No. 9, ("Nimrod"), Britain's anthem for high-emotion occasions, was breathtaking as it soared to majestic heights.
During Sunday's season closer, the Brahms Violin Concerto was performed to near-perfection by the estimable Leonidas Kavakos, with Blomstedt leading an exceptionally delicate oboe-and-violin duet in the slow movement followed by an especially vivacious finale. The Symphony No. 4, the composer's supreme orchestral achievement, offered no interpretive surprises, but none was needed as the orchestra delivered all that Blomstedt asked for, and then some.
The BSO's Tanglewood season "saved our souls for the year," one veteran concertgoer was heard to remark. Well-stated, for sure.