LENOX — John Williams' Violin Concerto No. 2 emerged out of shadows and mists and ended 34 minutes later in quiet and reflection. In between — in its world premiere Saturday, July 24, at Tanglewood, with Anne-Sophie Mutter as soloist — it went through permutations ranging from near-violence to gentle lyricism, often in duet with a harp.
"I can only think of this piece as being about Anne-Sophie Mutter, and the violin itself — an instrument that is the unsurpassed product of the luthier's art," the much-honored film and classical composer writes in a program note. The ending, he says, "might suggest both healing and renewal."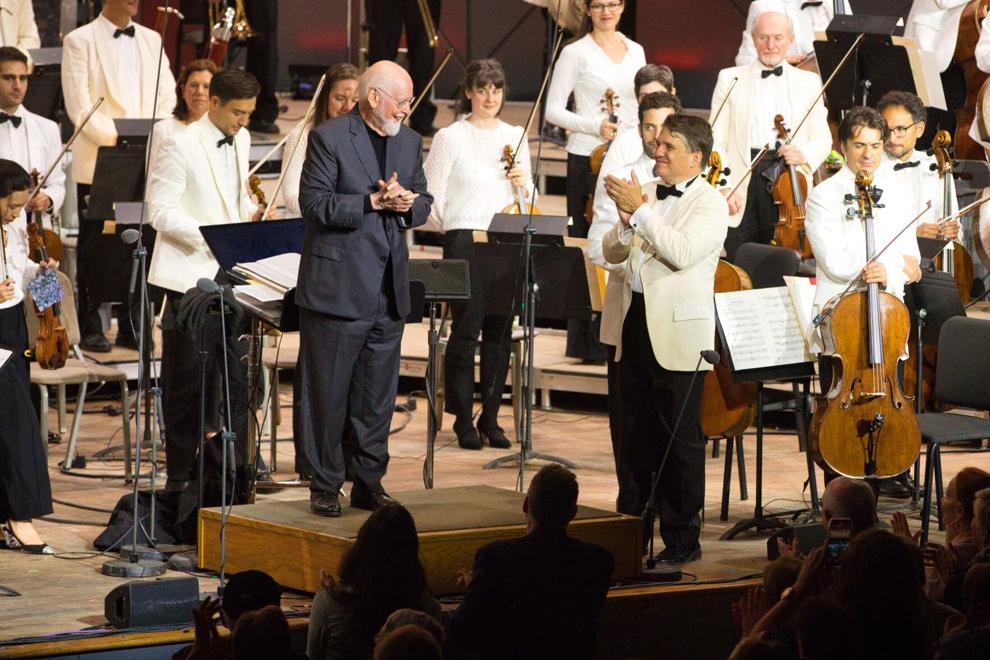 Williams conducted the Boston Symphony Orchestra in the ambitious, disturbingly complex work. It is a measure of the sympathy between the two artists — Mutter has performed and recorded much of Williams' music with him — that she played the new work, with all its difficulties, from memory. Both the solo and orchestral parts emerged with sharp-edged clarity.
Williams, 89, with his numerous film scores and Oscars, has been a BSO and Tanglewood eminence ever since his appointment as Pops conductor in 1980. Pops conductor laureate since 1993, he speaks of Tanglewood as a "spiritual" home for composition and relaxation away from the hustle of Hollywood.
Tanglewood is repaying the honor with three Williams concerts during this pandemic-shortened season. On Friday night, Keith Lockhart conducted the Pops in an all-Williams program. On Aug. 13, Williams joins with Lockhart in "John Williams' Film Night," always a popular highlight of the season.
Virtuosity rules
But, why speak of the new violin concerto as "disturbing"? Shouldn't new music be disturbing to old expectations?
Well, because over a span of four movements ("Prologue," "Rounds," "Dactyls" and "Epilogue") the piece never quite seems to settle down.
In his notes, Williams pays tribute to Mutter's "aggressive virtuosity" and "infectious rhythmic swagger." It's that spirit that hovers over the composition. Incident is piled on incident — crunching dissonances, rhapsodic flights, percussion outbursts, jarring rhythmic changes, soaring, cadenzalike improvisations — without apparent connection.
It's all skillfully done, of course, and the BSO responded to Williams' command and Mutter's dedication like devotees.
Maybe a rehearing will make things clearer, but the first time out, a listener could only admire the intricate writing and hand-in-glove playing without being drawn in. Other classical pieces by Williams, such as the cello concerto he wrote for Yo-Yo Ma, have modernist rigor but offer the listener an entry, if only a memorable melody.
As an encore, Williams led "The Crossed Stars" from one of his "Star Wars" film scores. He humorously said he couldn't remember which of the series it was.
The Williams work pretty clearly received the lion's share of rehearsal time. For the rest of the program, led by Andris Nelsons, the playing sounded like the BSO on autopilot. The performances lacked focus and took no chances; the sound was unblended.
English hornist Robert Sheena and trumpeter Thomas Rolfs lent their solo skills to a distant-sounding orchestra in the lonely air of Copland's "Quiet City," and King Kashchei snarled and growled unmenacingly in the 1919 suite from Stravinsky's "Firebird." The long program, further lengthened by stage changes, opened with Jessie Montgomery's brief "Starburst," which delivered on its title's promise.
Plea for the planet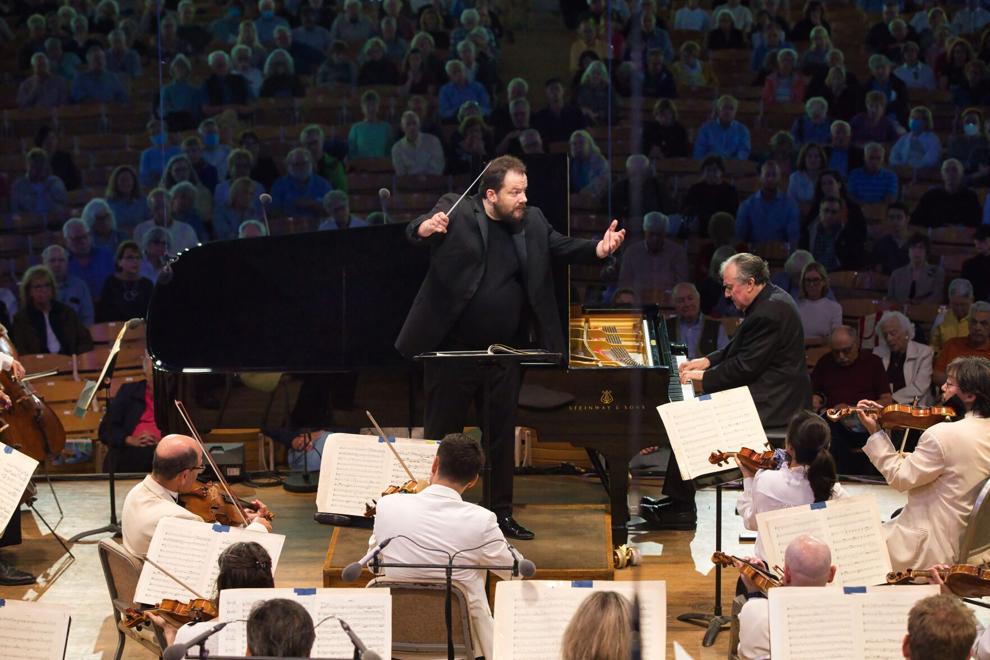 Sunday's program, also conducted by Nelsons, opened with "Jeder Baum spricht" ("Every tree speaks"), a plea on behalf of the planet by Iranian-Canadian composer Iman Habibi. The German title is taken from Beethoven's notebooks, and the programmatic writing enlists Beethoven as an opponent of climate change.
Appealing in its seeming naivete, the short piece opens ominously but gradually brightens toward a blazing-trombones finale recalling the triumphant ending of Beethoven's Fifth. The composer took a bow.
The afternoon's highlight was a beautifully understated performance of Beethoven's Piano Concerto No. 3 with Yefim Bronfman as soloist. Tempos were on the slow side in the first two movements, turning the first movement almost sluggish.
But, with the orchestra accompanying faithfully, so much caring detail emerged in the broad strokes that the early work took on a Mozartean transparency and warmth. Keyboard fireworks arrived in the finale, but here, the effect of the thoughtful playing was of the young Beethoven taking flight to greater things.
The program closed with a well-played, extroverted account of Schumann's Symphony No. 4, reflecting as if in a mirror the sunny outlook of "Jeder Baum spricht." Schuman's Arabesque, "Opus 18," provided a solo encore.