SHEFFIELD — A traveling exhibition from the Smithsonian Institution on rural life at Bushnell-Sage Library will provide the backdrop to ponder big questions in this small town's past, present and future.
Through photos, flip cards, text and art, including a copy of Grant Wood's "American Gothic," "Crossroads: Change in Rural America" seeks to engage the viewer to consider qualities common to rural life — agriculture, crafts, self-sufficiency among others — as well as those that are unique to their own main street.
"Crossroads," is an exhibition of Museum on Main Street, a collaboration between the Smithsonian Institution and state humanities councils nationwide. It is in the fourth year of its five-year cross-country tour.
Sheffield is the only town in Berkshire County to host the exhibit, which traveled to Essex first, then Hull, Rutland and Turners Falls. After its six weeks in Sheffield, from March 26 to May 6, it will make its final Massachusetts stop in Athol.
Hearkening to radio days, the exhibition has a handful of audio recordings from the Smithsonian's extensive oral history collections, including the crooning of Woody Guthrie and Illinois farmer Orion Samuelson telling about the day his farm got electricity: April 11, 1948.
There is also a small trove of books, including Concord author Henry David Thoreau's classic, "Walden," about his time spent living in a tiny cabin on Walden Pond. Three looping videos feature interviews with people who speak about why they choose to live in rural areas or what rural means to them.
While the exhibition contains artifacts, they're termed "props" by the staff at the Smithsonian.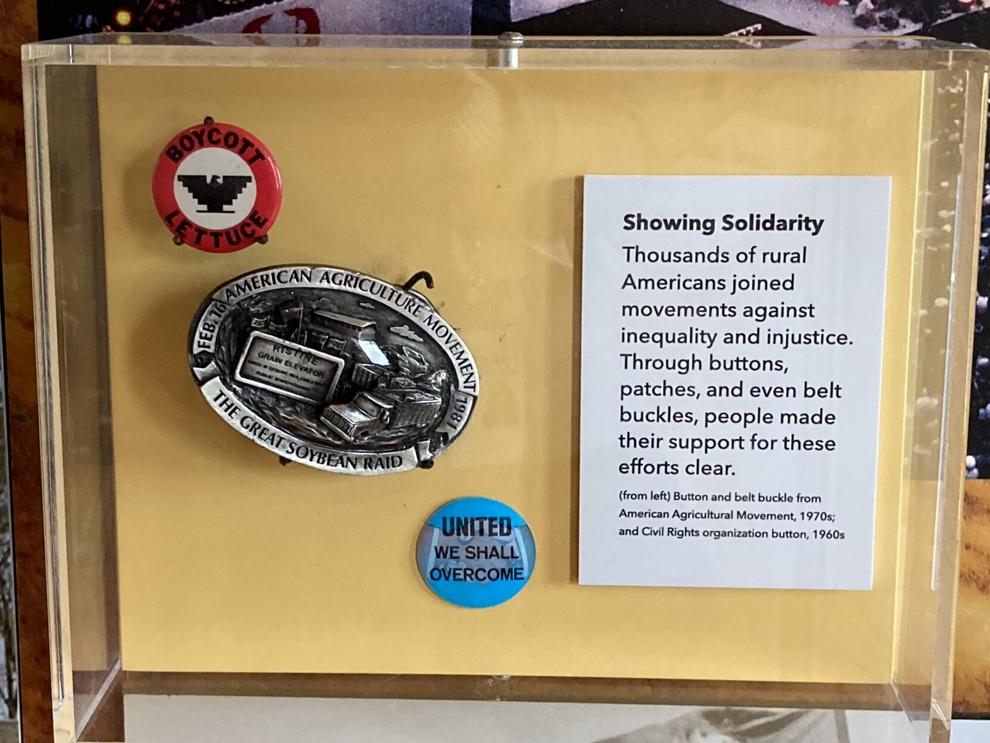 "We actually went out and purchased artifacts rather than pulling them from collections," said Robbie Davis, director for digital programs at the Museum on Main Street at the Smithsonian Institution, explaining that both security considerations and fragility of items in the Smithsonian's permanent collection prevent them from traveling.
One staffer is nicknamed "the queen of eBay" for her prowess at hunting down multiple identical items on the internet, Davis said.
"Once we find one thing, we try to find five of them," Davis said, adding that local venues often exhibit items of greater value as well as a panoply of associated programming. "We describe Museum on Main Street as kind of a platform."
COMMUNITY EVENTS
Sheffield has lined up 14 associated events or exhibits to coincide with "Crossroads," including panel discussions, an oral history collection and a community conversation about creating community in Sheffield. Topics include farming, the natural history of the region, the history of health care locally and the 11 Sheffield men who served in the Massachusetts 54th Regiment in the Civil War, depicted in the film "Glory." For a full listing of events, visit bushnellsagelibrary.org/crossroads.
Other events include:
3 p.m. March 26: Ribbon cutting and opening reception for Crossroads at the Bushnell-Sage Library, 48 Main St.
7 p.m. March 31: "Growls, Hoots, and Silence — The Wild Animals of Sheffield." Discussion with slides by Nancy Elle Smith, former executive director of Sweet Water Trust and a founder of the Sheffield Land Trust. Dewey Memorial Hall, 91 Main St.
7 p.m. April 3: "Ashley Falls: A History Through Stories." What life was like and how Ashley Falls, a village of Sheffield, has changed over the last 120 years to become what it is today. Trinity United Methodist Church, 1156 Ashley Falls Road
April 14-28: "Rural Berkshires: Always Adapting," a juried art show of Berkshire County artists. Includes oil, acrylic, watercolor, collage, quilting, mixed media, and photography. Opening reception April 14. Dewey Memorial Hall, 91 Main St.
Noon to 3 p.m. April 15: "Oral History Collection Day: Recollections of Sheffield's Black Community in the 20th Century." The Sheffield Historical Society will conduct an oral history day to record recollections of Sheffield's Black community and its members from the 1900s. If you have family connections, or were a neighbor, classmate, student, friend or acquaintance of members of the community, the Society invites you to share your memories. The oral histories will be added to the Sheffield Historical Society archives, and you will have the choice to have your recording become part of their current research project on the history of Sheffield's Black community between 1781-1915. The event takes place from at the Dan Raymond House, 159 Main St.
3 p.m. April 16: "Pox, Pus, and Creeping Miasma: Disease & Death in 18th- & 19th-Century New England." Historian Dennis Picard shares about treatments endured by those in the Berkshires and will show examples of antique medical devices and medicines. Dewey Memorial Hall, 91 Main St.
7 p.m. April 20: "Creating Community in Sheffield: A Community Conversation." How can old and new neighbors come together to both preserve our history and prepare for a vibrant future? People are invited to join a spirited and civil conversation. Registration is required. Dewey Memorial Hall, 91 Main St.
3 p.m. April 23: "Revolutionary War Doctors in the Berkshires." The Berkshires were served by several capable physicians during and just after the war. Dr. Brian Burke and Gary Leveille of the Great Barrington Historical Society will highlight some of these doctors in a lecture. Dewey Memorial Hall, 91 Main St.
7 p.m. April 27: "Sheffield: Through a Generational Lens." Local panelists will reflect on socially poignant topics of their generation and how their lives and town have changed. Audience participation will follow. Hosted by The First Congregational Church of Sheffield, the Rev. Jill Graham will moderate the conversation. Old Parish Church, 125 Main St.
A CATALYST FOR CONVERSATIONS
Mass Humanities partners with the Smithsonian to bring Museum on Main Street exhibitions to the Bay State. Brian Boyles, executive director, said 10,000 people in Massachusetts have engaged with Crossroads thus far, and that it has become a catalyst for conversations and partnerships.
"The Hull Lifesaving Museum really wanted to explore more diversity in that community," he said. "They were able to partner with No [Place for] Hate Hull, an organization that really tries to fight hatred."
In addition, "In Rutland it gave them the chance to bring farmers together in the library," Boyles said. "It gave them the chance to talk about enslavement in that area."
In Essex, Hull and Rutland, three themes emerged: pressures on real estate, the cost of living and the cannabis industry, which is "creating questions about how the town develops," Boyles said.
The concept for "Crossroad"s germinated from a conversation with a scholar on American agriculture who has since become a curator for the exhibit.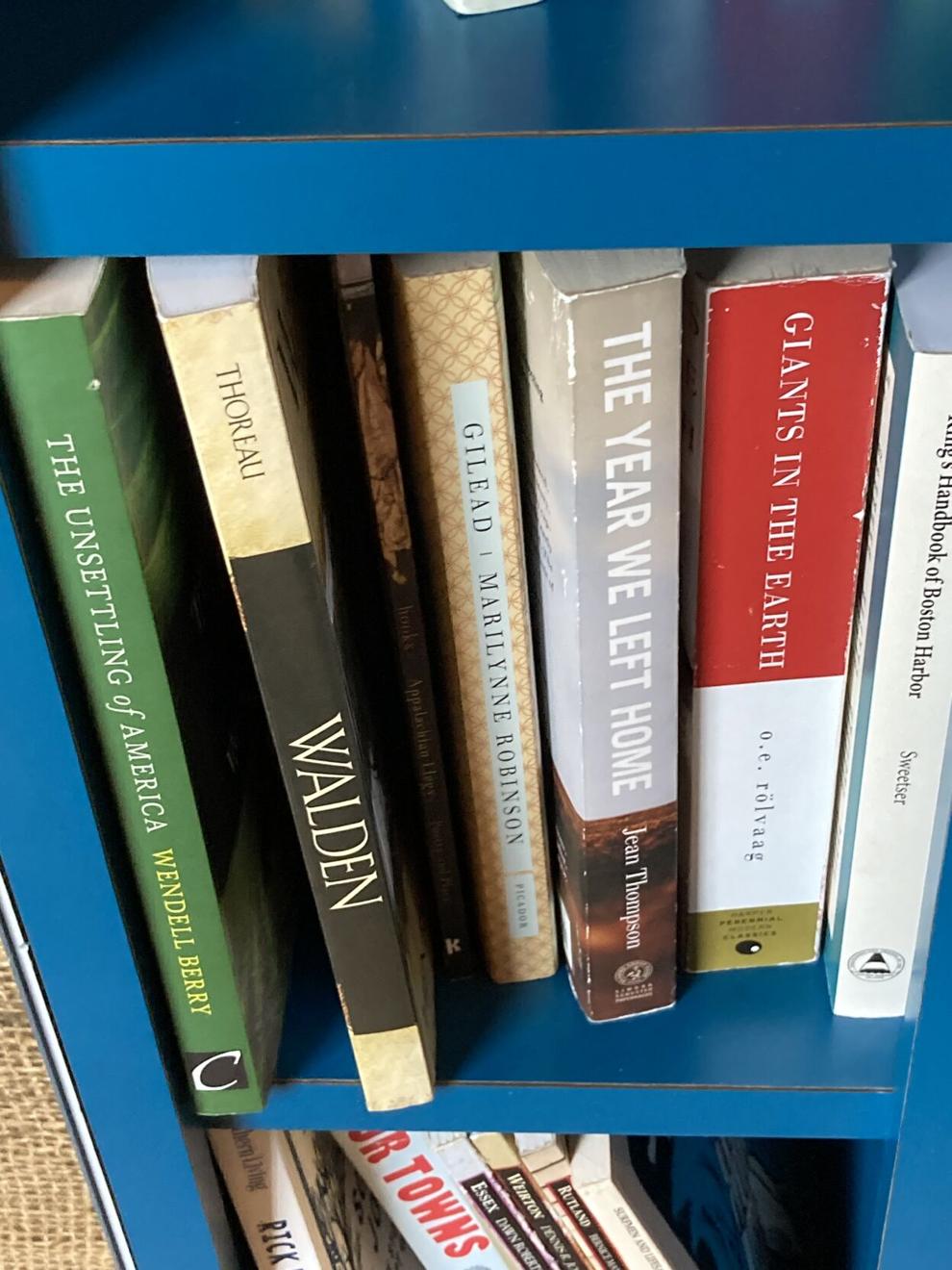 "Over time, that turned into a larger discussion about changing rural America, because so much change happened," said Davis. "The agricultural economy, the rise of the industrial economy, and then through the 20th century, you have, you know, migration stories, you have civil rights, you have the kind of economic change happening."
The exhibition focuses on the shift away from rural life in the 20th century and the tenacity required to sustain rural life.
"Some have really done well and modified themselves and changed their vision of themselves to still remain very vibrant," Davis said. "And then in other situations, towns have lost their footing and lost their momentum."
Deena Caswell, Bushnell-Sage Library director, said preparing to host Crossroads has given her an opportunity to get to know the town better and in different ways.
"The section on community is really what hits me the most," she said. "As a librarian, I know the impact that libraries have on communities and the importance of libraries in creating community. And so to be able to have an opportunity to have people, again, come into the library as a community space, think about how spaces like the library, the historical society, our churches in town, Dewey Memorial Hall, are creating spaces for our communities to grow and change.
"And so I think that's one of the most important things about what we see in Sheffield and rural America: just the value of community — people working together knowing, you know, that these are small towns — we're not all going to agree on everything, but we can live and work together in a really beautiful way."