SHEFFIELD — On a summer day, Rosi and Brian Amador were walking together on a sandy track through open stretches of grassland and sandstone and fields planted with sunflowers — they were walking on the pilgrim's way, the Camino de Santiago in Northern Spain, and they were singing.
They often found themselves alone on the path, Rosi said, and they would play with the music. They were improvising unselfconsciously. She came up with a line of melody and rhythm, and he began to weave runs and chords in his head. And then he began composing a song.
It's called "Por la Serrania," in the highlands, in the mountains. She recalled the words quietly:
"Cuando me levanto, yo digo gracias a mis pies …"
"When I wake up, I thank my feet/ because they connect me to the earth,/ and if I let them find the rhythm …/ they will take me …"
Soon, they will be singing that song together here. The Amadors have performed together as Sol y Canto for more than 35 years, and from their home in Boston they have traveled the country and the world, often with a five- or six-part band and at times with their children. Rosi sings lead vocals and performs on percussion, and Brian composes and carries harmonies in his voice and on classical Spanish guitar. On Friday, Feb. 25, the two of them will perform at Dewey Hall, and they will bring a spirit of improvisation with them.
"We are very excited to be sharing something new for us," Rosi said, speaking on Zoom from home. "It's something that evolved thanks to the pandemic in a way."
Alone together, unable to see friends or perform live, they have faced the pressures of the past two years with music and movement and a global online community.
"Brian and I have gotten into the ritual since the pandemic of doing an improvisation every morning," she said, "… and because we've been doing it for so long now, it's almost like we can read each other's minds. We know how to craft a piece and make it have a beginning and a middle, and we know it's going to end, and it ends organically. And it's miraculous, every single time."
They are always playful in their music, she said, but this improvisation feels new.
"We never know what we're going to sing, or perhaps Brian play on his guitar, from one moment to the next," she said. "… It's like flying without a net."
They will start with a groove, she said. One of them will find a snatch of melody or rhythm that compels them — she sings few bars in a jazzy, swinging beat. Then the other will respond, and they will pass the sound back and forth, one holding steady while the other teases with a harmony or a beat, or takes off with the melody in a new direction.
"There is jazz," she said, "and there's blues, rock — there are a lot of Latin rhythms that we put in because that's the tradition we come from. It is a motor, a repeating pattern … and one person has to do that consistently and not change, so the other person can dance and weave in and around it. …
"You have to be connected — you have to be watching each other and listening very deeply … It's very heart-centered. It's very free."
They have brought some of this spirit into their shows for the last few years, but this will be the show, she says, where they will launch into it completely. They are known for performing music across the Americas — from Afro-Cuban, Puerto-Rican and Caribbean to Brazilian and Argentine and Mexican, to flamenco guitar.
"Our also rhythms vary between dance rhythms and lullabies," Rosi said, "and much slower haunting songs, love songs. We have a beautiful lullaby that Brian wrote for our twins that I still sing, and they're about to turn 26. It's just gorgeous, and I almost bring myself to tears each time I sing it — I have to stop and breathe so I won't cry, even to this day."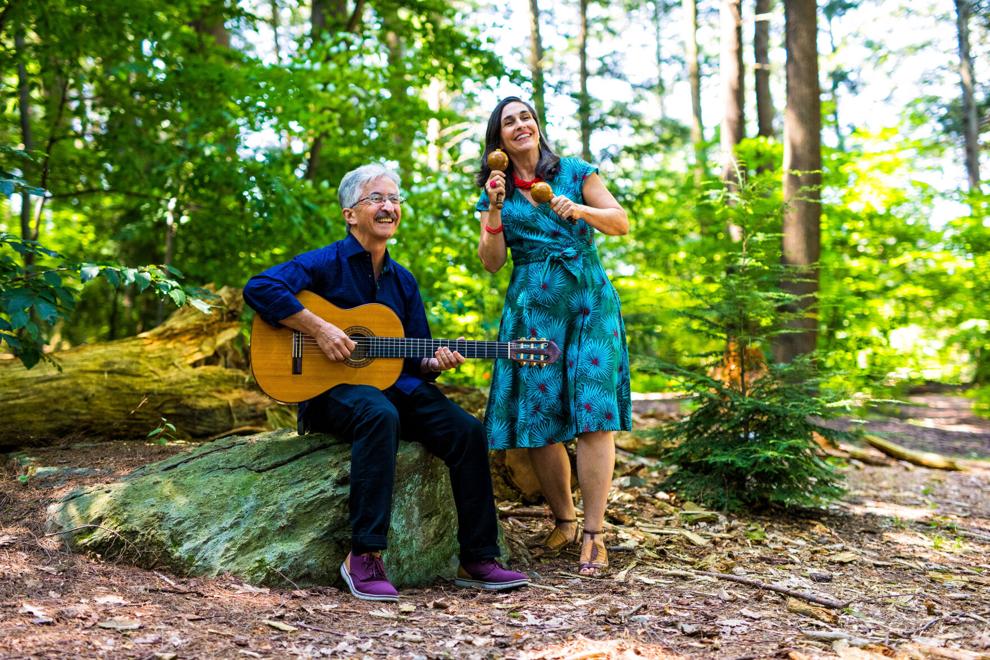 "There's one," Brian said, "'Epidemia soledad,' 'Epidemic of loneliness,' which I actually wrote before the pandemic, and it's based on an interview I heard once on the radio where they're talking about how there is an epidemic of loneliness, and that its physical effects are as bad as alcohol or tobacco …"
They will perform Brian's original songs and an arrangement from Pablo Neruda — and in this concert, in a series celebrating women, almost all of the other songs are written by women — a Colombian cumbia dance rhythm, a song by Sylvia Rexach, a legendary Puerto Rican composer, among others.
"As I look at the set list, it really is a sancocho," Rosi said, "a melange of love songs, love for one another, love for our children, an ode to life from Chile by Violeta Parra … a song about mother earth and our concern for it …"
She will play the cajon, a wooden boxlike instrument with snares to resound, and the thumb piano, the kalimba. And they will also play percussion on their own bodies.
She has studied body percussion virtually in the last two years, she said, with a group in Brazil called musica de circulo, circle music. They teach leaders around the world in movement and in non-violent communication. In the pandemic they have moved online, and so she has studied with musicians and dancers in many countries.
"We love introducing Latin rhythms and culture to the people in the United States," she said, "because we live here, and we're bicultural, and we want people to understand."
Brian writes his lyrics primarily in Spanish, and so they will sing in Spanish and translate into English. His songs will mean more to people, he said, if they can understand them.
"That's as important a part of our work as composing and sharing the music, as our performance skills," Rosi agreed.
She remembers vividly listening to music in a language she does not know.
"I was hungering to know, what is she singing," she said, "and when people around me who spoke the language were responding so viscerally, I was so jealous. And I said to myself … I'm so glad that we translate our songs. Because that's how we bring the audience with us. It's like holding their hands. We're saying this is beautiful poetry, and let me share it with you. It can be yours too."
She remembered walking on the Camino as Brian's newest song took shape. Going there was a long held dream the pandemic had postponed, she said. They walked about 160 miles across two weeks, and the song holds the feeling of those days, alone together in the quiet and the sun.
"Come on, don't let that divine light/ of yours be extinguished/ — come walk with me in the highlands,/ far from the city, my love."
"It's very romantic too," she said, laughing. "I took it personally."
And she translated the enduring, challenging joy in it.
"I care more about the walking than I care about arriving, and I have never climbed the last mountain."