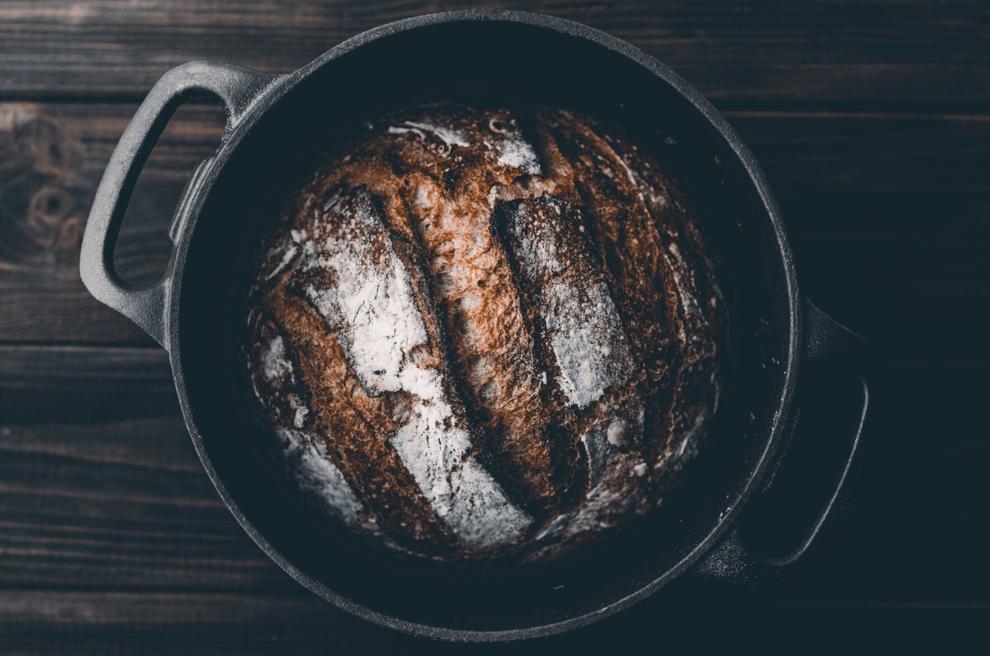 SHEFFIELD — Among the first-time activities many people experimented with while working from home under pandemic-related shelter-in-place mandates, from whipped coffee to roller skating, there's one that continues to rise above some of the others: sourdough-bread baking.
Making sourdough bread became so popular in 2020, Google noted it as being the bread recipe people searched for the most, globally, in 2020. It also ranked third in the top recipe searches of 2020. And, two years later, people are still talking about their sourdough starters and bread.
In celebration of the continued popularity of the baking trend, Dewey Hall is hosting a Sourdough Bread Baking Contest on Friday, March 4. Katy Sparks, chef and owner of Katy Sparks Culinary Consulting and host of "Edible Natural World," and food writer/cookbook editor Evelyn Battaglia, are lending their culinary chops to the organizational team.
"The sourdough bread contest seemed like a natural fit, given the resurgence of sourdough and the zeal with which people have turned to baking and creating during the pandemic," said Beth Carlson, president of Dewey Memorial Hall.
The Dewey Memorial Hall Board, according to Carlson, has taken inspiration from the historic building's founding organization, the Sheffield Friendly Union. Founded in 1871 by Orville Dewey, the Sheffield Friendly Union's mission was "to increase good and kindly feelings and promote cheerfulness and intelligence." The union built Dewey Hall in memory of Dewey in 1887, and has served the town as a community center in various shapes and forms ever since.
In 2022, the boards mission is to "steward Dewey Memorial Hall to convene and connect Berkshire County neighbors, promoting 'good and kindly feelings' and strengthening the health of the community."
When pondering how that mission translates to 2022, Carlson said the board realized that a high ticket gala is really not in keeping with the type of organization they are and decided to have a series of interactive "community galas" as fundraisers which engage the community in the ways that have been happening in the hall for decades.
A baking competition seemed to check all those boxes.
Those attending the March 4 event will be invited to sample the contestants' breads as well as wine from DéPart, beer from Big Elm Brewery and cheese from Rubiner's Cheesemongers. They'll also have the opportunity to win loaves of freshly baked sourdough bread via a raffle.
Bakers, who have registered in advance for the contest, have the opportunity to win a cash prize. Single-cash prizes will be awarded to the winner in each of two categories: traditional sourdough and gluten-free sourdough.
Melanie Greenberg, a writer and producer who most recently starred in her one-woman show "The Elephant In the Room," will serve as the emcee. Featured culinary celebrity judges include Rachel Portnoy, former owner of Lee-based Chez Nous/Cafe Triskele and baking instructor at Canyon Ranch; Patrizia Barbagallo, owner of Pixie Boulangerie, in Great Barrington; and Robbie Robles, owner of Roberto's Pizza in Sheffield. Live music will be provided by Michael Junkins.
THE ART OF SOURDOUGH BREAD
Although sourdough bread baking has become increasingly popular over the last two years, archeological evidence shows the origins of sourdough bread date back to around 14,400 years ago. The use of yeast however is relatively recent in the history of bread making, dating back about 150 years. Before that, sourdough culture was the only leavening agent — and that traditional method has experienced a resurgence in home baking.
Battaglia, who attended Peter Kump's cooking school and has a general knowledge of all types of cooking, describes the process of making sourdough bread as "equal parts alchemy and sensory enjoyment."
"There's gratification in feeding and nurturing your starter, working and folding the dough, and pulling the deeply browned loaves from the oven," she said. "And the distinctive tang and open crumb can only be achieved by the slow fermentation process."
For those interested in potentially kneading out the competition, Battaglia has a few tips:
Q: What makes a "good" sourdough?
A: The hallmarks of sourdough bread are a chewy, deeply browned exterior (what is referred to as having a dense but not tough crumb — you should be able to tear or slice it with some ease) that encompasses an airy and tender interior, with evenly spaced holes that are a sign of being well risen and properly handled. (You want to be able to spread butter on the bread, or drizzle it with olive oil, without it seeping through!) The interior should also have some color to it and not be the least bit damp.
There's also the inimitable, yeasty aroma that you get when slicing into a freshly baked loaf and the tangy taste.
Q: Do you recommend having any particular tool or ingredient on hand?
A: There is something so rewarding about starting with flour and water and having it become this powerful, potent agent. And if you are a science geek then you'll absolutely love the whole process.
And really that's all you need: flour and water and a little salt. I prefer using a digital scale (because I am one of those science geeks!) but you can use cup measurements and still produce a viable starter and a quality loaf. Mason jars are my go-to vessel for starters—you can see the bubbles through the glass and left ajar, the screw-on lids allow just enough air to escape, and then you can screw them on tightly for storing.
I like to put my starter on my radiant heat floor to promote fermentation, but an off oven with the light on will also work. Or I'll rest it atop my dryer when drying clothes.
I'm also fond of baking boules in my heavy-duty Dutch oven.
As for flour, I've tried them all and find that all-purpose has been the most consistent. I'm a fan of unbleached all-purpose flour by King Arthur. But I love playing around with rye and buckwheat and others for a different flavor profile.
Q: What kind of advice would you give first-time sourdough bread bakers?
A: If I were to impart any advice, it would be to just get going. If you have been wondering on the sidelines about all the fuss, get out some flour and mix it with water and get your starter going. Once you see the bubbles and know it's doing its thing, there's no turning back. There's simplicity in the science so don't be put off by all the steps. You won't be held hostage by the schedule, there are ways to make it work for you. Experimenting is a huge part of the fun.